Sony HVL-F43M multi interface shoe flash
Sony HVL-F43M flash
---
Introduction
---
The Sony HVL-F43M is a multi-interface shoe (MIS) flash with a guide number of 43 (105 mm position, ISO 100). This flashgun can be used with compatible lenses to enable ADI (Advanced Distance Integration), and TTL (through the lens) flash metering, which is not affected by the reflection rate of the background or subject.
High-speed sync (HSS) makes it possible to use flash with up to the highest shutter speed provided by the camera. This allows you to increase the aperture as needed to create a narrow depth of field that keeps your subject in perfect focus while the background dissolves into a smooth blur.
It is Runs on 4 AA batteries, good for about 200 flashes.
---
Build and Features
---
The Sony HVL-F43M is constructed from high-quality impact resistant plastics. It is weather-sealed (though not fully weather proofed) at the joints of outer components, including body, LCD panel and mounting foot included), as well as around moving parts. A handy carrying pouch is also included.
The flash head pivots 90° left and right, allowing for horizontal light distribution even when shooting in portrait mode. It also tilts down 8° (for macro photography) and up/back 150° for flash bouncing techniques. Keep in mind that TTL metering does not work when the flash is tilted.
It has high power LED light for video with brightness adjustable to 10 levels. Be warned though that this does not work on the Sony A7 series cameras.
This flash unit automatically switches Optimum flash coverage (zoom flash coverage) to cover a range of focal lengths from 24 mm to 105 mm when photographing (this is called auto zoom).
This flashgun has the usual flash features like a built-in bounce sheet and a built-in wide panel that supports coverage to a focal length of 15 mm. It auto-corrects the white balance automatically using the colour temperature information when the flash unit fires.
---
Control panel
---
The control Panel has a large LCD screen that can be illuminated. It features clear indicators via pictograms of battery life, current flash mode and zoom range. Buttons are used to change and switch modes, and a 4-way controller allows for easy navigation of submenus.
These Flash Modes available are:
Fill-flash mode: The flash unit always fires.
AUTO (Auto flash mode): The flash unit is set to this mode when the camera is set to auto flash.
WL (Wireless Flash mode): This method is used during wireless flash photography. :
[A] Wireless flash photography (HVL-F43M: off-camera flash): The camera's built-in flash is the controller (the flash that emits control light) and the HVL-F43M is the off-camera flash (the flash that is away from the camera).
[B] Wireless flash photography (HVL-F43M: controller): The HVL-F43M is the controller, and another flash is the off-camera flash.
[C] Multiple wireless flash photography with lighting ratio control: Using the HVL-F43M as the controller, a camera that supports lighting ratio control can group a number of off-camera flashes and control the lighting ratio.
Manual Mode: Manual flash can only be used when the camera is set to M (Manual) mode. In other modes, TTL measuring is selected automatically.
HSS (High-Speed Sync): High-speed sync eliminates the restrictions of flash sync speed and enables the flash to be used through the entire shutter speed range of the camera. Your Sony camera should be set to A or M mode in order to use HSS.
---
Conclusion
---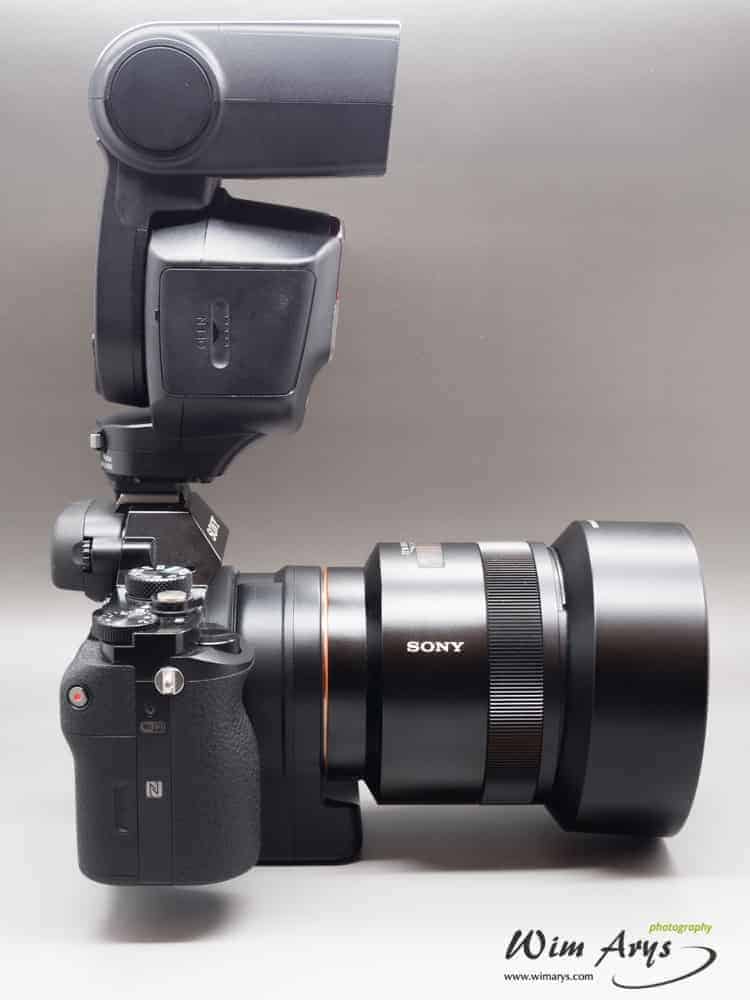 In my opinion, the Sony HVL-F43M is still one of the best Multi Interface Shoe flashguns to get. It has a decent power output, which allows for a bit more than just close-up flash usage, so it makes for an ideal flash companion for wedding and events. It is weatherproofed, so you can use it without worries on a similarly weather resistant body like the Sony A7 range or the Sony A77 II. I wouldn't call it a compact flash, but as its not that heavy (355 gr without batteries) but it's still usable on the A6000. If you need more power, I'd suggest looking at the Metz Mecablitz 64 AF-1, which is also weatherproofed and has the same functionality.
This flash tilts and swivels in all directions so you have a range of techniques at your disposal like bouncing off walls and ceilings and the power to do this. Construction feels sturdy, and all controls are easily accessible via the back buttons. Wireless triggering in multiple groups is also supported and works well so getting a couple of these would make an excellent start for a small, multiple flash studio setup. The only stumble-block might be the price, but as the HVL-F43M has been in stores for over a year now, you can often find it at a price comparable to third-party flashguns.