JPEGmini image compression software
JPEGmini image compression software
---
 Introduction
---
JPEGmini is an image optimisation technology that reduces the file size of JPEG photos by up to 5 times. It preserves the resolution and quality of the original photos. Per example, 300 dpi will stay 300 dpi and dimensions will remain unchanged.
The technology works at the JPEG baseline, so files are fully compatible with any browser, photo software or device that support the JPEG format. The JPEGmini algorithm imitates how the human eye and brain work together, so each picture is compressed to the maximum extent possible by removing redundancies, without creating any visual artifacts in the process.
Their tests have shown that the original JPEG photo and the recompressed JPEGmini photo cannot be distinguished by average users when displayed at 100% zoom on a computer monitor. Or even when printed at 200 DPI on photo paper.
Image compression software like this has always made sense to me, especially for online sharing. As we all know there is a lot of information stored in digital files, most of which is redundant in the final image. Good think about JPEGmini is that it's specially designed for compressing images.
---
How the JPEGmini software works
---
The process works in 2 steps:
Firstly the software scans your image like the human visual system would and determines what amount of compression is possible for that particular photo without causing visible artefacts
Secondly, the JPEG encoder goes to work that adapts the encoding process to the original photos, creating the most compact representation of the pictures that is possible under the JPEG standard.
How much compression is possible depends on the quality (size) of the original JPEG? An image of 8MP and higher will get a 50-80% reduction while a small 1MP image will only get squashed 30-50%.
---
JPEGmini different versions
---
There are currently four different ways of using this picture compression software, ranging from a free online version of a premium server application.
---
JPEGmini free online compression
---
You can upload your images on a file-by-file basis to their website and have them automatically apply their algorithms. The compression works in the same way as the paid version but is only useful for a couple of images, as uploading large sizes will take a lot of time.
---
JPEGmini basic version
---
This is an application for both Mac (OS X 10.6.8 or higher) and PC (Windows XP SP3, Vista, 7 or 8) which uses a simple drag-and-drop interface. You can select an output folder or let this JPEGmini application replace your original file after compression. Quite easy to use and only costs $19.99, making it the cheapest way to compress the jpeg library efficiently on your computer.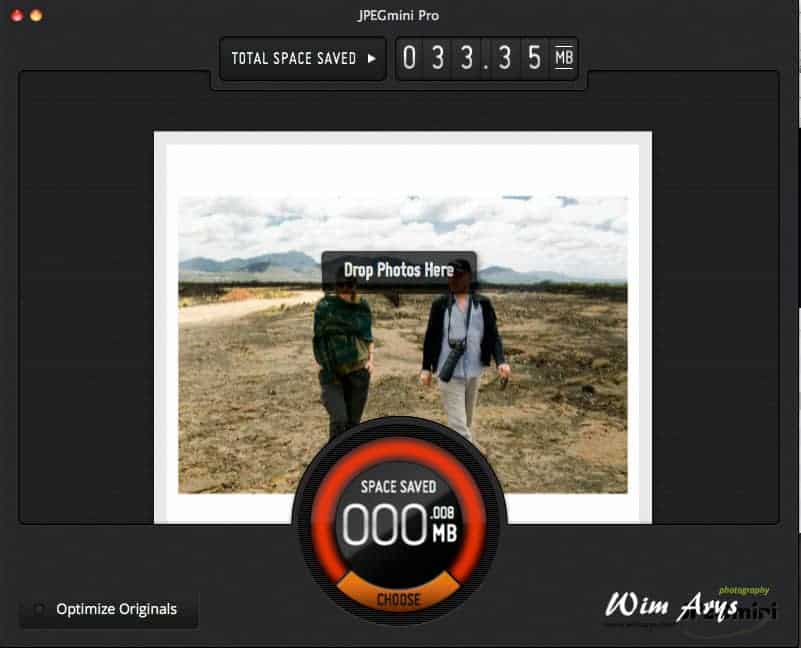 ---
JPEGmini Pro
---
The Pro version includes the basic app and an Adobe Lightroom plug-in. This edition lets you export images directly from Lightroom with their patent-pending compression. Once it's a part of your workflow, you'll soon be exporting all your jpegs in this way. It will set you back $149.00, but worth it.
How to install the JPEGmini Pro Lightroom Plug-in:
Purchase and download the plugin from their website.
Open the Export window in Lightroom (right-click on an image and select export)
On the bottom left of that window press the plug-in manager button:
Press "Add" a plugin and direct the browser to where you've downloaded the plug-in
Paste your authorization code and press "Done."
Insert the plug-in into your processing chain as a Post-Process Action 
---
JPEGmini server
---
This variant is a server application that will allow you to compress all uploaded images automatically using this compression. It supports all major versions of Linux and is a simple command-line application. This solution is mostly used by large corporations like Netflix as it costs $199 per month.
If you're a WordPress user and would like to compress your entire online image library, there is a cheaper solution that allows you to use JPEGmini image compression software. Look for the EWWW image optimizer plug-in on WordPress, they have a paid server option that costs 10$ per month and allows you to optimise 25000 images per month using their server running the JPEGmini server app. You can cancel at any time.
---
JPEGmini compression quality
---
The company claims that their compressed images are indistinguishable from the original, even at a 100% crop. I've been using JPEGmini as a Lightroom plug-in for three months now and used it on all image for the web. I have not experienced any quality deterioration, loss of sharpness or any other problems. (right-click and open in a new window for full-size image)
Even at 100% crop there is no difference between compressed and uncompressed images. (right-click and open in a new window for full-size image)
---
Conclusion
---
Faster does mean better on the internet, but for photographers who want to present their work in decent quality, resizing and compressing your photographs with standard compression tools has always been an issue.
The JPEGmini compression technology is currently the best solution for website image optimisation or jpeg backup solutions. After extensive testing over the last few months, I could not find any image that seemed to have any apparent loss in quality after compression. The great thing is that you can keep a large size and quality image while still reducing the overall size of the file.
I shoot in RAW format, but I would not hesitate compressing my entire jpeg library with JPEGmini if I used .jpg. For print, the company states that up to 200dpi will have no loss in quality, so this mostly depends on what camera model you use and how large your saved jpegs are.
Which one of their solutions is right for you will depend on your personal use.
There is no question that their JPEGmini server solution is the most flexible, as it allows you to upload your images from anywhere (even mobile devices) while still taking advantage of their compression. But this is quite expensive and probably only large corporations can afford their $199 dollar per month fee. A workaround could be to use EWWW's image optimiser $10 per month plan which allows you to compress up to 25000 during upload via their own server.
I rarely found use for the JPEGmini basic app ($19.99), although it could be a good solution if you have a large jpg library that you wanted to shrink without quality loss.
Finally, their JPEGmini Lightroom app ($149.00) is a must-have for all professional photographers who frequently need their images exported for the web or email. You have the flexibility of keeping your RAW files untouched in the library and a small yet high quality jpeg ready for your clients or website.
They currently offer a free trial for all JPEGmini solutions, and discounts are available for multiple licences. You can purchase directly from their website.
 Win a JPEGmini Pro licence
I have 2 JPEGmini Pro licences to give away (including the lightroom plug-in), here is what you have to do to win:
Leave a comment with your name or nickname under this post.
Either Tweet this post and mention @jpegmini and @wimarys or share this post on Facebook.
This contest ends Monday October 20th 2014 at midnight. I"ll be using the "comment contest" plugin to randomly select 2 winners  from all comments. We'll be announcing the winners on October 21st via our twitter and Facebook pages.
Good luck!