Metz Mecablitz 52 AF-1 Digital review
Metz Mecablitz 52 AF-1 Digital Flash for the Sony Multi-Interface Shoe
---
Introduction
---
The Metz Mecablitz 52 AF-1 Digital for the Sony multi-interface shoe  is a mid-range flashgun from German manufacturer Metz. It has a maximum guide number of 52 at ISO 100 and supports Sony's TTL (Through The Lens metering), ADI (Advanced Distance Integration) for automatic power zoom with compatible lenses, 1st or 2nd curtain synchronisation, and HSS (High Speed Sync).
It has a USB port which allows for future firmware updates, a flash head that tilts and rotates and a touchscreen display for easy access to controls.
---
Build and Features
---
The Mecablitz 52 AF-1 Digital has a sleek design made from durable plastics. It is not unlike Metz's flagship 64 AF-1 and is similar in both form and functionality. It runs on 4 AA batteries, good for around 200 flashes, and I have not experienced any overheating issues during use.
Metz is the first company to incorporate a touch screen interface. Don't expect too much from this however, as it is limited to a simple tap and has a sluggish response, but still makes for a more intuitive interface once you get used to it.
Metz have incorporated a USB port in all their flashes,  allowing for firmware update with possibly new features or extended compatibility in the future.
---
Flash Modes
---
the Mecablitz range has been around for years, and they certainly do know how to make a useable flash. All functionality like TTL, Auto and Full Manual are available. It also has a focus beam to help the camera with auto-focus and a modelling light.
It exceeds in it's wireless capabilities:
Wireless mode: The Mecablitz 52 AF-1 Digital has a Master wireless mode. It can be remotely controlled by other flashes, and can be a master flash itself. It supports control of multiple wireless groups and TTL metering with multiple flashes.
Servo mode (optical slave): Servo mode allows this flash to be triggered remotely by a burst of light coming from a flash not designed for the same system.
Spot zoom mode: Extended zoom mode is a Metz designed function and enables you to set the flash zoom wider than the lens zoom, where light can be bounced off of the walls to slightly fill in the shadows.
Other Creative Modes:
Rear-Curtain Sync: New Sony cameras include the ability to fire the flash just before the closing of the shutter, so that moving objects will show a streak where they came from and a sharp image where they were at the end of the exposure, useful for moving objects to convey a sense of speed.
HSS: High-speed sync makes it possible to use flash with up to the highest shutter speed provided by the camera. This allows you to increase the aperture as needed to create a narrow depth of field that keeps your subject in perfect focus while the background dissolves into smooth, beautiful blur.
---
Conclusion
---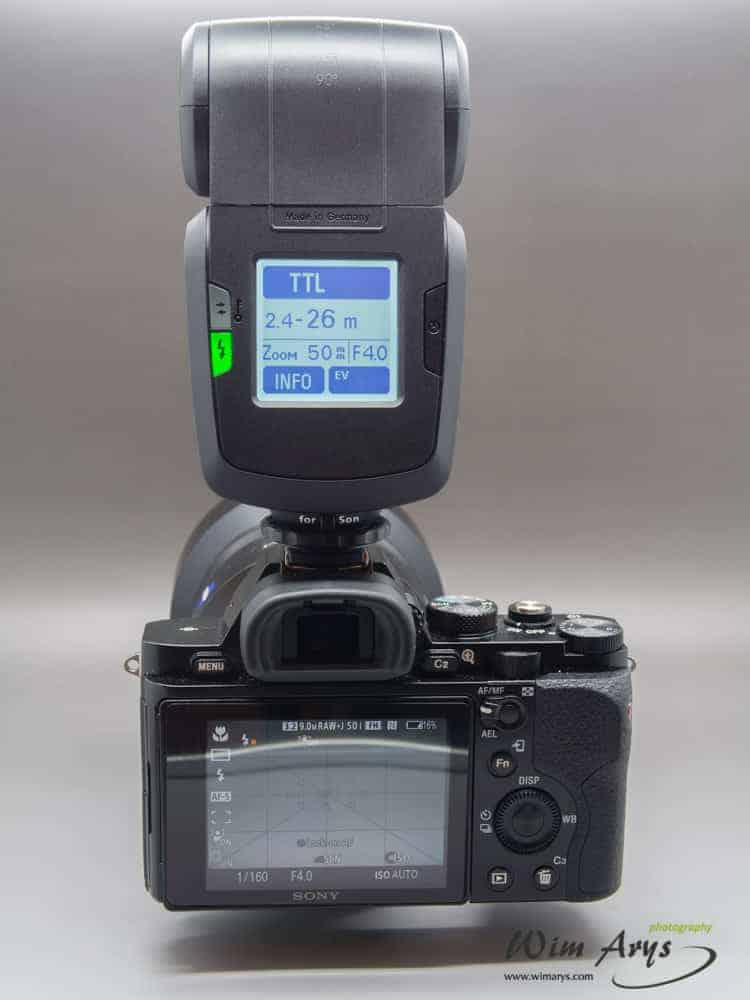 The Metz Mecablitz 52 AF-1 Digital should definitely be on you list of possible flashes for the Sony Multi Interface Shoe cameras. It works well and gives a good exposure with the Sony A7r, A77 II and A6000.
The touch screen interface is something you'll either love or hate, I don't like it personally as I find it difficult to quickly change settings using their limited controls. This is something you might get used to after a few months though, but I find the responsiveness of the touchscreen slow.
All Multi-Interface Shoe flashes offer more-or-less the same functionality nowadays, so much will depend on how powerful you need your flash to be, and what kind of control system you prefer. The Nissin i40 offers a more hands-on approach with no screen and just two buttons, while the Sony HVL-F43M does feature an LCD screen but using buttons to access the menu system.
I would suggest giving the Metz Mecablitz 52 AF-1 digital a trial run first before actually buying it. It you can get along with the touchscreen controls, you'll love this flash, if not, you might want to look into other brands.