Sony QX1 lens style camera review
Sony QX1 Lens style camera review
---
Introduction
---
The Sony QX1 is the latest development in their glass style camera range. It's meant to be used as an add-on to your smartphone, using the touch screen as a controller. The reason this gadget has received much interest is that it is the first of its kind to boast a large 20MP APS-C sensor, a Bionz-X processor and uses the Sony E-mount interchangeable lens system.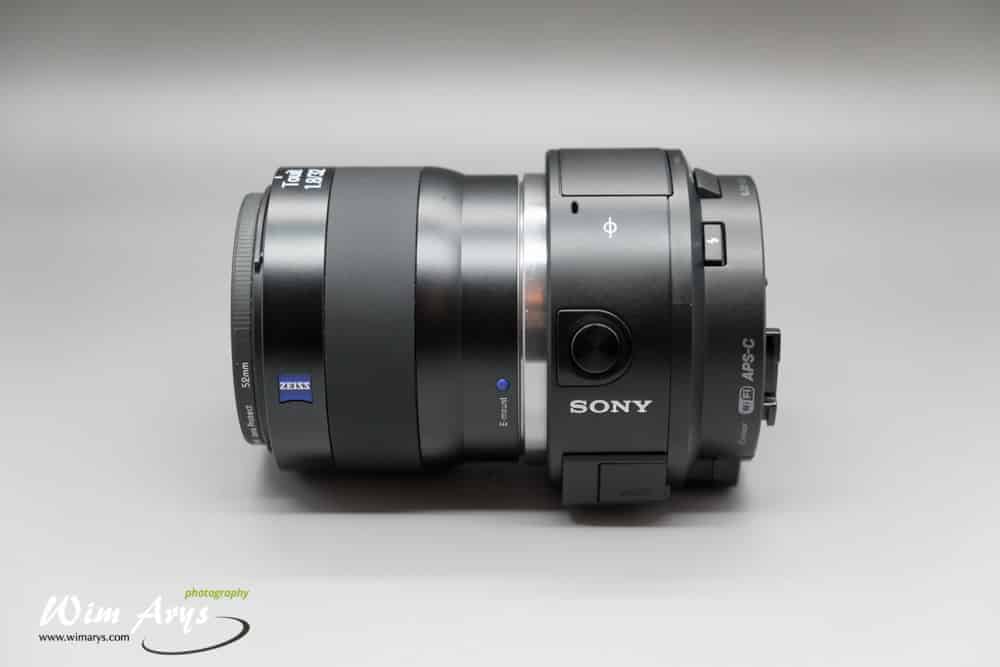 This APS-C sensor makes the Sony ILCE-QX1 capable of being much more than an advanced smartphone selfie camera, expanding the use to semi-professional photography and even mounting it on a drone for aerial photography. Pre-orders have already gone through the roof, and new customers will have to wait until December to get their hands on one.
---
Features and functionality
---
Controls on the Sony QX1 itself are minimal. There is an ON/OFF button, a pop-up flash and a record/capture button. On the back, you'll find a battery compartment that accepts Sony NP-FW50 batteries, like all other ILCE cameras. You'll also need a micro SD card, which can be inserted in a small slot in the battery compartment. I had some trouble at first inserting it the right way, and I found in general that the build is quite flimsy. I'm sure something will break off after some months of use.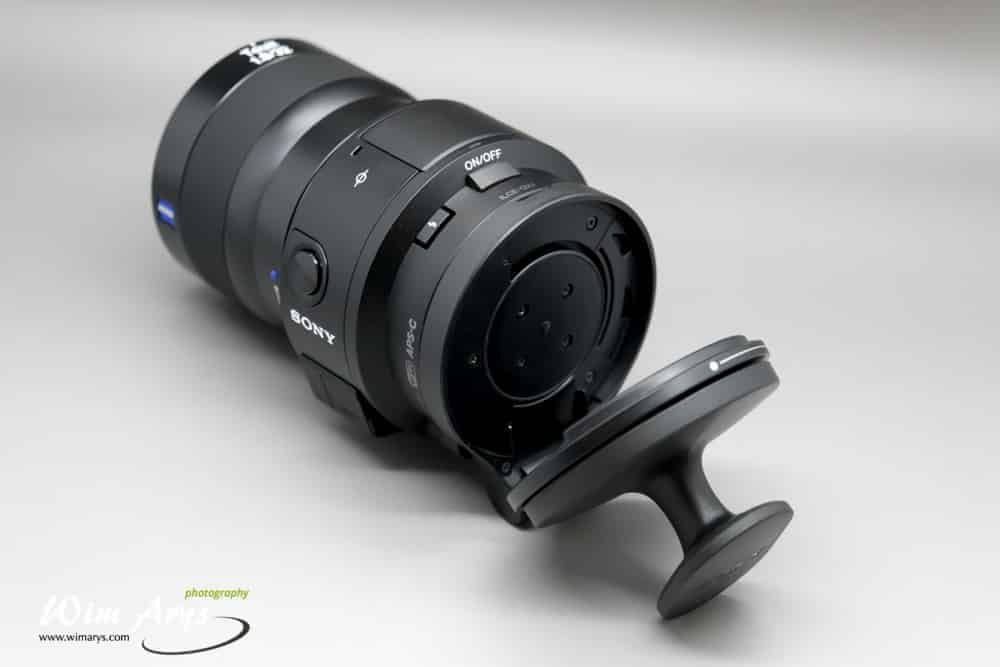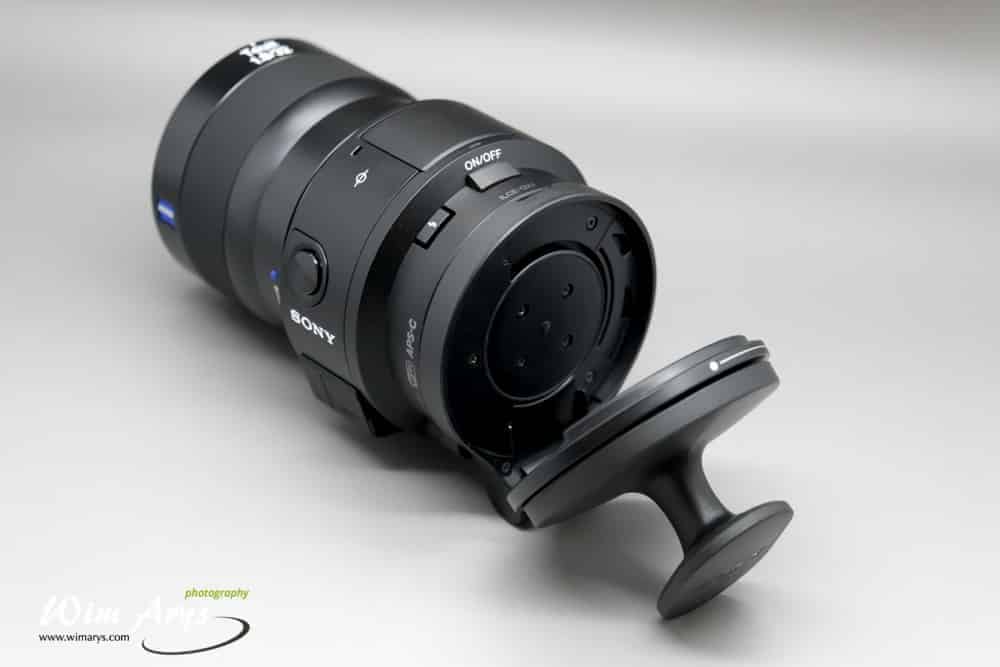 The ILCE-QX1 bundle comes with a type of grip to comfortably hold the camera between four fingers. The smartphone mount is unfortunately not include though (and it's a necessary accessory). You should keep in mind that the QX1 can quickly become unbalanced if you're using larger and heavier lenses.
---
WiFi and NFC
---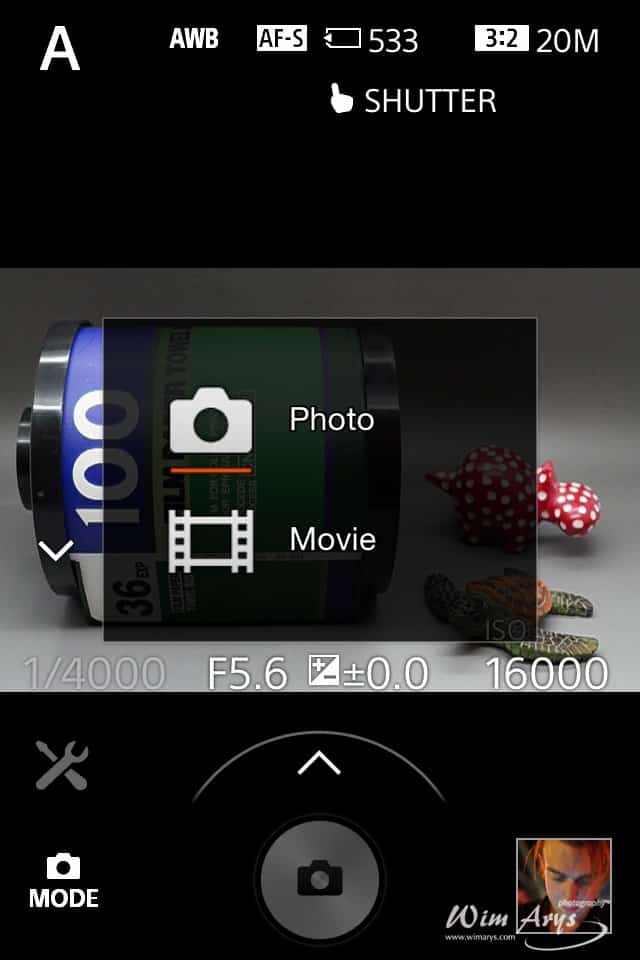 Once you switch the ILCE-QX1 on, you'll need to connect it to your smartphone via either WiFi or NFC. This connection is pretty straightforward, just go to your WiFi settings on your phone and connect to the lens style camera, using the supplied password which you'll find in the battery compartment. You'll only need to enter the password once, but every time you want to pair the 2 devices, you'll need to access the QX1 WiFi network.
Since you're transferring data via WiFi, there is some image refresh delay. Nothing too bothersome most of the time, but enough to make it unsuitable for any action photography. I used it with an iPhone via Wifi, and the connection did at times become unstable, especially if you're using advanced features like Lock-on AF. I often resorted to using the shutter button on the QX1 just to get a shot, as the iPhone became unresponsive. Perhaps an NFC Smartphone would perform better.
You can also transfer your captured image in from the camera SD card to your smartphone for immediate social network sharing. There is also an option to browse you SD card from your phone, but this again works very slowly.
---
Sony Playmemories app
---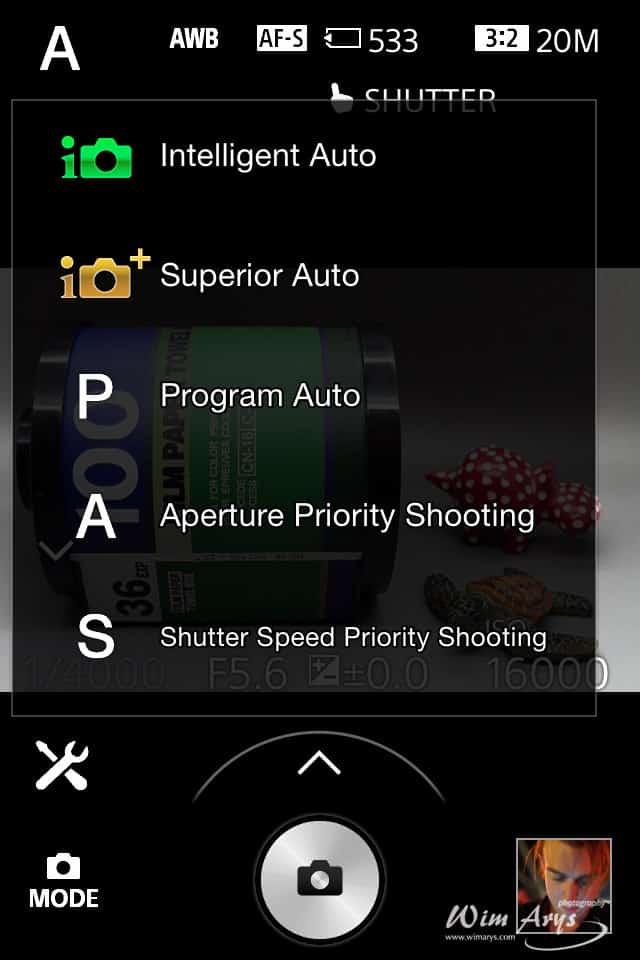 You can control the camera's functions via the Playmemories app for IOS and Android. Movie mode, Intelligent Auto, Superior Auto (jpeg only), speed- and aperture-priority are available. It's possible to either focus-and-shoot or only focus via the screen and press the on-screen shutter button.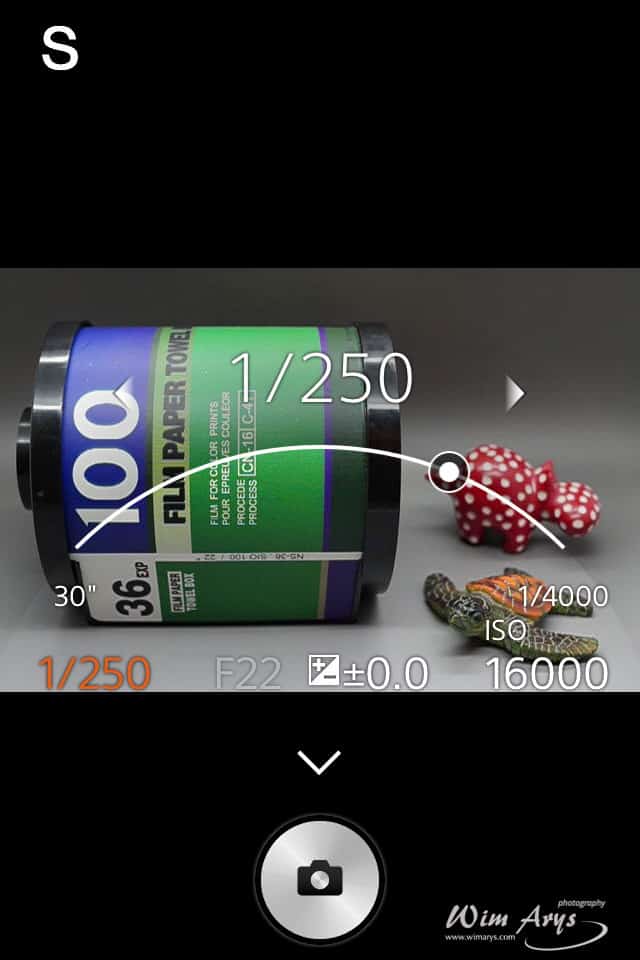 If you want control over ISO, you'll need to switch to A or S mode as once again Sony has not made it possible to change ISO range in iAuto. ISO value, shutter speed or aperture are selectable via a simple slider that pops-up when selecting the desired function.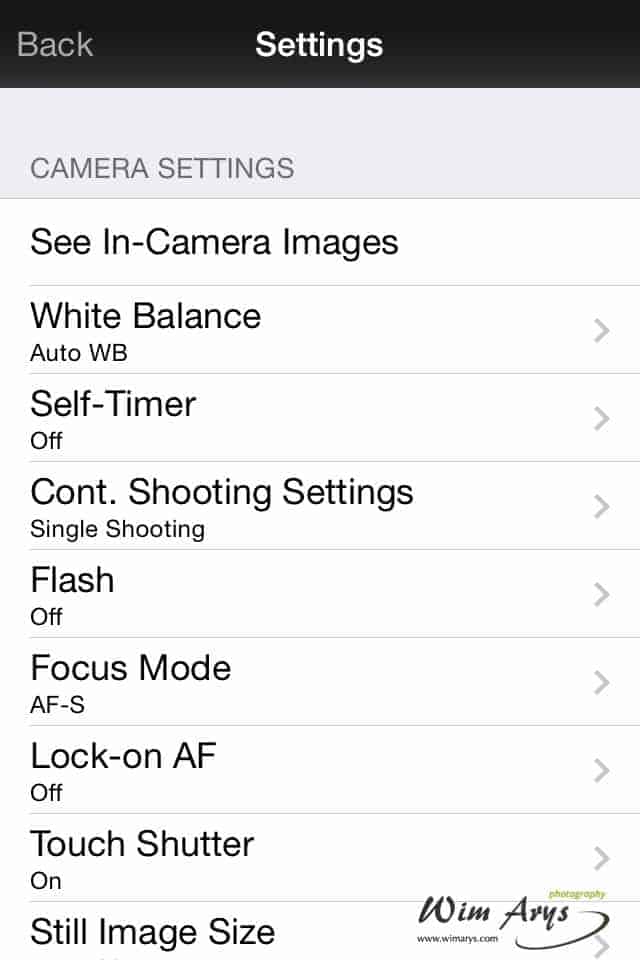 If you're familiar with the settings on other Sony cameras, you'll find simplified versions in the Playmemories general settings menu. White balance, self timer, Continuous shooting (single, continuous and speed priority), Flash, Focus Mode (AF-S and manual), Lock-on AF and Image size (RAW and/or JPEG) are available. There are some useful smartphone settings like a grid feature and save-to-smartphone settings further bellow.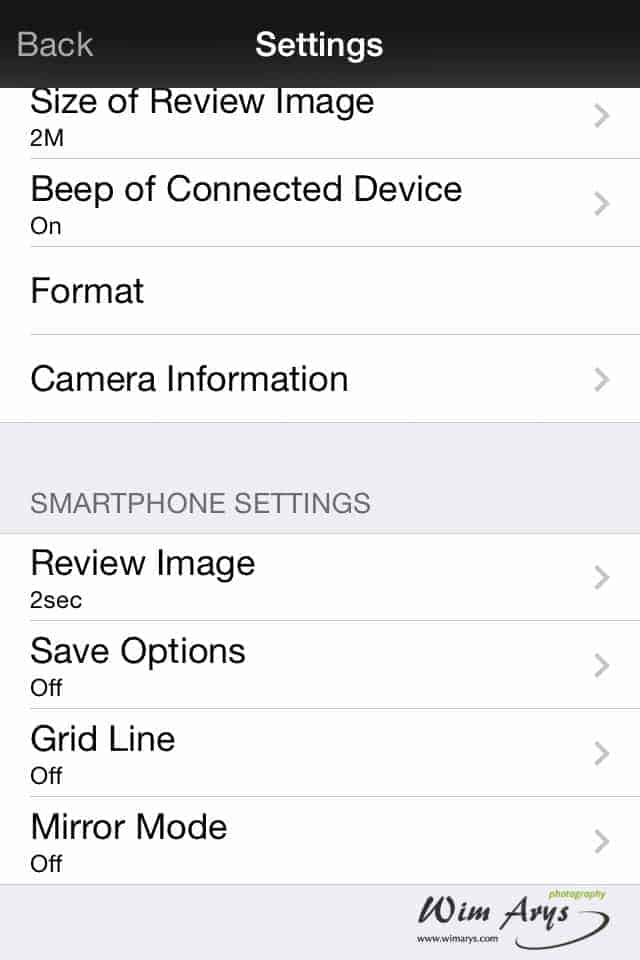 ---
ISO performance
---
The Sony QX1 uses a 20MP APS-C sensor, not the latest and greatest Sony APS-C sensor, but it offers surprisingly good ISO performance. Images are noise-free up to IS0 800 and quite usable up to ISO 3200. You won't find the detail or dynamic range that the latest APS-C sensors have, but still quite impressive considering the price and form factor.
An interesting fact is that when comparing ISO performance to the Sony A6000 or A77II, images at higher ISO's look a bit more detailed and with less colour noise present. The noise also looks more pleasing and less digital. This lower noise at higher ISO probably has something to do with the slightly lower resolution on the QX1, and results might be different when comparing them at the same resolution.
---
Autofocus
---
The Sony QX1 has a 25 point contrast-detect autofocus system. You need to go back a few generations to find such a simple AF detect system, but it actually works quite well with short range lenses. Autofocus is decently fast and there is even a lock-on AF function for tracking your subject. This does slow down communication with your smartphone, often to the point where using it as a remote becomes unusable. As I mentioned before, this camera isn't suited for action photography, but still useable with some movement in scenes.
The major problem is that since your lens does not have a real 'anchor' point, it's quite difficult to frame shots. Hence the Sony QX1 is best used on a tripod with larger lenses or your smartphone with smaller ones. If you're using it handheld, I would personally go with a moderate wide-angle prime if you want to get a descent amount of in-focus shots.
You can also use the Full-Frame Sony LAEA4 converter with Sony/Minolta A-mount lenses. This will enable the contrast detect autofocus module inside the LAEA4, with 15 points covering around 25% of the screen (a larger coverage due to the fact that you're using it in APS-C mode).
---
The Sony QX1 in real-world use
---
Having a camera that doesn't look like a camera can give you and advantage certain kinds of photography. Since your setup basically looks like a lens, it's quite useful for stelthy street photography. The 'camera' itself hat its own shutter button so you can even operate it without the use of a smartphone when your WiFi con nection fails. You'll need at least a moderate wide-angle for this though, as framing your shot is mostly guessing work, and you would need lots of practice to get usable images.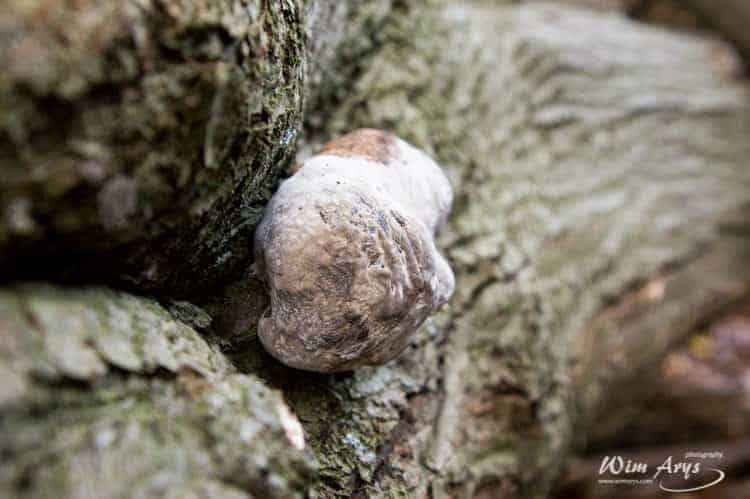 The autofocus capabilities do hold you back somewhat, and I'd love to see a camera like this with the Sony A6000's autofocus system. Adding an LEA4 and A-mount lens might sound like an iterating idea on paper, but in practice it largely negates the real benefits of a small size camera system like this.
Although the sensor does perform well at higher ISO's, the overall image quality isn't up to par with the latest APS-C sensor cameras. I'm not saying it's unusable, and you can get interesting shots thanks to the unique form factor, with some highlight and shadow recovery possible when shooting RAW.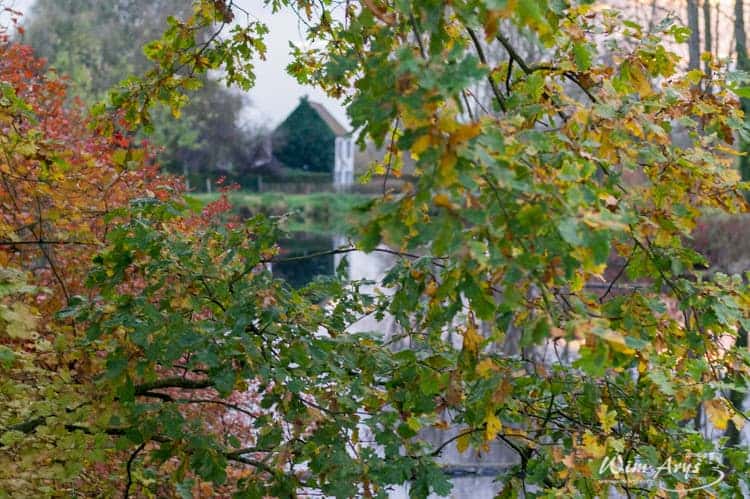 I'm guessing a lot of buyers will use the QX1 as a video system, mounting it on a tripod, perhaps with a motorised head, and just letting it roll. It is indeed a novel idea from Sony, and possible usage is limited only by your imagination.