Olympus OMD EM1 vs EM10 features and performance
Olympus OMD EM1 vs. EM10: features and performance
 Introduction
With the version 2.0  firmware upgrade of the Olympus OMD E-M1, I thought it would be interesting to compare the Olympus OMD EM1 vs.  EM10.
All cameras in the OMD range have a built-in viewfinder and a DSLR style body.  The EMI is their top of the range camera and costs about twice as much as the EM10. You can think of the EM10 as the budget version of the EM1, just like what Olympus does with the Pen vs. Pen Lite.
Primary differences:
EM1 has 81-point contrast and 37 point on-chip phase detection AF  vs EM10 81-point contrast detection.
Both share the same 16M Live MOS sensor and TruePic VII image processor.
EM1 hot shoe flash included vs. EM10 built-in flash.
EM1 has 5-axis stabilisation vs. EM10 3-axis.
EM1 has weatherproofing vs. EM10 no weatherproofing.
Ergonomics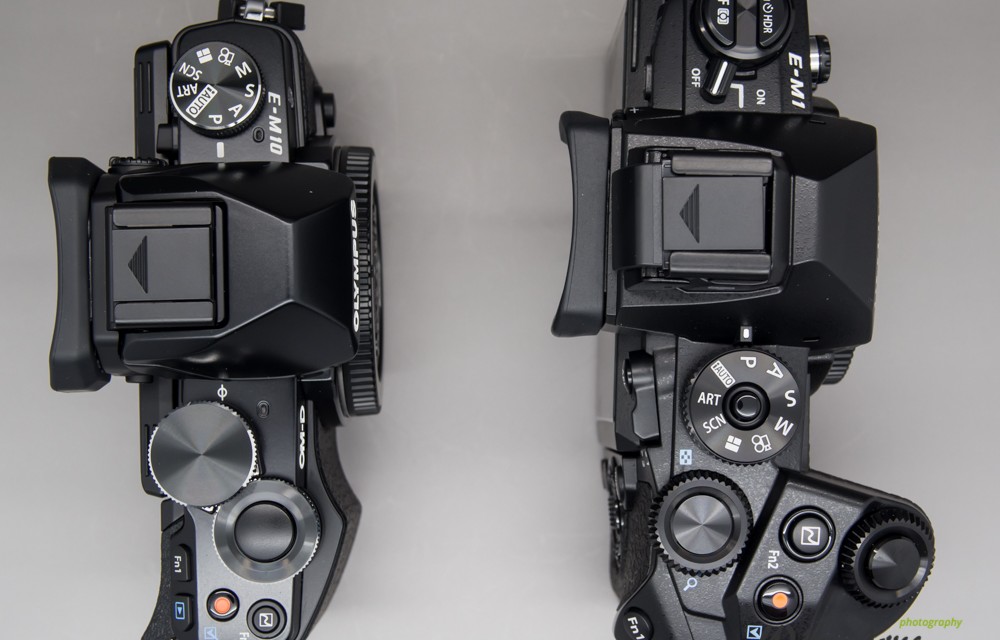 The E-M1 has a genuine professional camera body:
An excellent grip that feels very comfortable to handle.
The total size and weight of the body is ideal as it balances well with the better (and heavier) Olympus lenses like the 75mm f/1.8 and 12-40mm f/2.8 zoom.
Fully weatherproofed.
Lots of dials and fully customizable buttons.
The E-M10, on the other hand, is:
About 25% thinner and 100gr lighter.
More portable and better balanced with the smaller lenses like a 25mm Leica prime or the new pancake 14-42 zoom.
A lot of thought has been put in the layout of buttons and wheels on this smaller body.
 Viewfinder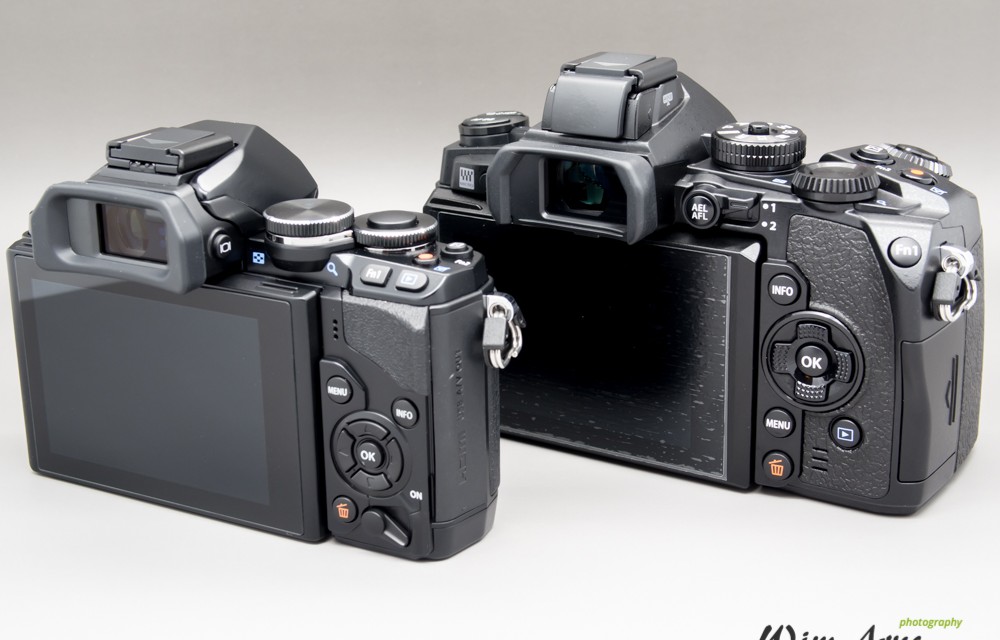 The E-M1 does have the advantage here. Although both models have a built-in viewfinder, when you compare them side-by-side, you undoubtedly notice the benefit of a 2.3M-dot electronic viewfinder of the EM1 over the 1440k dot electronic viewfinder on the EM10. It's one of the best EVF's I've used, rendering a clear and crisp image. A viewfinder like this is a joy to shoot with.
 ISO Performance
Although both models share the same 16M Live MOS sensor and TruePic VII image processor, all cameras do handle noise differently. When comparing RAW images, the noise at medium levels looks more eye-pleasing to me with the EM10, Quelle surprise. Beyond ISO6400, the EM1 does fare better, and after noise reduction is applied (something you'd do anyway at these ISO's) they perform similarly.
EM1:
EM10:
 Built-in vs. hot-shoe flash
Using flashes efficiently and artistically is an art in itself. Built-in flashes don't bounce upwards, and their reach is limited, so I prefer more powerful hot-shoe flashes.
Unless you're looking for a family snapshot camera, you'll find yourself buying a better flash at one point anyway. I see no advantage in the built-in flash when comparing the Olympus OMD EM1 vs. EM10.
 Auto-focus and image stabilisation
 Auto-focus
The Olympus EM1 Olympus OMD EM1 vs. E7 point M10 has 81-point contr37-point3on-chip phase-detection AF during the EM10 only has the 81-point contrast AF. Does this make a difference in real-life use?
Contrast detection uses the image sensor and tells the camera to keep changing focus until the difference from one pixel to the next is the highest possible. As the camera doesn't know which way to focus, it(s not suited for action photography. Phase detection autofocus superimposes two images registered from slightly different positions, it can measure how far apart the two images are and knows what direction to focus, so it is faster than contrast-detection.
Now this will not make your images themselves look any better, but if you do any action photography, it will significantly help to get more in-focus shots, especially when using sequential shooting.
 Image stabilisation
The Olympus sensor stabilisation is renowned and recently has been licenced to other camera manufacturers like Sony, who intend to use it in future models. As a cost-cutting measure, the EM10 5 axis IS was reduced to 3-axis stabilisation in the OM10.
This, in my experience, is more important when shooting video than in photography. Although having the image sensor stabilised does help in action photography, the difference between 3 or 5 -axis is negligible.
 Conclusion
In order to boost sales, many camera manufacturers make a cheaper version of their flagship camera. It makes the line available to a larger audience, who will perhaps in the future upgrade to the flagship model. Although Olympus have done an excellent job of keeping many of the features in their smaller OMD, it still looks and feels like a "lite version" of their EM1. It's not that there is anything wrong with the EM10; it's mainly because the E-M1 is so well-designed and has all the features needed for professional photography.
So when comparing the Olympus OMD EM1 vs. EM10, my preference goes out to the EM1. Not because the quality of final images is better, but because it's a much easier camera to use. It has one of the best viewfinders out there, feels robust yet lightweight in your hands and balances well with the Olympus Pro-range lenses.
After the version 2.0 firmware update released in September 2014 (with tethering support, in-camera distortion correction and enhanced Live Composite) it offers the most features and is clearly the more future-proof camera of the two.