Multi Interface shoe flashes for Sony cameras
Multi-Interface shoe flashes for Sony cameras
Introduction
The Multi-Interface Shoe (MI Shoe/MIS) was introduced by Sony late 2012. It replaced a range of other hot shoes including the Minolta legacy Auto-lock Accessory Shoe (AAS), the NEX range Smart Accessory Terminals (SAT, SAT2), the Cyber-shot hot shoe, Intelligent Accessory Shoe (IAS) and Active Interface Shoe (AIS). This Multi-Interface Shoe has the same middle contact and frame as a standard ISO 518 hot shoe, but additional electrical connections are hidden under the front.
This ISO compliance means it is mechanically compatible with any ISO 518-based equipment, and all ISO-based flashes can be triggered, although no other functionality is supported. A range of adapters is available, including Sony's ADP-MAA, which allows accessories that are compatible with an auto-lock shoe to be used with the camera's new multi-interface shoe.
Before 2014, Sony released 4 Multi-Interface shoe flashes (HVL-F20M, HVL-F43M, HVL-F-60M and the HVL-RL1), but as of late this year there is also a new HVL-F32M available. This flashgun was specially designed for their A7 range cameras. You can easily find compatible flashes by looking at the product name: "AM" are earlier versions (fit when using an adapter), "M" are Multi-Interface Shoe products
German manufacturer Metz also updated 2 of their Mecablitz flashes, the 44 AF-1 and 52 AF-1 digital with the Multi-Interface shoe and a third one, the very powerful Mecablitz 64 AF-1 digital will be available soon.
Lastly, Japanese company Nissin released a compatible version of their small i40, making a total of 8 flashes available for current Sony cameras.
Glossary Of Terms
Before going over all the specifications of compatible flashes, it might be useful to start with some abbreviations of functionality I will be using.
Guide number (GN)
The guide number for an electronic flash measures its ability to light a subject at your selected sensor sensitivity. For example, doubling the guide number means the flash can light an object at twice the distance. A higher guide number indicates a more powerful flash.
Through The Lens metering (TTL)
This TTL process of calculating the correct amount of flash light (power) to be used. Both flash light and ambient light are measured through the lens, and flash power required is calculated.
Advanced Distance Integration (ADI)
Modern lenses have encoders within the glass hardware to send actual focusing distance of the subject back to the camera's exposure computation system. This information is then used by the camera to compute the real flash power that it is required to ensure that enough flash is fired to provide the right illumination of the subject at that distance.
High-speed sync flash (HSS)
This HSS is the ability to use a flash at shutter speeds faster than your camera's native sync. Most cameras have a native sync of 1/250th of a second, and anything faster than that is beyond the camera's ability to synchronize the shutter with the flash. HSS is used in situations that require faster shutter speeds to capture the action adequately. When you want a fill light in bright daylight (to lighten shadows) or when you're using a flash at wide apertures (where you'd normally over-expose your image).
All Multi-Interface Shoe flashguns available
Sony
Sony's multi-interface shoe flashes might look expensive on paper, but they do offer the most features. All models listed are capable of remote controlling other flashes and all (except the HVL-F20M) are dust- and moisture-resistant. You'll often find them at a significantly reduced street price, try Amazon.
HVL-F20M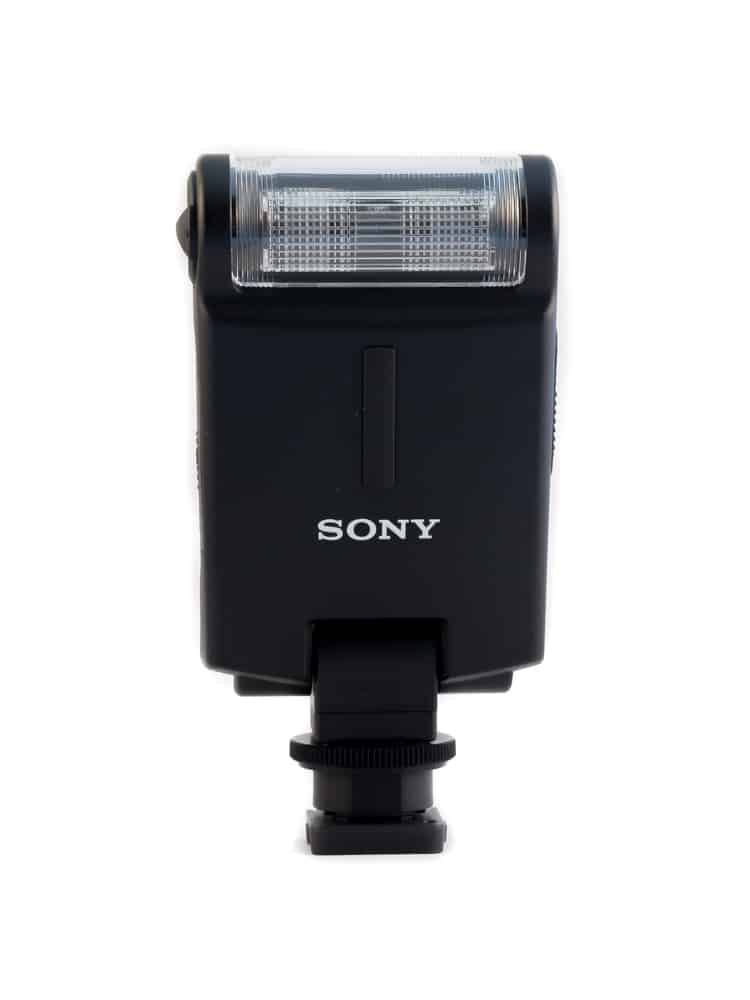 The HVL-F20M is their smallest Multi-Interface Hotshoe flash and will give you a bit more power than a built-in flash. There's no LCD screen, but controls are easy and straightforward to use. It's also possible to use it as a remote controller for external flashes, an excellent feature at this price.
GN: 20
TTL
ADI
Can Be Used as Wireless Controller
Bounce Head
Built-In Diffuser
Wide and Tele Flash Settings
Compact, Flat-Folding Design
Runs on 2 AA Batteries
HVL-F32M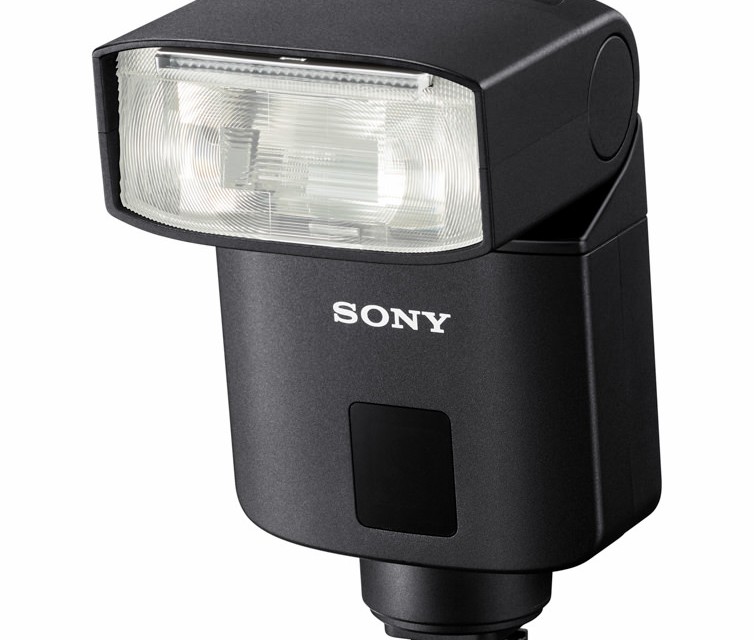 The latest Sony flash was designed especially for the A7 range of cameras. Keeping in line with the philosophy behind that range, it's meant to give you the maximum possible quality in a small unit. This one is also capable of using HSS, and is weather and moisture resistant just like all products in the A7 range. Remember that you can use all Multi-interface flashes can be used with the A7 range.
GN: 32
TTL
ADI
HSS
Auto Power Zoom Range: 24-105mm (16mm with Panel)
Wireless Control
Dust and Moisture Resistant
Built-In Bounce Sheet
Runs on 2 AA Batteries
 HVL-F43M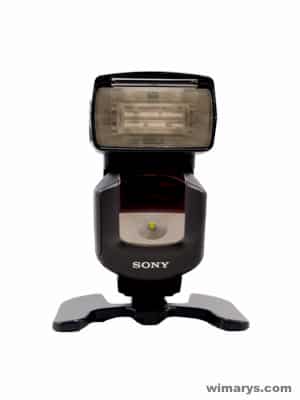 The HVL-F43M is my personal favourite of all the Sony flashes, as it does give you a decent amount of power with advanced functionality, but is still quite portable.
GN: 43
TTL
ADI
HSS
Auto Power Zoom Range: 24-105mm (15mm with Panel)
Wireless Control for up to 3 Flash Groups
Dust and Moisture Resistant
Pivot 90° L/R
Built-in Bounce Sheet
Retractable 15mm Wide-Angle Panel
Runs on 4 AA Batteries
Mini Stand and Case Included
HVL-F60M
The HVL-F60M is a seriously powerful flash for professional use but suffers from fast overheating issues. There is no sign that Sony will be updating it soon, so if you need a flash of this calibre, I'd suggest going with the Mecablitz 64 AF-1 Digital.
Update: Sony just released a firmware update that would resolve the overheating issues, though with a longer recycling time.
GN: 60
TTL
ADI
HSS
Auto Power Zoom Range: 24-105mm (15mm with Panel)
Wireless Control for up to 3 Flash Groups
Dust and Moisture Resistant
Dedicated Flash and Video Light
Quick Navi and Large Dot Matrix LCD
Stroboscopic Lighting Control
 Metz Mecablitz Flashes
German consumer electronics manufacturer Metz makes a range of semi-pro and pro flashes called Mecablitz. These are often quite a bit cheaper and offer equal performance and functionality as their Sony counterparts, except for weather proofing and wireless control for external flashes. Their flagship 64 AF-1 Digital is an exception to this, as it is dust/moisture resistant and has wireless Master functionality.
Mecablitz 26 AF-1 digital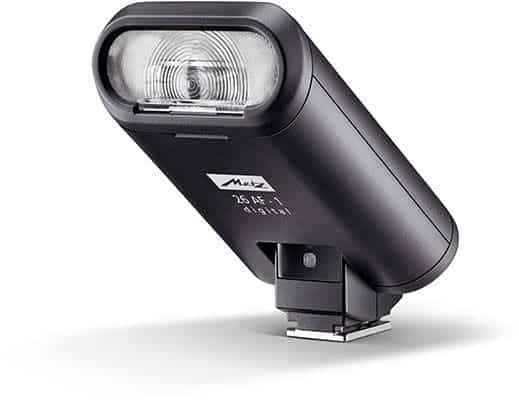 Despite its compact size – it even fits in a shirt pocket – the new mecablitz 26 AF-1 digital boasts comprehensive features. The flash output impresses with a guide number of 26 for ISO 100/21° and 85mm and outperforms integrated flashes. It's handy format makes it the ideal holiday companion, particularly suited to compact cameras with flash shoes. Adjustments can be set using the function keys – ideal for flash novices who expect nothing less than perfect illumination. The ingenious design enables the reflector to be rotated for an indirect flash. Together with the integrated wide-angle diffuser, the mecablitz 26 AF-1 digital allows sufficiently creative scope for inventive illumination – for shooting videos, too. Because an additional two-level adjustable high output LED permanent light with up to 30 Lux lights up even motion picture photography.
GN: 26
90° vertical bounce facility
Simple operating concept
Integrated wide-angle diff user for 24 mm illumination
Flash readiness indicator and correct exposure display on unit and on camera ***
Status LED
AF-assist light on Video LED
Automatic unit shut-off ( flash mode)
Metal base* with quick lock
 Mecablitz 44 AF-1 Digital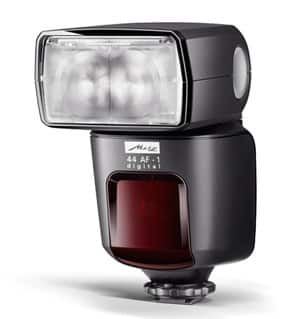 The 44 AF-1 is their smallest available for the MIS, and does not support HSS. It is quite cheap though and offers a more powerful alternative the Sony HVL-F20M (although it's bigger).
GN: 44
TTL
ADI
no HSS
Auto Power Zoom Range: 24-105mm (12mm with Panel)
wireless slave mode only (TTL)
No weather sealing
Modelling Light for Checking Shadows
Tilts Upward 90° & Rotates 300°
USB Port for Firmware Updates
1st & 2nd Curtain Sync
Runs on 4 AA Batteries
The Metz Mecablitz 52 AF-1

The Metz Mecablitz 52 AF-1 is an almost a fully featured TTL, and HSS flash with auto zoom functionality and an illuminated rear touchscreen with swivel. A great buy if weather proofing is not important to you.
GN: 52
TTL
ADI
HSS
Auto Power Zoom Range: 24-105mm (12mm with Panel)
wireless controller
No weather sealing
Modelling Light for Checking Shadows
Tilts Upward 90° & Rotates 300°
Manual from 1/1 to 1/128 in 1/3 Steps
Illuminated Rear Touchscreen with Swivel
USB Port for Firmware Updates
High-Speed, 1st & 2nd Curtain Sync
Runs on 4 AA Batteries
Mecablitz 64 AF-1 Digital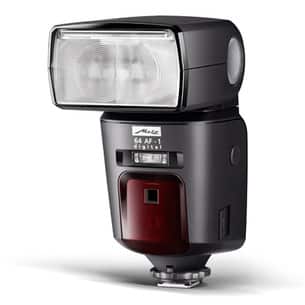 This is their top-of-the-line flash featuring an exceptional build and all possible functionality. It's currently the only useable flash option for professional use.
GN: 64
TTL
ADI
HSS
Auto Power Zoom Range: 24-1200mm!! (12mm with Panel)
Secondary Reflector with 2 Output Levels
Only Mecablitz which is weather sealed
Wireless Master & Slave Functionality
Tilts -9 to +90° & Rotates 300°
Color LCD Touchscreen & Modeling Light
Strobe & Servo Flash Modes
High-Speed,1st & 2nd Curtain Sync
Sync, Power, and USB Ports
runs on 4 AA Batteries
Nissin
Nissin is a Japanese company that has been making flashes for over 50 years. The currently have three lashes available for the Multi-Interface Shoe: the i40, Di600 and Di700.
 Nissin i40

This small flash uses dials instead of the standard LCD screen. It offers full functionality; the only caveat being that it is not dust and moisture resistant.
GN: 40
TTL
ADI
HSS
Zoom Range: 24-105mm (16mm with Panel)
LED Video Light with 9 Output Levels
Tilts Upward 90°
Rotates Left & Right 180°
Wireless Slave TTL Functionality
Recycle Time: 0.1-4 Seconds
Slow, High-Speed,1st & 2nd Curtain Sync
Runs on 4 AA Batteries
Nissin Di600
The Nissin Di600 Digital TTL flash for Sony MIS covers a focal Length range of 35-105mm, has a GN rating of 32 at 35mm/GN44 at 105mm. It is TTL/wireless TTL capable.
GN 32 at 35mm/GN44 at 105mm
TTL
ADI
Auto Zoom Range: 35-105mm
AF assist beam
Energy saving system
Wireless TTL mode
Rear Curtain Sync
Nissin Di700
The Nissin Di700 Air advanced flash for Sony MIS covers a focal Length range of 24-200mm. It has a GN rating of 54 at 200mm/GN48 at 105mm, fully rotating flash head, is HSS/TTL/wireless TTL capable and features a LED control panel.
GN 54 at 200mm/GN48 at 105mm
TTL
ADI
HSS
Zoom Range: 24-200mm
LED control panel and selector dial
Head rotates horizontally 180° to right and left, tilts up to 90°and expanded 7°of downward tilt
Wireless TTL mode
External power socket for Nissin Power Pack PS 8
PC terminal socket for flash sync
Phottix
Phottix is a rapidly developing company that specializes in manufacturing photographic accessories.
Phottix Mitros and Mitros+ TTL for Sony MIS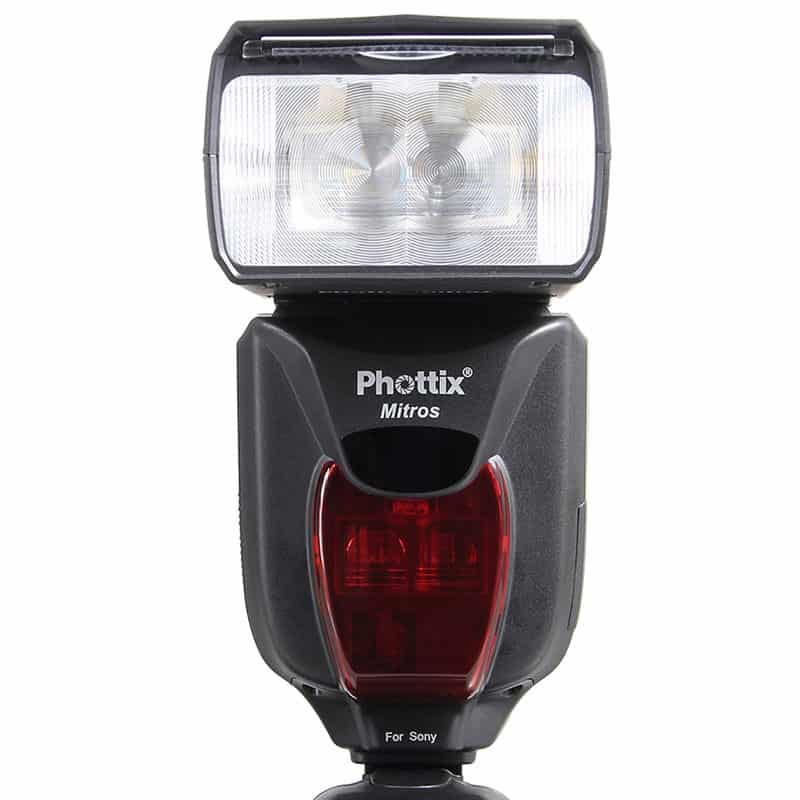 Phottix just released versions of their Mitros, and Mitros+ TTL flash units for the Sony multi-interface hot shoe. The Mitros+ has remote radio flash control with built-in Phottix Odin and Strato II receivers, and both can be triggered remotely or used to trigger off-camera flash units. These flash units provide a guide number of 58, with 180° rotation and tilt by 97°.The Phottix Mitros and Mitros+ are available now for $299 and $399.
GN: 58
TTL, M, Multi (Stroboscopic) modes
Auto/Manual Flash Head Zoom with 180 degree rotation and 97 degree tilt
High Speed Sync and Rear Curtain Sync
Flash Exposure Compensation: Manual
Quick Flash Mode: with 0.1-2.5 sec. recharge times
USB port for upgrades
3.5mm Sync port
 IR Wireless Triggering with Master and Slave mode
Optical Slave Sync Mode
4 AA batteries
Port for external battery pack
Compatible with Phottix Odin TTL Flash Triggers
Conclusion
With now 13 flashes available for the Multi Interface Shoe, you are not limited the Sony flashes anymore. Which one is best for you depends on your usage and how much power you actually need.
Two features to keep in mind are whether you need dust and moisture resistance and the ability to use HSS, as this will limit your options. I'd recommend keeping your flash as small as possible and upgrading as you need more power.
Two new arrivals are very interesting in particular: the small, inexpensive but feature-rich Nissin i40 and the pro Mecablitz 64 AF-1 Digital. The latter will particularly appeal to users unsatisfied with the HVL-F60M's overheating issues.
The HVL-43-M is my personal flash of choice for both the A7r and A77 II, as it is still portable whilst having both HSS and weather proofing. It's been on the market for over a year now and prices have dropped significantly.