Samsung NX500 camera review
Samsung NX500 review
Introduction
Samsung is trying to break into the semi-professional photography market. The first promising sign of their plan was the announcement of a fast f/2.8 medium zoom 16-50mm lens just about a year ago. And the curtain was fully unveiled last year at the Photokina exhibition where they released their flagship NX1 camera. This mirror-less camera has many professional features and offers excellent value for money. We're talking full weather sealing, a sturdy DSLR type body, fast autofocus, the ability to record 4K video straight to SD card…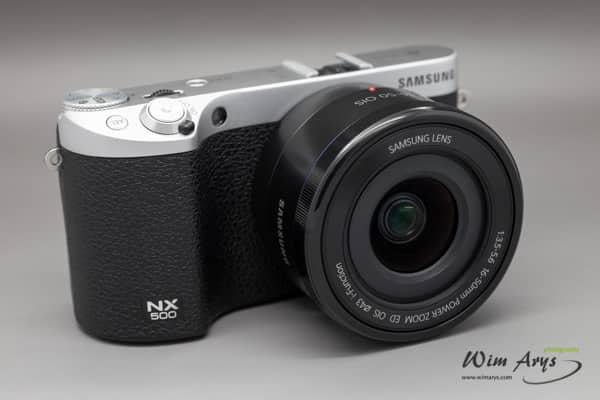 Some reviewers were disappointed that it did not incorporate a full frame sensor. Instead, Samsung sensibly went for an APS-C sensor, albeit a 28MP backside illuminated one. I don't think this was a bad move, as full-frame sensors require larger and heavier lenses, with a higher price tag and are more difficult to design. Instead they opted for this BSI APS-C sensor, that according to their marketing, would compete against FF sensors in terms of dynamic range and overall quality. You'll find smaller BSI sensors in many compact cameras, the main advantage being that it can gather more light and does this more efficiently than traditional sensors.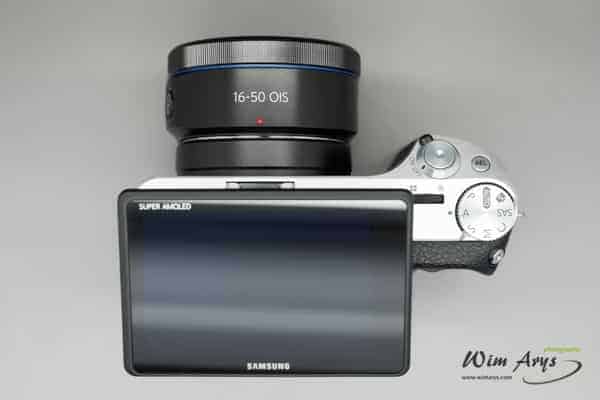 It was already clear that Samsung would use the same sensor for the successor of the NX300, and this Samsung NX500 has now arrived. Many videographers will be relieved that this smaller and cheaper NX also records 4K to SD card directly (though with a trick). Photographers I think will generally be disappointed with the lack of a viewfinder, although the AMOLED touch screen is one of the best currently available on any camera.
Features and Functionality
28.2MP BSI APS-C CMOS Sensor
The Samsung NX500 uses the same 28.2MP BSI CMOS sensor as the NX1. This APS-C sensor currently is their top-of-the-range model and has the largest megapixel count of any cropped sensor on the market. Although megapixels aren't everything, it does record more details and it this case without increasing noise beyond the level of a standard 20 MP sensor. It also allows you to crop images without worry and print without losing quality. This sensor yields beautiful images with a unique look.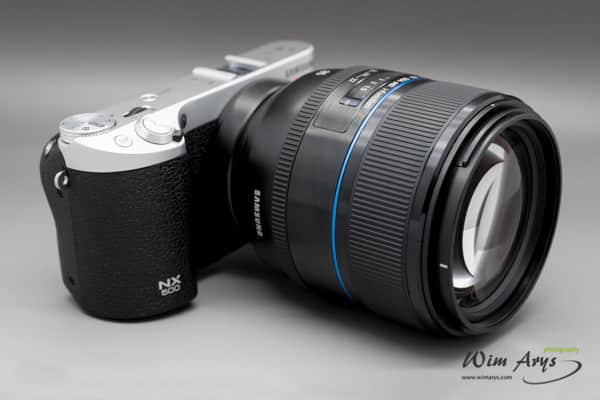 DRIMe V Image Signal Processor and buffer
Yes, the DRIMe V Image Signal Processor of the NX1 is also incorporated in the NX500. This processor is a state-of-the-art, capable of heavy calculations and fast processing.
One difference is that the buffer isn't as large as the one in the NX1. Fast continuous RAW shooting is out of the question I'm afraid. You'll get a burst of about three shots when shooting RAW+JPEG (fine). With a long wait to write to SD card after that. Samsung don't seem too bothered that their chief competitor Sony has an A6000 at the same price point that fares a lot better in this area. Disappointing, although I'm guessing Samsung is trying to protect NX1 sales. For any pro work: go for the NX1.
The NX500 also has a slightly longer 1/6000 sec maximum shutter speed compared to 1/8000 sec on the NX1. It can be set to electronic though.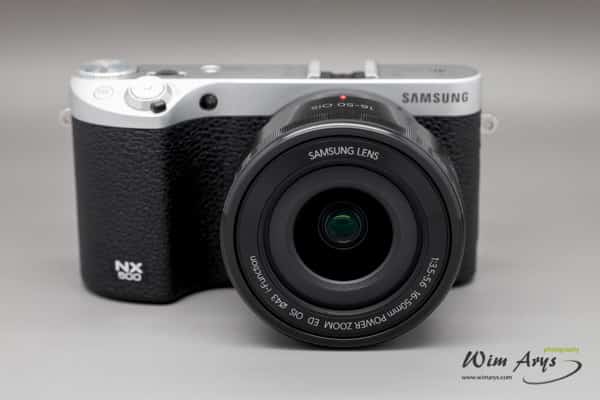 4K, UHD, and Full HD Video Recording
There is good and bad news here. The NX500 does record 4K video direct to SD card but crops the middle 60% of the image from the camera's sensor. Accessing the 4K video feature also involves pressing the delete button and then the movie record button. These caveats  make 4K recording somewhat of a gimmick on this camera. Yes, it's there, but very cumbersome to use.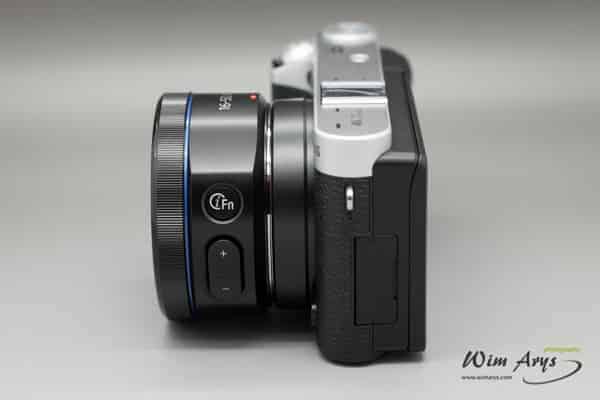 NX Autofocus System III
The NX Autofocus System III uses 205 phase (153 cross-type), and 209 contrast-detection autofocus points. You can expect fast autofocus comparable to what you'd get with a Sony A6000. This fast AF is best-in-class performance on any current mirror-less camera. It does not work as well with all Samsung 'legacy' glass unfortunately, but let's hope for another firmware update.
If you find the AF sluggish when shooting outside of Auto mode (what you'd do if you want to shoot RAW), try raising the ISO range. Raising ISO seems to sensitize the on-chip autofocus points too.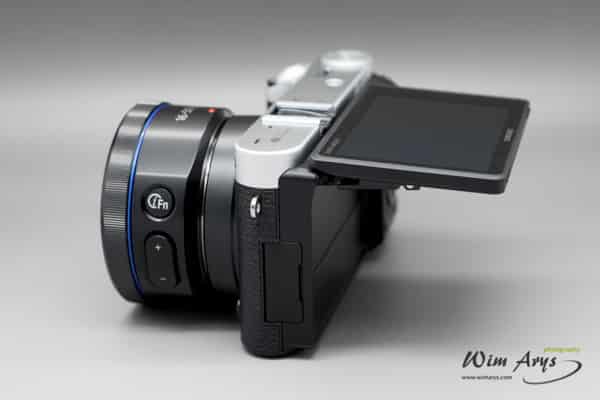 3.0″ 1036k-Dot Tilt-Touchscreen Monitor
Samsung uses their AMOLED technology in most of their mobile products, and it looks truly stunning.The 1036k-dot touchscreen is very responsive, and you can access all camera functionality through it. You'd almost forget that there is no viewfinder incorporated unless you're shooting on a bright sunny day. It also tilts 180°, enabling you to shoot at odd angles, and dare I say it, is ideal for that ultimate selfie moment.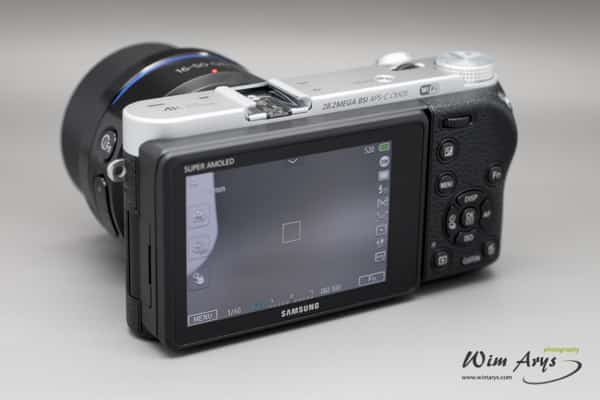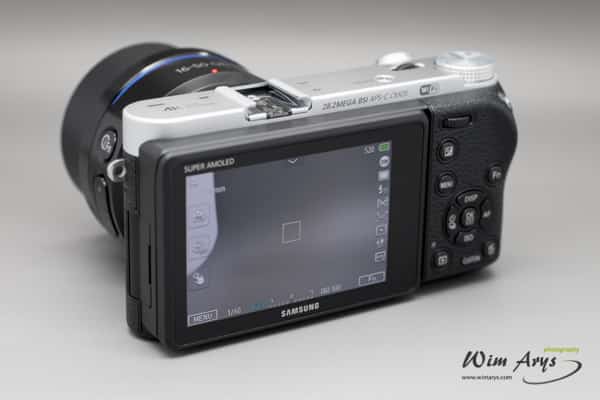 Construction and Operability
The NX500 is a well-made product. When comparing it to the Sony A6000, it feels a lot sturdier with an overall better build. The NX lens mount looks like it's designed to handle the larger 'S' series lenses too. The number of buttons and dials are what you'd expect on a camera of this size and stature. Remember though that all functionality can be accessed from the touch screen. And that all Samsung lenses have a programmable iFn button if you need more hands-on control.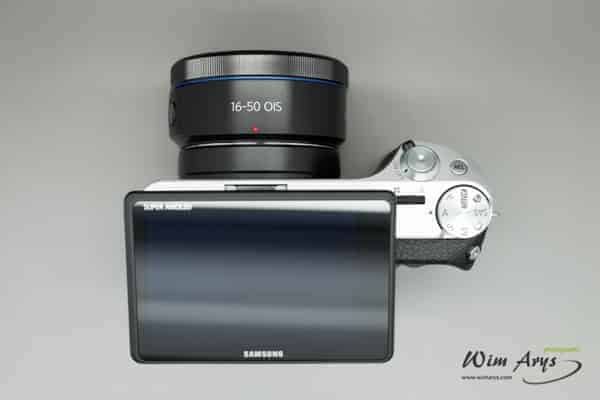 Connectivity
Connecting the camera via USB allows you to transfer files to your computer if you don't have a dedicated SD card slot.  All NX cameras are WiFi, Bluetooth, and NFC capable, allowing for remote control and wireless transfer of images to your tablet or smartphone.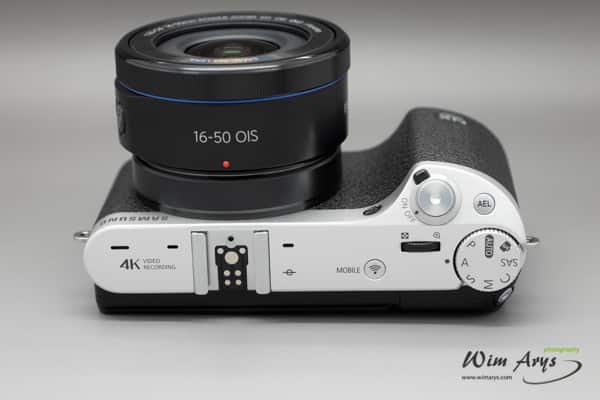 Auto Shot Mode (SAS)
Samsung's Auto Shot mode now has a dedicated mode on the control dial. It's a predictive shooting mode that tracks subjects and triggers the shutter at the ideal moment. Beyond the widely publicized (and utterly useless) Baseball auto shot, now the self-explanatory 'Group Jump' and 'Trap Shot' are included.  While I'm not a big fan of these predictive modes, it does suit this 'soccer mom' type camera better than something like an NX1.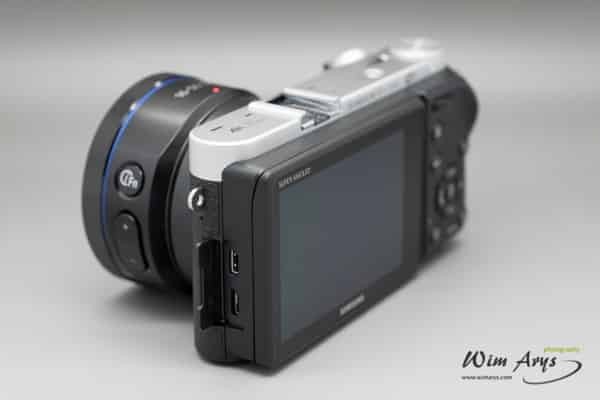 ISO Performance
Lightroom currently does not support the Samsung NX500 RAW files. I converted these in Samsung's RAW converter without any noise reduction. As expected, the NX500 performs great, even at higher ISO's up to 6400. You will see some loss of sharpness starting from ISO800, probably due to the demosaicing algorithms applied. You'd probably get better results sharpness wise when applying sharpening methods in Iridient Developer at the RAW stage, I'll know for sure when Iridient supports this camera.
Conclusion
Samsung definitely where conscious of protecting the market share for their more expensive NX1 when designing the NX500. All the basic functionality is still there, but at a slower performance.
Firstly, there is no viewfinder incorporated. It seems to me than anyone who'll appreciate the full value of this fantastic sensor will miss a viewfinder. To make things worse, there is no separate viewfinder available in the current NX line-up.
Secondly,What's up with that small buffer? This will make any type of pro work impossible with this camera. Sequential RAW shooting that stops at 3 shots can hardly be called pro performance, let alone the wait time to write to SD card which is at least triple as long. If you're a JPEG shooter, this will be less of a problem for you, but for sequential action photography you'll still need to set the camera to a lower quality setting.
Thirdly, although the 4K video symbol features prominently on the top plate, I'm betting most videographers will be disappointed with the sensor cropping in that mode and the cumbersome method of previewing 4K video. It definitely makes the camera unsuitable for any type of pro work.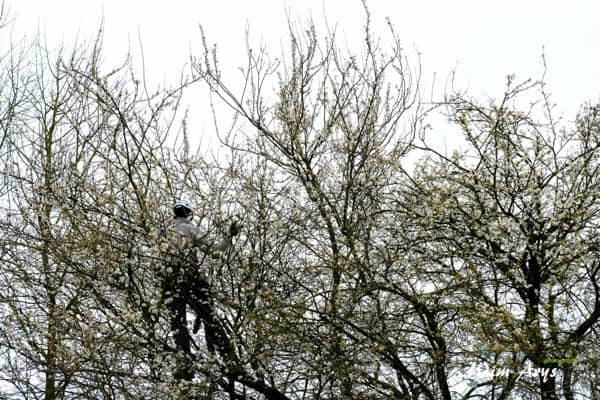 Now the good. In many ways, the smaller bodied NX500 seems to fit the current 'normal' Samsung lens line-up better. I always found it strange that Samsung decided to bundle their 16-50mm f/3.5-5.6 OIS lens with the NX1, but it suits the NX500 much better in terms of form and user expectations. Although you won't get the absolute best out of the BSI APS-C sensor with this zoom, you are paying only about half the price for the set. And your system can grow with you, being able to upgrade the lenses to the higher quality 'S range first and perhaps later on an NX1.
The firmware runs smoothly, especially compared to the buggy firmware shipped with the NX1. You clearly notice that thanks to their popular smartphones and tablets, Samsung has a lot of experience with building a intuitive interface and Menu system.  Autofocus seems fast and accurate, especially with the kit lens.
Autofocus in good light seems fast and accurate, especially with the kit lens. Low light AF performance is about what you'd expect from a mirror-less camera, no better or worse than Fuji, Olympus or Sony.
The main selling point of this camera is definitely the fantastic 28MP APS-C BSI sensor. Images do look fantastic. We just need to wait for Lightroom support to fully take advantage of it.
Purchase and availability
The Samsung NX500 is now available for purchase at Adorama for $799 in white, black or brown. I would suggest getting a couple of extra batteries too at $19.99.