Manfrotto 190 carbon fibre 4-section tripod 190CXPRO4 review
Manfrotto 190 carbon fibre 4-section tripod review (190CXPRO4)
Introduction
Manfrotto is one of the world's leading brands in manufacturing high-quality camera and lighting supports. They were originally an Italian company, but UK broadcast and media giant Vitec Group Plc acquired them in the late 1980's. They kept the name Manfrotto though, and their tripods and other equipment are still produced and designed in Italy. Today, the Manfrotto name is renowned for high quality (yet quite expensive) cutting edge photography tripods, ball heads and other photography-related suspension equipment.
Manfrotto 190 carbon fibre 4-section tripod
The Manfrotto 190 carbon fibre 4-section tripod is one of their top-of-the-line four-section tripods. The leg tubes are made of carbon fibre for an optimal balance between sturdiness and weight. A mere 3.6 lb (1.6 kg) makes this tripod an excellent option for travel photography with a folded length of 20.6″ (52.5 cm). Manfrotto managed to cut down the length by 16 cm compared to earlier 190 models thanks to this four section design. Not bad for a tripod that extends to a maximum length of 63″ (160 cm) with a load capacity of 15.4 lb (6kg).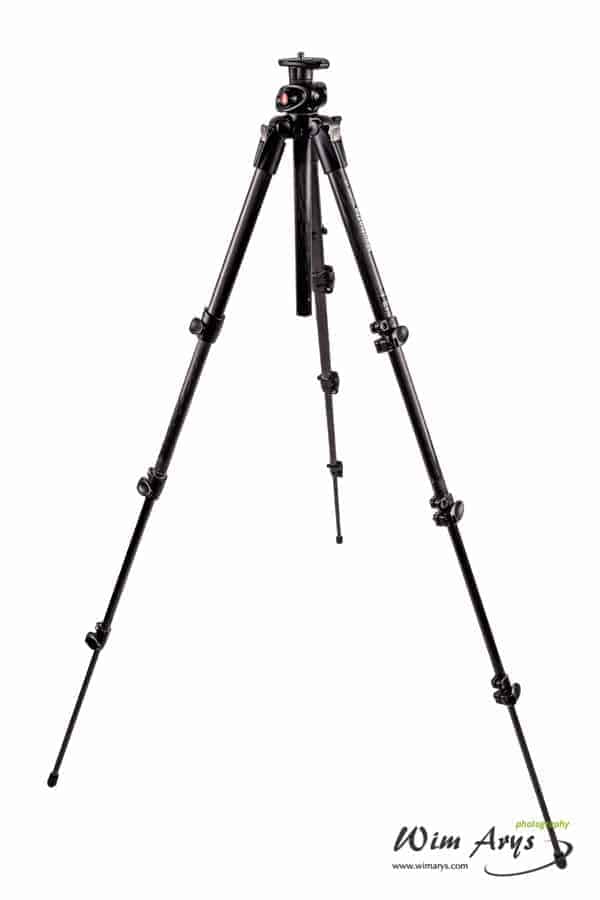 One of the more unusual characteristics of the 190CXPRO4 is its 90° centre column mechanism. This mechanism lets you extend the column vertically as normal, or horizontally for a wide range of framing and shooting possibilities from portrait mode to otherwise uncomfortable angles for macro photography. Switching between the vertical and horizontal column orientation requires a press on the mechanism on the bottom of the centre column, and can even be done with a camera attached.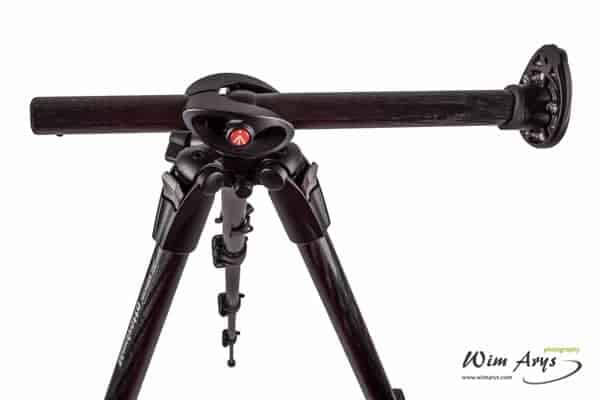 The legs have what Manfrotto calls 'Quick Power Lock levers' that block and unblock each leg section. They allow for a more comfortable and stronger single-handed grip of the leg locks, enabling you to release each section of the leg with z digne movement. This QPL lever design also has the benefit of a more powerful locking of each section. This means that the tripod is more stable and rigid than with traditional lever designs.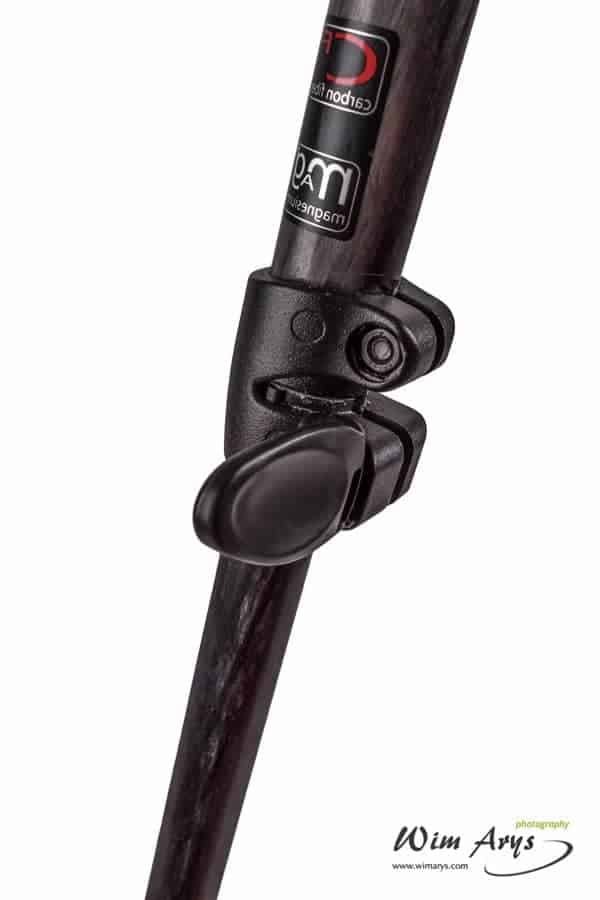 It's also possible to angle the legs in four steps via a click system. This allows you to angle it down to an extremely low angle, 8 cm above the ground; quite useful for macro photography.
You'll also find a bubble level on the top of the centre column. This bubble level rotates freely around the centre column, so you can position it wherever it's easiest for you to see it without being obscured by the mounted head and your camera. Getting your tripod level makes all the other following steps in getting your image level easier. It can take a bit of work, but it's worth it.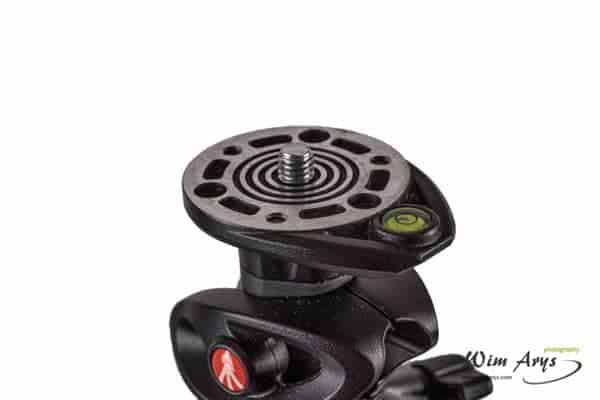 Finally, the top connector of the 190CXPRO4 has Manfrotto's  Easy Link connector for connecting hour ball head and many other accessories like reflectors, an LED light or flash. Handy if you're and making several tripods into a practical mobile studio.
My experience
I've travelled all around the world with the Manfrotto 190 carbon fibre 4-section tripod. It's just a tad too large to strap it to your carry-on, but it fits well in my medium sized check-in luggage. Thanks to the lightweight carbon fibre construction, it only adds 1,6 kg to the total weight. This relatively low weight also helps in the field when you're hiking and carrying it around all day.
All these innovations like the Quick Power Levers might look good on paper, but they are only useful if they help you in your work. I do a lot of long exposures at times (like sunrise and sunset) where a quick setup is essential, and I can tell you that the 190CXPRO4 is very easy to set-up. It's also relatively easy to set it level thanks to the rotating bubble level, making all subsequent steps in framing your image easier too.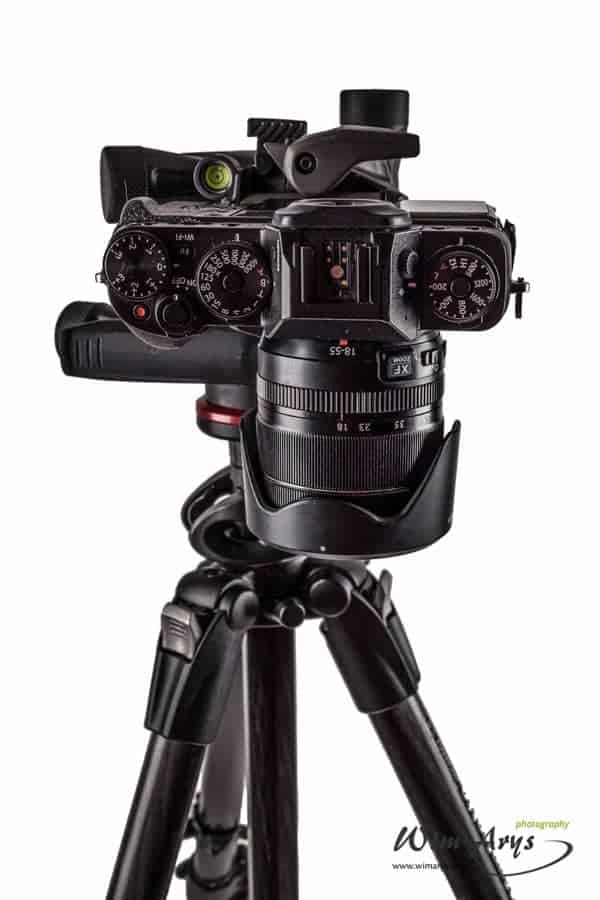 This tripod has been in sand and salt water, on slippery rocks and desert conditions. It still looks none the worse for wear. No signs of corrosion except for one small screw on the centre column. I do give it an occasional shower when I get back home to remove salt and dirt. I've seen no deterioration in performance in the last year, so I'm euphoric with my purchase.
One feature I rarely use is the tilting centre column. I've bought a 3-way ball head that allows me to change the angle of my camera in every direction, so I don't have a need for it. It might be very useful though if you want to use this tripod for your off camera flash, a reflector, etc.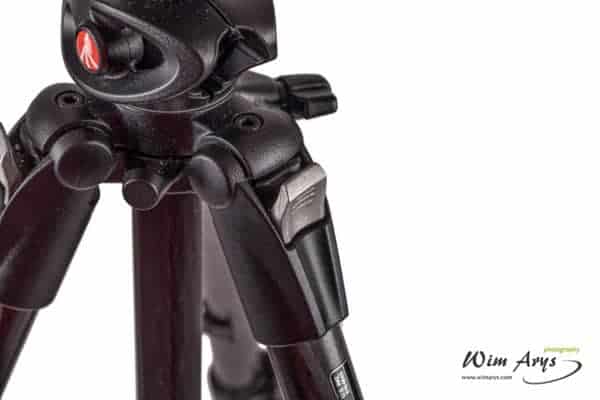 This is an expensive product, retailing around $300. I've had many 'cheap' tripods before this one, and I do think it is worth the extra investment. It's also very sturdy and keeps my lightweight mirrorless camera well balanced. It's easy to transport and set-up, and it seems to be durable, giving me years of service.
One thing you might want to be aware of is that Manfrotto offers an extra warranty on all their products up to 8 years. They'll only extend the legal warranty though if you purchased the product in the country that you're registering it.