Sony cyber-shot DSC-RX10 II review
Sony Cyber-shot DSC-RX10 II review
Introduction
Sony is releasing two new RX-series compact cameras this summer, the Sony Cyber-shot DSC-RX10 II and the RX100 Mark 4. Don't expect to find any changes externally, but both cameras do come with a new generation CMOS sensor. It's called an Exmor "RS," with the S standing for Stacked.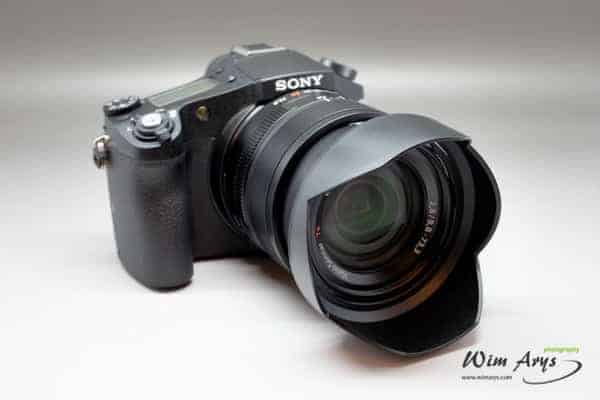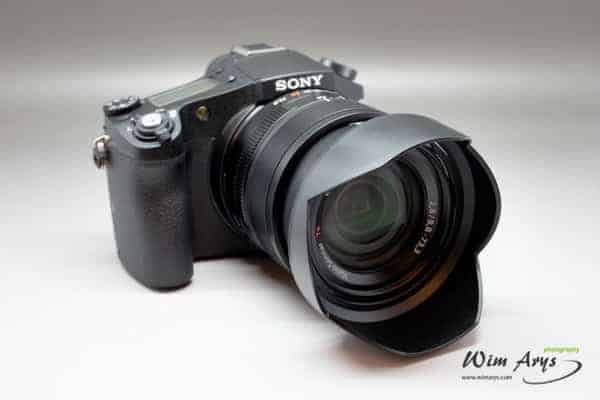 This 1-inch sensor still has a 20-megapixel count, but with a completely overhauled architecture. Sony announced this new design at the beginning of 2012 with the first types being incorporated in smartphone cameras like the Xperia Z in 2013.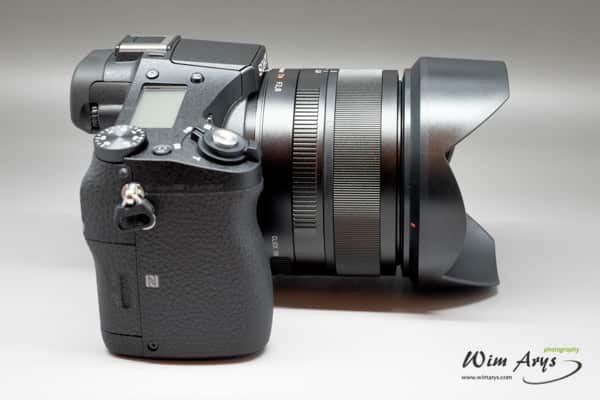 This sensor is a continuation of the BSI (backside illuminated) design with even more light gathering capabilities by placing the electronic circuit below the active pixel section. The photodiodes now have more space, the reading of data is faster, and it is possible to pack memory on the sensor. Hence, this sensor now integrates DRAM memory chip soldered to the back, significantly increasing the data processing speed.
The new Exmor RS allows Sony to implement new functions-intensive video data since the sensor is now five times faster than the previous generation. 4K in 3840 x 2160 px  at 30p, 25p or 24p / XAVC-S at a rate of 100 Mb/s with direct writing to SD card is now also supported. It is limited to 5 minutes per sequence on the RX100 IV, and can go to 29 minutes on the RX10 II. It also has professional Picture Profiles including S-Log2 / S-Gamut.
Thanks to this DRAM incorporated on the sensor, both cameras can make super slow motion video. You can record sequences of up to 960 frames per second meaning your video is slowed down by 40 times. The result can be quite impressive.
Sony Cyber-Shot DSC-RX10 II Review
I'll be reviewing the Sony Cyber-Shot DSC-RX10 II here, what the company calls a bridge camera. A bridge camera 'bridges' the gap between a small compact and a larger APS-C sensor DSLR. The RX-10M2 fits this description perfectly, having a body with all the controls you'd expect from a DSLR, an excellent 2359k dots Bright XGA OLED Tru-Finder (like the A7 series), and a fixed 24-220mm Zeiss zoom lens with a constant f/2.8 aperture and optical image stabilisation.
On the other hand, it still uses a relatively small 1-inch sensor (albeit a latest generation one) with a smaller, compact body.  Besides the upgraded sensor, you'll find a few other improvements, like an increase in shutter speed to 1/32000 seconds with the electronic shutter, a shorter focusing distance of only 3cm. The eye-catcher here is, of course, the inclusion of 4K video recording to (category 10) SD cards, probably the reason Sony thought it was possible to sell it for $1300.
Body, handling, and ergonomics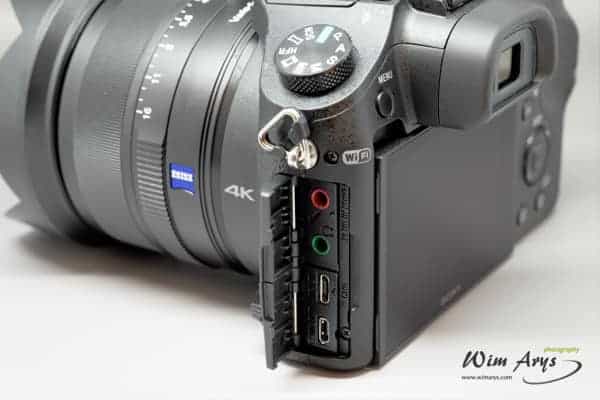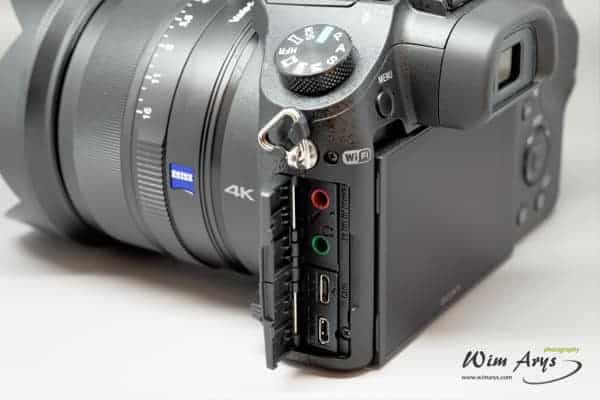 The RX10 M2 is weather sealed to a reasonable degree, a big plus for any photographer who needs a camera that can withstand at least some moisture and dust. It also feels well built, and the grip (not unlike the grip on the A7M2) feels comfortable to hold for extended periods of time. This camera is very light, weighing only 1lb 12.7 oz (813 gr) and is significantly smaller than an SLR. You'll also find the headphone out, mini-jack for audio in, and even an XLR input if you purchase the multi-interface accessory.
The SD card has a separate slot on the right, always a sign of 'pro quality', meaning you don't have to open the battery compartment to change cards. The XGA OLED Tru-Finder viewfinder was gorgeous with an excellent 2359k dots, one of the best electronic viewfinders currently available. Above the viewfinder, you'll find a pop-up flash that opens manually only.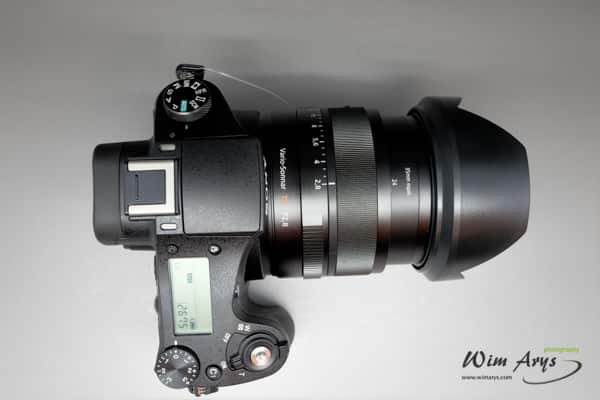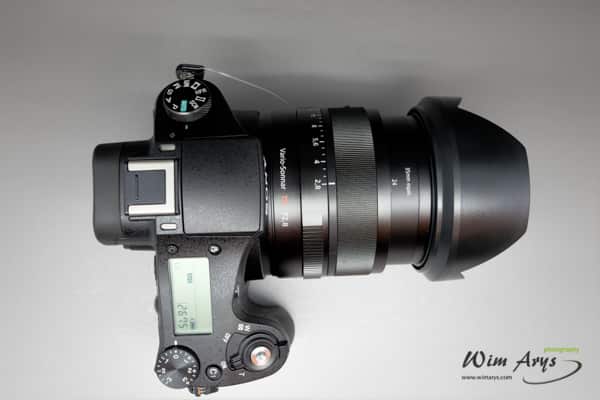 A rotary dial offers the traditional PSAM modes, as well as customizable modes, scene, panorama and video modes and the new super slow motion mode. An exposure compensation dial is available on the right-hand side, with a customizable C button the electronic zoom slider above that. Switching between Single, continuous, manual and DMF (direct manual focus) is available via a rotary dial on the front of the housing next to the lens. On the back, You will find a command to access menus,  a key for direct video recording and an adjustment wheel. Below lies the key to lock the exposure and a key to the customizable menu. The 3-way encoder is also customizable as is the center button. You'll also find the usual 'Preview' and 'trash'. The LCD is hinged and can move 90° upwards and 45° down.
Menus and Menu structure
The Sony RX10 II offers two choices for the Menu's graphic interfaces. The first is more or less consumer-oriented with big tiles showing you the way. The second gives you are more classic DSLR type menus by using tabs. I've never really had any problem with Sony's menu structure, and if you already have some experience with their cameras, you'll find your way very quickly. The Fn key allows you to access a list of most frequently changed settings, so once you're camera is set up according to your shooting style, you can quickly access things like ISO, AF mode, shooting mode and flash settings here.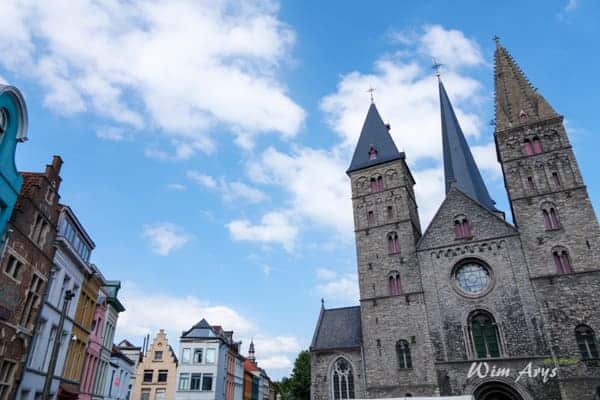 Wifi and Sony PlayMemories
PlayMemories is Sony's built-in application management. Think of it like the app store on your smartphone. Some are free, others are paid, like their long exposure or the time-lapse app. The RX10M2 is Wi-Fi capable, so you can control it remotely and wirelessly from a smartphone or tablet using the remote app. If your smartphone has an NFC chip, the connection is easy: simply touch the RX10M2's WiFi button and the communication protocol snaps into place.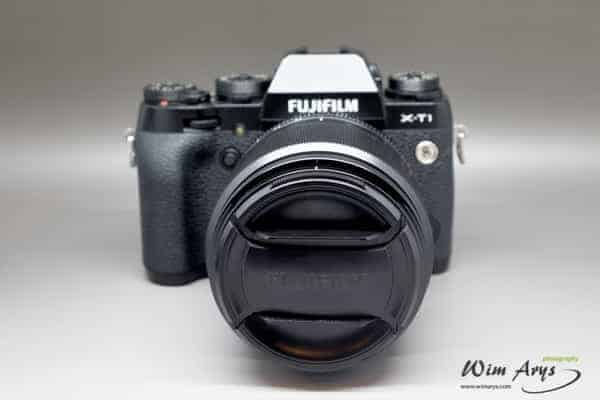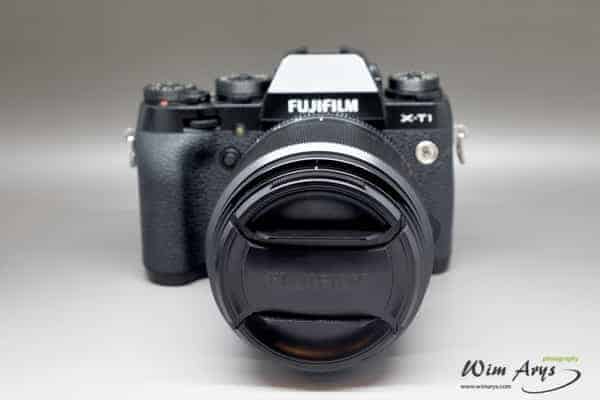 Battery and Memory card
The Sony Cyber-Shot DSC-RX10M2 uses Li-Ion NP-FW50 batteries (7.3 Wh), the same type as the A6000 and A7 series. You'll be able to take around 300 shots with one battery, so I'd advise you to buy a spare, especially since charging can take up to 4 hours. You can charge these batteries via USB cable, a feature I really like in Sony cameras. You can always do a quick charge via USB in your car or with a USB battery when you're on the road.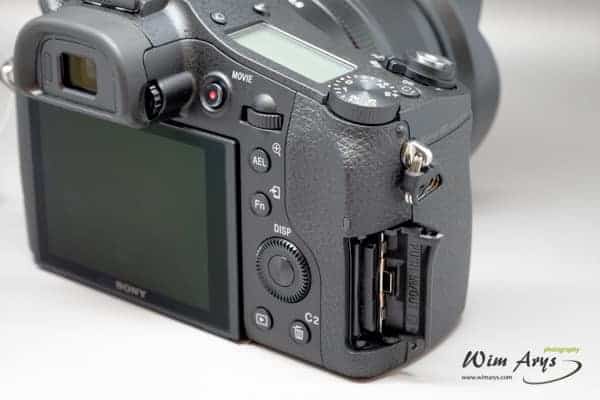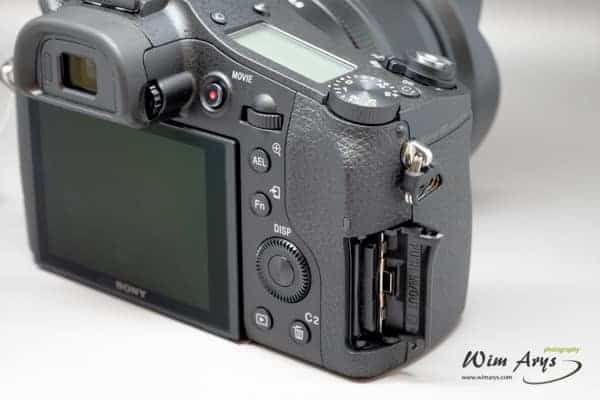 This camera supports Memory Stick Duo, Pro Duo and SD, SDXC and SDHC cards, including the UHS format. You'll need at least a 64GB class 10 SD card if you want to record 4K video.
Fixed 24-200mm Zeiss f/2.8 zoom lens test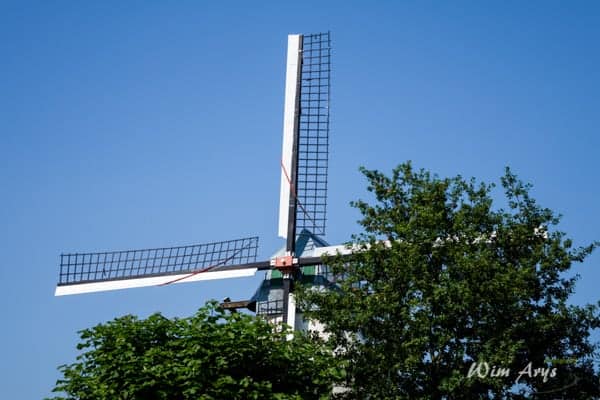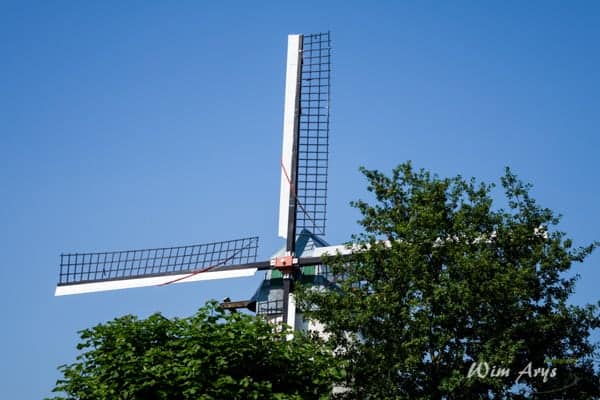 Testing a wide to tele zoom like this throughout the aperture range is not easy. I'm using a sturdy tripod and remote to trigger exposures. I have to constant lights on the left and right of the camera illuminating 4 300 dpi test charts. ISO is always at base 64 for optimal quality, RAW. I've left out smaller apertures beyond 100mm, as it's nearly impossible to get reliable results with a test environment like this at those apertures. My remarks (and opinion), however, are drawn from these test shots as well as my real life experience with this camera.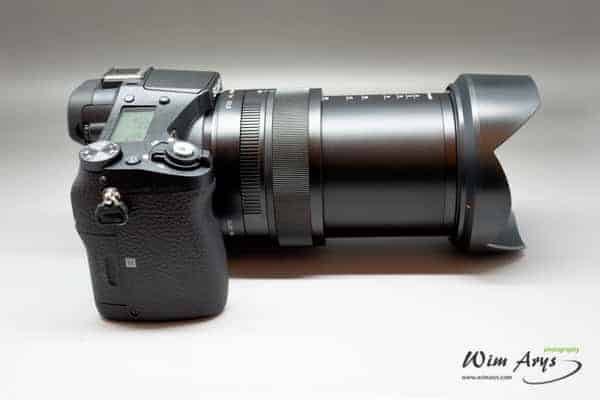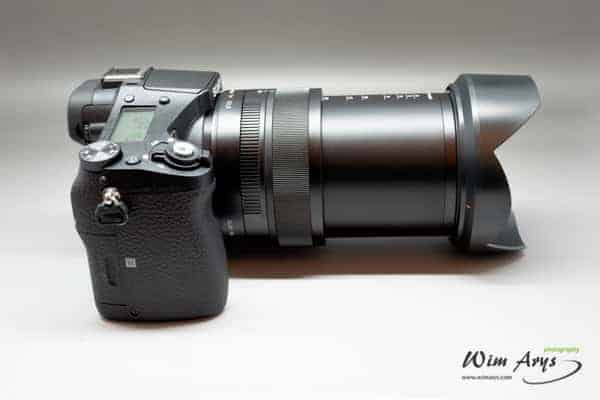 This ZEISS Vario-Sonnar T* lens has 14 elements in 11 groups with 7 being aspherical elements. Zeiss have a somewhat dubious reputation when it comes to designing lenses for Sony. Although the lenses they design and manufacture under the Zeiss name themselves are generally of high quality, the designs they make for Sony (and produced by Sony) are at best a hit-and-miss affair. To be fair, you'd generally pay the amount this camera costs for a decent Zeiss zoom, so we can't expect too much.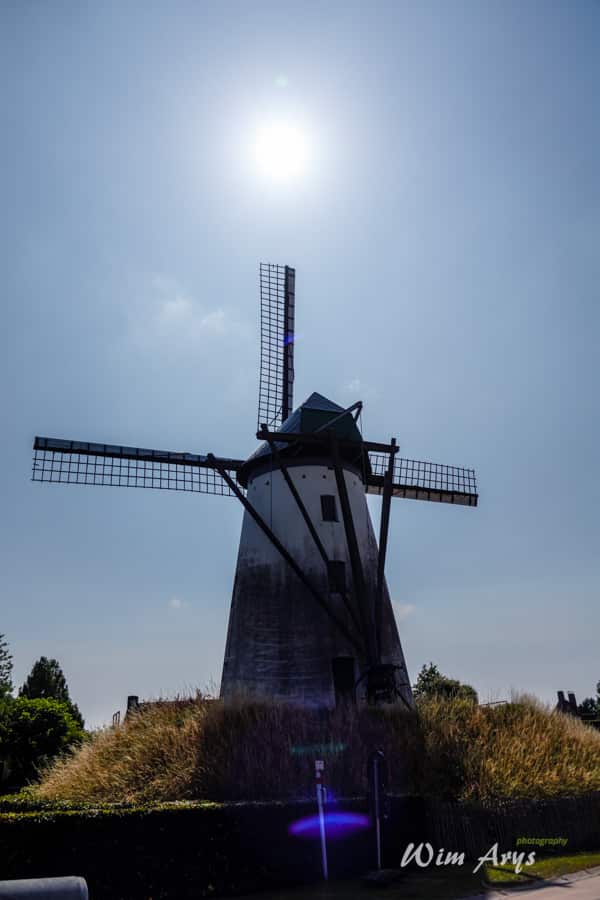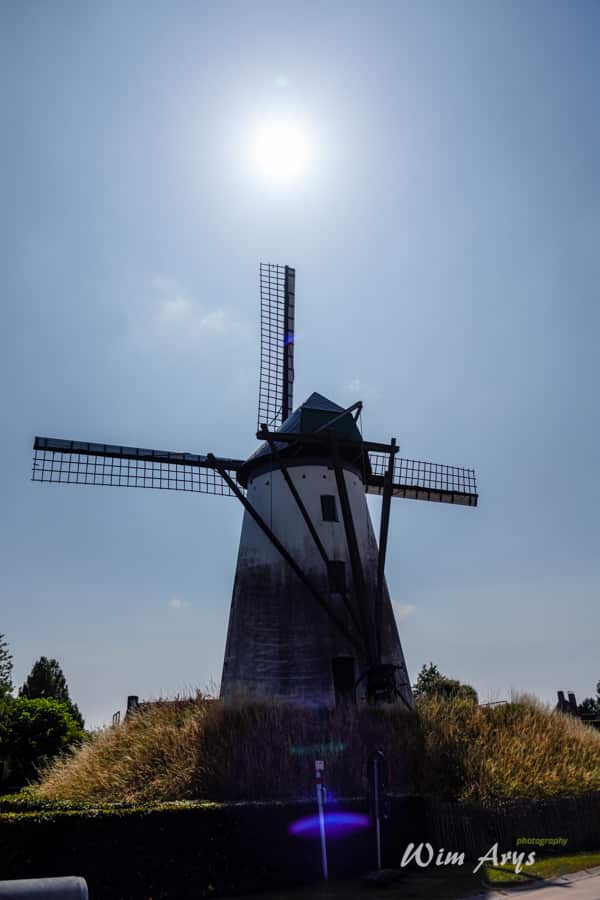 In this case, the Zeiss badge primarily denounces a Zeiss color rendering, and not the famous optical quality you'd hope to see. This zoom lens does have a constant f/2.8 aperture throughout the range, and optical image stabilisation, which helps to keep your images in focus (advantage of around 2-3 stops), but the results aren't spectacular. It's quite sharp in the center from 35mm up to 100mm, but beyond and below that, I would not call this zoom very usable. This is made worse by the erratic performance of the ZEISS Vario-Sonnar T* 24-200mm across the focal and aperture range. If you only shoot JPEG, these are heavily processed in-body and do have lots of sharpening applied. So perhaps some photographers might find it a better performer than I do (I always shoot RAW).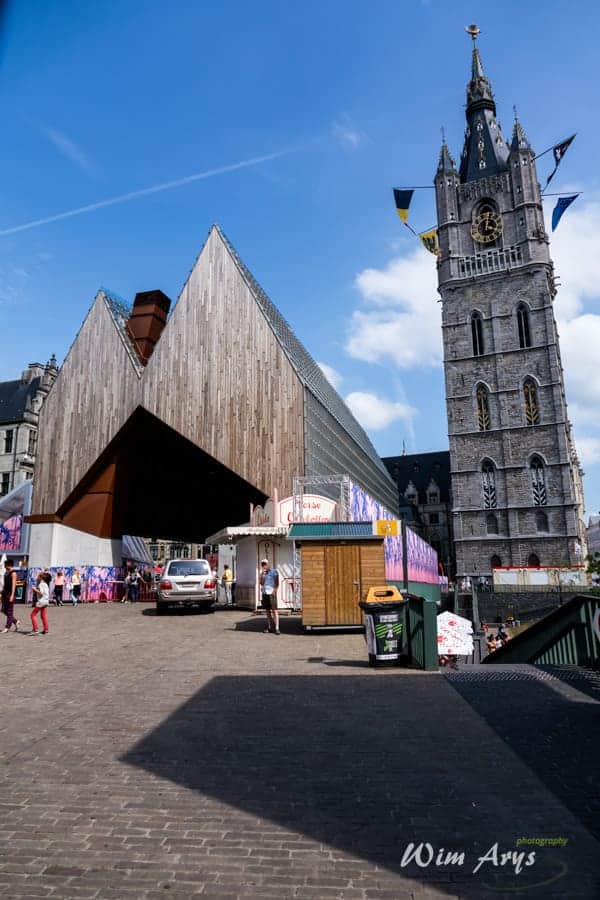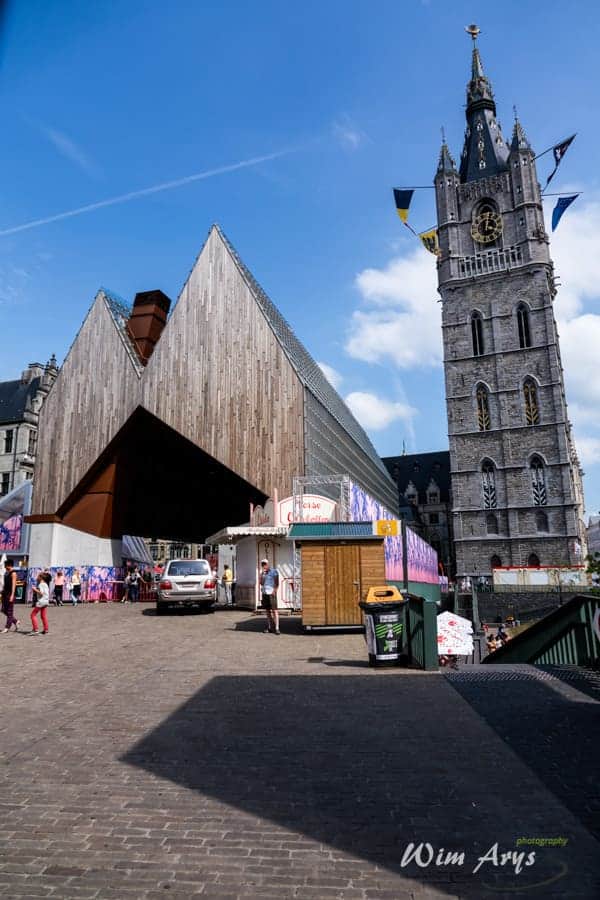 To be fair though, no bridge camera I've tested with a zoom like this fared better, and these types of zooms tend to perform better in real life than in studio tests. But you are paying $1300 for this combo, so one should expect more than just the added 4K capability compared to the original RX10.
24 mm sharpness
these are 100 % crops of the center and corners at the focal lengths and apertures stated. OSS is off.  I did multiple shots.
Center sharpness
At f/2.8 the center image is quite sharp and remains so until f/5.6. Beyond that, diffraction sets in causing a loss of sharpness. CA is well under control.
Corner sharpness
In terms of sharpness, the corners lag behind the center and never really clear up. Purple fringing is also quite visible here. Vignetting is not that big of a problem, and distortions are handled well by the built-in corrections or with the Lightroom profile.
35 mm sharpness
Center sharpness
Similar performance to the 24mm focal length here, it won't get better than the sharpness at f/2.8, with a slightly better result at f/4 and f/5.6.
Corner Sharpness
The corners sharpen up lightly by f/5,6, with a steep drop again at f/8.
50 mm sharpness
Center sharpness
Noticeably better results at 50mm. f/2.8 is as sharp as other focal lengths, with an increase in sharpness up to f/8. Beyond that, diffraction sets in resulting in a severe loss of sharpness.
Corner Sharpness
You'll need to step down to f/4 or f/5.6 to get maximal sharpness in the corners at 50mm. Lateral CA is present, although not a big issue.
70 mm sharpness
Center sharpness
The center is sharpest around the f/4-f/5.6 range at 50mm.
Corner Sharpness
f/4 is the magic number if you're looking for maximal sharpness in the corners at 70mm.
100 mm sharpness
Center sharpness
At 100mm, we're starting to come into dangerous (i.e. unusable) territory with this lens. f/2.8 up to f/4 is still quite sharp, beyond that, forget it.
Corner Sharpness
Corners are sharpest at f/5.6 here. Unfortunately, center performance is already diminishing there.
135 mm sharpness
Center sharpness
Center is sharpest at f/8 here though you'll have some difficulty stabilizing the camera at this aperture in combination with the right shutter speed.
Corner Sharpness
Same performance in the corners, you'll need to step down to at least f/5.6 for a decent amount of sharpness.
200 mm sharpness
Center sharpness
This lens is basically useless at 200mm.
Corner Sharpness
Autofocus performance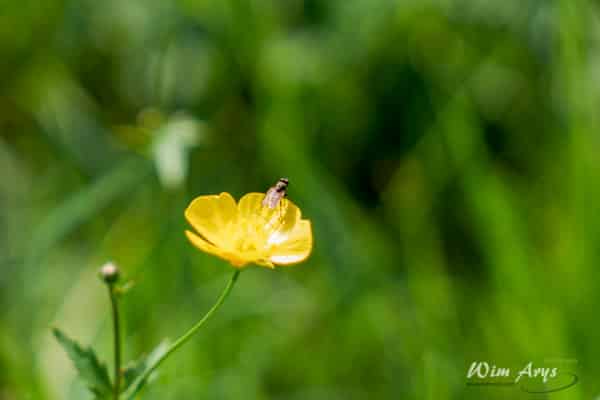 The Sony RX10M2 is overall pretty responsive; I never missed a shot due to startup time. Focus is swift and responsive; Sony states a 0,09 seconds with their fast, intelligent AF system, and I don't think they are far off that mark in real life situations too.Yes, the contrast detection high-speed AF is very fast and accurate, a joy to use. You won't miss any shots with the extremely fast 14fps continuous shot capabilities of this camera, as long as you use a fast SD card.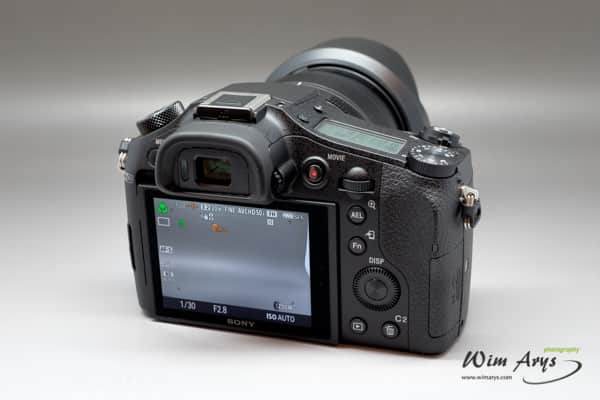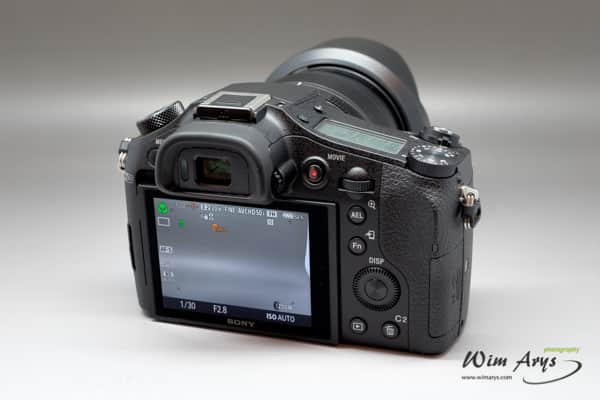 The max 1/32000 shutter speed is also very handy for creating shallow depth-of-field effects at f/2.8 in bright daylight, and this latest super-high-speed anti-distortion shutter minimizes image distortion caused by rolling shutter. For me as a photographer, this is the major selling point of the RX10M2: Autofocus is fast, easy, accurate and does everything you'd expect it to do.
ISO performance
As I mentioned earlier, a BSI sensor will not automatically get you less noise at higher ISO levels. Since a sensor like this has more than 30% more light gathering capabilities, the camera will not find it necessary to raise the ISO as quickly as with a 'normal' sensor. Like it's predecessor the RX10, ISO up to 1600 will still give you reasonable quality images, but the RX10 II won't switch to that level as fast as the RX10. This difference is nearly impossible to test, but if you're upgrading to the RX10M2, I'm sure you'll notice the difference.
Conclusion
In the category bridge cameras, the Sony Cyber-Shot DSC-RX10M2 is by far the best currently available camera. Although not highly regarded in the professional market (yet), Sony have a long heritage of producing excellent compact and bridge cameras. They are also the top sensor manufacturer in the world, and responsible for some groundbreaking innovations in this field over the past decade. These facts all seem to converge in this little camera, combining the latest 1″ EXMOR RS stacked sensor with their vast expertise in the compact camera market.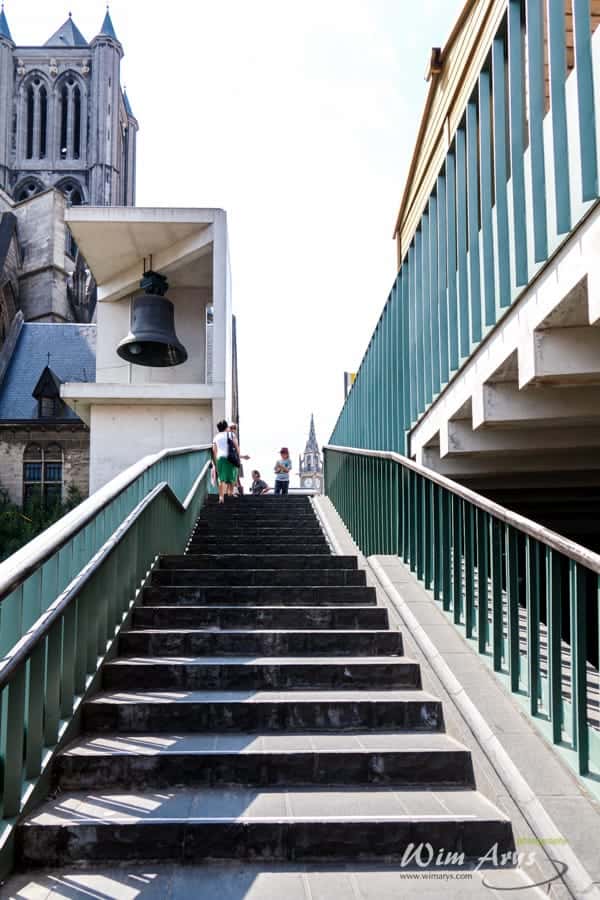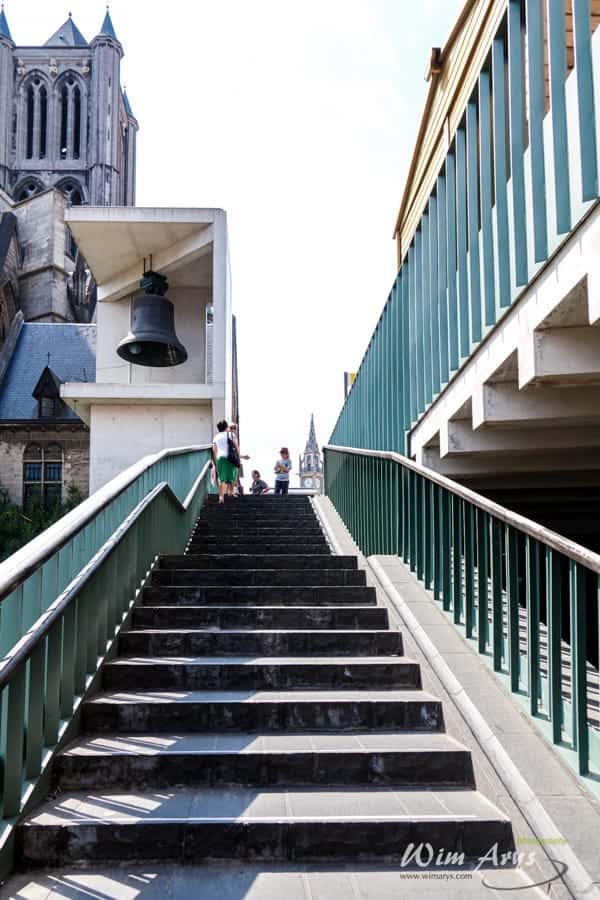 This bridge camera handles very well and has a good balance despite incorporating a stabilized 24-200mm zoom. The inclusion of an aperture ring on the lens itself makes for a more hands-on type camera, although I would have preferred an entirely redesigned lens, perhaps without the Zeiss logo, I trust their 'G' line more than a Zeiss design. Their in-house design team that is responsible for the G-line seem to take pride in their work, and it shows. But back to this Zeiss design, in the world of bridge cameras, this isn't a bad lens at all, and a zoom covering this range will never be even close to perfect.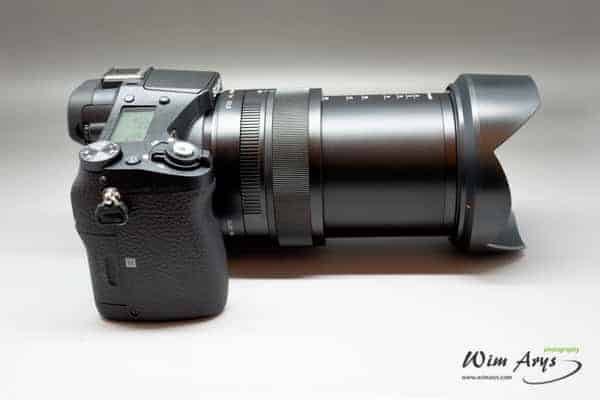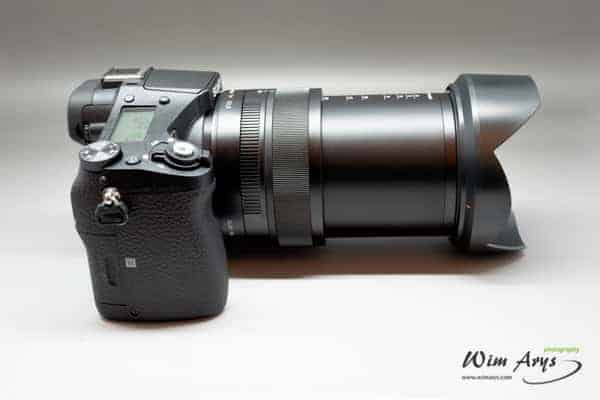 The super slow motion feature was once only found on pro cams, but now extremely high-frame-rate (HFR) movie recording of up to 960fps is available in a small and lightweight package. The inclusion of 4K capabilities with direct writing to SD card will please many amateur and semi-pro videographers.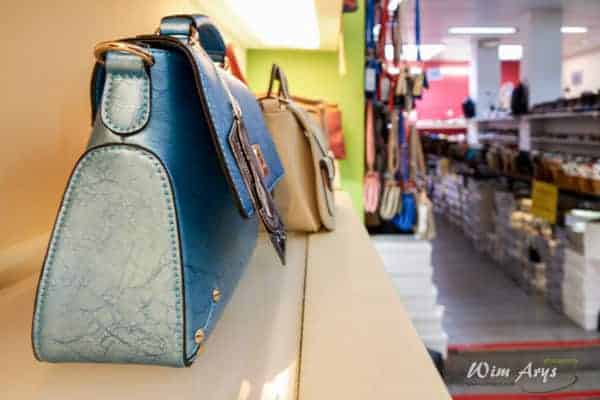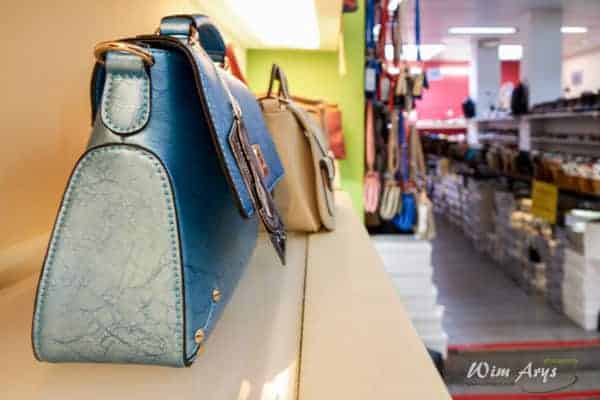 The 1,440,000 dots LCD screen is not touch sensitive, but tilts and swivels, who needs a touchscreen anyway.. The 2359k Bright XGA OLED Tru-Finder is indeed stunning and what you'd expect to see on a pro camera. Add weather resistance to the mix and I honestly can't see any reason to complain when it comes to the body and functionality of this bridge camera. The body also offers enough customizable shortcuts that will please both the novice and the expert photographer.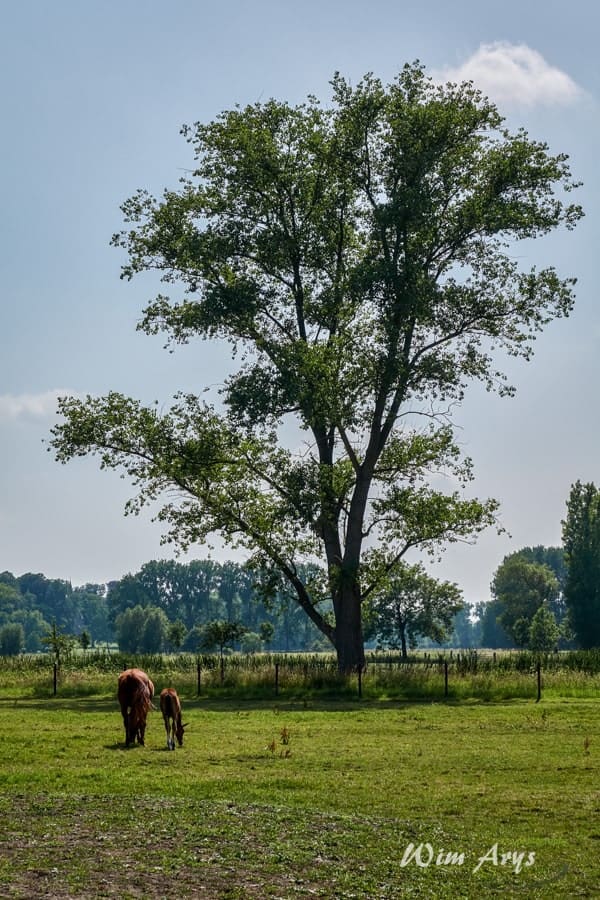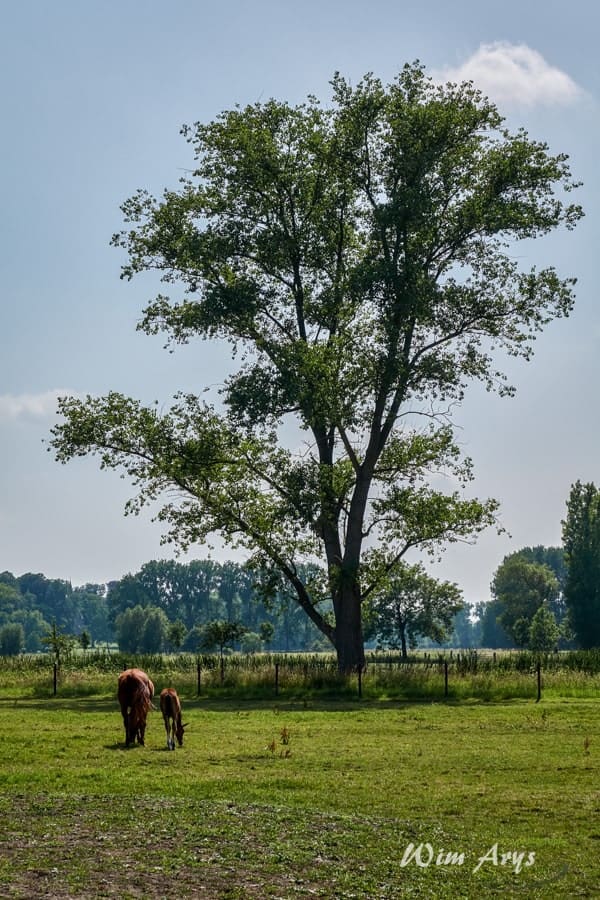 The RX10 II also has a microphone input and a headphone output, and you can connect an XLR block for a more secure connection. The camera has some handy aides like exposure zebras and focus peaking for manual focusing. An ND filter -2 EV is also present. In terms of connections, the RX10 offers wireless remote control via NFC or WiFI.
The Sony Cyber-shot DSC-RX10 II has many things going for it and includes the latest technology and features available for video. There are only two things to complain about. Firstly, it's still a bridge camera with a 1″ sensor. An excellent 1″ sensor, but none the less don't expect to see the type of images you'd get from a full frame or even an APS-C camera. Secondly, the price. $1300 in the US, and a staggering 1600 Euro in Europe, you can buy a  fantastic Sony full frame camera and a zoom lens for that amount of cash today.
The RX10 II is worth considering if you shoot a lot of video, but for photographers I would take a look at the original RX10 the RX100 III, or at the many other small mirror-less cameras available with larger sensors for this amount of cash.
Purchase and availability
The [easyazon_link identifier="B00ZDWGR8E" locale="US" tag="wimarysdigitc-20″ popups="y"]Sony RX10M2[/easyazon_link] is available and shipping right now on amazon for $1299.