Canon EF 16-35mm f/4L IS USM on the Sony A7r II review
Canon EF 16-35mm f/4L IS USM on the Sony A7r II review
Introduction
The Canon EF 16-35mm f/4L IS USM is one of the sharpest corner-to-corner available lenses for Canon Full Frame cameras.This ultra wide-angle zoom incorporates an Optical Image Stabilizer, offering up to four stops of advantage over non-stabilized lenses. It features three aspheric lens elements and two UD lens elements to minimize aberrations throughout the zoom range. Thanks to the circular 9-blade aperture it's possible to get a beautiful background blur with a f/4 lens. The EF 16-35mm f/4L IS USM features inner focusing and ring USM for accurate, discreet and speedy AF. It also offers full-time manual focus and has a minimum focusing distance of 0.92 ft./0.28m across the entire zoom range. This wide angle is also dust-resistant and water-resistant.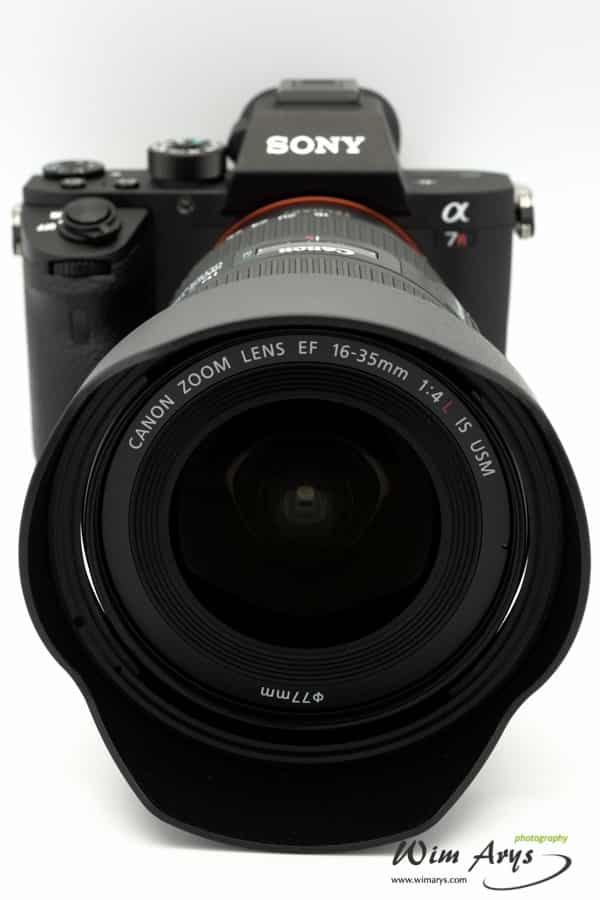 Adapting Canon Lenses to the Sony A7r II
It's quite easy to adapt Canon lenses to the Sony FE mount system using an adapter from Metabones or DEOtech.  With the arrival of the Sony A7r II, it's now even possible to use either all of the on-sensor phase or contrast detect points, actually making Canon lenses behave like native FE lenses. Sony has a very decent wide-angle lens in the Sony Vario-Tessar T* FE 16-35mm f/4 ZA OSS. But some photographers prefer the rendering of Canon lenses over Zeiss, and the Canon EF 16-35mm f/4L IS USM is still a bit cheaper. The Sony A7r II, on the other hand, has a slightly better sensor than what Canon is currently producing, so in theory the Canon EF lenses should perform better on this camera too.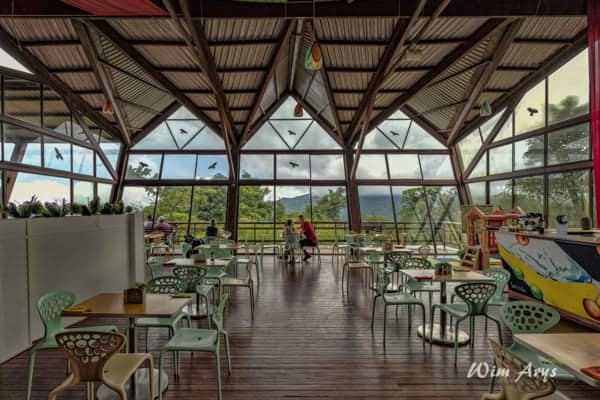 Studio sample chart tests
I'm using a 300 dpi test chart to evaluate all my lenses. I have to continuous lights set up on the left and right of the test chart to evenly illuminate it. THE Sony ILCE7R-M2 is on a sturdy tripod; I'm using a remote to eliminate any shake when pressing the shutter button. ISO is at 100 to ensure there is no loss of sharpness due to noise and to fairly compare the results at all apertures.
As I'm using my eyes to evaluate the performance at different apertures, the process and conclusions are of course subjective. But we are humans, making images for human eyes, and I honestly don't see the point in having computers do what any photographer should be able to do.
Center and corner sharpness
16 mm center sharpness
Unsurprisingly, the image center already looks quite sharp at f/4. There is a slight increase in sharpness visible up to f/8. At around f/11 the effects of diffraction become visible, resulting in an increasing loss of sharpness up to f/22. There is little to no Axial Chromatic Aberration visible at any focal length with this lens.
16mm corner sharpness
At 16mm, the corners at f/4 look quite soft. Vignetting is also clearly visible but clears up by f/5.6. Sharpness increases to a usable level for landscape and architecture by f/8. Barrel distortion is clearly visible at 16mm (as you'd expect in a wide-angle zoom), but nothing a good lens correction profile can't fix. Though if you're a JPEG shooter, remember that since this is a non-native lens, so these corrections won't be applied in-body.
20mm center sharpness
At f/4, the image center looks just a tad sharper at 20mm than it did at 16mm. f/5.6-f/8 seems to be the sweet spot here, though if you want to shoot some wide-angle portraits at f/4, I'm sure you won't be disappointed either.
20mm corner sharpness
The 20mm edges look remarkably sharp at f/4, with a slight increase visible up to f/5.6. Sharpness remains constant up to f/11 where diffraction sets in. There is very little distortion noticeable at this length. Lateral Chromatic aberration or color fringing is also almost non-existent at any focal length with this lens.
24mm center sharpness
More or less the same story at 24mm when it comes to sharpness. Very usable from f/4 to f/8, I would even say that shooting at f/11 does not affect sharpness too much.
24mm corner sharpness
At f/4, the edges look quite a bit softer than they did at 20mm. f/8 seems to be the best aperture if you want to get optimal sharpness and the least amount of vignetting in the corners at 24mm. A slight curvature in vertical lines is visible though nothing to be concerned about.
28mm center sharpness
Center sharpness performance at f/4 isn't as good at 28mm than it was at 20mm and 24mm. You'll need to step down to f/8 to get a similar degree of sharpness.
28mm corner sharpness
The corners look quite soft at 28 mm though any sign of barrel distortion is gone here. f/8 is again the magic number for optimal sharpness and clarity both in the center and the corners. It's worth noting that f/11 has the best uniform overall performance.
35mm center sharpness
The center image already looks excellent at f/4 and stays very sharp up to f/11. Diffraction does affect sharpness beyond f/11, but I would not be afraid to use this lens at smaller apertures at all.
35mm corner sharpness
At 35mm, the edges don't look bad at all at f/4, though I would advise you to step down to at least f/5.6 for optimal sharpness. No major distortion issues visible either.
Conclusion
The Canon EF 16-35mm f/4L IS USM offers an excellent alternative to the Sony/Zeiss FE 16-35 f/4 for the Sony A7r II. It's easy to adapt Canon lenses using a Metabones or DEO-tech adapter while still retaining much of the AF capabilities of the A7rM2. In fact, the only thing you're losing is face recognition, Eye AF and a certain degree of weatherproofing due to the addition of the adapter.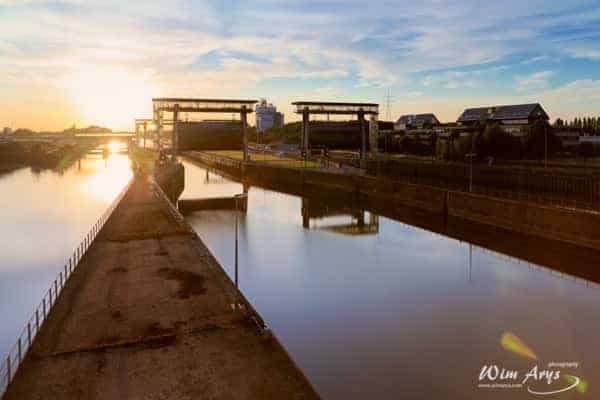 In terms of performance, you can't really go wrong with this wide-angle zoom. Already quite sharp at f/4 at most focal lengths (except 28mm) with an optimal corner-to-corner sharpness at f/8. Barrel distortion at the wide end is not extreme at all and easily corrected in Lightroom or Camera RAW. Both lateral and axial chromatic aberration is also very well controlled, this is a real workhorse zoom that works very well with the Sony A7r II.