Sony Zeiss FE 35mm f1.4 review
Sony Zeiss FE 35mm f1.4 review
Introduction
The Sony Distagon T* FE 35mm f/1.4 ZA Lens is a wide-angle lens for the Sony Full Frame A7 series mirrorless cameras designed by Zeiss and produced by Sony. This fast wide-angle lens is based on Zeiss' Distagon design, typically used in their wide angle lenses for a high relative aperture and wide angular field.
It was one of the first Mirrorless lenses to use their Direct Drive SSM system (DDSSM) autofocus system. This DDSSM enables faster and more precise focusing and is virtually silent, something that videographers will surely appreciate here. It's also the firs FE lens to feature an aperture ring like many Fujinon lenses have. This aperture ring allows you to change aperture quickly on the lens without having to turn the small aperture wheel in front of the shutter button. Many photographers feel that this is a more hands-on system and allows for more creative freedom, a statement I tend to agree with.  The aperture ring is also de-clickable which allows for smooth aperture transition when shooting video.
This 35mm f/1.4 prime lens uses 12 elements in 8 groups, including three aspherical elements with a Sony AA lens (advanced aspherical). This design is an ultramodern optical path to compensate for CA and provide excellent angular sharpness even with maximum lens aperture, guaranteeing consistent optical performance for all exposure settings. Sony had something to prove here, that it could build a fast and extremely sharp lens for the A7 system.
The Sony 35mm f/1.4 is also weather proofed, so you should not have any problems shooting in light rain or dusty weather conditions.
SEL35F14Z image quality
This 35mm lens renders beautiful images. Thanks to a very large maximum aperture and the round 9 blade diaphragm, it produces gorgeous bokeh with a tack sharp subject. Zeiss are known for designing lenses with beautiful colors and remarkable contrast, and this lens is one of the best I've seen. There is also a huge separation between subject and background with a smooth and eye-pleasing transition.
The large maximum aperture also has another advantage, namely the ability to shoot (and focus) in little light while still delivering sharp images. This ability is something wedding photographers should be interested in, as this type of photography often involves shooting in darker places here a flash isn't always suitable. I'm not the kind of photographer who always shoots at the largest available aperture just because you can, but I must admit that in this case, I find myself switching to f/1.4 most of the time.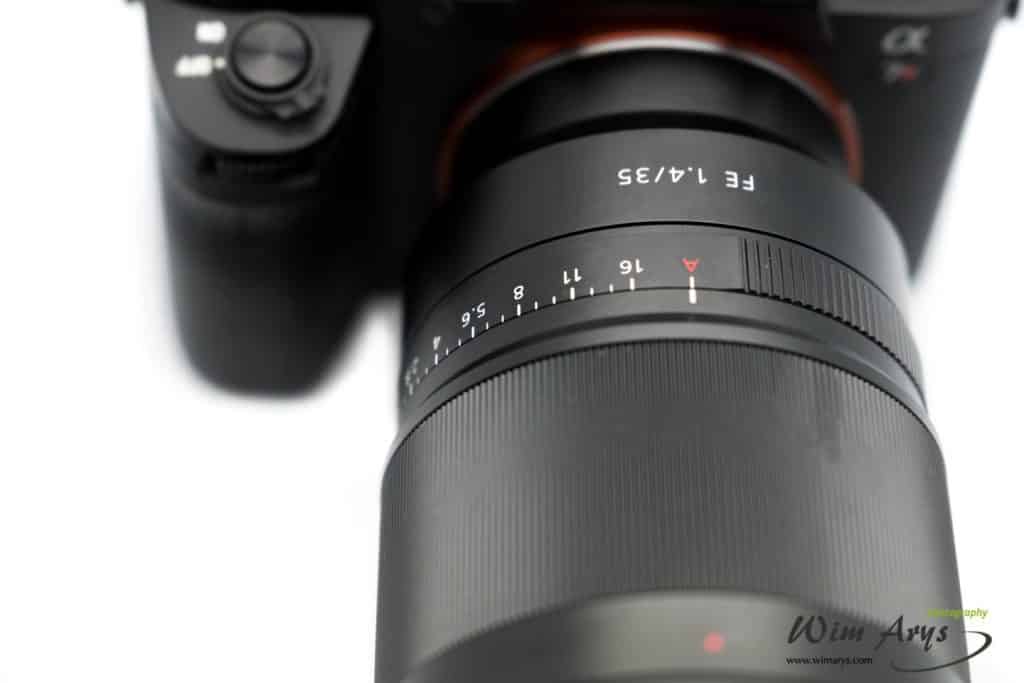 This lens is designed for both video and still images. The switchable aperture ring can be activated for manual control during instantaneous shots or disabled for a smooth and quiet operation when shooting video. Moreover, the variation of the angle of view during the aperture change (called  "breathing") is minimal, an essential quality for moviemaking.
Autofocus
The Sony 35mm f/1.4 ZA focusses very fast, even indoors where most other FE lenses would struggle. Eye AF comes into its own with a fast prime like this, allowing for razor sharp portraits with the focus exactly on the iris. With a minimum focusing distance of only 30cm or 12″ you can get very close too, allowing for plenty of creative possibilities when it comes to composition.
Sharpness, Vignetting, CA, and distortion
Vignetting and distortion
Vignetting (shading in the corners) is noticeable at f/1.4. It cleans up nicely with the correct profile in Lightroom or another RAW editor like DXO. I tested this lens on the A7rm2, and noise is never really an issue when bumping up the exposure in the corners. Just stopping down by one stop eliminates any sign of vignetting. Distortion is virtually non-existent in this lens, what you'd expect from a large and heavy lens like this.
Chromatic Aberrations
Both longitudinal and Axial CA can be problematic with this lens, especially when shooting at large apertures. In fact, I would say that this it's Achilles's heel. I've spent quite a few hours cleaning my images up in Photoshop, as none of the lens profiles remove CA totally.
Sharpness
To evaluate sharpness with wide angle lenses, I use four 300 dpi test charts. My camera is at base ISO; sensor stabilization is turned off, and I use a sturdy Manfrotto tripod. I do my best to precisely align the focal plane and make sure the focus is accurate. This method is not a controlled lab test by all means, but after testing many lenses over the past few years, I have to say that my results are generally in line with what I see with the images taken in real life.
Center Sharpness
As expected with a fast lens like this, there is some softness noticeable at maximum aperture. However, fast primes sharpen up nicely with your software of choice. And for portraiture, the SEL35F14Z is already sufficiently sharp at f/1.4. Any issues you might have with this softness at maximum aperture entirely disappears by f/2.8. This lens reaches maximum sharpness in the center by f/5.6 to f/8. We see some softness creeping in by f/11, due to the effects of diffraction setting in.
Corner Sharpness
Although decent at f/1.4, I would not shoot anything corner-critical at this aperture. It takes about one or two stops until the corners sharpen up in line with the image center. You'll get the best corner performance between f/5.6 and f/11. Although there is a slight dip sharpness wise at f/11, this aperture is still very usable. Beyond that, we see the effects of diffraction setting in and causing a loss of sharpness.
Conclusion
I like the Sony Distagon T* FE 35mm f/1.4 ZA Lens. It's quite sharp wide open in the center at f/1.4 (although it does get even sharper if you step down to 2.8), has a beautiful bokeh and very natural transition in between, this is the Sony FE lens to get if you like to take portraits with a moderate wide angle lens. As expected, there is also some vignetting visible at the largest aperture, but this is eliminated at f/2.8 too.
Maximum corner-to-corner sharpness is achieved between f/5.6 and f/8, making this lens suitable for medium wide angle landscape work too. The standard 72mm filter size allows you to use your CPL and ND filters that most landscape photographers will most probably already have in their kit.  The minimum focusing distance of just 12" or 30cm allows you much creative freedom when it comes to composition and advanced features of the Sony A7 series like Eye AF make shooting beautiful portraits a breeze.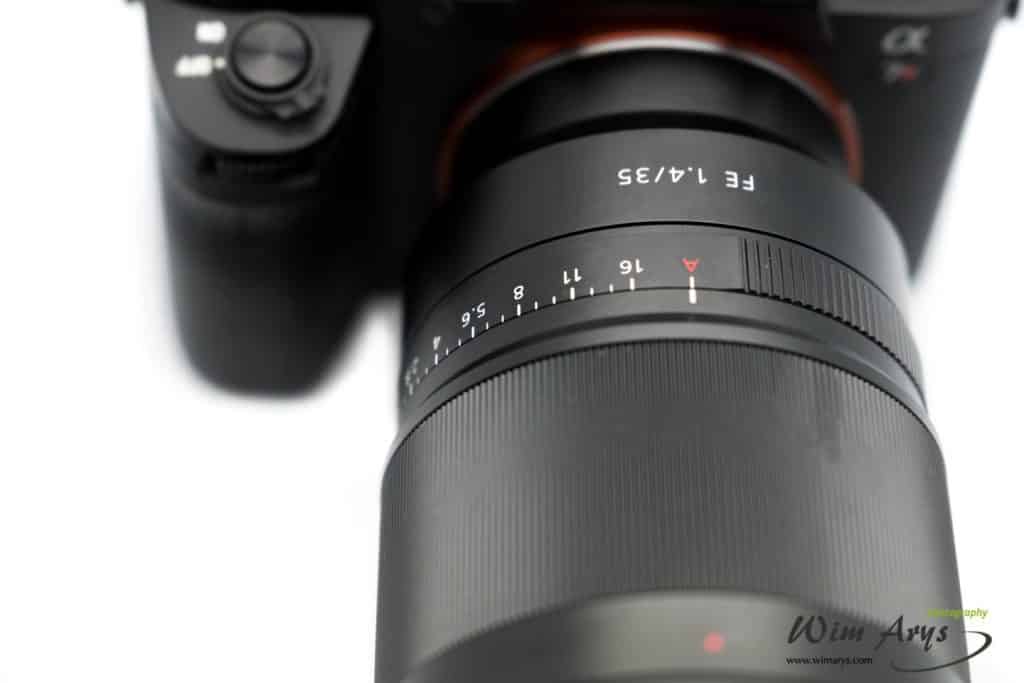 The aperture ring is also worth mentioning. Sony seems to have taken some inspiration from Fujifilm who use one in all their prime lenses, and it's at times very handy to be able to change aperture with a ring instead of the on camera wheel. This aperture ring is also de-clickable, a feature often used by videographers who want to change aperture smoothly during shooting. These videographers will also be happy to know that autofocus is virtually silent and very fast thanks to the Direct Drive SSM (DDSSM) motor used to move all that glass inside the lens.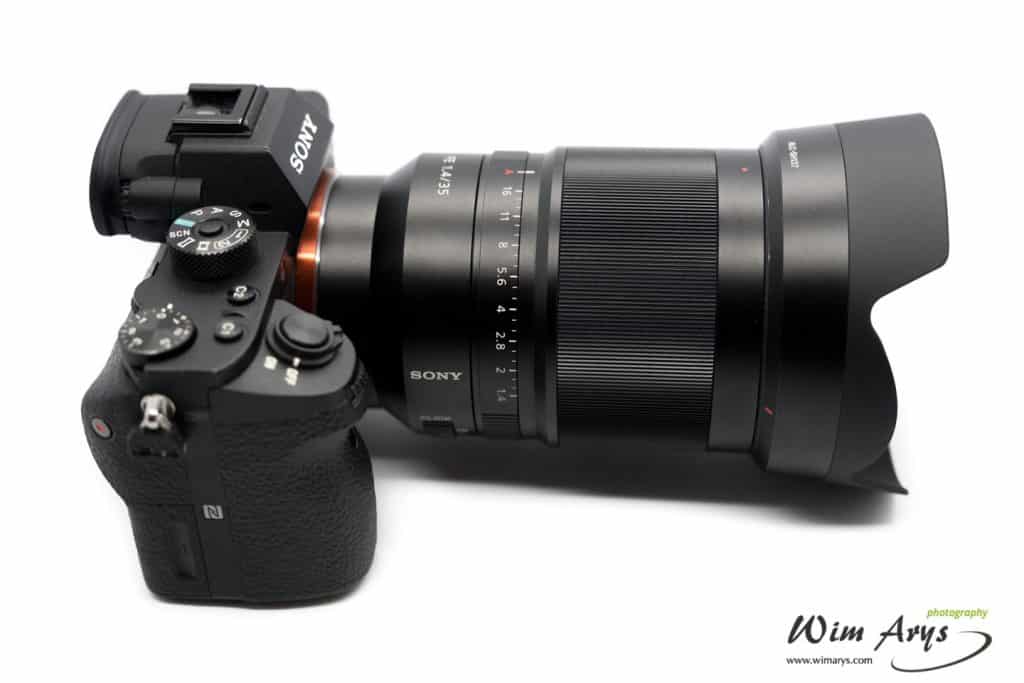 There are some disadvantages to a fast and first class prime lens like this, though. Firstly, CA can be quite heavy, especially at large apertures. And due to the solid all-metal construction (with weather seals by the way) and an advanced optical construction of 12 elements in eight groups comes a hefty weight of 22.3 oz (630 g). Some photographers might find this too heavy for the relatively small A7 system, although I am not one of them. With this class of image quality, you'll always need a lot of glass, and it's a compromise I'm happy to make.