Sony FE 24-70mm GM review
Sony 24-70mm GM review
Introduction
Back when the Sony full frame A7 system was still all about producing a small and lightweight full-frame system, Sony together with Zeiss made a brave attempt to create a high-end f/4 zoom. The results were, unfortunately, underwhelming for a lens with the Zeiss badge, and most photographers would agree that Sony's 28-70mm variable aperture f/3.5-5.6 zoom kit lens wasn't that far off in regards to image quality.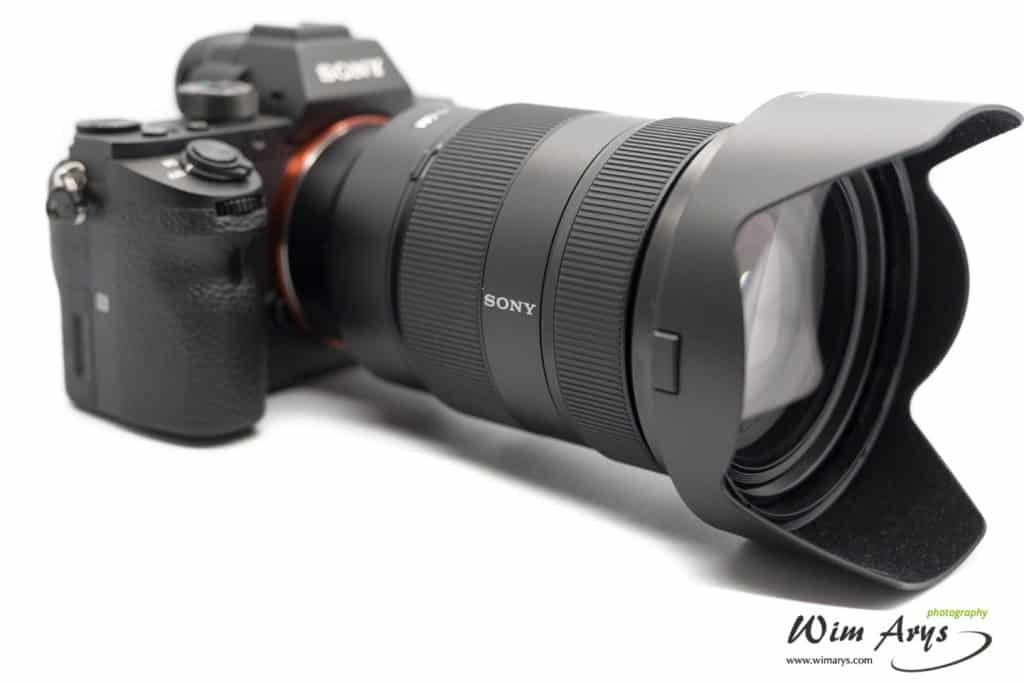 A few years on, the mirrorless camera market has evolved, and the 'lightweight and small' approach has been replaced by the pursuit of optimal image quality for professionals and pixel peepers. We all know that a 24-70mm zoom with a constant f/2.8 aperture across the range is pretty much the workhorse lens that all professional photographers need in their bag, so this was one of the most important designs that they had to get right this time. Sony has been working hard on developing new manufacturing methods, and the result is their GM lens line. The first three lenses, an 85mm f/1.4 prime, a 70-200mm f/2.8 zoom and a 24-70mm f/2.8 can compete with Zeiss when it comes to sharpness, clarity, and contrast.
The biggest innovations are a new glass molding and grinding process called XA (extreme aspherical) that produces sharper images and eliminate unwanted onion rings in the bokeh and new optical modeling/simulation software that allows the engineers to evaluate the lens's performance without having to make a physical model first.
I'll be looking at the SEL2470GM here, a zoom that is widely available at the moment (like the 70200GM). This lens uses one of those new XA elements in an optical construction of 18 elements in 13 groups, consisting of aspherical, Super ED, and ED glass types, and Nano AR coating.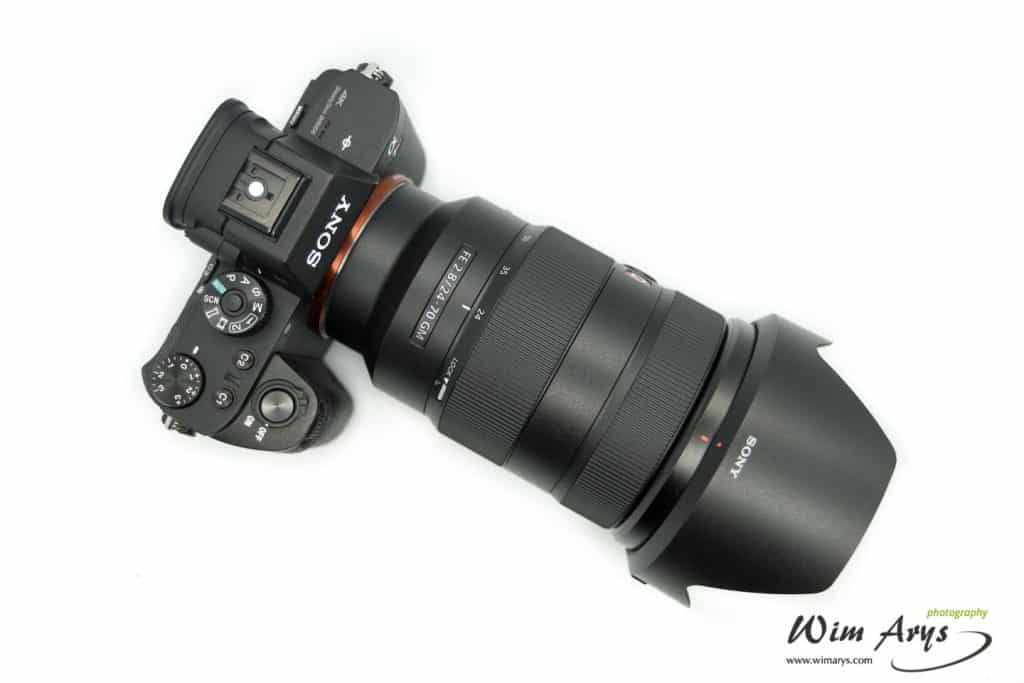 Autofocus uses the new Direct Drive SSM. A piezoelectric element translates an applied electrical field into the mechanical movement for precise linear positioning of the focus group. The FE 24-70mm is also resistant to moisture and dust like the A7rm2 that I am testing it with.
There are some other interesting design features like a zoom lock to prevent the dreaded zoom creep that many A-mount lenses suffer from, an AF/MF slider, and a focus lock button.
SEL2470GM Feature overview:
Filter diameter: 82 mm
Weight: 886 g
Viewing angle (35 mm) 84° -34°
Viewing Angle (APS-C) 61° -23°
Maximum aperture: (F) 2.8
Minimum aperture (F) 22
Nine-blade circular diaphragm
Zoom lock
Minimum Focussing distance 0.38 m
Maximum magnification ratio: 0.24 x
Mount: Sony E-mount
Focal length 35mm: 24-70mm
Focal Length Equivalent to 35 mm (APS-C) 36-105 mm
Groups / lens elements: 13/18
Build quality
A mix of high-end plastics and metals make up the exterior construction and the SEL2470GM certainly feels well built. This zoom is also dust and moisture resistant where the most noticeable addition is a rubberized gasket at the lens mount. The lens hood supplied is still felted on the inside to help block stray light from entering the lens.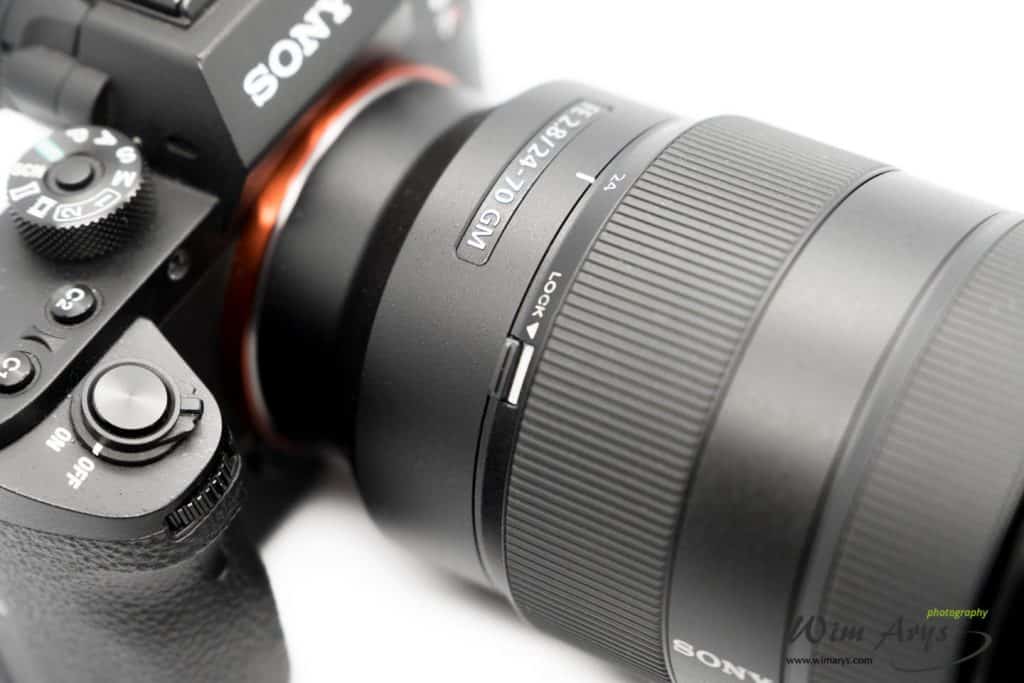 Autofocus
Thanks to the Direct Drive SSM (DDSSM), autofocus in all modes seems up to par with the best FE lenses currently available. In conjunction with the ILCE7-RM2 phase and contrast detection points, the DDSSM works smoothly and precisely. Eye AF, one of my favorite Sony AF functions, works very well with this lens too.
Image rendering
You can shoot beautiful pictures with the G master 24-70mm f/2.8. In fact, it has become my go-to lens for general photography ranging from portraits to architecture and landscape. It does not have what you'd call Zeiss rendering with lots of micro contrast, but the focus point is tad sharp, and the bokeh is smooth with no onion rings in sight. The images rendered have a certain artistic feel without much post processing effort and to me at least often feel like they were shot with a prime and not a zoom.
Sharpness, Vignetting, CA and distortion across the focal range
I use four 300 dpi test charts to evaluate sharpness, vignetting, CA and distortion. My Sony A7rm2 is on a sturdy Manfrotto tripod, sensor stabilization is off and I'm at base ISO. I have two continuous lights on the left and right side that evenly illuminate the test charts. I provide crops of both image center and corner at all focal lengths and selected apertures.
Chromatic aberrations
There is no visible sign of any CA in the test chart images I took. I tend to edit my images heavily in Lightroom at this usually exaggerates any CA problems a lens might have, but in this case, I have yet to see any CA pop up.
Vignetting and distortion at 24mm
You'll see some moderate barrel distortion at 24mm. It's best to either correct this distortion in-camera for jpeg's or use a lens profile for RAW.
Sharpness at 24mm
Center sharpness at 24mm
At 24mm, the image center looks as sharp at f/2.8 as it does at f/8. From f/11 we see a loss of sharpness due to diffraction.
Corner sharpness at 24mm
You'll need to stop down to f/8 if you want to get optimal sharpness in the corners at 24mm. That being said, the corners don't look bad at all at f/2.8 either. Vignetting is visible at f//2.8 but disappears by f/8 too.
Vignetting and distortion at 35mm
There is visible pincushion distortion at 35mm.You probably won't notice this when shooting portraits, but any architecture or landscape images should be corrected.
Sharpness at 35mm
Center sharpness at 35mm
Stopping down to f/4 will give you a bit more sharpness at 35mm in the center, but the difference between f/2.8 is negligible. Performance remains excellent up to f/11.
Corner sharpness at 35mm
There is some vignetting visible at f/2.8, gone by f/4. Again, stopping down to f/4 is beneficial in the corners too, although as expected the increase in sharpness is more noticeable here.
Vignetting and distortion at 50mm
Again at 50mm, there is visible pincushion distortion and it's worse than at 35mm. You'll definitely need to correct this in Lightroom.
Sharpness at 50mm
Center sharpness at 50mm
Although already excellent at f/2.8, sharpness gradually increases up to f/5.6 and remains constant until f/11.
Corner sharpness at 50mm
There is some vignetting visible at f/2.8, disappears by f/4.  You'll also see a slight increase in sharpness by f/4 in the corners. Perceived sharpness remains equal up to f/11 where as expected diffraction sets in.
Vignetting and distortion at 70mm
Sharpness at 70mm
At 70mm, you'll see slight pincushion distortion. Nothing to be worried about with modern day lens profiles.
Center sharpness at 70mm
The image center is quite soft at 70mm f/2.8. This clears up nicely by f4 and remains very sharp up to f/11.
Corner sharpness at 70mm
There is no vignetting visible at 70mm. It's beneficial to stop down to f/4 in the corners too, as there is a noticeable increase in sharpness.
Conclusion
The lack of a serious 24-70mm FE lens has always bugged me. I tried to use a Canon 24-70 f/2.8L II USM lens with an adapter in the past on A7 cameras a few years ago. And although the image quality was fantastic, the reliability of the autofocus prevented me from actually using it professionally. Luckily Sony now has their own f/2.8 across the range wide angle to medium telephoto zoom under the GM badge.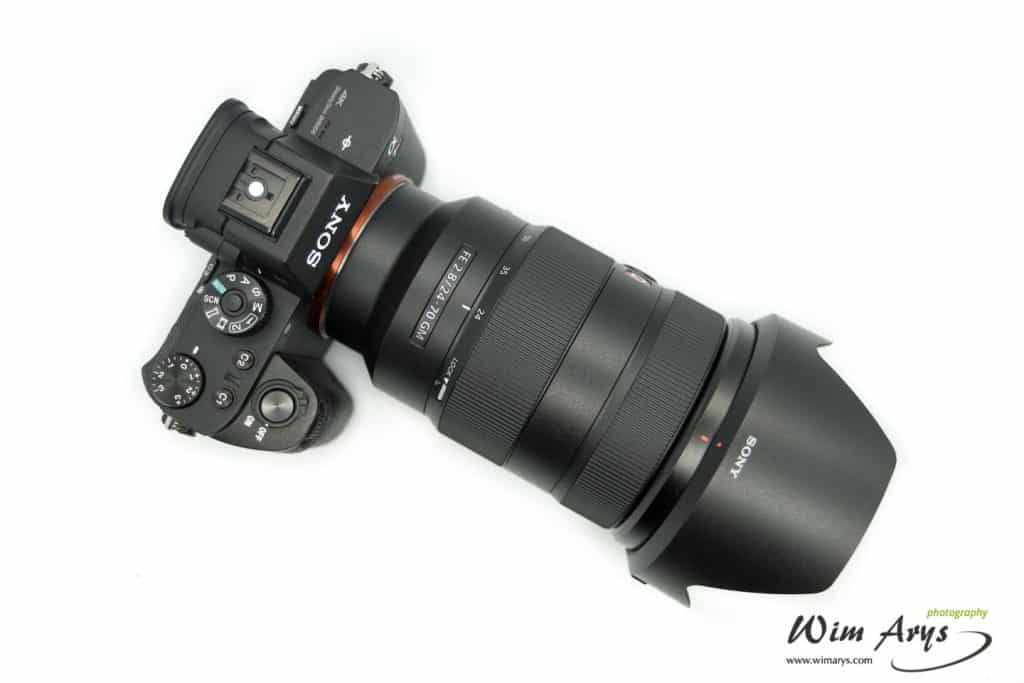 Even though only one of the new XA elements was incorporated in the design, there are numerous other features that prove to me that Sony wanted to make a 'pro' zoom for FE cameras. I'm talking about a high degree of weather sealing, a zoom lock ring, on barrel focus lock button, a felted hood and the inclusion of DDSSM. And in real life use, the SEL2470GM does not disappoint. Autofocus is quick, precise and decisive. Especially for portraits, the Eye AF (focus on the dominant eye) works very well with this zoom.
It also renders beautiful and clear images across the range, with perhaps the 70mm focal length being a bit too soft wide open for my liking. And as always, a wide angle to medium telephoto zoom does have some drawbacks compared to a prime. You'll get visible barrel distortion at 24mm turning into pincushion distortion by 35mm and all focal lengths except the long end do have some vignetting at maximum aperture.
But overall, the images from this zoom can often feel like a prime with excellent sharpness, a wonderful bokeh and really no chromatic aberrations visible across the range. I would highly recommend the G master 24-70mm f/2.8 to any photographer looking for a high performing zoom for the Sony A7 series cameras.