Komodo Gear Lokee adaptable grip cage on Kickstarter
Komodo Gear Lokee adaptable grip cage on Kickstarter
Introduction
Komodo-Gear has launched a new product called Lokee. It's a modular, adaptable grip cage for video. A grip cage improves the ergonomics of a small camera while remaining lightweight. It allows you to easily and quickly film with different angles and also protects your device.  
Lokee was designed to provide a high-quality construction for camera steady shot control while still staying small and light. It also provides an additional platform for different accessories with added functionality and brings you a more professional filming experience, even with a smartphone.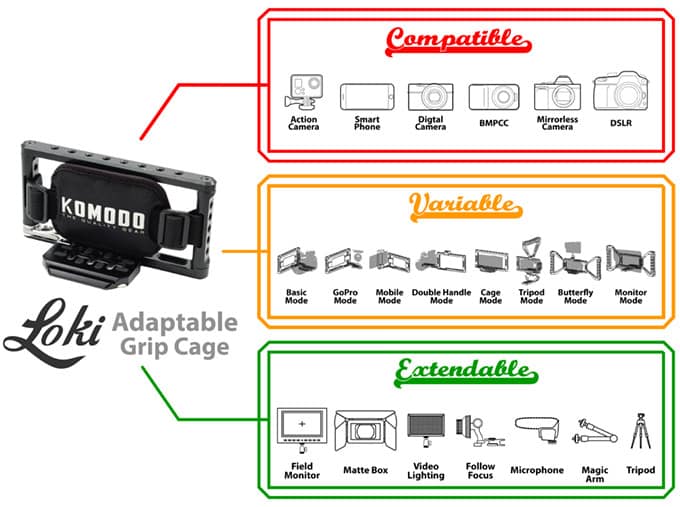 Lokee works with many different devices. Mirrorless Cameras, DSLR Camera, BMPCC, Digital Camera and even Smartphones can use this cage to enhance video quality.
Lokee was primarily designed for small and lightweight cameras. However, many medium-sized DSLRs can also take advantage of what this camera cage offers. The maximum distance from the screw to right side edge and back side edge is 9cm and 3cm respectively.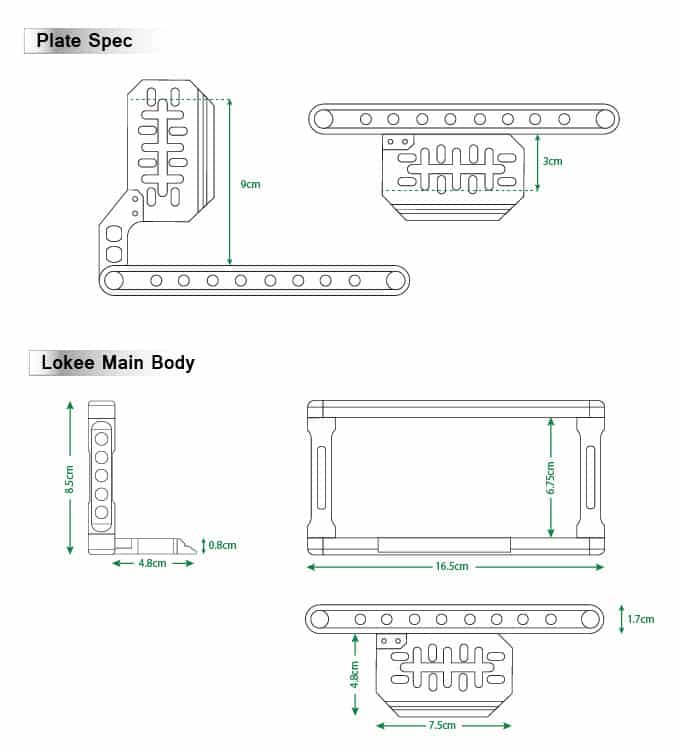 Lokee is designed for multi-functional usage. There are eight main modes of use, but it can also be customized further. If you are looking for simple, comfortable and fully equipped gear in small size, with handles, cheese plate or tripod mount, then look no further. They are all available, and custom made for Lokee.  It doesn't matter if you are just using a regular camera to shoot, you like to film with a monitor, or you have another special way to taking video, you can always find a way to play with Lokee that works with your style.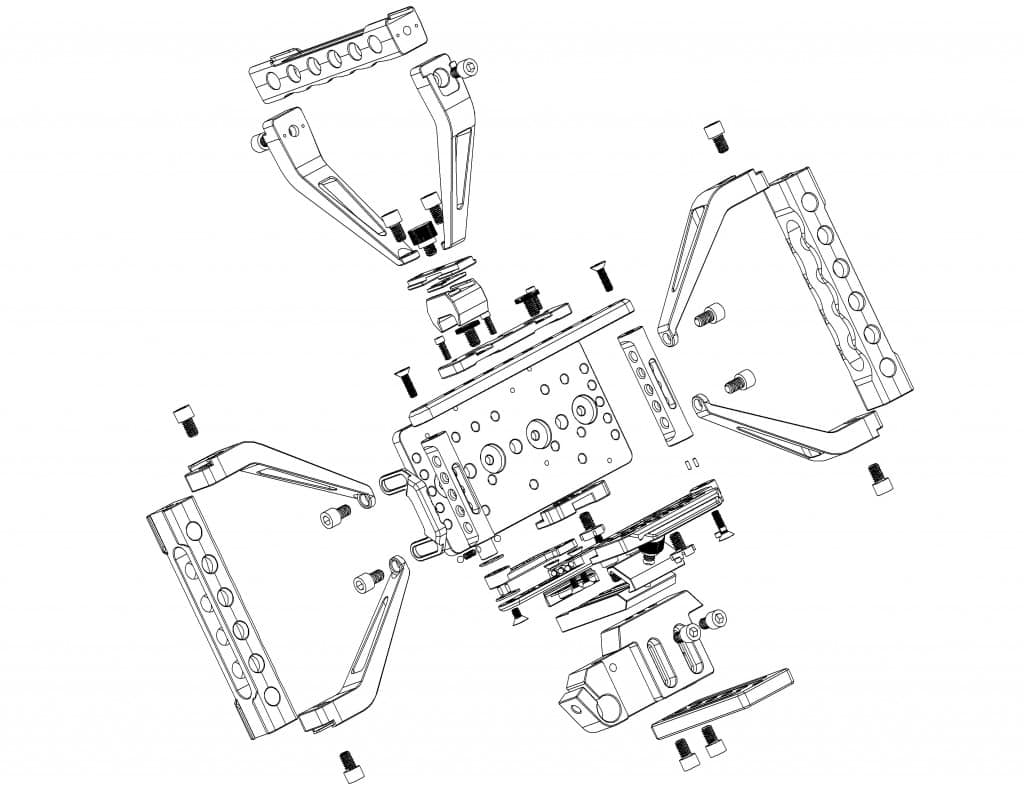 Different Modes
Lokee comes in 8 different modes, each with their own accessories and intended for different types of cameras and shooting modes.
Basic Mode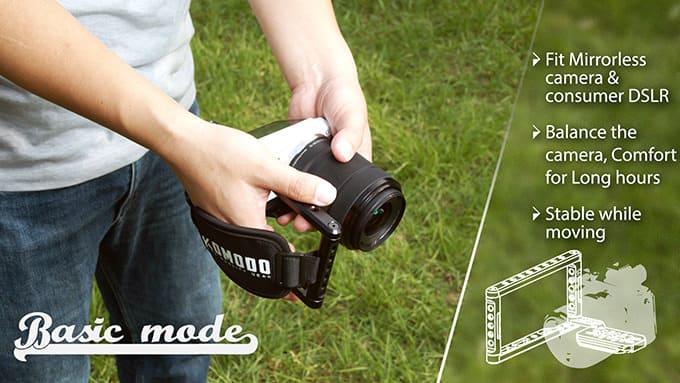 Basic mode uses the base unit only. It's intended for small mirror-less cameras and consumer DSLR's. Using the Lokee in the basic mode will stabilise your camera and help you get a better grip for longer shooting.
GoPro Mode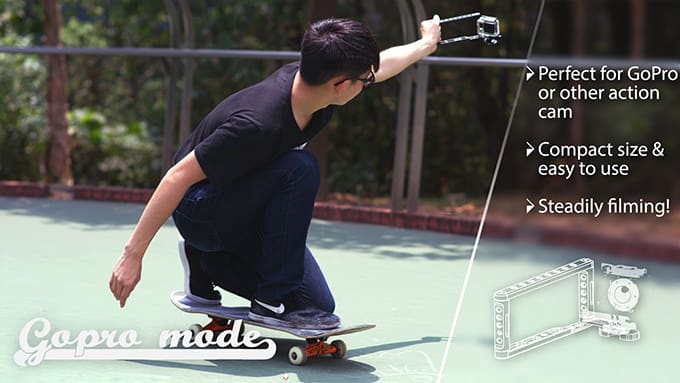 GoPro mode extends the base unit with a particular accessory to mount you GoPro camera.
Mobile Mode

Mobile mode has a special adapter for mobile devices.
Double Handle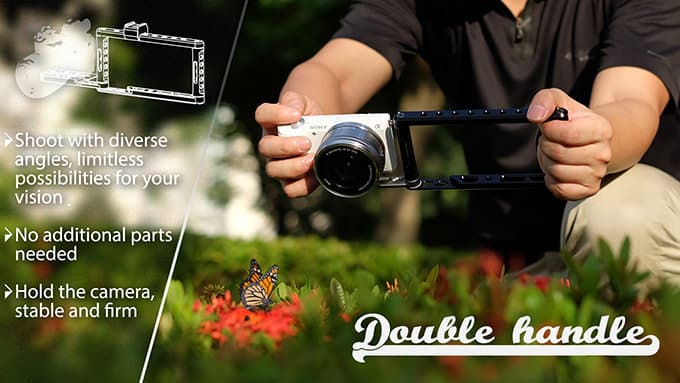 Double handle mode allows you to shoot with a range of angles while still stabilizing your DSLR or mirrorless camera.
Butterfly mode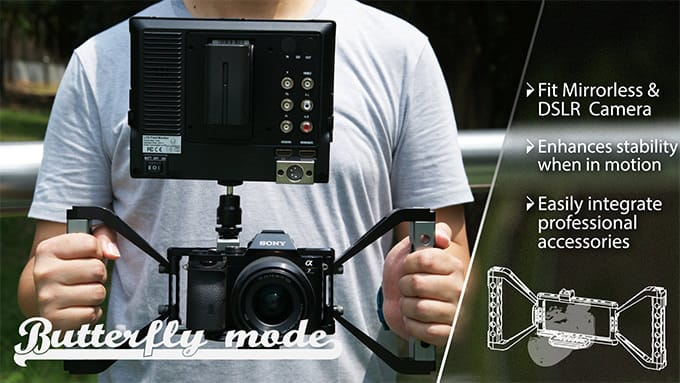 Butterfly mode adds two firm grips to the cage. This is intended for more serious use, and heaving two grips will greatly improve stabilisation of your camera. Accessories like a continuous LED light or a microphone can be easily attached to the cage via an accessory.
Monitor Mode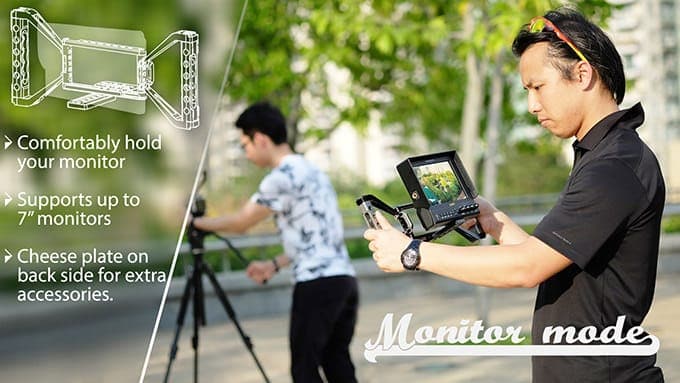 Monitor mode allows you to comfortably add a monitor to your set-up via a back cheese plate accessory. It supports monitors up to 7-inch.
Tripod Mode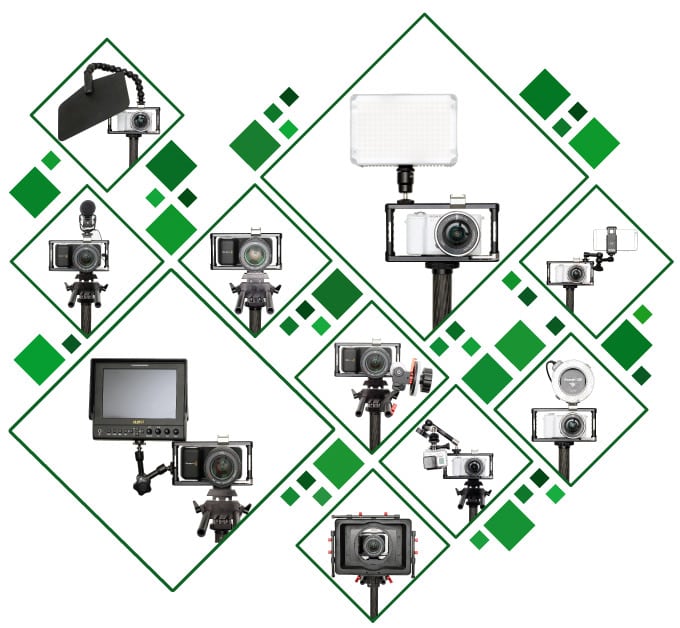 Tripod Mode is perfect for fitting your camera to a tripod or fluid head. It uses standard 15mm rods, supports matte box, follow focus and other pro accessories. It's designed for BMPCC and also fits most DC and mirrorless cameras.
Cage mode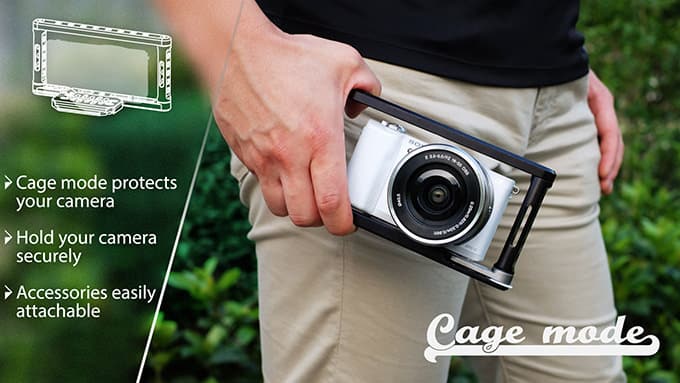 Cage mode fully protects your camera and allows for a better grip. A range of accessories can be attached to the cage.
Purchase and Availability
Lokee is raising funds for production on Kickstarter now. Click here to go to the Lokee Kickstarter page.