Fujifilm enable HSS: Meike and Nissin
Fujifilm enable HSS: Meike and Nissin: Meike and Nissin
 Introduction
One of the most requested features for Fujifilm X-mount cameras is to enable HSS (high-speed flash sync). The ability to use your flash at shutter speeds faster than the camera's native sync opens up a wealth of creative flash techniques with fast lenses at large apertures.
Fujifilm currently does not support this feature in their X-T1 or X-PRO1,  rumor has it due to hardware limitations. But as I've shown in my post about enabling HSS with the Nissin i40, it is possible. Though you'll need to shoot with your flash set to Manual without the ability to use your cameras' TTL light metering. Nissin stated that their i40 for Fujifilm is indeed HSS capable, but that they are waiting for an update from Fuji.
Now Chinese camera accessory brand Meike also announced a Fujifilm compatible HSS flash called the Meike MK 320 F. It looks like an enable HSS firmware update is imminent, exciting times!
Update: Because of the change of the protocol with the Fujifilm FW 2.0,  the Meike MK320 does not currently work in HSS mode.
Meike MK320 F Speedlite for Fujifilm specs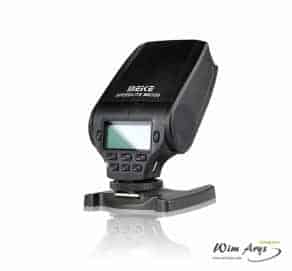 High GN: 32
TTL
Manual Flash (S1/S2 mode)
Adjustable Tilt & Swivel Head
LCD Lattice screen
LED-Assistive preview focus
Metal hot shoe
Supports synchronization of front and rear curtains
Memory function