Topaz labs Photography collection review
Topaz Labs Photography collection review
Introduction
Topaz Labs are photo plug-in developer based in Texas that makes a broad range of powerful software products for photographers.
The Complete Topaz Photography Collection from Topaz Labs consists of a suite of 13 plug-ins, as well as an intuitive standalone navigational application.
This collection includes all of Topaz Labs' highly regarded plug-ins: Clarity, B&W Effects, Adjust, Lens Effects, ReMask, Detail, Simplify, InFocus, DeNoise, Clean, and DeJPEG. It also includes more creative effect plug-ins like Star Effects, Simplify, and ReStyle.
The Photography Collection also includes their Image editor PhotoFXlab that allows you to use all these plugins either from Adobe Lightroom or as a stand-alone application.  You can use most of these plug-ins in other host programs too like Adobe Photoshop, CC, Elements, Apple Aperture, iPhoto, Corel PaintShop Pro, PhotoImpact, Serif PhotoPlus, and IrfanView.
Topaz Labs Photography Collection Plug-ins
ReStyle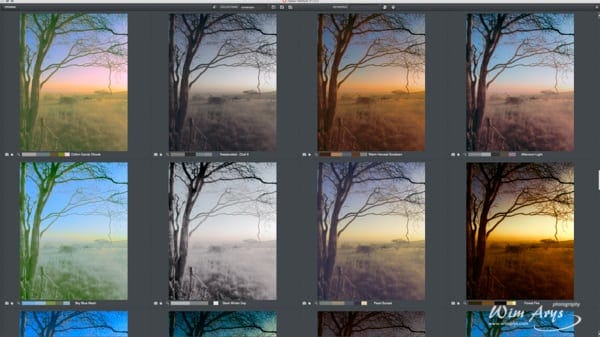 ReStyle allows you to alter the appearance of photographs quickly and easily. This plug-in uses an array of adaptive looks and effects based on color palettes You'll find intriguing preset names like Fashion Brown, Olive Drama, Pale Purple and Vanilla Sunrise.
When you open an image in restyle, their Image Mapping Technology maps the picture's colors and tones. This mapping is then used  to produce the best possible enhancements and refines the look of photographs. Once you've decided on the tone palette you want to apply, each effect can be manually fine-tuned to suit your personal preference. You can also blend the effect (or effects) with your original photo in its entirety or by using masking tools. Depending on the colors palette of your image, some presets work better than others but you can get beautiful results.
Clarity
There are over 100 preset effects available in the Clarity Plug-in, Raging from HDR style processing to shadow- and highlight recovery. You'll find the processes split into categories according to different types of photography like nature, macro, landscape,..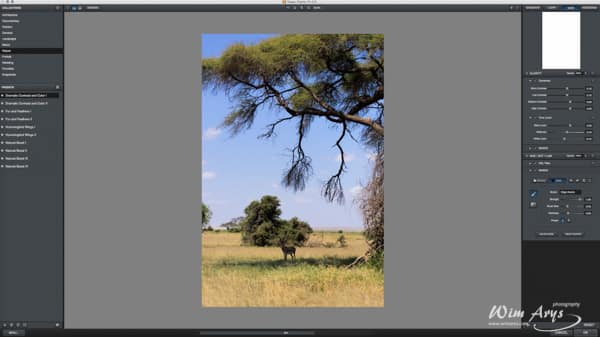 Clarity uses what Topaz Labs calls Intelligent Contrast Enhancement. This technology works to increase the visual impact of photos by fine-tuning contrast settings and maintaining highlight values for realistic results. Again, you can make selective adjustments in combination with masking tools in order to enhance local areas.
B&W Effects
B&W Effects offers a complete range of controls for maintaining high image quality within a rich tonal and contrast range. You can start your conversion by selecting one of the 200 effects in eight different collections when change a picture from color to black and white.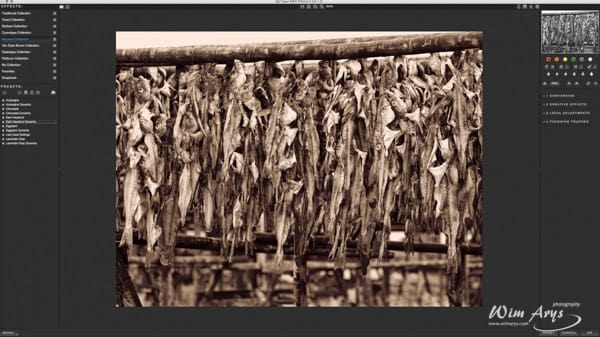 Presets include:
Traditional classically-styled black and white effects.
Toned: for add differently colored tones or tints to images like copper, gold, selenium, sepia, and antique.
Stylized combines traditional black and white images with creative effects like diffusion, cartoon, paint and multi-tone.
Cyanotype mimics the cyanotype printing process to give a rich blue hue to pictures.
Albumen adds a range of traditional colorings, from purple to chocolate brown, to simulate the look of albumen printing techniques.
Platinum gives warm blacks and silvery whites with an especially notable tonal range.
Opalotype: reminiscent of printing onto translucent white sheets of glass and then hand-tinting or coloring imagery.
Topaz Labs's Tonal contrast algorithm is at the heart of this plug-in. I helps to generate blacker blacks and whiter whites, with an extensive range of mid-tones. Traditional film grain styles are available to simulate the look of scanned film types for a more traditional or vintage look. You can also apply vignetting and border effects.
Adjust
Adjust uses Topaz Labs' proprietary adaptive exposure, detail enhancement, and adaptive color technology to add perceived contrast, better color rendition, and clarity.
Adaptive exposure processes certain  parts of an image differently in order to increase the perceived dynamic range of a picture to make it look more contrast-rich while still maintaining detail in the highlights and shadows.
The Adjust plug-in can reveal small details in order to give a more polished appearance without affecting noise levels. This process gives more defined results compared to standard sharpening and local contrast adjustments.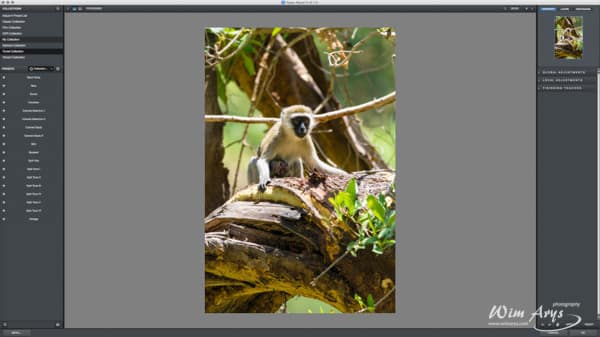 Adaptive color helps to increase the apparent saturation of an image without looking unnatural. Similar to adaptive exposure technology, color is intelligently adjusted based on the analysis of the overall picture.
Lens Effects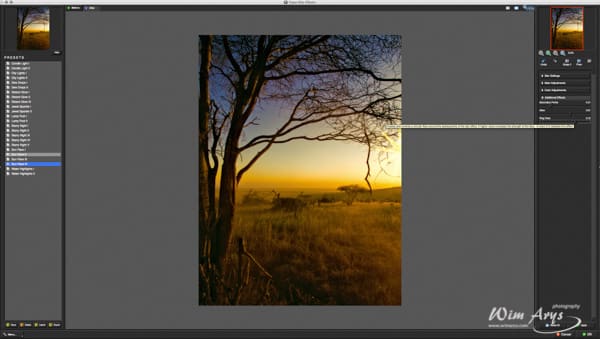 This plug-in simulates familiar optical and lens-based effects. It provides 29 different types for improving your imagery using sun or other flare effects. There are also some Bokeh effects available that allow you to blur the background of an image. Diffusion softens the lighter as of a picture and produces a hazy or dream-like quality to a picture.
You'll also find Color Filters, Tilt-Shift Lenses effects, polarization Motion Blurr and Granulated effects here.
ReMask
ReMask lets you make fast image selections and produce masks in an efficient manner. An intuitive workflow allows you to replace backgrounds efficiently, reposition subjects, selectively adjust color, contrast, or exposure, and create unique composite images. This masking plug-in works great with Photoshop where you can transfer your image to the plug-in, define a part of your image and transfer it back to Photoshop as a mask.
Masking procedure:
The masking process starts with using three simple, intelligent brush tools to paint quickly paint over the desired portion.
Once you have selected this area, the Apply Tool will interpret the shaded area and produce a mask over the selected parts.
Once the mask has been previewed, you can manually refine it in order to ensure all desired contents are selected.
Detail
Detail is a plug-in designed to enhance the look of your photos. It intelligently isolates particular features of an image and selectively increases detail. Intelligent algorithms divide your photo into three levels of detail separation, and three tonal levels to make more precise highlight and shadow detail adjustment.
You can use the brush  tool to refine sharpening regions selectively. The sharpening algorithms were improved to prevent sharpening artefacts and to realise natural looking images.
There are over 50 presets available for quick image adjustment and, additionally, presets can be organised based on personal preference.
Simplify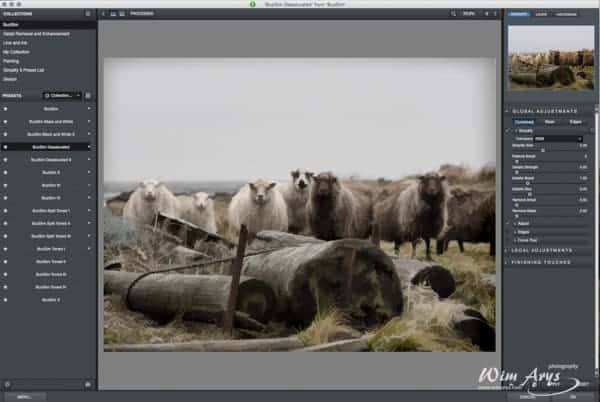 Simplify converts your  photos into works of art. You'll find different paint and drawing techniques like cartoon, abstract, charcoal, cartoon and Oil Painting.  They achieve this by a process called topological decomposition that selectively removes unnecessary image detail and renders a handcrafted looking piece of art.
InFocus
InFocus helps to correct loss-of-sharpness due to camera shake. It can refine small details in your images with micro-contrast enhancement, which increases the apparent sharpness and renders cleaner-looking results.
DeNoise
DeNoise can remove all kinds of noise like fixed, pattern, and random noise from images. This proprietary de-noising technique can also eliminate horizontal and vertical banding noise, which will increase apparent detail and restore blurred lines and edges in photographs. It also removes red and blue color casts, while correcting shadow tones and color unevenness commonly found in low-light images shot at higher ISO values.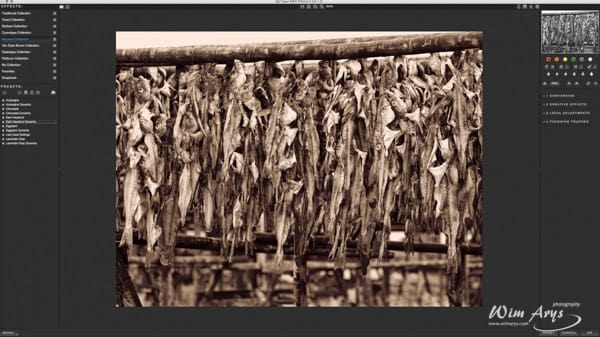 Star Effects
Star Effects lets you add or modify how highlights look in night scenes. You'll be able to change or enhance existing bursts of light in your photos by converting them into multi-point stars effects. There is a variety of stars to choose from including burst, traditional and Hollywood types.
You'll find Topaz Labs' selection brushes with edge-aware technology in this plug-in too. This brush allows you to paint in or out the affected areas of you image. You can also layer different star effects on top of each other by pressing apply. All presets and effects are fully customizable in color, temperature, secondary spikes, glow, and ring flare.
Clean
This plug-in can smooth out skin wrinkles and blemishes in portraits without the loss of  details. It's also possible to create vectorized, cartoon-like effects in a simple way. Not my favorite tool to use but if creating these types of images is your thing, you'll find it very useful.
DeJPEG
DeJPEG can restore detail and dynamic range to Jpegs with advanced algorithms. It 's a helpful tool to restore highly compressed images and reduce compression artifacts. This proprietary  algorithm automatically examines the entire picture, removes artifacts, increases apparent sharpness and restores dynamics as much as possible.
Glow
Topaz Labs  Glow is one of their latest creative plug-ins. It illuminates or electrifies an image's contours in a very special way. The result can be surreal and magical,  almost like painting on your photo with beautiful luminescent ink. I'm not a big fan of these type of plug-ins, so I use it very sparingly if at all. It can give a bit more magic to a portrait like you see here. The true power however lies in selectively applying it to layers in a photo, like the eyes or outline of you subject.
photoFXlab
PhotoFXlab, a very powerful application, situated somewhere between the functionality of Lightroom and Photoshop, with the emphasis lying on layer based processing and blending of images. You'll need to take some time to get used to the workflow, but once you do, there is nothing in this regard that you can't do on the application itself. You can also access all the Topaz Labs plug-ins instantly from within this interface.
InstaTone allows you to apply the tone of an image you like to your own photo. You can either import pictures, or do an online search for suitable colors and tones that you like.
You can use the Edge-aware brushes for applying selective adjustments to local areas within an image. Brushes available include dodge/burn, saturation, and smooth/detail brush types. Edge awareness strength can be modified depending on the subject type and size.
Besides being able to load individual plug-ins from the application itself, you also have acces to Topaz Labs' highly regarded effects in a searchable library. PhotoFX Lab has a layered workflow, meaning that it's possible to duplicate your original image, make adjustments to individual layers either with the use of their plug-ins or directly from the interface, and blend these layers using various techniques. Which effects and plug-ins are available depends on the individual licences you have. So per example, you'll only have acces to the B&W effects if you have purchased their B&W plug-in.
Conclusion
The Topaz Labs Photography Collection is a suite of very powerful plug-ins. The underlying technology can render fantastic results quickly and efficiently. It's an ideal software collection if you're an Adobe Lightroom user who prefers to stay outside the realm of Photoshop. I'm mentioning this because many of the features and functions available in Topaz Labs plug-ins are also possible with an advanced knowledge of Photoshop. Topaz Labs just makes it easier and faster to do.
My personal favorite plug-ins are Clarity, Detail and Adjust as I can quickly fix any problems I might encounter in my images with these three. If I feel a photo isn't balanced right, quickly exporting it to Adjust and applying a suitable preset with some tweaks normally fixes the problem. The same goes for images that need some sharpening in Detail or Clarity.
I've also grown fond of ReStyle. It doesn't work as well on all imagery, but it's an easy and creative way of changing the color palette and mood of your library.
Glow is an interesting new addition to the suite and can give a bit of extra glamour or magic to a portrait.
For photos that don't need that much work, I also like the basic functionality in PhotoFXLab. You can add some dynamics, clarity and sharpness via the sliders there. These also use Topaz Lab's proprietary intelligent processes without the need for using any other plug-ins.