Sony FE 16-35 F4 review: best native wide angle zoom lens
Sony FE 16-35 F4 review: best native wide angle zoom lens
Introduction
The Sony Vario-Tessar T* FE 16-35mm f/4 ZA OSS Lens is a compact and lightweight wide-angle zoom lens for the Sony full-frame E-mount range. This Zeiss designed lens has a constant f/4 aperture across the range and is dust- and moisture-resistant. This landscape and architecture lens also features Sony Optical SteadyShot image stabilization system that helps to eliminate camera shake, giving you an advantage of 2-3 stops.
The optical construction has five aspherical elements  (including a large diameter advanced aspherical element) and three extra-low dispersion elements. These help to reduce chromatic aberrations throughout the zoom range as well as contribute to a compact overall form-factor. The great Carl Zeiss T* anti-reflective coating has been applied to the lens elements to minimize lens flare and ghosting while providing enhanced contrast, clarity, and color fidelity. The SEL1635z has a circular aperture diaphragm that allows for a smooth and natural bokeh.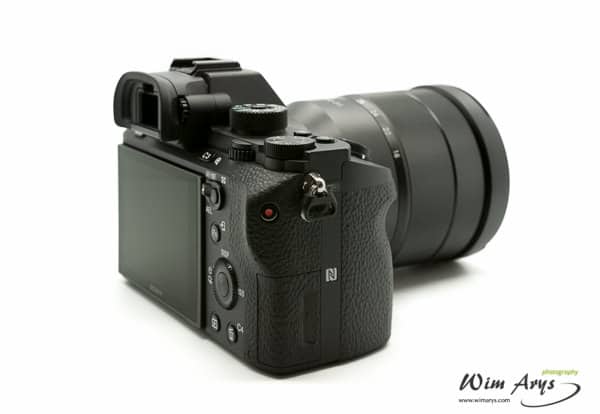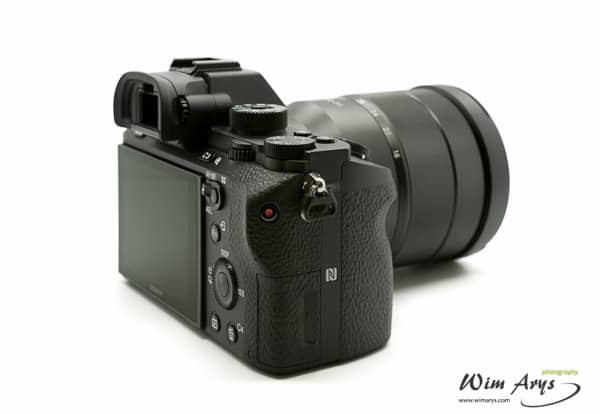 A fascinating design feature is that only the middle groups of the optical system move to achieve focus, this causes the lens barrel to be at its widest 35mm focal position when fully extended.
Build and Handling
The FE 16-35 f/4outer barrel is made of metal, as is is the filter thread. The inner barrel is made of what seems like good quality plastics as it shows no play. Both zoom and focus ring are very precise with the right amount of friction.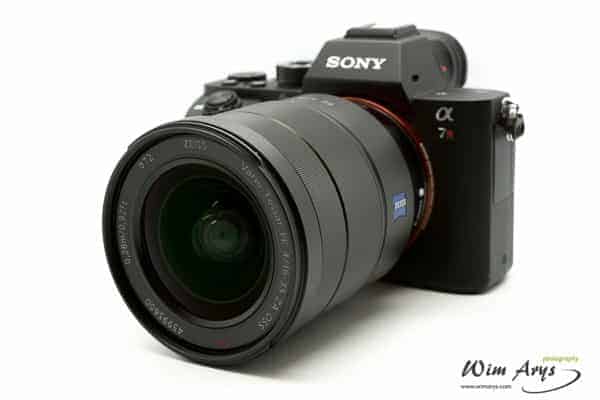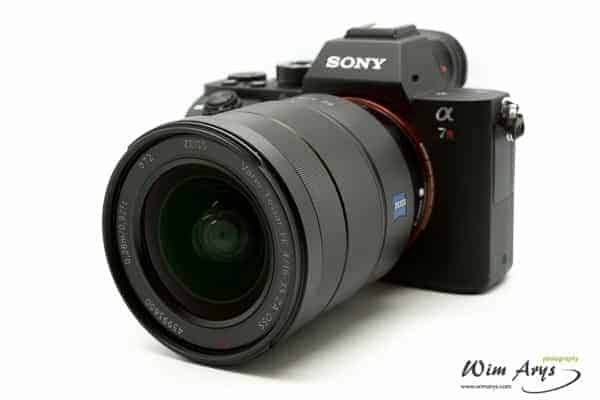 The supplied ALC-SH134 Lens Hood is unfortunately made from plastic; I wish Sony would provide the high-quality inner flocked lens hoods with the FE series like you get with the Sony/Zeiss A-mount lenses.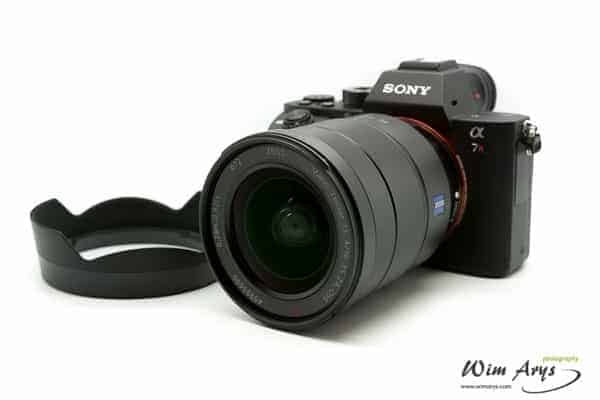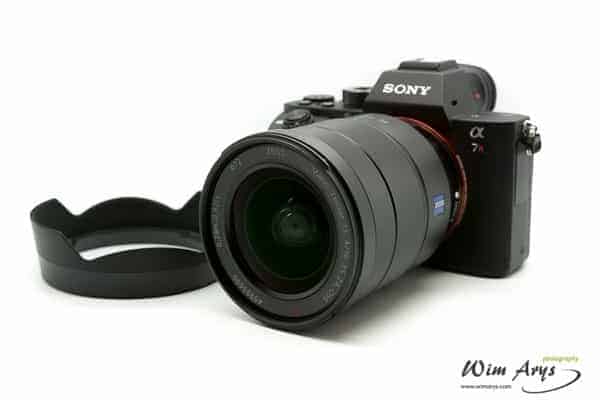 Sharpness, vignetting and distortion
I'm using a 300 dpi test chart to evaluate all my lenses. I have to continuous lights set up on the left and right of the test chart to evenly illuminate it. My Sony A7rM2  is on a sturdy tripod; sensor stabilization is OFF. I'm using the in-camera timer function or a remote to eliminate any shake when pressing the shutter button. ISO is at 100 to ensure there is no loss of sharpness due to noise and to fairly compare the results at all apertures. As I'm using my eyes to evaluate the performance at different apertures, the process and conclusions are of course subjective. But we are humans, making images for human eyes, and I honestly don't see the point in having computers do what any photographer should be able to do.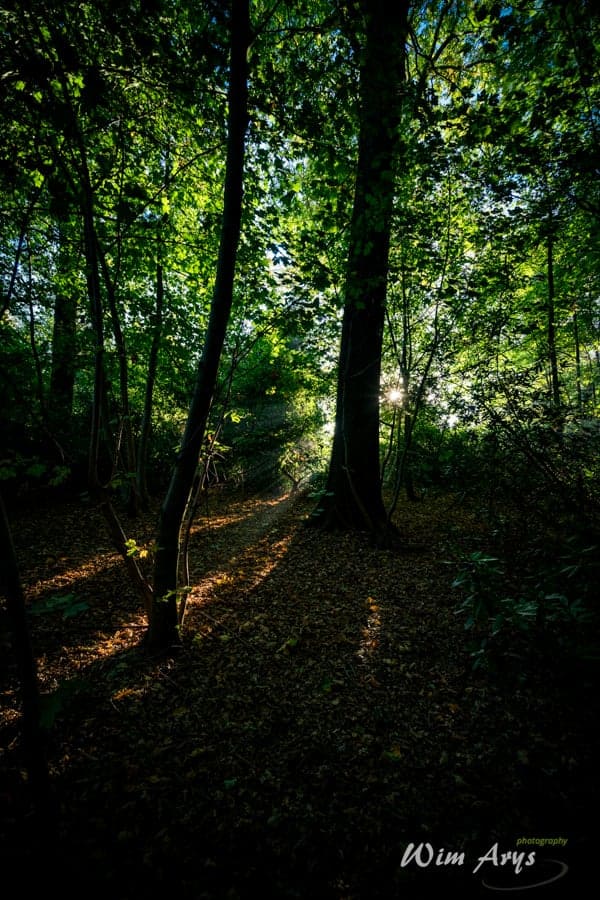 At 16mm
test chart center
At the 16mm focal range, the image center is already very sharp at f/4 and continues to be so even up to f/11. At f/16,  we clearly see the effects of diffraction causing a loss in sharpness.
test chart corner
As this is a relatively compact lens, we're bound to see some vignetting and distortion in the corners. Vignetting is worst at f/4 but clears up by f/5,6. This lens isn't that sharp in the corners at f/4 but gets to quite an acceptable level by f/8.
Barrel distortion is clearly visible at 16mm but easily corrected in Lightroom or Camera RAW with the available profile.
Sharpness at 20mm
test chart center
At 20mm, the image looks very clear and sharp in the center at f/4. Same story at f/5,6; but at f/8 we see a decrease in sharpness that steadily gets worse up to f/22.
test chart corner
Vignetting looks well under control at all apertures at 20mm. Sharpness also looks good up to f/5.6. Beyond that, it's the same story as the center performance.
The barrel distortion visible at 16mm has nearly disappeared at 20mm.
Sharpness at 24mm
test chart center
At 24mm, we see a clear and sharp image center at f/4 up to and including f/11. There seems to be a slight dip at f/8, but nothing drastic. Beyond f/11, you'll see a loss of sharpness due to diffraction.
test chart corner
The edges seem to be sharpest at f/4 to f/5,6 at 24mm. No distortion is visible.
Sharpness at 28mm
test chart center
Again at 28mm, f/4 to f/5,6 looks very sharp but remains perfectly acceptable up to f/11.
test chart corner
Corners look sharpest at f/5.6, with very little vignetting. A tiny bit of pincushion distortion visible.
Sharpness at 35mm
test chart center
35mm looks weakest when it comes to center sharpness, and you'll need to step down to f/5.6  until the center image is acceptably sharp. At f/11, we see the effects of diffraction setting in, causing a loss of sharpness.
test chart corner
You'll need to stop down to f/8 to achieve maximum sharpness in the corners at 35mm. But here too, it still lags behind the center. Vignetting seems to be very much under control, or at least equal at all apertures. A small degree of pincushion is visible.
Flare resistance
The flare is dependent on the focal length and where your light source is located, but thanks to the Zeiss T* coatings these are very much under control. Sun stars look good, even at f/4.
Autofocus
Sony FE camera users are not spoilt for choice when it comes to wide angle zooms. The FE1635z is, in fact, the only native lens, and it might be tempting to use a Canon lens, especially on the A7r II. Although they autofocus well on that camera, nothing beats a native FE lens when it comes to features and reliability. This wide-angle focusses fast and reliable, with of course all focus modes and areas supported. Face detection and Eye AF are also quite handy if you intend to use this lens for wide portraits.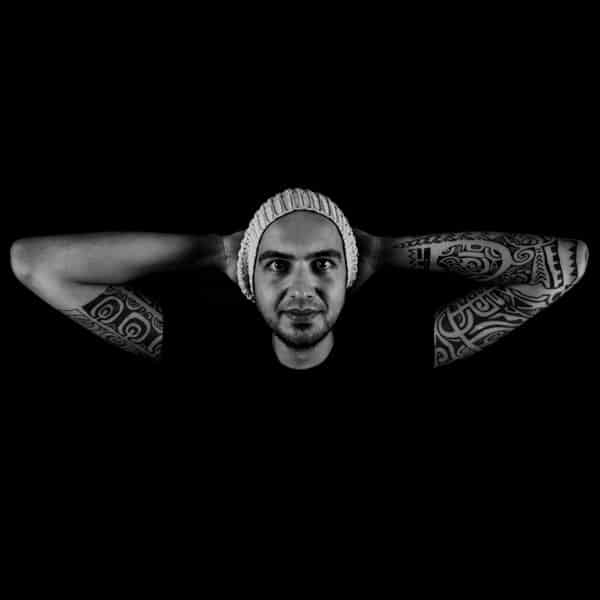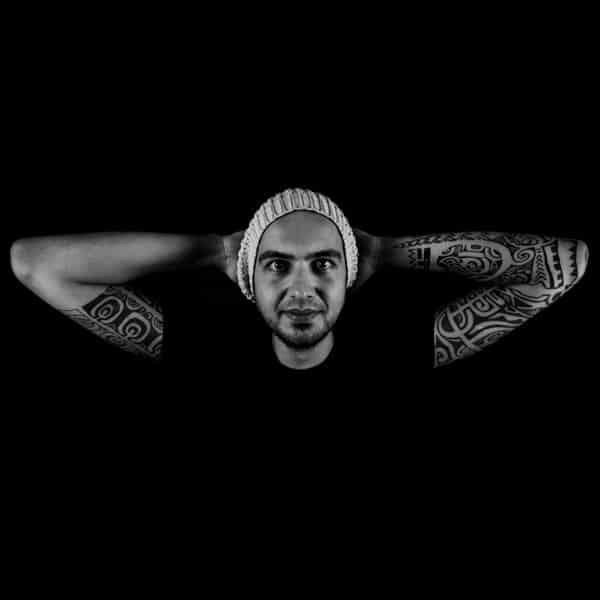 Conclusion
I would have preferred a more uniform performance across the range, with the weak point clearly being 35mm, but the FE 16-35 f/4 is a useful wide angle zoom lens. Unlike the FE 24-70 f/4, this wide angle Zeiss is capable of rendering sharp looking images at f/4 in the center and corner to corner at f/5.6-f/8 across the range. It will make an ideal travel companion if you're into landscapes, seascapes and architecture photography.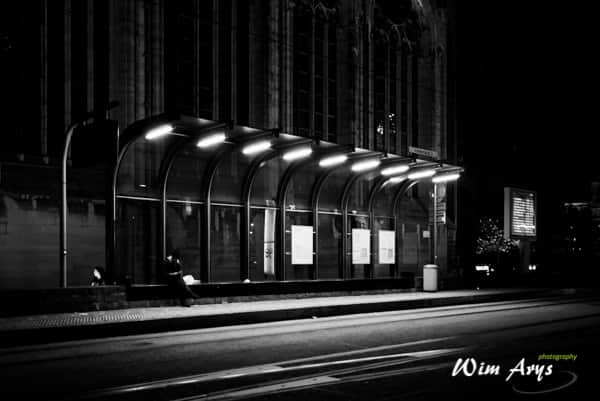 There are no full frame alternatives in E-mount, but you could adapt the SAL1635zF28 or Tamron SP 15-30 f/2.8. These work exceptionally well on the A7r II with an LE-AE3 that gives you the choice between either all on-sensor phase or contrast detection points. If you own an A7, A7r or A7s you could adapt these using the LE-AE4 adapter that enables full-time, continuous, 15 point TTL phase-detection autofocus, though at the cost of one stop.
Although the FE 16 35 f/4 from Sony/Zeiss isn't the best performing lens ever when it comes to corner-to-corner sharpness, it still delivers quite a punch for such a small zoom lens.I have not encountered any significant issues with CA in real life shooting, so I would not worry about this. You'll see some vignetting wide open at most focal lengths, barrel distortion below 20mm and pincushion distortion above 28mm (both easily corrected in-camera when shooting JPEG or in an RAW developer like Capture One and Lightroom). But because of the compact and portable design, this is a compromise I can live with.