Fujinon XF 10-24 f4 review
Fujinon XF 10-24 f/4 review
Introduction
The Fujinon XF 10-24mm f/4 R OIS is an ultra-wide to standard focal length lens for Fuji X-mount cameras. A wide angle like this is ideally suited for landscape, interior or nature photography. It has a maximum f/4 aperture throughout the range and features an Optical Image Stabilisation (OIS) system. No literature can be found on how well this OIS works in this lens, but I'd say it will get you at least a few stops advantage.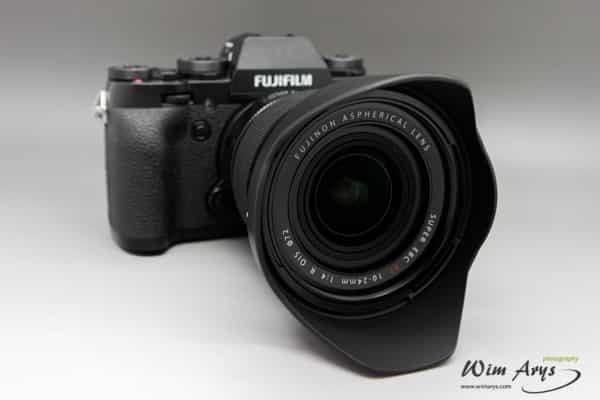 Optical Arrangement
This Fujinon wide-angle zoom incorporates fourteen elements divided into ten groups, with four aspherical and three extra-low dispersion elements. These latter elements reduce chromatic aberrations with excellent image clarity and sharpness. An HT-EBC coating helps to minimize ghosting and lens flare, and an extra layer was applied to the rear side of the front-most lens element to further reduce ghosting. The seven-blade rounded diaphragm works to produce an esthetic out-of-focus quality to benefit selective focus and shallow depth of field imagery.
Build Quality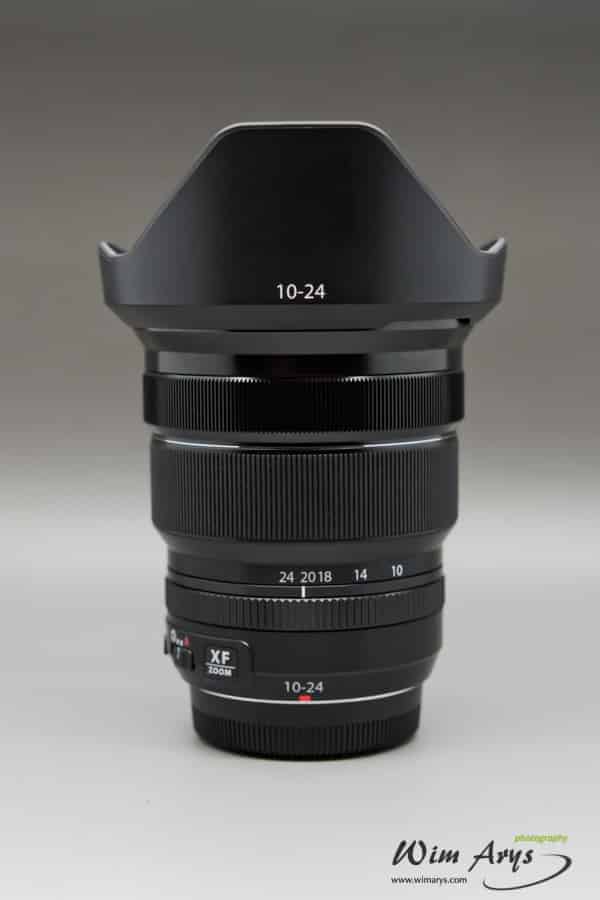 The Fujinon XF10-24mm has a 100% metal build and a nice, discreet design. It's relatively small for a wide-angle and the weighs only 400g. It looks and feels well-balanced on the Fuji X-T1, with three rings for aperture, zoom, and focus. The zoom ring feels smooth and fluently goes from 10 to 24 mm. The focus ring lacks any stops or distance marks but handles well too. A thin aperture ring is positioned closer to the housing, again no markings to be found here. You'll find two switches on the side, one used to switch aperture to auto or manual, the second to enable or disable the optical stabilization.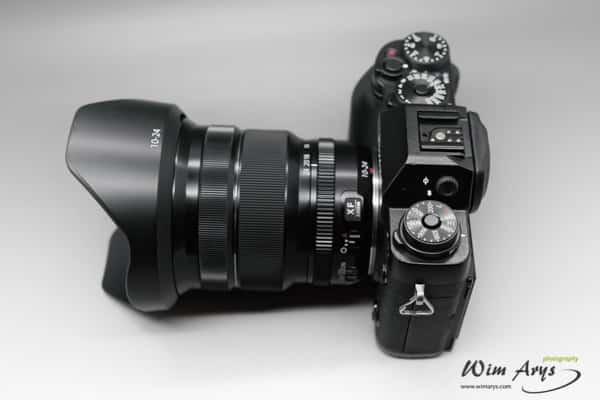 Autofocus
The Fujinon XF 10-24mm f/4 R OIS uses a high-speed precision stepping autofocus motor. It focusses quickly and accurately just like all XF lenses. Switching to macro mode on the camera enables close-up focusing between 9.4″ and 9.8′.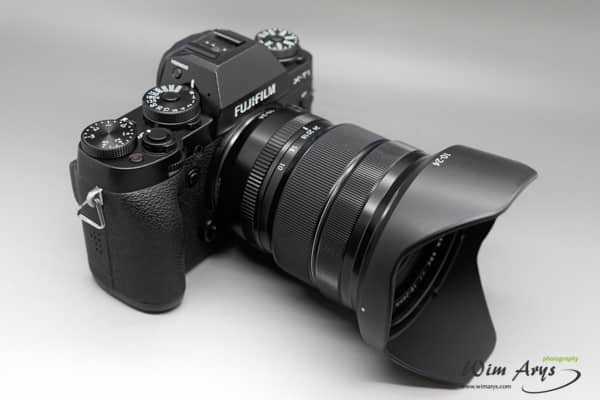 Studio tests
For wide angle lenses, I use four 400dpi test charts. What you'll see is around a 100% crop of a corner of the test chart leading to the center or the right upper corner. I have 2 constant studio lights illuminating the chart on the left and right of the camera. The Fuji X-T1 is mounted on a sturdy Manfrotto tripod, lens is on an equal plane with the test charts. I'm using the in-body timer function to eliminate any possible camera shake. I'm recording the images in RAW format. In order to avoid any RAW embedded correction data, I'm using Iridient Developer to crop and export to JPEG without any processing applied.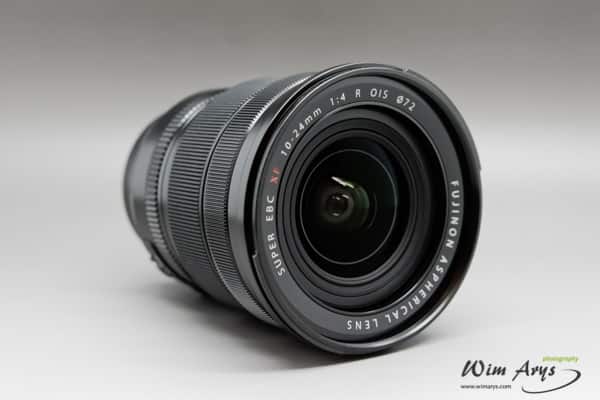 You should know that when you use this lens on an X-series camera, the lens' performance is enhanced to deliver consistent illumination and sharpness throughout the aperture range. Fuji calls this automatic correction system the Lens Modulation Optimizer (LMO) function. When shooting RAW and importing to Lightroom, certain corrections like vignetting and distortion are also automatically applied. There is nothing wrong with this system, just something you might want to be aware of.
Performance at 10mm
Vignetting, CA, and distortion
There is some slight barrel distortion visible at 10mm. Vignetting is almost nonexistent, even without the in-camera corrections I mentioned. You might notice a small degree of color fringing in your images, especially at large apertures. These can be easily fixed in Lightroom.
Center
At its widest position, the center image is already tack sharp at f/4. It reaches maximum sharpness around f/5.6-f/8. As usual, loss of sharpness due to diffraction sets in at f/11.
Corner
At f/4, the corners are quite soft at this focal length. They improve sharpness wise up to f/5.6, though never equal the sharpness of the center image, and drop again beyond f/11.
Performance at 14mm
Vignetting, CA, and distortion
Equal non-complex barrel distortion as at 10mm is visible here. In fact, both CA and vignetting are in line with the widest focal length.
Center
At 14mm, the center is sharpest at f/4 to f/5.6. There seems to be a slight drop by f/8, with the repercussions of diffraction visible from f/11.
Corner
Quite soft at f/4, sharpness steadily increases up to f/8.  At f/11, we see the influence of diffraction again, although it still looks sharper than f/4. The 14mm focal length seems to have the softest corners of all.
Performance at 18mm
Vignetting, CA and distortion
Barrel distortion has pretty much disappeared by 18mm. A little vignetting is still present. CA is most visible at f/4.
Center
The center image remains at it's sharpest from f/4 to f/8.
Corner
Corners are sharpest from f/5.6 to f/8. You clearly notice the better performance in comparison to the wider focal lengths here.
Performance at 20mm
Vignetting, CA, and distortion
No sign of any distortion nor vignetting at 20mm. Some color fringing is present, especially wide open.
Center
This lens is very sharp from f/4 to f/5.6 at 20mm.
Corner
The corners need an extra stop to get to optimal sharpness at around f/5.6-f/8.
Performance at 24mm
Vignetting, CA, and distortion
No vignetting or distortion visible at 24mm. Colour fringing is more visible at large apertures in the center and at all apertures in the corners.
Center
Center image is sharpest at f/5.6, even sharper than at f/4. Smaller apertures perform in line with other focal lengths.
Corner
At 24mm, the corners are sharpest at f/8.
Conclusion
In lens design, larger and heavier lenses generally stand for better optical performance. For a small and lightweight mirrorless system like the Fuji X, it seems some compromises will always have to be made (if you want to keep it portable at least). It must be a difficult balancing act for any manufacturer to make. Luckily Fuji generally gets this balancing act right. A f/4 wide angle zoom is not the fastest ever, but if this results in a good performing lightweight lens like this, this is a trade-off that does not bother me at all.
I would have preferred that the Fujinon XF 10-24mm performed more uniformity at larger apertures throughout the range and was sharper at the edges. But the LMO or a good RAW developer like Iridient corrects these issues to a large degree.
Generally speaking, you'll get the best edge-to-edge sharpness out of this lens at around f/5.6-f/8 up to f/11. For other uses like portraiture where you'd only need the center really sharp, there is no problem with shooting at f/4. Lens distortion is very much under control too, even at 10mm.
I like the addition of OIS on a wide-angle like this, it allows you to shoot at slightly slower shutter speeds, mostly negating the fact that this is not a faster lens and allowing for handheld shooting at smaller apertures. I do think the XF1024 is slightly overpriced at list price, but luckily there are now plenty of deals available on this lens.