Deo-Tech OWL filter adapter review
Deo-Tech OWL filter adapter review
Introduction: about Deo-Tech
Deo-Tech, short for Digital Electronic Optical Technology, is a Chinese company that design and manufacture digital and optical camera accessories. Their product line consists of mirror-less camera lens adaptors like their Falcon EOS EF and Golden Eagle Contax G to Sony E- and A-mount. These adapters aren't just the run-of-the-mill mount converters but offer AF support, electronic integration of an aperture diaphragm and firmware upgrades via Bluetooth. Their R&D and commitment to continually improving their products sets them apart from other manufacturers who often rush low-quality products to market.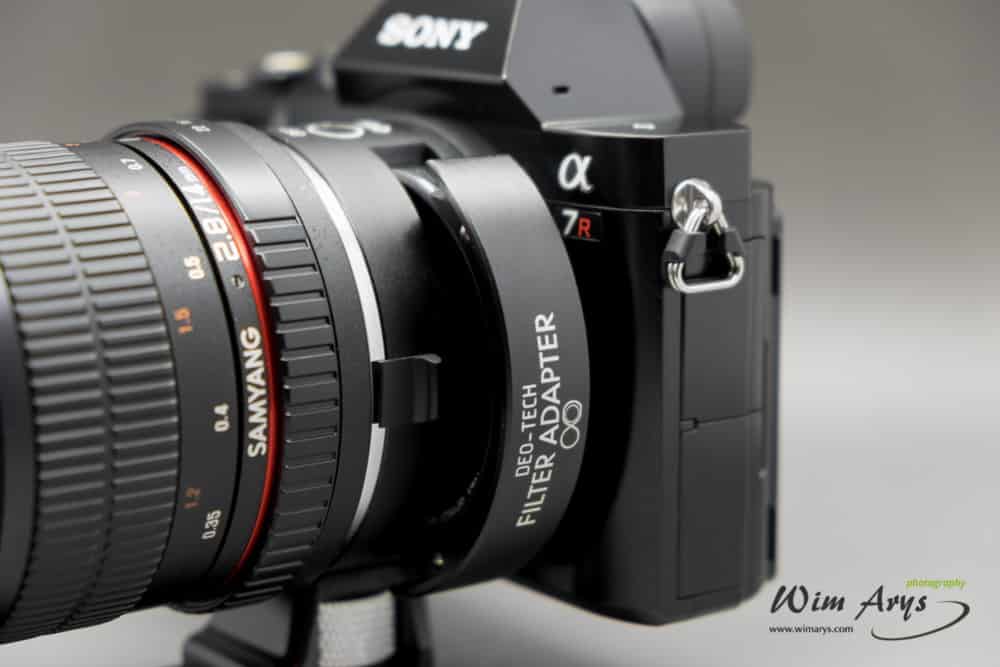 Deo-Tech OWL drop-in filter adapter
One of their latest products is the Deo-Tech OWL drop-in filter adapter. It's about to be launched via a crowdfunding project on Indiegogo (similar to Kickstarter), offering early investors the chance to get it at a discounted price. This neat product provides a lens mount converter and allows you to change screw-in filters on the converter side with a drop-in filter device. Since your filters reside on the back of the lens, in the mount adapter, there is no more need to have your favourite filters in different diameters for different lenses. It also eliminates other issues like vignetting, as the 52mm filters used more than cover a full frame sensor.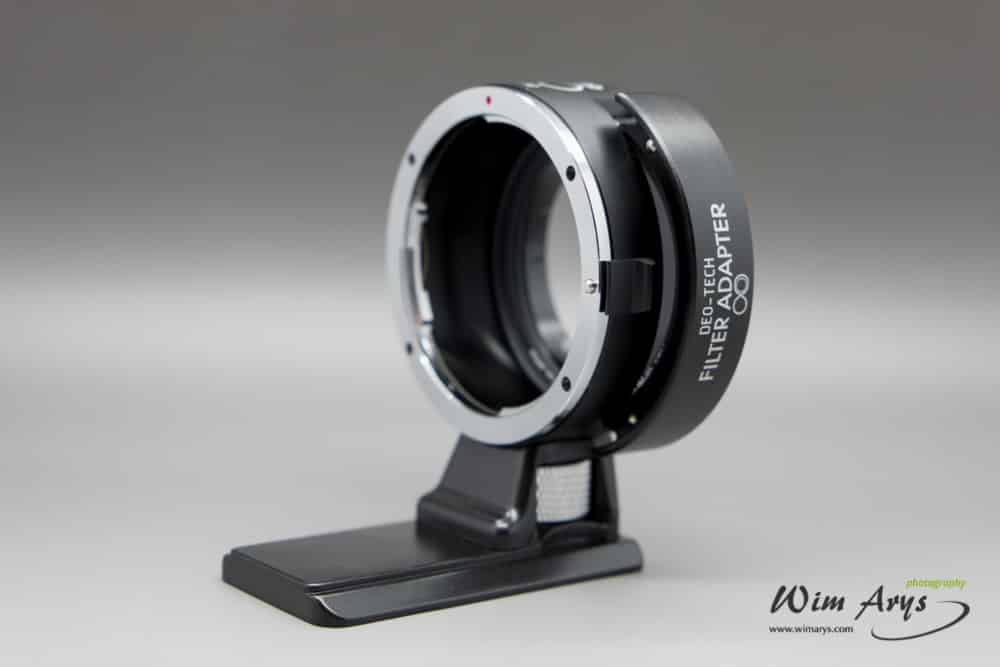 The drop-in filter technique is already widely used in hi-end super tele lenses from Canon and Nikon, and Deo-Tech have cleverly included this design in a mount adapter. There is also a screw-in detachable tripod mount included if you want to use heavier lenses with this system. The first model is the Canon EF to Sony-E-mount version, ideal for use with the full-frame Sony A7 series and full-frame lenses like the Rokinon 14mm f/2.8 or Canon EF 14mm f/2.8L II USM. I see this as a product ideally suited for landscape photography, but I'm sure other photographers and videographers will use it in many different ways for different subjects.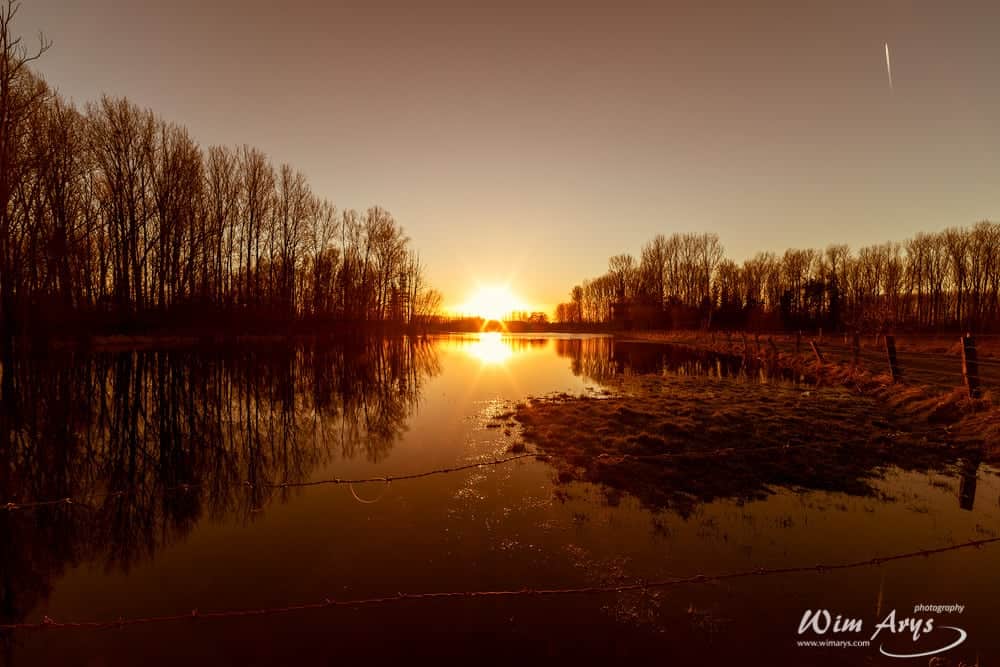 The OWL adapter does not pass any electrical contacts to your camera, although development of one that does is underway for particular brands of lenses. This omission means that you'll need to engage the 'release without lens' function in your Sony A7r menu. It is not possible to change aperture in-camera, so you'll mainly be working in manual mode (M), and using the aperture and focus ring on your lens to dial-in settings. As I mentioned earlier, filter usage is for me more-or-less limited to ND, CPL and infrared filters with landscapes, where you'd typically decide on the aperture, shutter speed and focus manually anyway. So I don't see the absence of electrical contacts as a significant issue.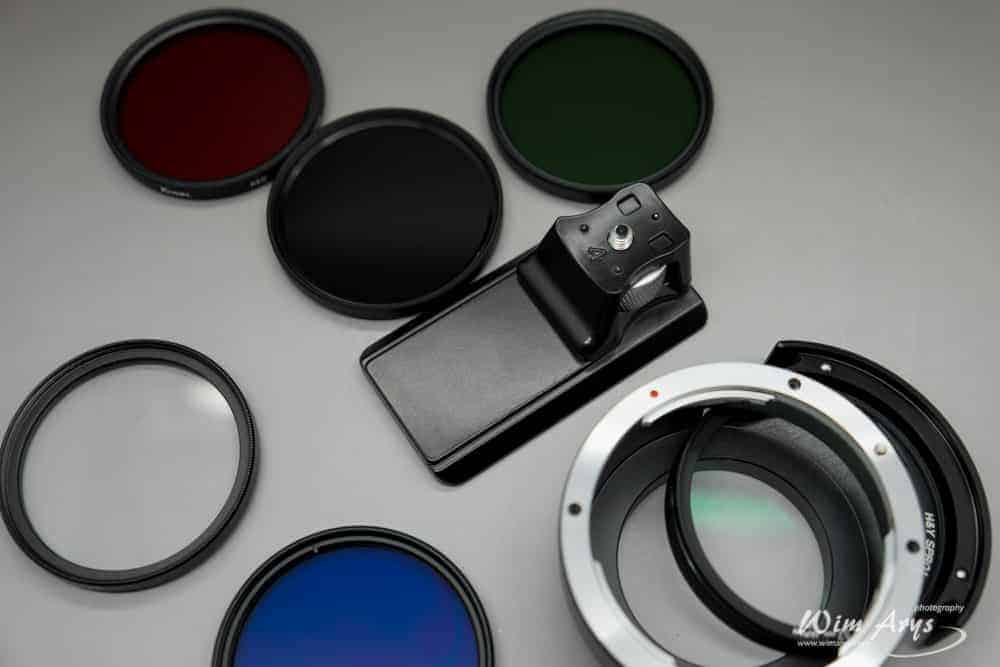 The system was designed for full-frame mirrorless cameras and super 35 camcorders, and is not compatible with mirror cameras. It supports the vast majority of SLR lenses as long as they physically fit, which is according to Deo-Tech 99,9% of all lenses out there. The only exception is lenses that extend over 12mm (where the Owl can still be used without a filter) and rangefinder lenses such as Leica M.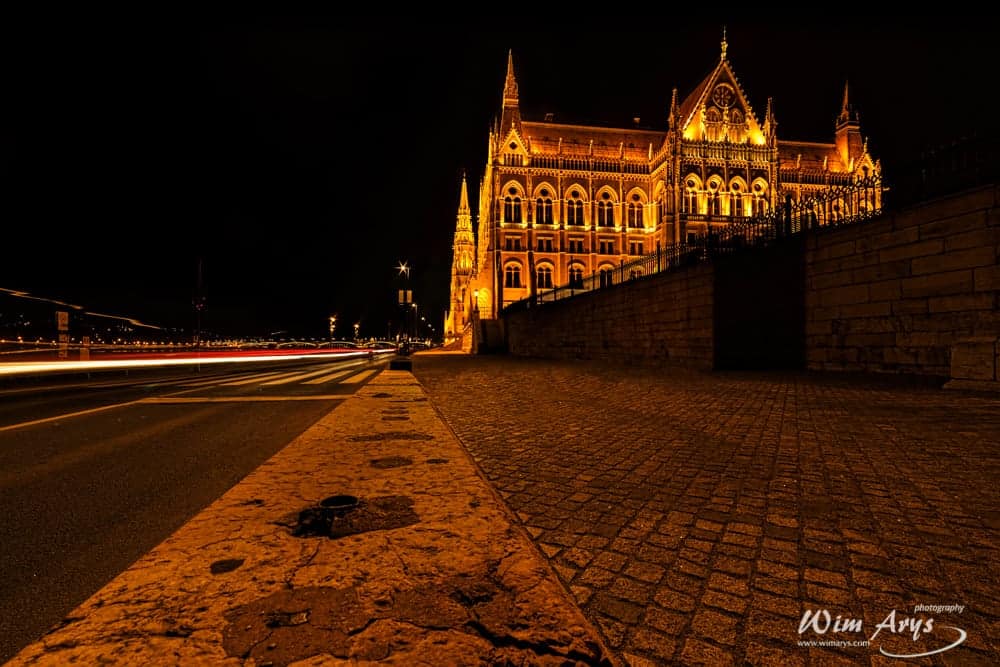 Although Deo-Tech offer several filter pack sets (check their roadmap below for details), it possible to use your 52mm filters too. The only limitation here is that they have to fit inside the OWL's filter dimensions (52mm caliber and diameter of filter ring within 54mm). They do not recommend using Cross- and Star filters, as this effect of these is mostly lost when placing them behind the lens in this way.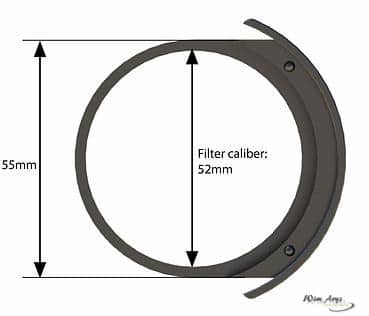 I would recommend at least starting with one of their fully compatible filter sets for the OWL. As I'm reviewing a pre-production model with a limited filter set they sent over, I ordered a few extra filters.  It was a bit of a hit-and-miss situation in regards to whether they would fit or not. For example, I tried a Hoya ND, which was a mere 1 mm too thick.
 Modular System
Deo-Tech seems to be serious about this system and have released a roadmap to instill confidence in the OWL's future. The configuration I've tested (and which will be on IndieGoGo as a crowd funding project) is a Canon EF to E-mount (both full-frame and APS-C compatible). The set included a standard type tripod mount and an essential set of filters.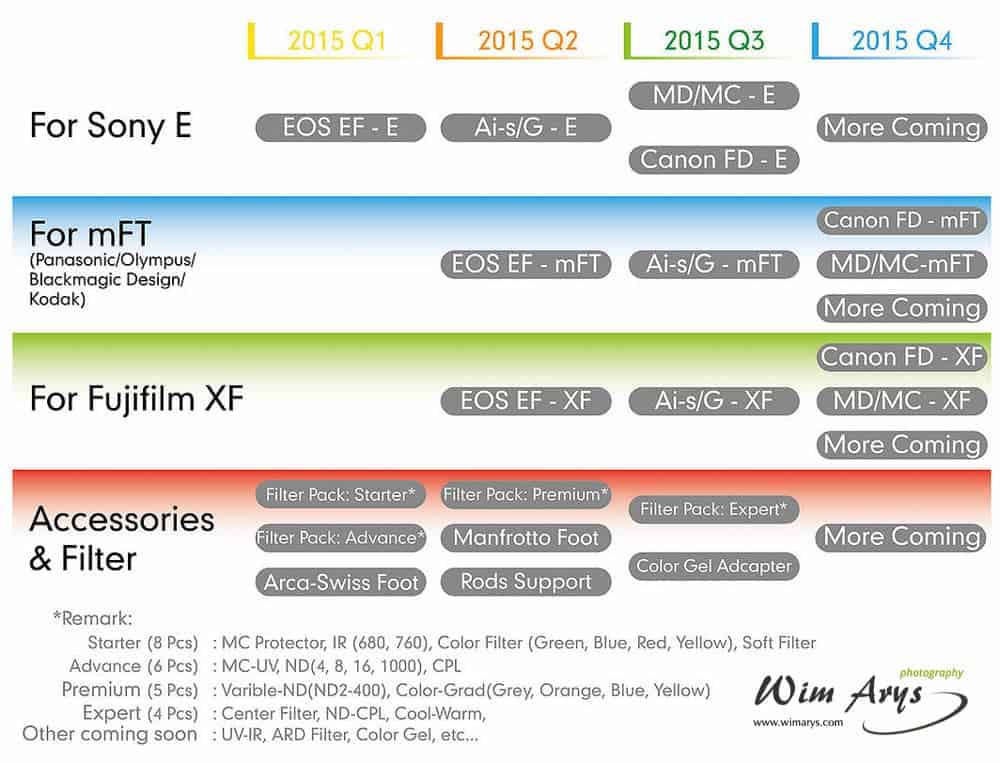 The designers clearly thought long and hard about how and in what circumstances the OWL could be used and wanted it to be as flexible as possible. Once the system has matured fully, it will offer an excellent, one-stop solution for any lens and filter combination you can think of. It all makes you think why someone hasn't come up with this brilliant idea sooner.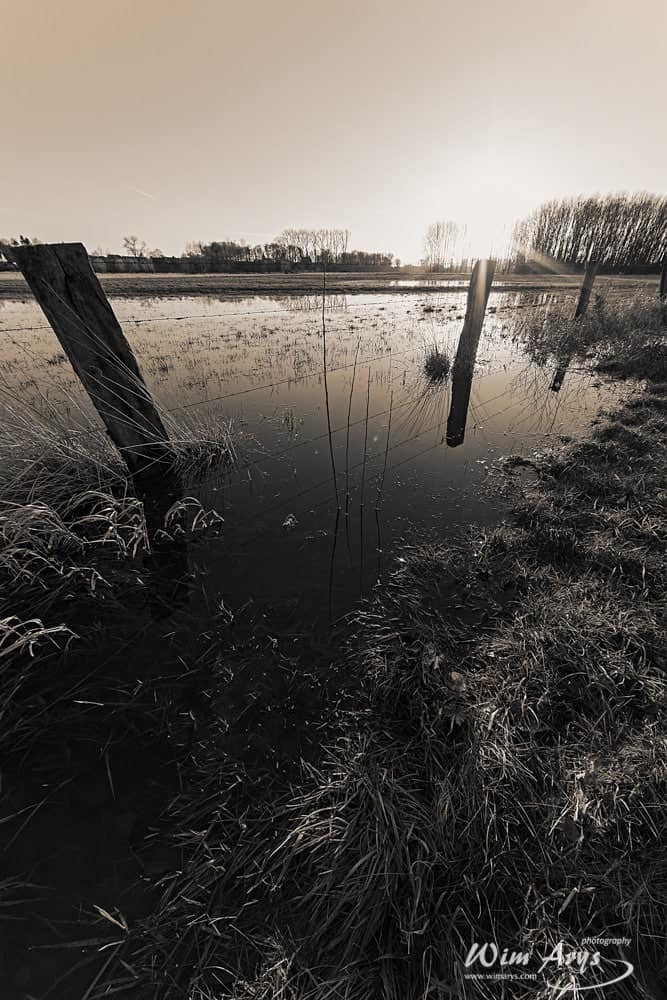 All modules including the lens Mount, Tripod Mount, Filters Holder, and Filters, are designed to be interchangeable. If you have different lens mounts to convert, or change camera brands, you could easily get another OWL adapter while still retaining the use of your old tripod mount, holder and your favourite collection of  filters.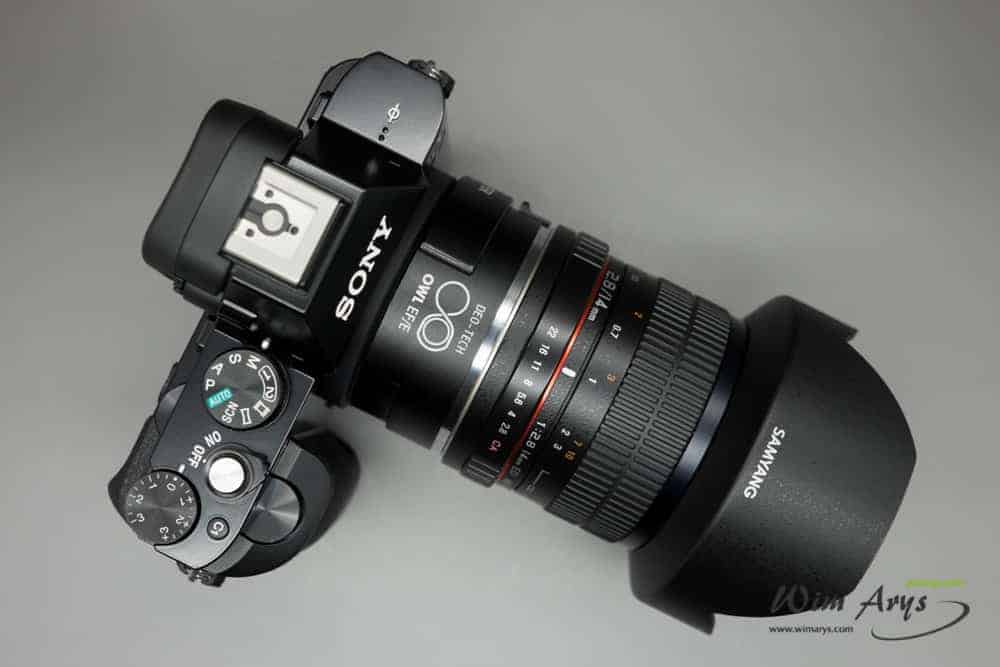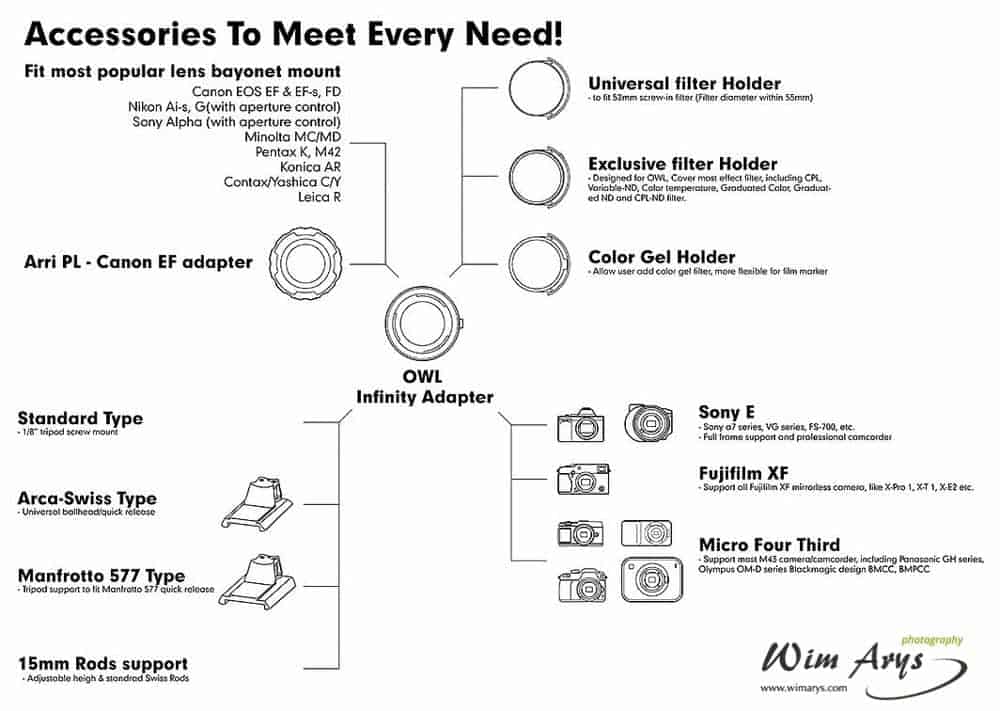 As you can see on their 2015 roadmap, are plans to expand the line-up to include Fujifilm XF and Olympus/Panasonic micro-four-thirds mounts on the camera side. Nikon F, Minolta, Pentax, Leica and Contax mounts will be available on the lens side. Everything should be shipping  by the end of the year, including a color gel drop-in filter holder, a Manfrotto and Arca-Swiss type quick release plate and Arri PL to Canon EF adapter.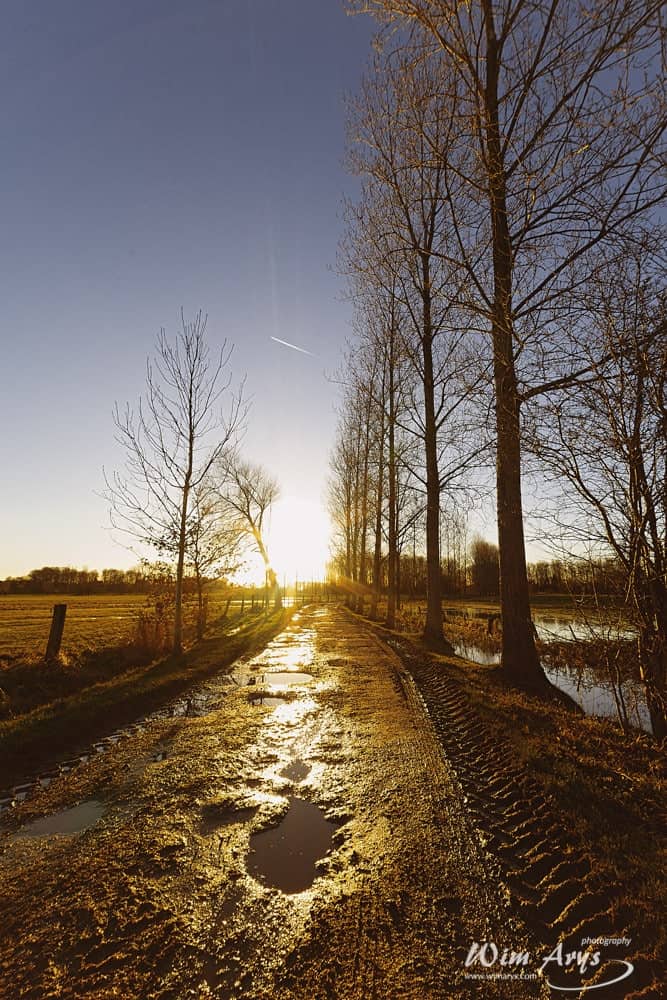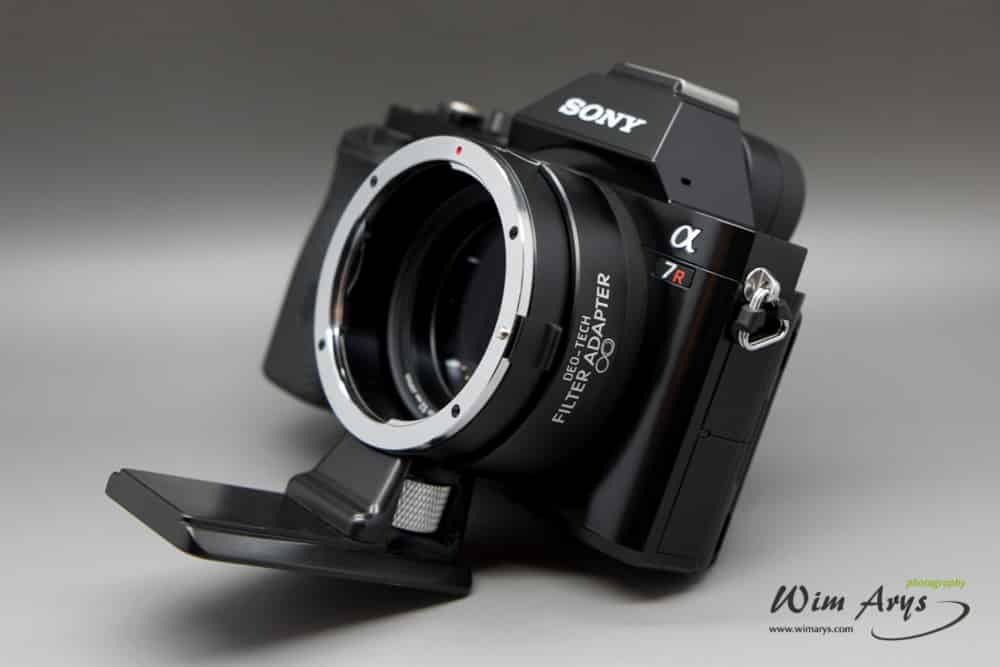 The OWL is a thoroughly thought-out dual filter and mounts adapter system, and it looks like they have all necessary lenses and mirror-less cameras from Fuji, Sony, Olympus and Panasonic covered. It's refreshing to see such a complete system from any manufacturer, and it works as expected.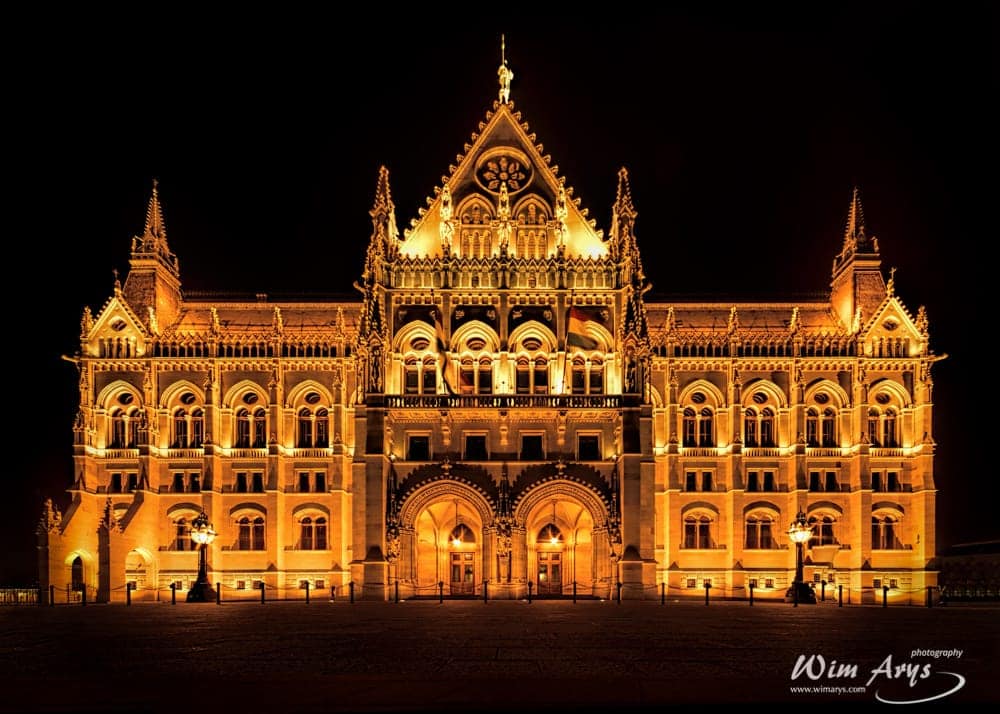 OWL Specifications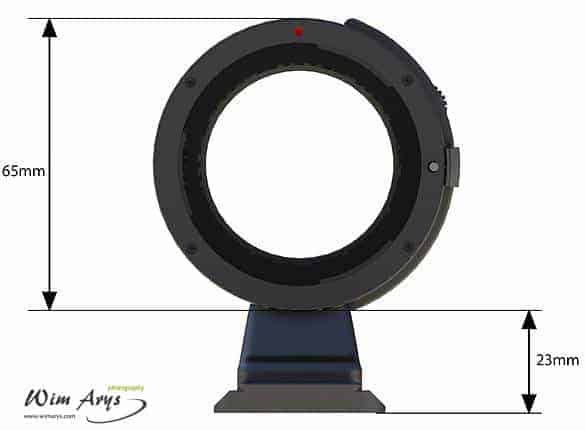 Size:65mm (diameter) x 31mm (Depth), without the tripod mount, 88mm (Total height, with the tripod mount)
(Width) x 80mm (Height) x 40mm (Depth), with Tripod Mount)
Weight: 90g, 200g with the tripod mount
Tripod Mount: Arca Swiss Type
camera mount fit: Camera Sony E Mirrorless camera and camcorder Fujifilm XF camera (Coming Soon), Micro Fourth Thirds camera and camcorder (Coming soon)
Lens mount  fit: Canon EOS EF/EF-s Lens lens Canon FD lens Nikon F Lens (Coming Soon) Minolta MD/MC lens (Coming Soon) Minolta / Sony Alpha SLR lens (Coming Soon) Pentax K lens (Coming Soon) Pentax M43 lens (Coming Soon) Leica R Lens (Coming Soon) Contax C/Y Lens (Coming Soon)
Build Quality
The build quality looks and feels excellent and all parts are made from aluminium. The adapter lens mounts look high quality and durable, no lens wiggle here. The L mount quick release plate has a sturdy screw which allows for easy assembly. The drop-in filter holder slides in perfectly, and makes changing a filter and dropping the adapter back in is as easy or easier than changing a filter in front of your lens.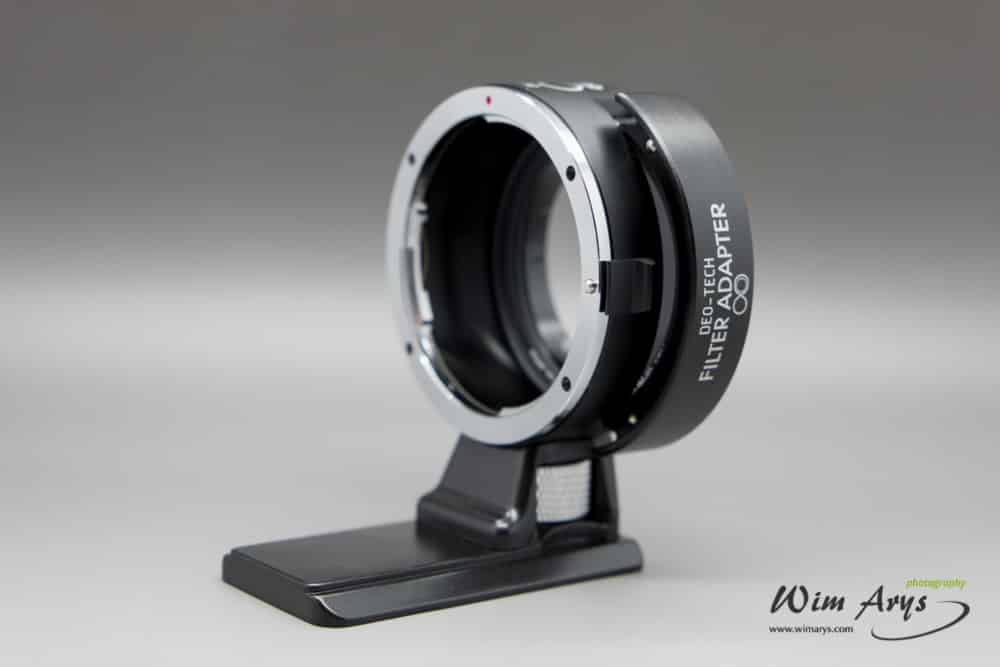 One note of criticism is that the black paint job does show scratches and wear quite quickly. I've been using the OWL extensively for a month and the aluminium is beginning to shine through the black paint on both the drop-it filter holder and the slide-in slot on the adapter itself. It doesn't affect performance at all though, and hopefully they'll get this sorted out in the final production model.
My experience with the Deo-Tech Owl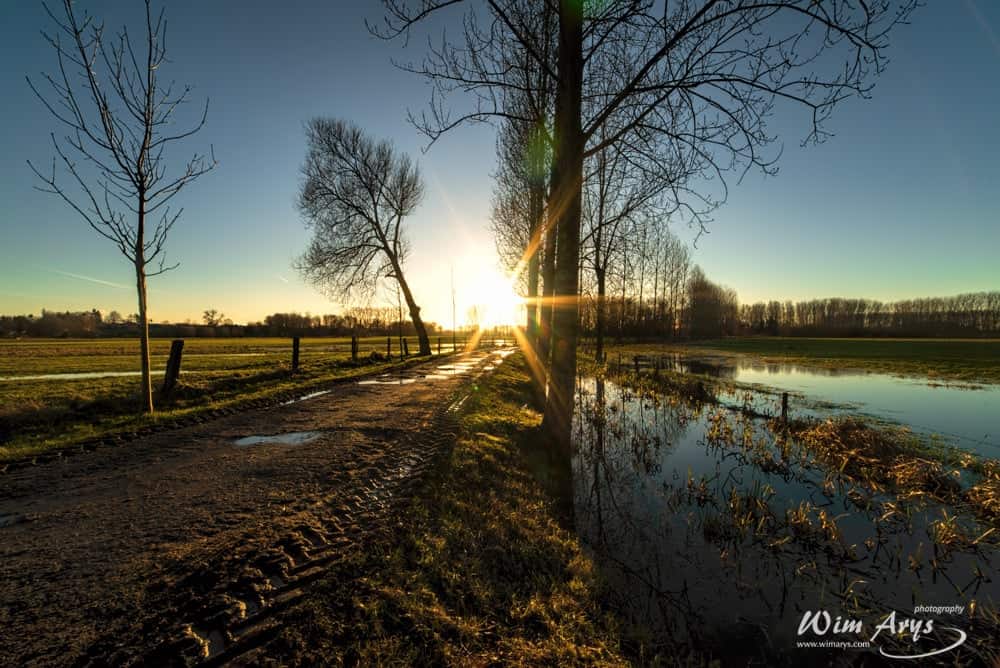 A major annoyance for many photographers is the fact that its physically impossible to use a screw-in filter with spherical lenses. Think of an Ultra-wide like the full-frame Samyang 14mm f/2.8 (a favourite low-cost landscape lens for many A7r owners) and all Fisheye lenses. There are systems available for this, but these are all quite cumbersome to use, and put a limit on your creativity and flexibility. At the least, they take a lot longer to set-up and get right. The OWL solves this problem, since whatever lens or equipment is using, the 52mm filters are placed in the mount converter. I was at first a bit hesitant about putting a filter behind the lens, and what impact this would have on image quality, but I'm happy to report that there are none, it works as well as a normal screw-in filter. The weakest link is of course the filter quality, so as long as you use a good one, you'll be fine.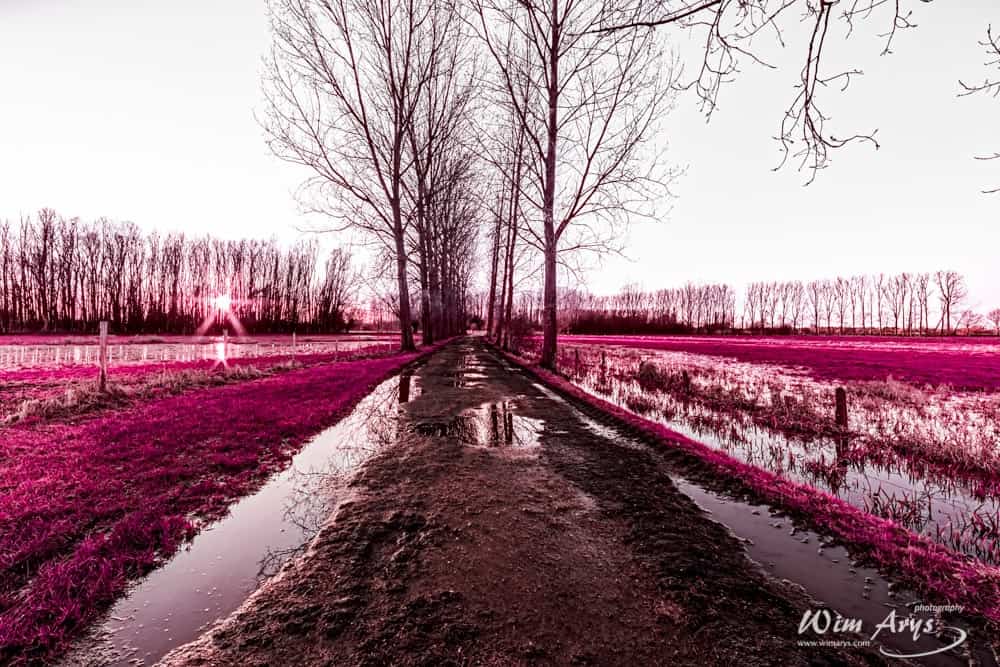 As 52mm filters aren't that expensive, it's actually quite a lot of fun to experiment with something like IR filters on larger diameter lenses. Getting a couple of 78mm IR filters would set you back a few hundred dollars, but with the OWL you can easily find a few compatible slim IR's in the cheaper 52mm diameter and start experimenting. It certainly did breathe new life into my Sony A7r and my creativity.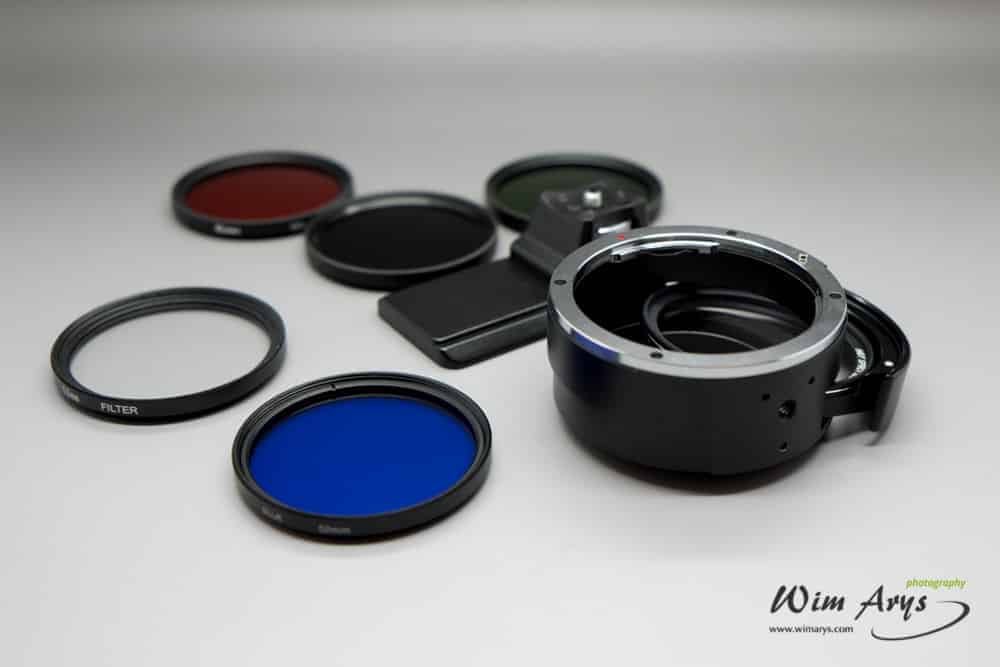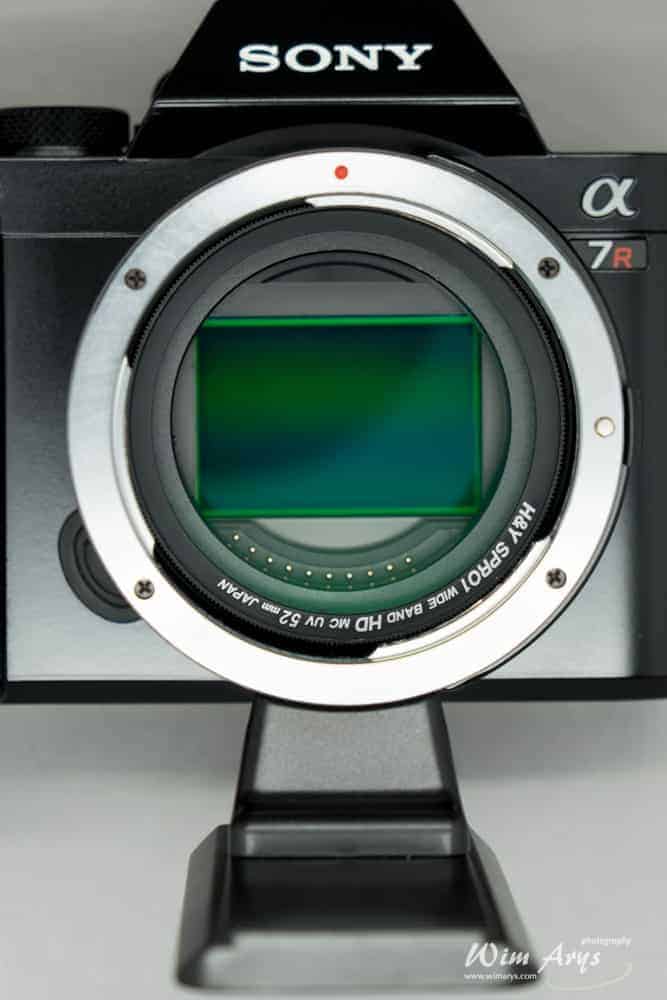 A lot of photographers enjoy using legacy and vintage optics with their Sony A7 range or Fuji XF camera. The Deo-Tech OWL is a high quality adapter by itself (same quality as the Deo-Tech Falcon and Golden Eagle) and you can use it without filters too. Simply drop-in a high quality UV filter and you'll never leave your sensor exposed to dust whilst changing lenses, something I found particularly handy. It might be interesting to know that Deo-Tech is currently developing a version of the OWL that does relay the electrical contacts to the camera, allowing for control over Aperture and Auto-Focus with your camera.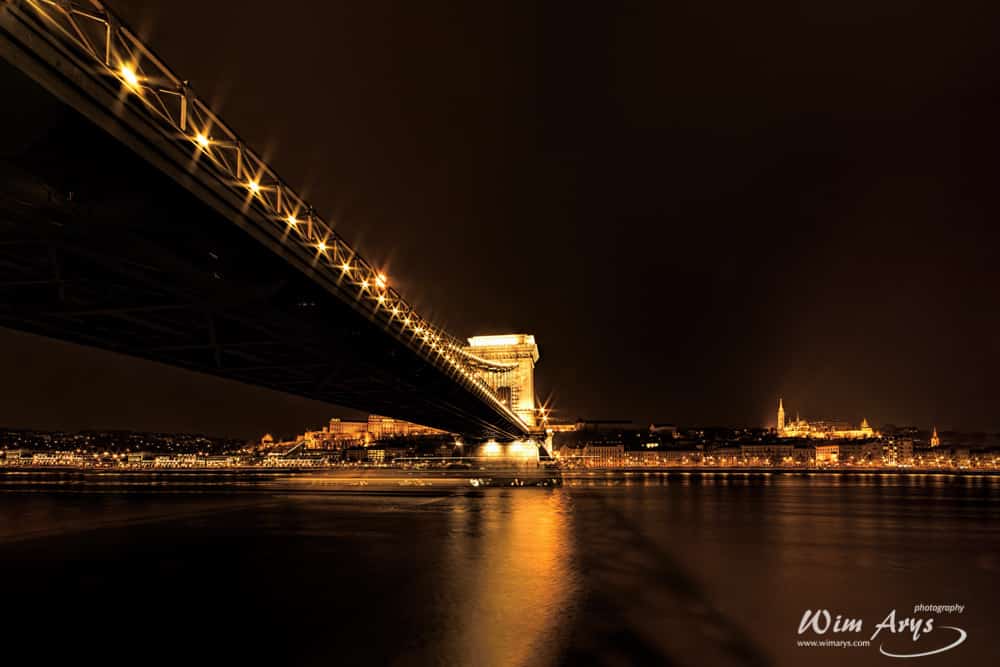 Another application where the Deo-Tech OWL would be an excellent solutions is in film and video. I could see this making for a faster workflow, as you can keep your vari ND filter setup untouched whilst changing lenses.
 Conclusion
A system like the Deo-Tech OWL does make a lot of sense to me. I have dozens of filters in different diameters around the house for lenses I don't even own anymore, and having to purchase new, high-quality filters for different diameters does put a serious dent in my budget. Now you can build-up a high quality collection of 52mm filters that are useable with all your adapted lenses, and there is no need to familiarise yourself overtime with the characteristics of a new filter.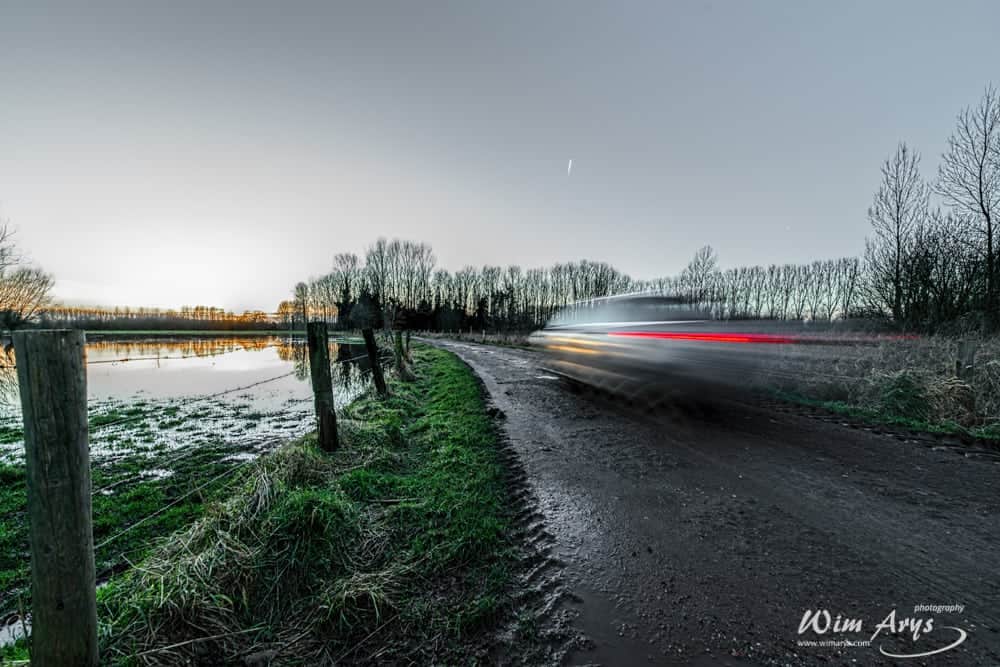 Landscape photographers, who already have a couple of favourite Canon lenses but have recently changed to a Sony A7r will absolutely love the easy-of-use and flexibility of the OWL, and the fact that they never need to leave the sensor exposed while changing lenses.
The OWL also simplifies your workflow as you can easily experiment and change filters without the need for re-focussing or re-framing your scene. How would this look with an 665nm IR filter, ND or CPL? It will take you about 30 seconds to find out with the OWL.
Purchase and availability
The Deo-Tech OWL has just launched on the crowd funding platform Indiegogo. The Basic version (without filters) starts at $99, with an April 2015 shipping date. You can find all the details here.