Canon EOS M100 setup guide with tips and tricks
Introduction
The Canon EOS M100 utilizes a 24.2-megapixel APS-C CMOS sensor. The sensor has a native ISO range of 100 to 25,600 and is the same sensor Canon EOS M50 .This small camera is definitely a great option both for beginners and more advanced photographers who do not want a viewfinder.
If you're new to digital photography or Canon cameras, I'm sure this guide full of tips and trips will make you more familiar with the various settings, features and functionalities of the Canon M100. Now it's time to turn your camera on and press the Menu button. You'll be able to follow along page by page with this guide.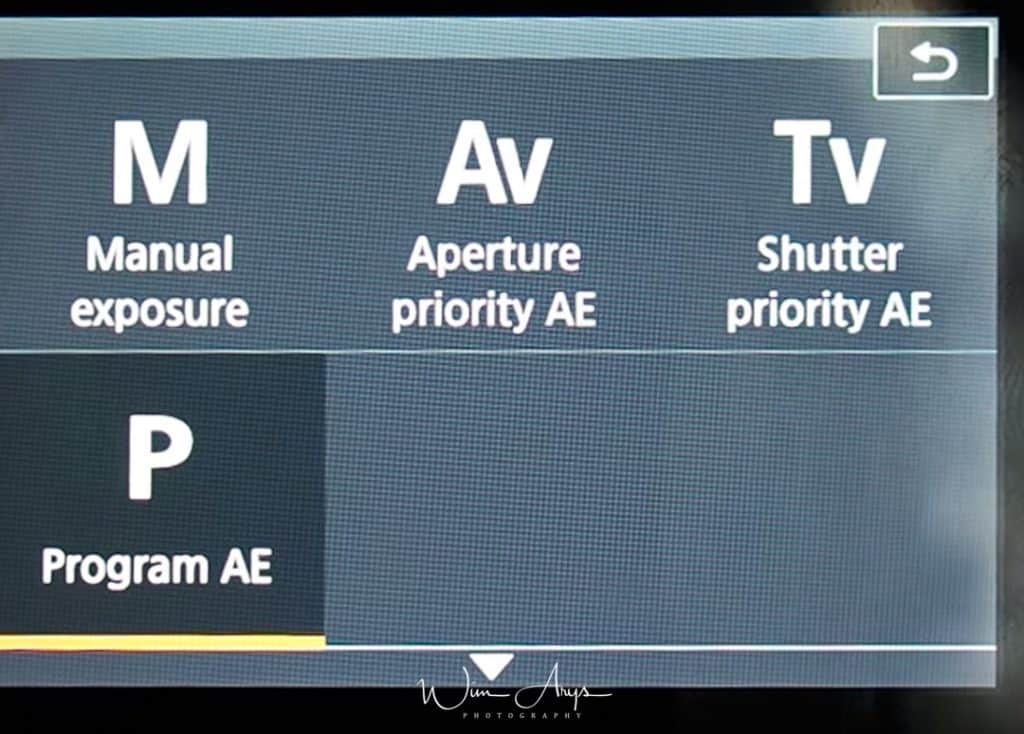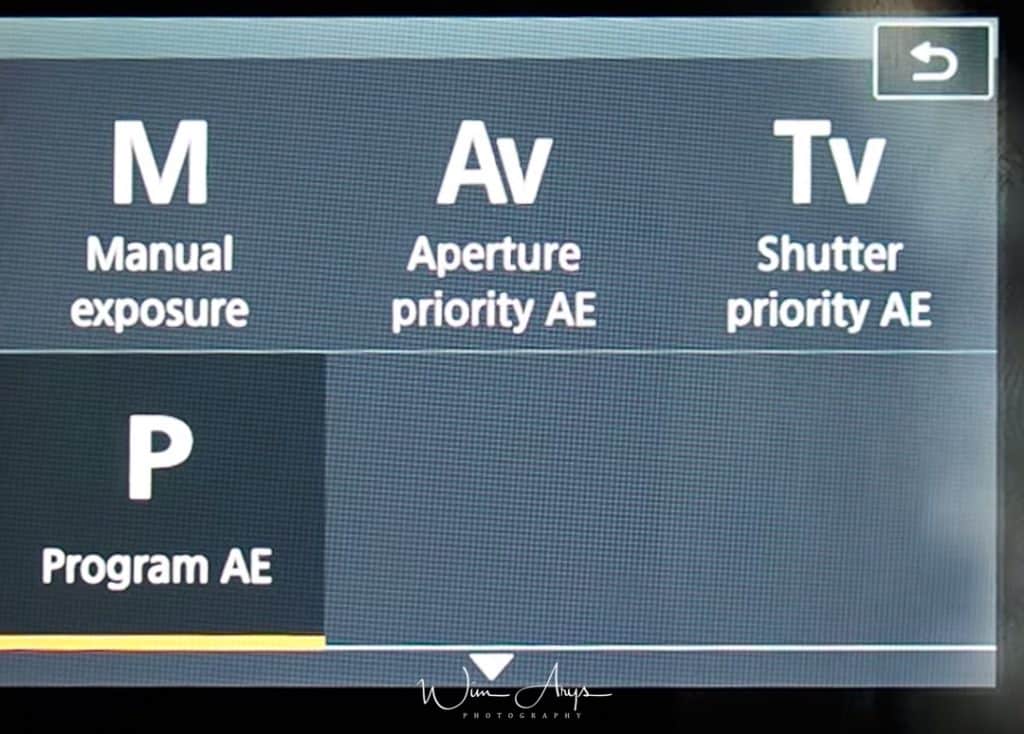 Compared to the more expensive EOS M50, the M100 has a more simplified user interface and you can only choose between Manual Exposure (M), Aperture Priority AE (AV), Shutter Priority AE (Tv) and Program AE (P) Set your camera to M mode if you want to see all the menus.
Canon EOS M100 Menu system
The Shoot Menu (Red Camera Icon)
---
Page Shoot 1 (SHOOT1)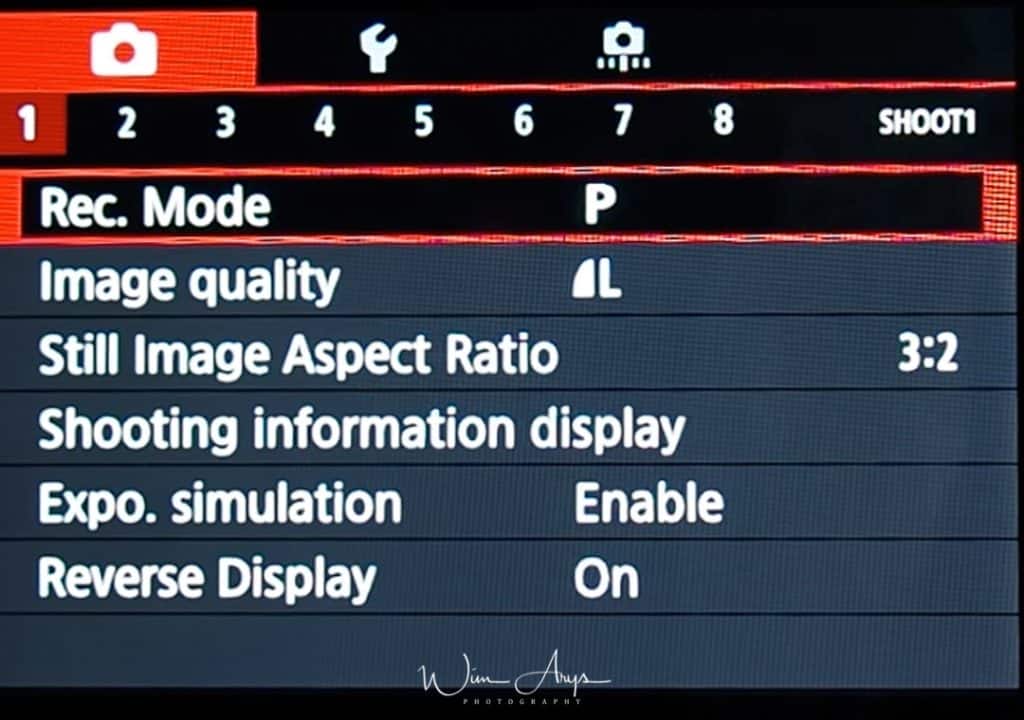 ---
Rec. Mode
You can choose between Manual Exposure (M), Aperture Priority AE (AV), Shutter Priority AE (Tv) and Program AE (P). These are the same modes as you have available on top of the camera with the mode dial.
Manual Exposure (M): set both aperture and shutter speed manually.
Aperture Priority AE (AV), Set aperture manually, the camera will choose an appropriate shutter speed and ISO in order to have a correct exposure.
Shutter Priority AE (Tv): Set the shutter speed manually, the camera will attempt to set a correct aperture and ISO for a correctly exposed photo.
Program AE (P): the camera decides aperture, shutter speed and ISO.
---
Image quality: you primarily need to decide whether to shoot RAW or JPEG. Raw records all the data from the sensor, Jpeg is basically a much smaller file that has all kinds of information already baked in. Most serious photographers shoot RAW, as this gives you the most flexible file to work with in an application like Adobe Lightroom.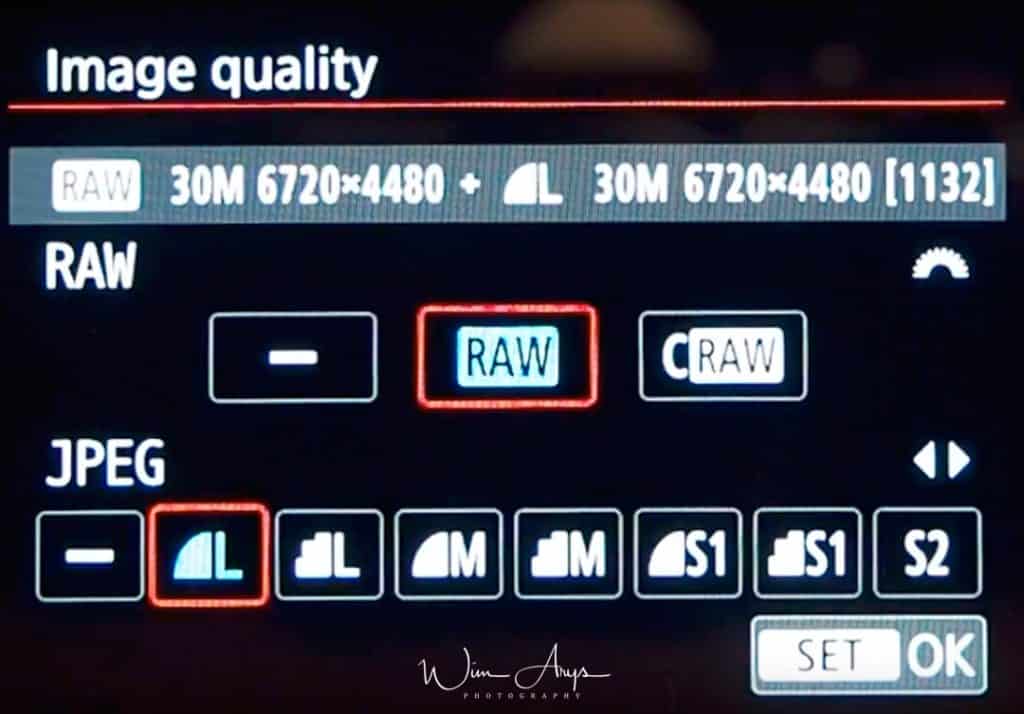 You'll be able to recover more colour in the highlights of your image for instance, and pull more detail out of the shadows with a Raw file than with a Jpeg. The only downside are the larger files and the fact that of course you'll need to develop them later on. RAW file average size of 15.5 MB an JPEG file average size of 7.4 MB with the M100.
You'll see that the is also a cRAW option, this is a format that uses lossy compression to reduce file sizes by roughly 40%. This is absolutely fine to use, the deterioration is negligible.
Image quality
Image size (3:2 aspect ratio)
Shots / 32GB UHS-1 card
Large Fine
6000 x 4000 pixels
3651
Large Normal
6000 x 4000 pixels
6782
Medium Fine
3984 x 2656 pixels
6645
Medium Normal
3984 x 2656 pixels
11741
Small Fine
2976 x 1984 pixels
9948
Small Normal
2976 x 1984 pixels
16455
Small 2
2400 x 1600 pixels
16874
RAW
6000 x 4000 pixels
1084
RAW+Large Fine
6000 x 4000 pixels
835
If you decide to shoot Jpeg, you can choose between Large, Medium or Small, each with a Fine or Normal setting. Check the table above for the relative pixel sizes for each setting. I would advise Large and Fine of course.
---
Still img aspect ratio: this describes how square (1:1) or wide (16:9) your image is. It's expressed as a figure, like this: width:height (width always comes first). The aspect ratio of the APS-C sensor is 3:2, and you should use this if you want to use the full surface of the sensor. Cropping can also be done later.
3:2: the native sensor dimension of the M100.
4:3: native resolution of a micro-four-thirds camera .
16:9: for a wider perspective.
1:1: a basic square setting.
---
Shooting info. Disp.
There are a few sub menus here, let's see what they do.
Screen info. settings: these settings give 5 different screen options. The first 3 allow you to configure the data overlaid on live view and save them as 3 separate screen types. You can turn on or off the basic shooting info (the data at top and bottom of screen), the detailed shooting info (the icons running down the left and right sides), whether the data acts as a touch button or not – if not, it loses the white frame and grey background – this applies to the Q menu button, the touch shoot button, the magnify button, the shutter speed, aperture, EV compensation scale and ISO value and "buttonizes" or "debuttonizes" them all at once; the histogram; the level gauge.
The fourth screen style is just the AF targets and the exposure info when it is active, and the last screen type is the black, non-live view DSLR-style info screen. These options are the ones you cycle through with the Info button when shooting with the camera – effectively this section allows you to customise them to taste.
Still within this submenu we haveL VF info/toggle settings (3 different EVF choices – one with basic shooting info under the screen, the other two configurable to individually add and combine as desired the vertical detailed shooting info icons, histogram, level gauge]. Like the previous item, it's a way of customising what you get when you cycle through the styles of VF display whilst shooting when you use the Info button to do so.
Then the submenu has Grid display [Off, 3×3, 6×4, 3×3+diag], Histogram disp [Brightness/RGB, Large/Small], Reset. That's the end of this submenu.
---
Expo. Simulation
When 'Exp.SIM' (which stands for Exposure Simulation) is on, indicates the image you are seeing on the rear screen and EVF is what the final image will look like. You can leave this on except when using flash in the studio as you'll only see a dark frame in that case.
---
Reverse display
Even though the display looks the same when this function is turned on, it is symmetrically opposite along the vertical axis. Quite a neat feature for the swivel screen when it comes to taking a self portrait or on a self-timer mode.
---
Page Shoot 2 (SHOOT2)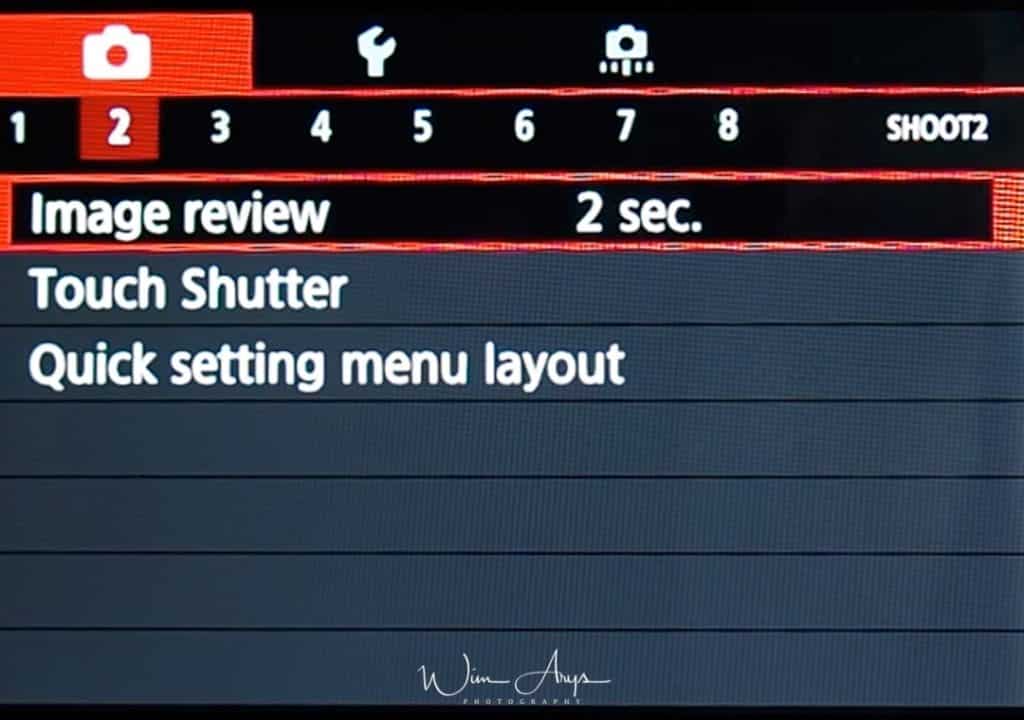 ---
Image review: You can modify the amount of time the image displays on the LCD monitor after your EOS M100 writes it to the memory card. You can set the preview time from 2 to 8 seconds or display the image until you turn off the camera. Or you can turn it OFF if you don't want this. I turn it off as I can always press the play button if I decide to review a shot I've just taken..
Off
2 sec
4 sec
8 sec
Hold
---
Touch Shutter
If the Touch Shutter function is set to On, you can take shots easily by having the camera focus on your subject and adjust the brightness simply by touching. I don't use this function, but if you're coming from a smartphone, you could find it very useful.
---
Quick Setting Menu Layout
Choose what is included in the Quick setting Menu Layout and what is not.
---
Page Shoot 3 (SHOOT3)
---
AF operation
One Shot: for Still Subjects. When you press the shutter button halfway, the camera will focus only once.
When focus is achieved, the dot inside the AF point achieving focus lights up briefly in red, and the focus confirmation light <> in the viewfinder will also light up.
With evaluative metering, the exposure setting will be set at the same time focus is achieved.
While you hold down the shutter button halfway, the focus will be locked. You can then recompose the shot if desired.
Servo: This AF operation is for moving subjects when the focusing distance keeps changing. While you hold down the shutter button halfway, the subject will be focused continuously.
The exposure is set at the moment the picture is taken.
When the AF point selection is automatic, the camera first uses the center AF point to focus. During autofocusing, if the subject moves away from the center AF point, focus tracking continues as long as the subject is covered by another AF point.
---
AF method
Face + Tracking:
the Canon M100 searches for faces in the frame. If it finds one, it displays a white focus frame over the face.
In a group shot where more than one face is recognized by the camera, you see arrows on either side of the focus frame. To choose a different face as the focusing target, tap the face or use the Multi-controller to move the target frame over the face.
To lock focus on the face, press and hold the shutter button halfway down or press and hold the AF-ON button. When focus is locked, the focus frame turns green, as shown on the right above, and the camera emits a beep. (Disable the sound effect via the Beep option on Shooting Menu 1.) If focus isn't successful, the focus frame turns red.
Zone:
Select a zone where the EOS M100 will look for focus. Nice to use with the Touch and Drag AF settings of the previous page .
1 point: only one AF point is used for extremely precise autofocus.
---
AF frame size
Select either Normal or Small frame size for the 1 point AF operation.
---
Continuous AF
Enable or disable continuous AF where the camera constantly tries to acquire focus, even without pressing the shutter. Turn this Off.
---
Focus mode
Select either autofocus where the camera focusses automatically or manual focus where you need to turn the focus ring on the lens to manually achieve focus. P
---
AF-assist beam firing
This is a read beam that flash has which helps to acquire focus in situations with low light.
---
Page Shoot 4 (SHOOT4)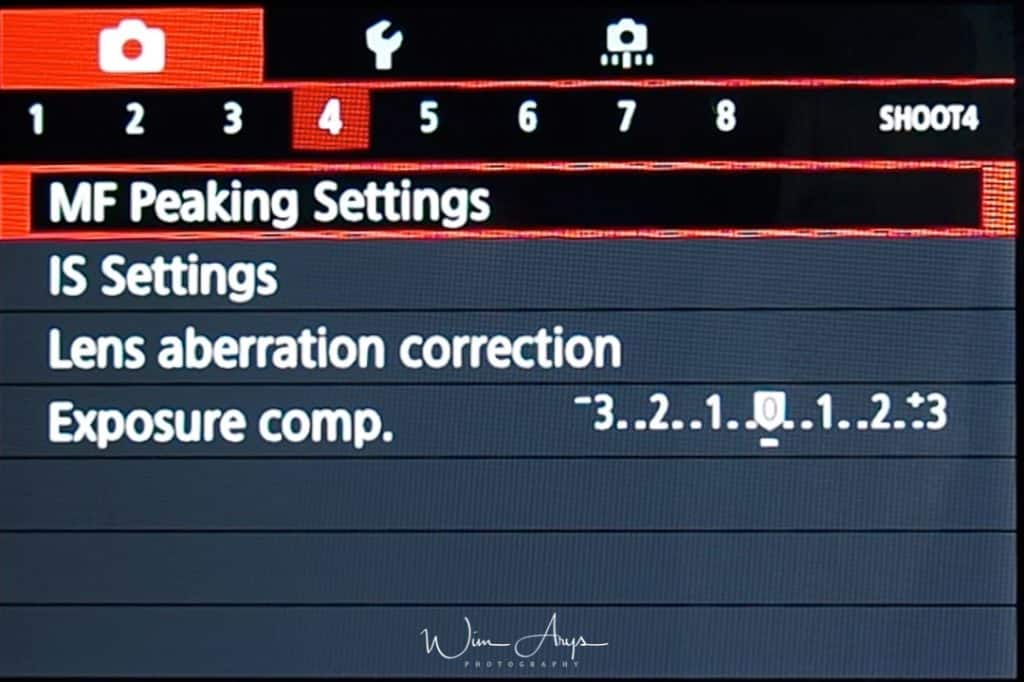 ---
MF peaking settings
Peaking is a focussing aide when the camera is set to manual focus. The in-focus area will have a type of coloured noise superimposed onto scene in the EVF or on the screen. This is of course not stored, it's merely an aide that helps you determine where your focus lies and if your subject will be in focus. Very handy feature, I have it set to the Color red and Level High.
---
IS settings
Some lenses have optical image stabilisation built in. This helps with getting sharp pictures even with low shutter speeds; There are really no negative sides to using this, except that it's not necessary to use when shooting landscapes.
There is also an electronic image stabilisation system for use with video, that might be beneficial to some, although the effect is minimal.
---
Lens aberration correction: digital technology provides the ability to adjust images in-camera. One area this can be useful is in correcting for optical performance. By mapping the performance of each camera and lens at a variety of focal lengths, focus distances and apertures, it is possible to correct for these irregularities and bring the lens performance closer to 'perfection'. These corrections are only available for photos captured in the JPEG file format. There is no reason to turn this off, except if you're noticing a slow down when shooting in burst mode. Then this might be the reason
Peripheral illumination correction: This is called lens light fall-off or drop in the corners or vignetting.
Distortion correction: If you're shooting with a wide-angle lens you may have noticed that at the wide end you will most likely find some distortion. This corrects distortion for any lens in the lens database.
Digital Lens Optimizer: Performs high- level correction for lens aberration in-camera
Chromatic aberr corr: Automatically remove color fringing due to Chromatic aberration.
Diffraction correction: a camera and lens specific correction that uses a profile of the lens used to ameliorate the effects of diffraction caused by small apertures (usually f/11 and beyond where there will be decrease in sharpness).
---
Expo.comp.: Exposure Compensation
Exposure compensation: If you believe that your camera is over- or underexposing your images, or you want to do this for creative reasons, you can change the level of exposure by a scale of plus or minus 3 EV.
---
Page Shoot 5 (SHOOT5)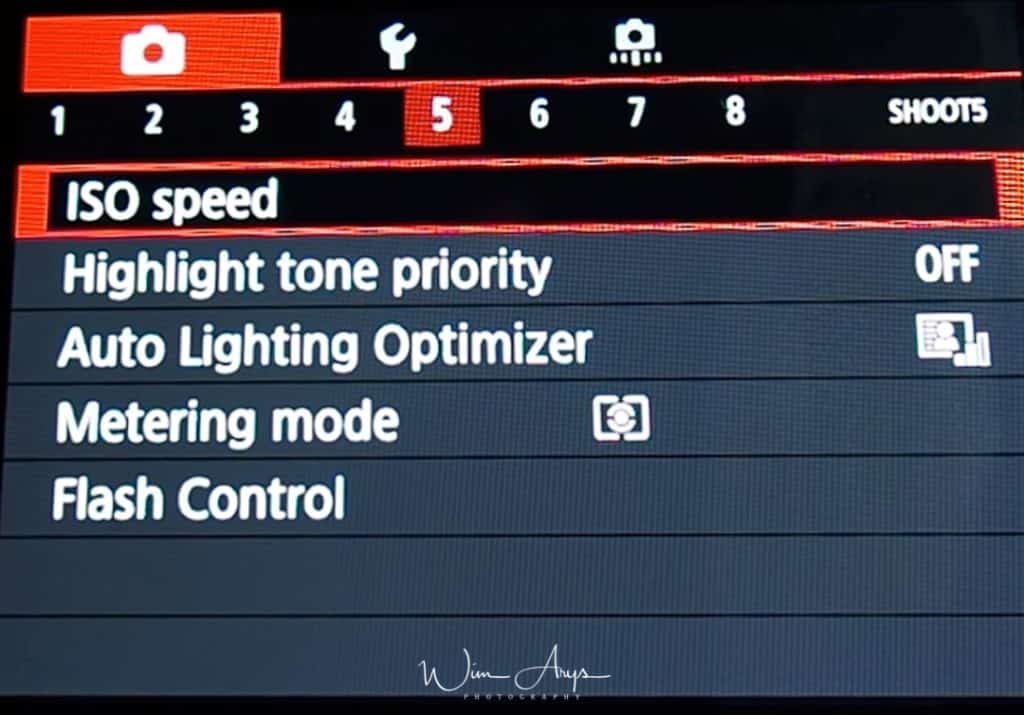 ---
ISO speed
ISO speed: can either be set to Automatic or determine an appropriate value for yourself. Say for landscapes when using a tripod this is generally set to what is called base ISO 100. ISO 100 would give you the optimal quality for this sensor, but for many other types of photography you'll need a higher ISO in order to have a fast enough shutter speed and hence no movement in your images. Leave this on auto for most uses.
ISO Auto: This is used to set the max for Auto, from 400 to the top value of 25600. When raising the ISO value, you are effectively raising the sensitivity of the sensor by boosting the output. This leads to more and more noise with every doubling of power. A Maximum of 6400 is as far as I would go with this camera. Perhaps 3200 would be better if your shooting style allows it and you don't get blurry images .
---
Highlight tone priority
Improves gradation in highlights to avoid over exposure in bright subjects. What the camera does in highlight tone priority is underexpose the image to avoid clipping highlights, then boost the shadows up to give the appearance of a wider dynamic range in the jpegs. It does the same thing you might do when processing raw files, except it just applies it to jpegs. Another great feature to experiment with. Either Off or enabled.
---
Auto Lighting Optimizer
Auto-corrects image brightness and contrast. This only affects Jpeg and not your Raw files, but it can be handy for the Jpeg shooters out there. Have a go and see if you like the effect set to low or standard.
---
Metering mode
Taking a picture is often referred to as 'making an exposure'. This is because when you press the camera's shutter release you set the start for the registration of light hitting the sensor.
Another sensor inside the camera, called the metering sensor, is central to this whole operation: it measures the light that's coming through the lens and determines how much is needed to produce a well-exposed photo.
You can select four different ways how this sensor will read light:
Evaluative: This mode meters the whole scene, but places more emphasis on what the camera is focused on. Because the camera effectively applies its own exposure compensation in this metering mode, it can improve your chances on getting a good exposure when you need to grab a shot quickly. Most photographers stick with this metering mode.
Partial: This alternative to spot metering enables you to take a reading from a very small area in the centre of the frame. This area is around six percent of the sensor. It's a slightly larger area than the normal spot metering, which makes it easier to use. This is a great tool for portrait photography.
Spot: Spot metering only covers the centre autofocus point and the area immediately surrounding it. It offers pinpoint precision when it comes to metering, although you'll need to judge tones accurately to get the most out of this metering mode.
Center-weighted average: This is the oldest metering mode, where a meter reading is taken across the frame. It will however place more emphasis on what is positioned in the center of the frame and it doesn't use any exposure compensation, it applies the same averaging pattern to every shot.
---
Flash control: Using this menu item, you can adjust flash power. The Flash Control option also enables you to customize a few other aspects of the built-in flash.
Flash firing: Normally, this option is set to Enable. If you want to disable the flash, you can choose Disable instead. However, you don't have to take this step in most cases.(just close the pop-up flash head on top of the camera if you don't want to use flash).
E-TTL II meter: This option enables you to switch from the default flash metering approach, called Evaluative. In this mode, the camera exposes the background using ambient light when possible and then sets the flash power to serve as fill light on the subject. If you instead select the Average option, the flash is used as the primary light source, meaning that the flash power is set to expose the entire scene without relying on ambient light. Typically, this results in a more powerful (and possibly harsh) flash lighting and dark backgrounds.
Red-eye reduc.: When flash is used in a low-light environment, the subject's eyes may come out red in the image. Red eye happens when the light from the flash reflects off the retina of the eyes. The camera's red-eye reduction feature turns on the red-eye reduction lamp to shine a gentle light into the subject's eyes to narrow the pupil diameter or iris. A smaller pupil reduces the chances of red eye from occurring.
Slow synchro: Slow Sync Flash is a function found on many cameras that tells your camera to shoot with both a longer shutter speed as well as firing the flash. This means you get the best of both worlds above and can both get a relatively sharp shot of your main subject as well as get some ambient light from the background and foreground.
Safety FE: The camera automatically changes the shutter speed or aperture value when the flash fires to avoid overexposing and blowing out the highlights in the scene.
---
Page Shoot 6 (SHOOT6)
---
White balance
Normally AWB (auto white balance) will do just fine but you also have the option to change this to AWB W (auto white balance with white priority This setting is amazing for indoor lighting), Daylight, Shade, Cloudy, Tungsten, White fluorescent, Flash, Custom and Colour Temperature adjustable.
---
Custom white balance
This setting brings up compatible images to use. Set the white balance under the same light source thatwill illuminate your shot.
---
WB Shift/Bkt.
White balance shift is a setting on the EOS M100 camera that allows a photographer to bias the colours in images in either blue, amber, magenta or green directions. This colour shift can be used to add or remove colour shifts that may occur when shooting in mixed lighting conditions. Typically think flash and daylight, flash and indoor lights, street lights and daylight and so on. White balance can be shifted from -9 to +9 in both blue / amber and green / magenta directions, or combinations of blue/amber and green/magenta shifts. The blue/amber shift is equal to five mired for each step.
---
Picture Style
Picture style allows you to take photos in the color tones that Canon deems most suitable to each subject . These include normal presets like Standard, Portrait and Landscape but also advanced scenarios like Monochrome, Fine Detail, Neutral and Faithful.
All these picture styles can be individually adjusted to taste with adjustments like Sharpness, Fine detail, Threshold, Contrast, Saturation, Hue. These adjustments can be saved in 3 user defined slots and even transferred to other EOS cameras.
Auto, Standard, Portrait, Landscape, Fine Detail, Neutral, Faithful, Monochrome, User Def. 1, 2 and 3].
---
Long exp. Noise Reduction
Turn On noise reduction for exposures of 1 second or longer with the Canon EOS M100. This function takes a second black or dark frame (with the shutter closed) with the identical shutter time of your first photo. The noise in this frame is then subtracted from the original photo. This method is the most reliable type of noise reduction, as the noise is measured specifically at that place and time with the same level of humidity and temperature. All factors that can contribute to noisy images especially in long exposures.
Some photographers however find it annoying to have to wait for this to finish as it doubles the time. You can turn it off and experiment with other types of noise reduction in Lightroom or any other photo editor if you shoot RAW.
---
High ISO speed NR
You can choose from 3 levels of noise reduction: Standard, High or Low. This function is especially effective when shooting at high ISO speeds.
Multishot: This technique automatically combines four images captured at once to reduce noise. Compared to setting High ISO speed NR to [High], this feature minimises loss of image quality while reducing noise. Best technique for Jpeg shooters.
---
Page Shoot 7 (SHOOT7)
Drive Mode: Extremely high speeds continuous shooting up to 10 fps is possible using One Shot AF (first AF position is fixed), and up to 7,4 fps using servo AF (where the camera continuously focuses even with moving subjects).
Single: the camera fires one shot each time the shutter button is fully depressed.
continuous high: the shutter keeps firing for as long as you depress the shutter button at maximum burst rate.
continuous: the shutter keeps firing for as long as you depress the shutter button at a slower burst rate. Great idea if you need to be able to shoot and write longer to the SD card without flooding the buffer.
Self Timer/Remote Control
self timer 10: the camera takes a picture after 10 seconds.
self timer 2: the camera takes a picture after 2 seconds.
self timer continuous: the camera take pictures continuously after a small delay.
A remote controller can also be used.
---
Page Shoot 8 (SHOOT8)
---
Movie Rec Size
Videos are recorded as .MP4 files (MPEG-4 AVC/H.264 encoding with AAC-LC stereo audio) with a maximum duration of 29 minutes and 59 seconds, and a maximum file size of 4GB.
Resolution and framerate options are: Full HD (1920 x 1080) at 60 (59.94), 50, 30 (29.97), 25, or 24 (23.98) fps; HD (1280 x 720) at 60 or 50 fps; and VGA (640 x 480) at 30 or 25 fps.
---
Sound recording:
Sound rec. Auto/Manual/Disable;
Manual gives access to a Rec. Level 5-point scale, and a Wind filter/Attenuator screen with Enable/disable for the Wind Filter and Auto/Enable/Disable for the Attenuator.
All these screens have a full-width live horizontal scale showing the current sound levels on the L and R channels.
---
Movie Servo AF:
When shooting video, a Movie Servo AF mode offers smooth and natural focusing when changing from different subjects or different distances within the scene, as well as the ability to specify tracking sensitivity, AF speed, and Face Tracking priority.
---
AF with Shutter Button
When you press the shutter button while shooting a movie, you can shoot a still photo. The default setting is 'ONE SHOT'.
When 'ONE SHOT' is set:
You can refocus and shoot a still photo by pressing the shutter button halfway while shooting a movie.
When shooting a static subject (not moving), you can take a picture with precise focus.
When 'Disable' is set you can immediately start shooting a still photo by pressing the shutter button, even though focus is not achieved. It is effective when you want to give priority to the shutter chance rather than to focus.
The Canon EOS M100 automatically uses slow shutter speeds to obtain brighter recordings in places with insufficient lighting. Ituses shutter speeds down to 1/30 second.
---
Playback Menu (blue playback icon)
Page Play 1 settings (PLAY1)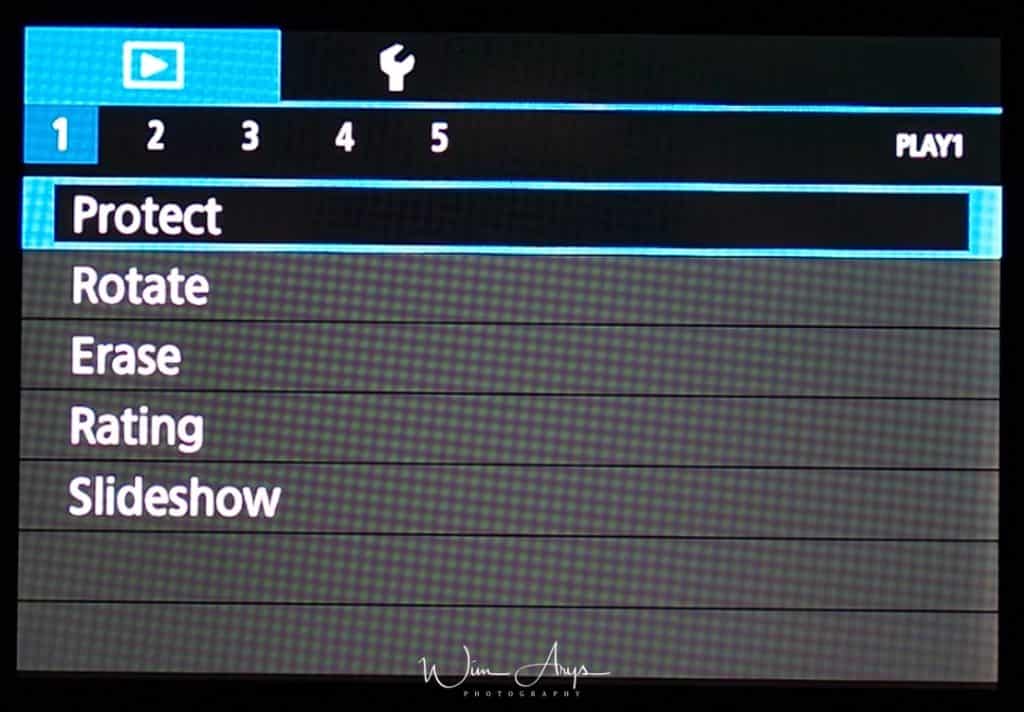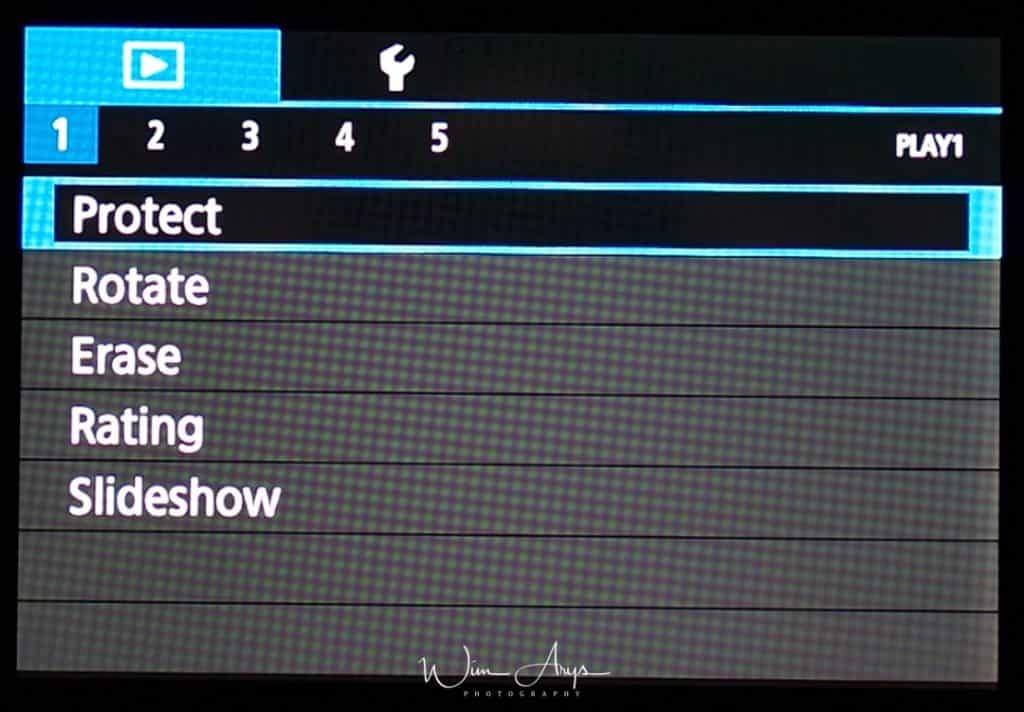 ---
Protect images
You can select how to protect and unprotect an image from deletion on the EOS 50D. Once an image is protected, it cannot be erased by the camera's erase function. To erase a protected image, you must first cancel the protection. If you erase all the images, only the protected images will remain. This is convenient when you want to erase unnecessary images all at once.
You can choose to Select images, Select range, All images in folder, unprotect all images in folder, All images on card or unprotect all images on card.
---
Rotate image
Vertical images are rotated automatically so they are displayed vertically on the camera's LCD monitor and personal computer instead of horizontally. The setting of this feature can be changed.
Immediately after image capture, the vertical image will not be automatically rotated for the image review.
If the vertical image is taken while the camera is pointed up or down, the image might not rotate automatically for playback.
If the vertical image is not automatically rotated on the personal computer screen, it means the software you are using is unable to rotate the image.
---
Erase images
Select and erase images by selecting a range or All images in folder or All images on card.
Rating
You can add a star rating to your images here. This rating will show up later when you transfer the images to your computer if you use Canon's Digital Photo Professional.
You can:
Select images
Select range
All images in folder
All images on card
---
Slide show
You can setup and start an in-camera slideshow here.
---
Page Play 2 settings (PLAY2)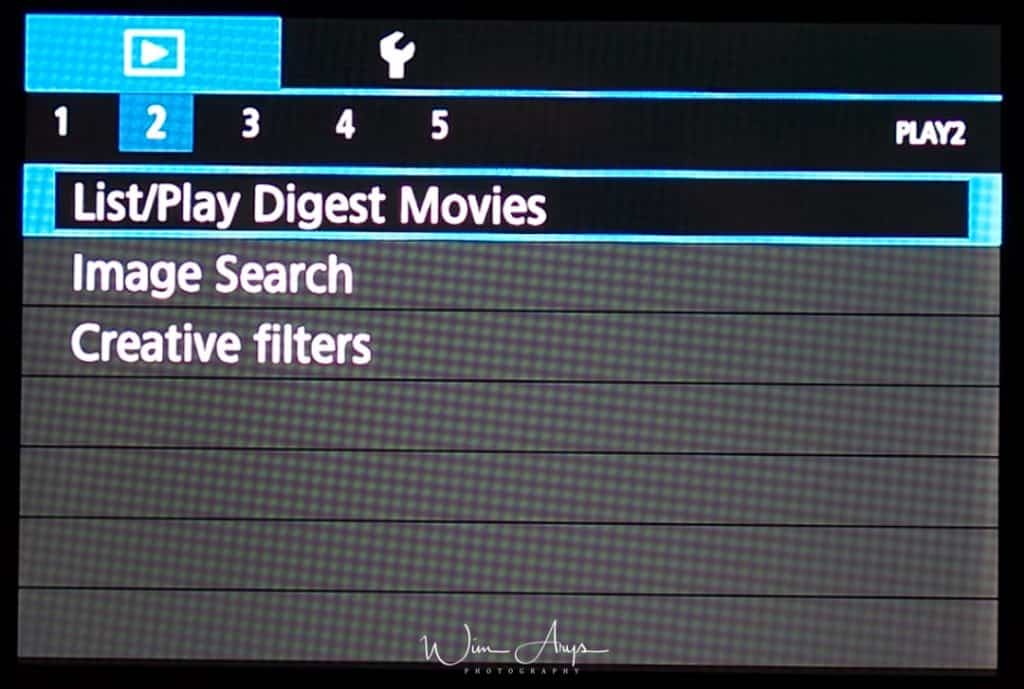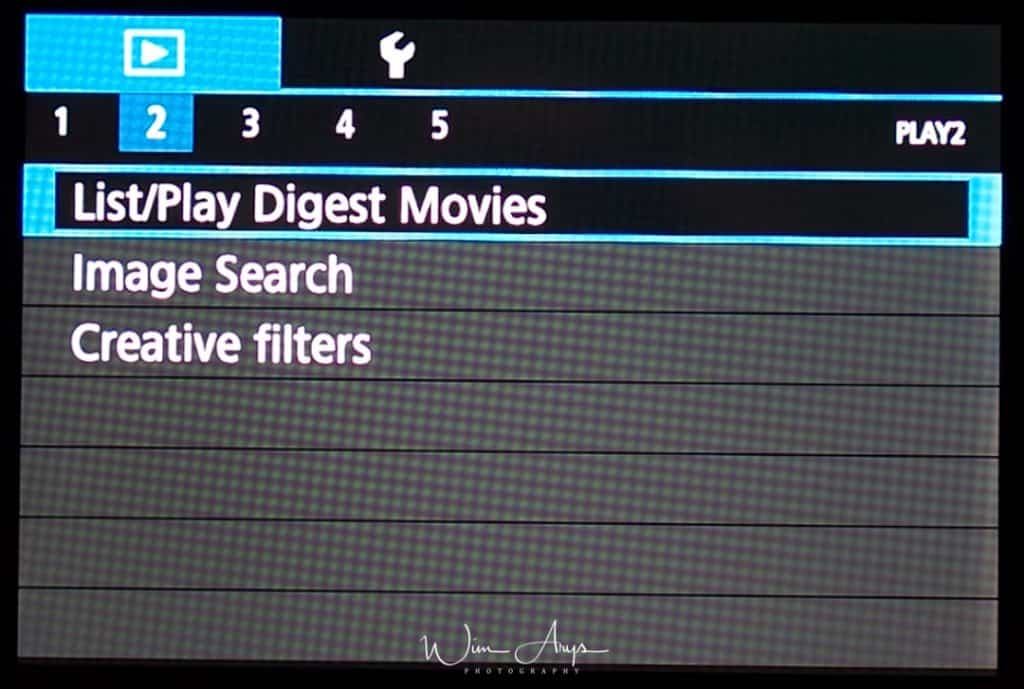 ---
List/Play Digest Movies
Display a still image shot in auto movie mode to play a digest movie, or specify the date of the digest movie to play.
---
Image search
You'll find lots of factors to choose here, I honestly don't know why this was implemented and never use it.
---
Creative Filters
Creative filters offer a way to add special effects to your images. You have a wide range of filters available: Grainy B/W, Soft Focus, Fish-eye Effect, Water painting effect, Toy camera effect, Miniature effect , HDR Art standard, vivid, bold and embossed.
---
Page Play 3 settings (PLAY3)
---
---
Resize
It's also possible to resize your RAW images and save them in-camera for posting on social media for instance.
---
Cropping
Complementary to the other in-camera RAW processing feature, you can crop your image or multiple images here freely or according to preset dimensions.
---
Red-eye correction
You can automatically correct red eye in images taken with the flash. You can also correct red eyes in recorded images. However, red eyes may not be automatically detected in some images or the results may not turn out as you intended.
---
RAW image processing
Being able to perform RAW image post-processing right after shooting on a camera is a function that comes in very handy.
These settings are available on the Canon M100:
Brightness adjustment: EV-1, EV-2/3, EV-1/3, EV~+mn~0, EV+1/3, EV+2/3, EV+1
White balance: WB: Shot settings, Auto, Day Light, Shade, Cloudy, Tungsten light, White fluorescent light, Flash, Colour temperature
Picture Style: Picture Style: Shot settings, Auto, Standard, Portrait, Landscape, Fine Detail, Neutral, Faithful, Monochrome, User Def. 1, User Def. 2, User Def. 3
Auto Lighting Optimizer: Disable, Low, Standard, High
High ISO speed Noise Reduction: Disable, Low, Standard, High
Image quality: write small, medium and large jpeg files in fine or standard resolution.
Peripheral illumination correction: Enable/Disable
Chromatic aberration: Enable/Disable
Diffraction correction: Enable/Disable
---
Print Settings
You can connect to a a Printer and Print Via a Wireless LAN. You'll need to set up the connection here.
---
Photobook Set-up
This function is useful for ordering photobooks online and for printing photobooks on a printer.
When you select images to use in photobooks (up to 998 images) and use EOS Utility (provided software) to transfer them to a computer, the selected images will be copied into a dedicated folder. This function is useful for ordering photobooks online and for printing photobooks on a printer.
---
Page Play 4 settings (PLAY4)
---
Transition Effect
Turn on or off the smooth transition effect for in-camera slideshows.
---
Index Effect
Turn on or off the smooth transition effect for your SD card browsing.
---
Scroll Display
Scroll Display allows you to browse through your images when you press and hold the left and right arrows after pressing the play button. You can either turn this trick on or off.
---
Auto rotate
Auto rotate automatically rotates your images that are shot in portrait mode to fit the screen size. You can turn this on or off and decide whether this will behaviour will also apply to images imported to your PC using the canon software .
---
Page Play 5 settings (PLAY5)
---
Resume
Either resume playback of your last picture when re-entering playback mode with the playback button, or start from the beginning of your images.
---
Playback information display
You can enable up to 9 individual screens – all except the first, which is the basic shooting info overlay, allow the histogram to be specified as brightness or RGB, and in some cases, both.
Set Up Menu (Spanner, yellow gear icon)
Set Up Menu Page 1 (SET UP1)
---
Create Folder
You can create the folder on your SD card where files will be stored here.
---
File Numbering
You can set the file numbering for each new shot to Continuous or Auto Reset/Manual Reset. Continuous will consecutively number your photos. Auto reset will reset the numbering every time an SD card is inserted, and Manual reset will reset the numbering once.
---
Format
You should format your SD card in-camera every time you insert an SD card when starting a new session. This to make sure that there won't be any writing errors. Remember that formatting will erase all the images on the card, and won't even be recoverable if you choose the low level format option.
---
Video System
Select either NTSC or PAL depending on the region where you live.
---
Set Up Menu Page 2 (SET UP2)
---
Eco Mode
This function allows you to conserve battery power.When the camera is not in use, the screen quickly darkens to reduce battery consumption.
---
Power Saving
The power will shut off in the following circumstances. Press the power button again to restore power.
| | |
| --- | --- |
| Shooting Mode | Powers down approximately 3 minutes after the last control is accessed on the camera. The LCD monitor automatically turns off 1 minute* after the last control is accessed even if [Auto Power Down] is set to [Off]. Press any button other than the power button to turn the LCD monitor back on. |
| Playback Mode or connected to a Printer. | Powers down approximately 5 minutes after the last control is accessed on the camera. |
---
Display brightness
Adjust the brightness of the display in 7 steps.
---
Date/Time/Zone
Select your local time zone, a date and time for your camera. This information will be written in the EXIF data of your photos.
---
Language
Select your preferred language for the camera Menus. I choose English, as it is easiest to find information online in English.
---
Set Up Menu Page 3 (SET UP3)
---
Beep
You can either enable or disable the beep when you engage the shutter as well as when you touch the screen.
---
Operation Vol.
Adjust the volume of individual camera sounds
---
Hints & Tips
Hints and tips are normally shown when you choose Quick Set menu
---
Mode Icon Size/Info
Change the size of the Icons on the home and info screen.
---
Touch Operation
Sensitivity of the touch-screen panel can be increased, so that the camera responds to a lighter touch.
---
Screen auto-lock settings
To prevent unintended operations, you can set up automatic locking of the touch-screen panel.
---
Set Up Menu Page 3 (SET UP4)
---
Wi-Fi connect'n
You can send and receive images and control the camera remotely by connecting it to these devices and services via Wi-Fi.
Smartphones and Tablets: Send images to smartphones and tablet computers that have Wi-Fi functions. You can also shoot as you view a shooting screen on your smartphone or tablet. For convenience in this guide, smartphones, tablets, and other compatible devices are collectively referred to as "smartphones".
Computer: Use software to save camera images to a computer connected via Wi-Fi.
Web Services: Add your account information to the camera for CANON iMAGE GATEWAY online photography service or other Web services to send camera images to the services. Unsent images on the camera can also be sent to a computer or Web service via CANON iMAGE GATEWAY.
Printers: Send images wirelessly to a PictBridge-compatible printer (supporting DPS over IP) to print them.
Another Camera: Send images wirelessly between Wi-Fi-compatible Canon cameras.
---
Wireless Settings
You can wirelessly send images to your computer, smartphone or printer. You'll need to access your local wifi network for this in this menu.
---
GPS Settings
Even though the Canon EOS M100 does not have a GPS module built-in, it is still possible to add location data to your images via the GPS data of your smartphone. You'll need to install the Camera Connect app from Canon in order to do this.
---
Certification logo display
You have permission to ignore this screen, which simply displays logos for a couple electronics-industry certifications claimed by the Canon M100. You can find additional logos on the bottom of the camera.
---
Copyright Info
Using this option, you can embed copyright information in your files.
---
Reset camera
Fully reset the camera to the factory settings. Warning, you'll loose all your own settings if you do this.
---
Custom Functions (C.Fn)
This Menu has 5 sub menus:
ISO expansion: you can boost ISO setting from 25600 to 51200, but this works for Jpeg files only.
Safety Shift: Safety shift overrides your current settings if they are so far out that you would just get a blank photo. It will override your settings and change either your aperture, shutter speed, or ISO so you get something instead of a blank photo.
Release shutter w/o lens: allows you to engage the shutter even though no lens is detected. This is a function necessary to use lenses with the right fit, but without electronic contacts.
Retract lens on power off: sets whether to retract the lens when you power off the camera or not. Always set to Yes for safety reasons.
Custom Control: see explanation below.
It's possible to use the camera's Custom Controls menu to change default operations to assign a different function (like video start/stop control) to any of these keys:
M.Fn button (top of camera, to left of shutter button)
AF/MF button (9 o'clock position, on round rear control pad)
Exposure Compensation button (12 o'clock position on round rear control pad)
Flash button (3 o'clock position on round rear control pad)
Erase button (6 o'clock position on round rear control pad)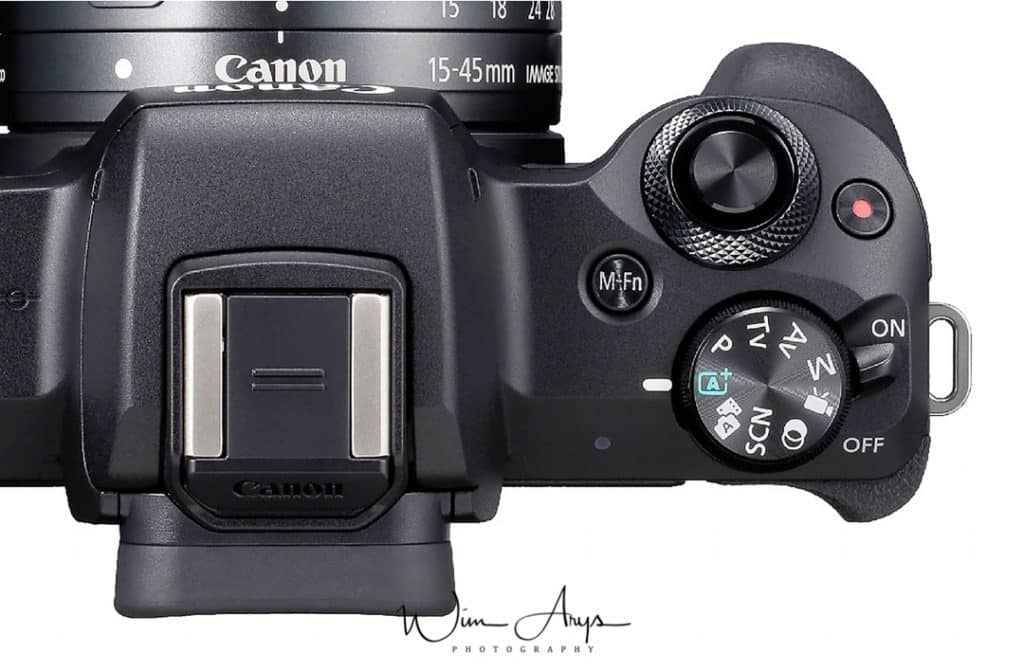 There are up to 26 functions that can be assigned to these buttons: exposure compensation, movie record, manual focus, flash mode, one-touch image quality setting [this can be configured in detail], one-touch image quality (hold) [again, configurable in detail], still image aspect ratio, flash function settings, drive mode, ISO, Auto lighting optimiser, metering mode, Picture style, white balance, touch shutter on/off, touch & drag AF, AF operation (one shot/servo), AF method, magnify, peaking, Eco mode, temporarily maximise screen brightness, temporarily manually switch between VF and screen, display off, depth of field preview, or no function on this button.
The exception is the Shutter release button customisation – this is separate from the one in an earlier menu and offers 3 choices of what should happen on half-press of the shutter button: Metering and AF start, Metering start only, AE lock (while button pressed).
MY MENU1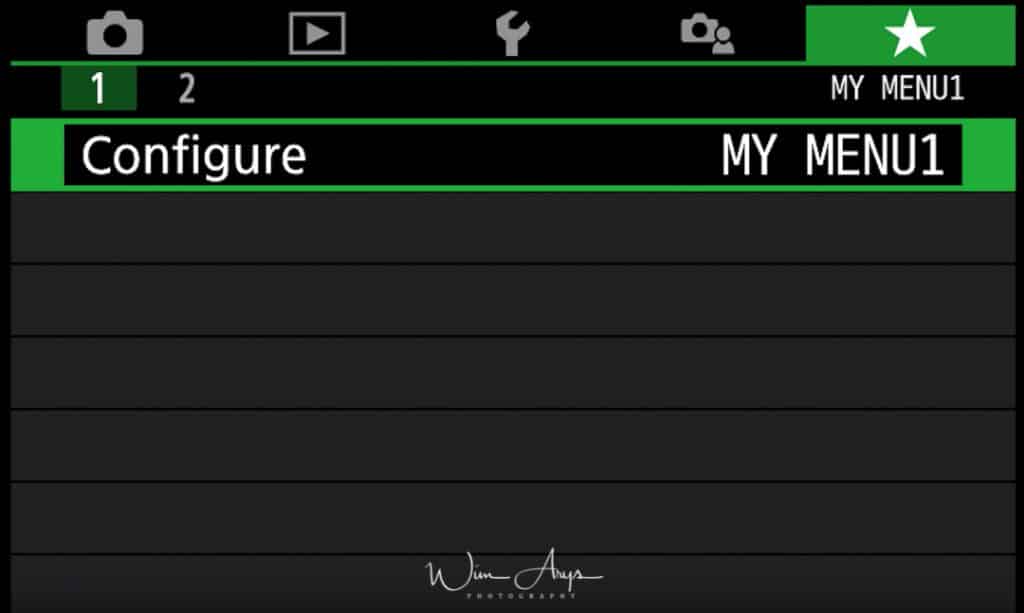 My Menu allows you to build your own menus. You can add all your most used Menu functions to this page like Format for instance. Adding favourite functions to this menu means that you'll be able to access them quicker than having to browse through the entire Menu system.
Conclusion
I hope you found this run-through of the entire Canon EOS M100 Menu system useful.Despite the Low price point and lesser features in this camera, there are still lots of features and functionality hidden inside the menu system, and this guide is a great start to discover them.
If you have any questions, feel free to ask them in the comment section below.