Pixlr review
Introduction
Pixlr image editor is a Photoshop-like application for image editing.  The most striking difference is that this is an Saas software. Saas stands for software-as-a-service and is a relatively new term, especially for image editors. It's basically an application that runs in the cloud, this offers several advantages for the software developer and the user. Since the software isn't using the processing power of your computer, but runs on processing power in in the cloud, there are no problems with hardware compatibility. And for the manufacturer, pirating is of course not possible since the application isn't running on your computer.
How Does it work?
I'll be going over all the features in this Pixlr review. You'll always needs to use a browser to access Pixlr.  into your account. Your browser of choice should be Google Chrome as they offer as Google offers the most open sourced infrastructure. this is in fact the reverse on how Adobe Creative Cloud works where they want you to store your data in the cloud and use an application on your computer. . Instead, Pixlr will store your images on your computer and the processing happens in the cloud.
There are 2 versions of the software:
Pixlr X is more easy to use for beginners and for quick edits. It's easy to master and features lots of artistic effect presets.
Pixlr E is a more powerful image editor for professionals. The interface looks a lot like photoshop with all the pro tool's you'd expect.
Pixlr E interface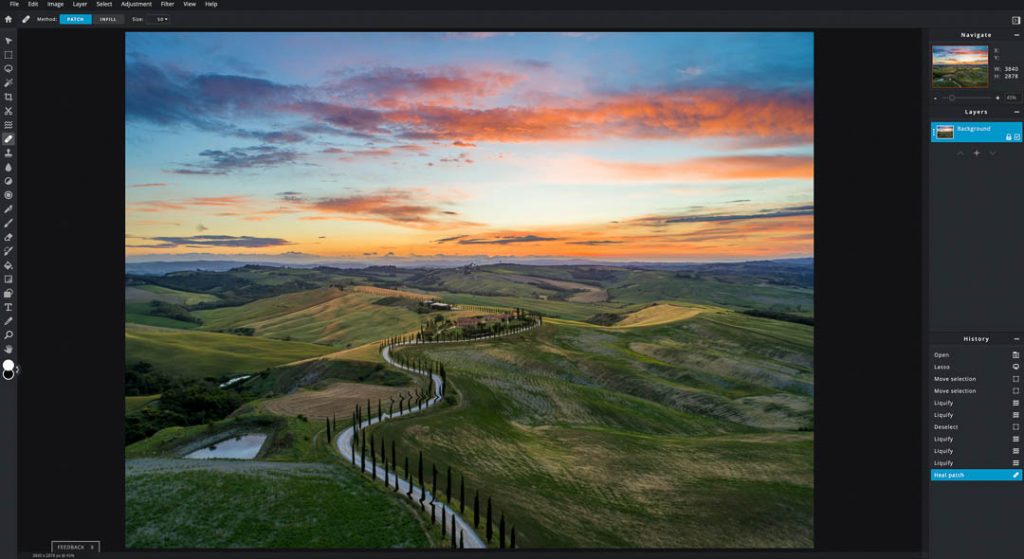 Left hand tool tab
You'll find the tool tab on your left hand side. Similar to photoshop, there is a nice selection of tools available in the Pixlr E version. Lets have a look at all the tools and functions from top to bottom.
Arrange tool: It's possible to move, transform and change layer settings.Your layer is first locked into place so you need to unlock them to use the arrange tool to move them. It's also possible to copy your background layer just like you would do when layering in Photoshop.
Marquee select tool: You can create selections with the square and circle selection tool. there are 3 modes available. First notice new selection then it's add to selection by pressing shift and the last notice removed from selection by pressing control. there is also a feather Ranger available ranging from 0 to 100 and the anti-alias switch.
Lasso select tool: You can use the freehand, polygon, busier or magic lasso to create a selection. There are 3 modes available: new selection, add to selection by pressing shift and remove from selection by pressing the Ctrl button.
Wand select tool: You can use the magic wants to select areas with similar colors. New selection, add to selection by pressing shift and remove from selection by pressing the Ctrl button are available. You can set a tolerance and feather ranging from 0 to 100. You can also sample from the current layer or all layers. Also here and anti-alias is selectable.
Crop tool: You can trim, cut and straighten the canvas by free or fixed aspect. you can use a free constraint, a ratio or a size. It's also possible to straighten your image here.
Cutout/Mask tool: You can mask areas and or remove backgrounds, cut out object or crop / trim individual layers. It's possible to engage the artificial intelligence Engine air and automatically allow the system to select the range of similar color or Texture. The tools available to you are magic mask, shape mask, drawing mask, lasso mask and gradient mask. You can choose between add to mask mode and remove from ask mode to add or remove parts of your selection.
Liquify tool: You can grow, shrink and push parts of the image. Use liquify to make subtle adjustments to portraits and other images. There are 6 methods available. If you're a Photoshop user, they will be familiar to you. They're called push, and large, shrink, swirl right, swirl left and restore.
Heal tool: This tool is used to remove spots, unwanted objects, blemishes and clean up images. There are two methods available the patch method and the infield method. You can also choose the size of the brush.
Clone tool: Draw and copy from another area in an image. You need to first select Source Point and then paint over the areas you want to change.
Blur/sharpen/smudge tool: This allows you to draw over areas in the image to sharpen blur or smudge details. A brush sizes selectable as well as a brush strength.
Dodge/burn: Lighten or darken areas of the image to bring out dark areas or dim light ones. You can select the range of tones between shadows, midtones and highlights. Again, brush size and strength can be changed.
Sponge/color tool: Brush Vibrance, saturation n or temperature in local areas to pop or reduce colors. I wouldn't call this a professional tool but it's definitely fun to use. there are three methods: Vibrance, saturation and temperature. Brush size and strength selectable.
Pen tool: Use distinct types of creative pens like web, crayons, ink and tail to doodle and draw. Similar to the pen tool in Photoshop but with a bit more variety of built-in styles like sketch, parallel, trail, shaded, furry, crayon and ink. Options for your pen type are size, amount and opacity.
Draw tool: You can draw and doodle with different brushes and colors. This is like the brush tool in Photoshop.
Eraser tool: You can erase parts of an image with a brush. Pixlr advises you to  use the cutout tool for a more fine result. You can switch between the hard tip and soft tip brush. Opacity and brush size are individually selectable.
Color replace tool: It's possible to change one color in an area to another by drawing over that color.
Fill tool: You can fill whole areas with a single color similar to the bucket tool in Photoshop.
Gradient tool: The gradient tool creates blends with different colors and transparencies. The possibilities here are endless and depend on what exactly you want to do. you can choose between a linear and Radial type of gradient.
Shape tool: you can draw different shapes like squares circles and lines with this tool.You can even draw hearts if you would want to do that.
Text tool: You can add a new text layer or use one of the pixlr templates with this tool.
Picker tool: Identical to the eyedropper tool in Photoshop, this tool allows you to pick colors from the image to use with other tools. Different color schemes like triadic, tetradic, analogeous and complementary are care available. This is a pretty cool feature.
Zoom tool: you can zoom in and out to focus on different parts of your image with this tool.
Hand/pan tool:  You can move the viewable area when the image is zoomed in. This feature is always selectable by pressing the spacebar.
Switch colors: Like in photoshop, switch between black and white brush colors here.
Top bar tools

File tab:
New image: Create a blank document.
Open image: Open a new image from your Mac or PC.
Open image URL: Open an image from a URL.
Stock search: Search the included pixlr stock photo Library.
Browse elements: Elements include overlays borders shapes and stickers. These can be added to your document and layered.
Save: save your image.
Print: print your image.
Edit tab:
Undo: undo your last action.
Redo: redo your last action.
cut: cut your selection.
Copy: copy your selection.
Clear: clear the selection.
Paste: paste the selection.
Free transform: stretch your image unconstrained.
Free distort stretch and shape your image unconstrained.
Transform: rotate your image to the left or to the right and flip your image horizontally or vertically.
Stroke: add an outline to your image.
Fill: fill your image with a color and possibly select a blend mode and opacity.
Image tab:
Image size: change the width and height of your image
Canvas size: edit the dimensions of your canvas. You can use an anchor point and select relative change or not.
Image rotation: you can rotate your image to the left to the right and flip it horizontally or vertically.
Crop: crop the image.
Trim: trim excess parts of your image.
Layer tab:
New layer: make a new layer.
Duplicate layer: duplicate the current layer.
Add image as layer: select a new image from your PC and added as a new layer.
Add element layer: at one of the built-in elements as a layer.
Add URL as a layer: add an image from URL as a layer.
Delete layer: delete the currently selected layer.
Rasterize a text or element.
Merge down: merge all layers down from the selected layer.
Merge visible: merch all visible layers.
Flatten image: flatten all layers into the background layer.
Bring forward-up: bring the selected layer one place up the layer tree.
Send backward-down: send the selected player one-place down the layer tree.
AI Auto mask: used Pixlr proprietary Auto masking technology to select the subject mask.
Add mask: add a mask to your image.
Apply mask: apply your selection as a mask to your image.
Remove mask: remove your current mask from your image.
More mask: invert mask, extract mask, layer and convert mask to selection.
Select tab:
Select all: select your entire canvas.
Select pixels: select the pixels from your selection.
Deselect: deselect your current selection.
Invert selection: invert the current selection.
Convert to mask: convert your current selection to a mask.
Save selection: save your current selection.
Restore selection: restore the last state of the selection.
Adjustment tab:
Auto adjust: allow the software to auto adjust exposure, color, gamma, brightness and saturation.
Brightness and contrast: change the brightness and contrast of your image according to your own preferences.
Temperature and tint: adjust the temperature and tint of your image for a more natural appearance.
Hue and saturation: adjust a hue and saturation of your image.
Vibrance: adjust the vibrance of your image.
Color Balance: change the color balance of your image.
Colour lookup: apply a lookup table to your image not
Highlights and shadows: change the dynamic range of the highlights and shadows in your image.
Exposure: change the overall exposure of your image.
Curves: adjust the dynamic range love your image with curves.
Levels: adjust a dynamic range of the shadows, mid-tones and highlights of your image using the levels tool.
Threshold: set the threshold of the selection from your image.
Posterize: apply a posterize effect.
Desaturate: equalize the desaturation in your image.
Invert: invert black and whites.
Filter tab
Effects Library: you'll find many Instagram Style effects and this tab. These are all easily accessible and straightforward.
Details: the details tab it's where you need to go if you want to sharpen, clarify, blur, gausian blur, zoom blur, smooth, grain, add noise and remove noise.
Vignette: apply darkening of your canvas edges here.
Bloom: this creates an overall lofi brighter effect.
Glamour: adds a glow to the lighter areas of the photo
Dehaze: reduce the amount of haze because of meteorological conditions like mist, fog, excess sunlight and air polution
Inner Glow: add an inner glow effect to your selection.
Outer Glow: add an outer glow effect to your selection.
Outline: create an outline on clear edges in your photo
Drop Shadow: create a drop shadow effect in your photo.
Fringe: similar to outline, create an outline effect around edges.
Pixelate: Create a pixelated effect .
Mosaic: Create a mosiac style effect.
Halftone: Quickly create a halftone style effect.
View tab
Zoom in: zoom into specific parts of your image.
Zoom out: zoom out of that specific Parts in your image.
Fit screen: fits your entire canvas to the screen.
Fill screen: fill your entire screen with your image.
100%: view your image at 100% magnification.
200%: view your image at 200% magnification.
300%: view your image at 300% magnification.
Toggle full screen: toggle between the last state and full screen.
Toggle light and dark mode: toggle between a darker and lighter interface.
Help
Keyboard shortcuts: view a list of keyboard shortcuts.
Get help: a shortcut to the Pixlr forum.
Our YouTube tutorials: a link to the Pixlr YouTube tutorials Dot's
Our Instagram: go to their Instagram account.
Our  Facebook: go to their Facebook account.
Color matcher: go to the designs AI color palettes and wheels products.
Font matcher: go to the designs.ai artificial intelligence font matching machine.
Conclusion
Pixlr has a  large number of tools that will help you professionally process your images. There are many easy effects available straight from the interface. It's also possible to create graphics for advertisements, social media, logos and business cards. You don't need an ultrafast processor and vast amounts of memory either. You can use it straight in your browser of choice, and your licence is valid on any computer. The major disadvantage is the Pixlr only works with jpeg's and does not support RAW, TIFF and DNG's.
For the novice user, the UI can be confusing however. Some of the functions can be difficult to understand if you don't have a background in Photoshop or similar software. It would also be nice if the interface would provide more feedback on what functions are currently active. But there is also a positive side in that Pixlr allows a beginner the chance to experiment with advanced functions. Many of these only available in premium graphics software.
Overall, I would recommend Pixlr to anyone who wants a cloud-based editing tool. It's not as refined or feature rich as the more expensive desktop applications like photoshop, but you can use it from anywhere, on any computer and at much lower cost.