Topaz video enhance ai review
Topaz video enhance AI review
Introduction
If you've ever worked with Photoshop or Lightroom, the name Topaz Labs most probably rings a bell. It was quiet around the Texas company for the last couple of years, but they've now re-centered their entire business around artificial intelligence image manipulation software.
2020 has also seen the introduction there first video software. Topaz 'Video enhance AI', the subject of this review, brings together many of their photo editing artificial intelligence products. I"m talking about image editing plug-ins like Topaz 'Sharpen AI', Topaz 'Denoise AI' and Topaz 'JPEG to RAW AI'.
In case you're looking at alternatives to Video Enhance Ai, have a look at DVDFab Enlarger Ai.
Minimum hardware requirements
Topaz 'Video enhance AI' is now compatible with both Windows and Macs. But you will need some serious processing power like a high-end Nvidia graphic cards. The minimum requirement is GTX 1050 with 4 GB VRAM. Any graphic card later/better than GTX 1080 (included) is useable; though you'll have long processing times.
If you do not have a Nvidia graphics card in your device, the software can run on your Intel iGPU. Typically, it will be 5 times slower. If you do not have an Intel iGPU, the software will finally fall back to your CPU, which can be 10 times slower than the Nvidia GPU version.
Topaz Video enhance Ai interface
The main window is divided into the clip selection, the processing window, the batch processing window and the video output section.
Clip selection bar

You can use the clip selection bar to select which portion of your clip you want to render and export.
This can also be done through the menu in the 'Process' tab.Where you can also decide on using your CPU or only the graphics card.
In the processing window, you can choose your AI model based on the quality of the video. More on this later.
Batch processing tab
In the batch processing window, you can add multiple videos for batch processing. You should know that you can decide on processing clip selection and video output settings for each video clip. Doing this for one of the clips does not automatically do the same for the next. unless you select both.
Output Video tab

In the output video tab, you can either select one of the presets ranging from an upscale percentage (up to 400%) or video quality (from SD up to 8K UHD). If your video does not match the output setting (say 3840×2160 for 4K video) you can choose to either crop your video to fill the frame or not.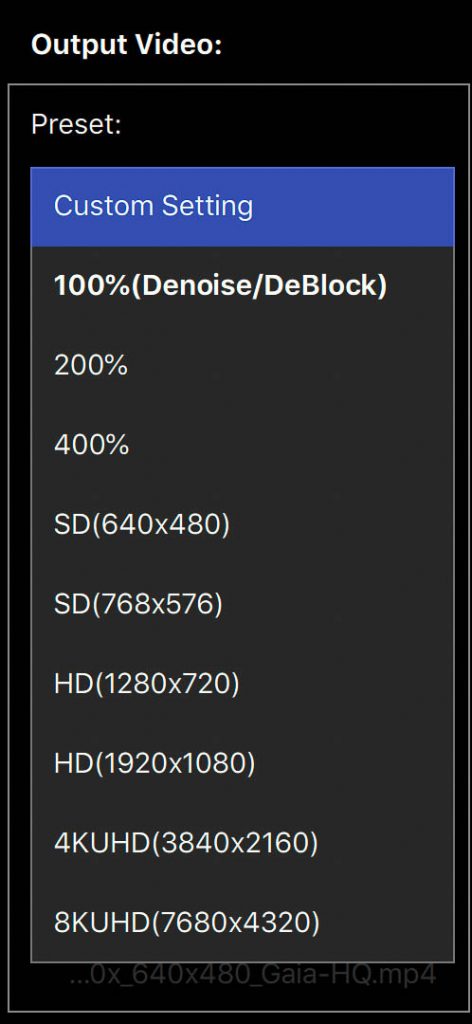 It's also possible to either go with the standard naming chosen by Topaz labs (which is the original file name plus your selected processing model) or rename the file on export.
At the time of writing, you can either choose to export your upscaled and enhanced video as an MP4 or all the images separately as 8-Bit PNG or 8-16 bit TIFF. More output options are in beta.
Ai video processing models in version 1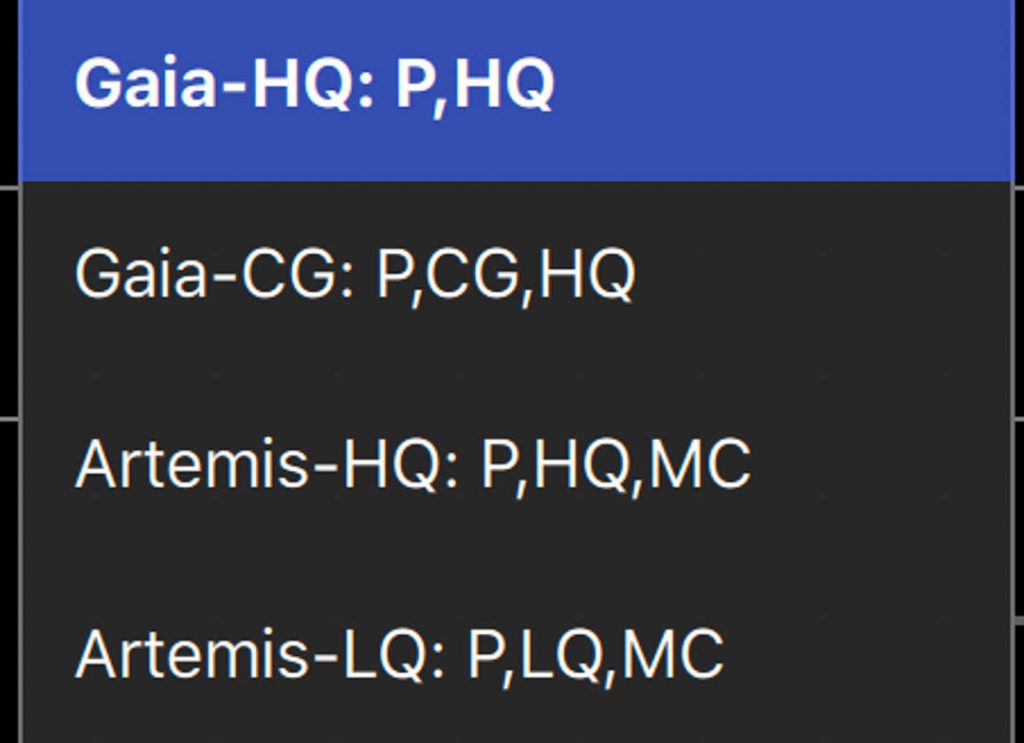 The following Ai video processing models were available in v1 available:
Gaia-HQ: P,HQ
Can be used for up-scaling already high quality video.
P: for progressive video only
HQ: input video is high quality
Gaia-CG: P,CG,HQ
For up-scaling computer-generated content like CGI or graphics.
P: for progressive video only
CG: computer generated content
HQ: for high-quality video
Artemis-HQ: P,HQ,MC
This setting can be used for <720 but top quality sources to enhance and upscale video.
P: for progressive video only
HQ: for high-quality video with little noise/blockiness
MC: keep motion consistency (less flickery)
Artemis-LQ: P,LQ,MC
Can be used for enhancing and up-scaling low quality  video (<720).
P: for progressive video only
LQ: for low-quality video with strong noise/blockiness
MC: keep motion consistency (less flickery)
How to process your video in Topaz Video enhance Ai?
How to remaster an old video in high definition?
Open your video: After starting Topaz 'Video enhance AI',  click the center of the preview frame to select an open your video. You can open one video at a time, or you can open multiple videos.
Make video adjustments and preview your selection:  Select your model depending on the original quality of your video. Then make adjustments to your video output. You can adjust the size, decide to upscale up to 400% and change the quality.
Export your video: In the export window you can select the output format and start the render of your video export. this may take some time depending on the length of the video.
Video Upscaling in version 1.5.1
Thanks to machine-learning AI technology, Video Enhance AI is trained with thousands of videos and . It also combines information from multiple input video frames. Topaz Labs Video Enhance AI can upscale video from SD/HD to 4K and even 8K. If the input video  islow resolution or noisy/blocky,  you won't get amazing video enhancement.
The latest version of Topaz Video enhance AI 1.5.1 has 3 upscaling models:
Theia:
Theia-Fidelity: for high quality video, progessive with motion consistency.
Theia-Detail: for low quality video, progeressive with motion consistency against flicker.
Gaia:
Gaia-HQ:  For progressive video only that is high quality cgi.

Gaia-CG: for progressive, HQ video.
Artemis
Artemis HQ: enhance and upscale HQ video, possibly with more ertefacts.
Artemis LQ: Same bit for Low Quality video, results have less detail but also less artefacts.
Conclusion
Since a video is basically a series of images, the same artificial intelligence models (or machine learning really) of the Topaz they have applied the Topaz image plug-ins to video processing in Topaz 'Video enhance AI'. There is a long rendering time, and it needs a lot more processing power.
For the purpose of this review, I've been using Topaz 'Video enhance AI' from beta. Sometimes you can get better final results if you first process with the 100% denoise/deblock preset and then go for up-scaling. Of course, this doubles the processing time.
The best preset, Gaia or Artemis, probably depends on what your source material is, so it's not possible to have a general recommended setting. If you have a top quality input source, I always use Gaia-HQ as it's the one with better results. Also, depending on the resolution of the source and your target resolution, it is best to do the up-scaling steps, (like from 480p to 1080p, then 4k). This works best like that when using the photo app 'Gigapixel Ai', and the algorithm is after all the same.