PlayMemories Smooth Reflection: no more need for ND filters?
PlayMemories Smooth Reflection
Introduction
I like to take long exposures, and usually you'd need an ND filter for this. An ND filter allows you to use longer shutter speeds in daylight, and this can give you that smooth water flow effect.
I noticed that Sony has a PlayMemories Smooth Reflection app in their store, allowing you to take long exposures without the need for such an ND filter, and I just had to try it out. I'm guessing the developers use a similar technique to the one used in HDR photography, where you layer different images on top of each other. The part of the picture where the motion is gets processed with some algorithm to allow for a smoothing of subjects like water while the rest of the image stays perfectly in-focus.
The new advanced processing power of the latest Bionz X processor is needed to do this processing, as only cameras that have it support this app. (The ILCE-7, ILCE-7R, ILCE-5000, DSC-HX400V, DSC-HX60V, ILCE-6000, DSC-RX100M3 and ILCE-7S)
You'll naturally need a tripod or at least an even surface in order to use this, as you only want part of the image to reflect the motion. After this is set-up, operation is simple: just launch the app and choose from 5 presets or customise your own and wait until the sequence of images is captured.
It will take as much time to process the picture as it did to capture, so you'll need to take some time to do this.
A nice feature is that you can save as RAW as well as the different qualities of jpeg, giving you some more information to work with in Lightroom or any other software of your choice.
The Menu system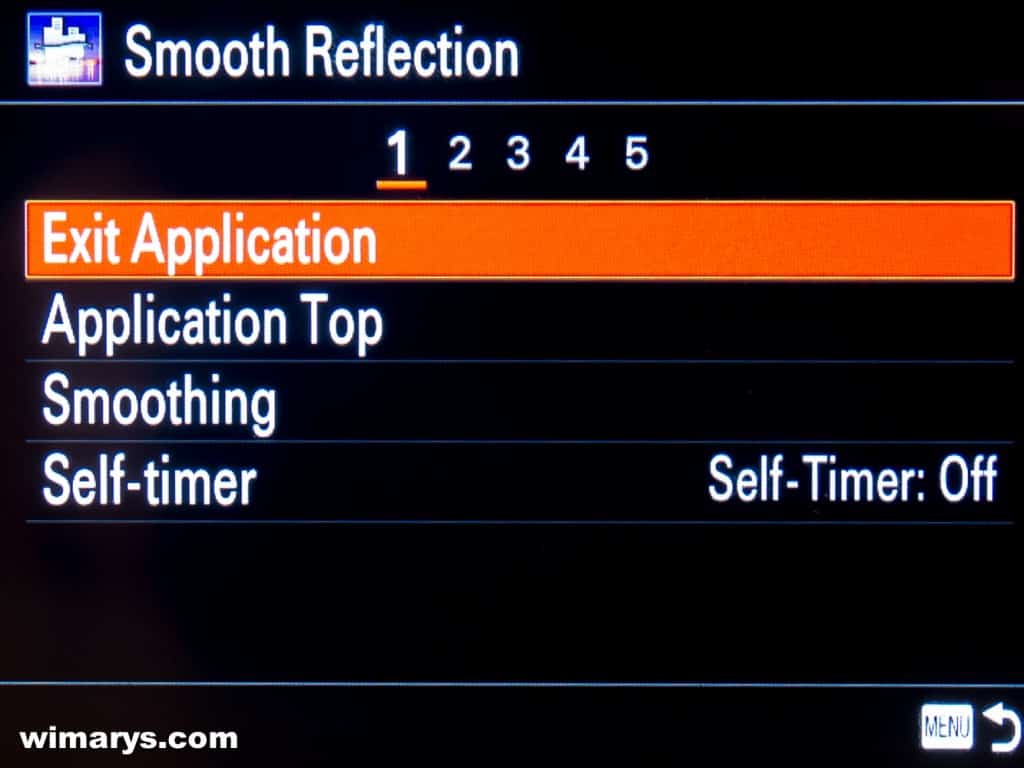 The usual Sony PlayMemories 5-page menu system is in place. You can always access this by pressing the MENU button and then navigating with the multi-button. You'll find the most important functions on page 1:
Exit application: go back to normal camera operation
Application: will bring you to the five preset page (plus one custom)
Smoothing that allows you control over the amount of smoothing the in-motion areas in your image. Three levels are available: Lo, MID and HI
Self-timer: handy if you don't want to use a remote and want to eliminate shake
In general, greyed out functions can't be changed, depending on the camera you are using and theme you are in.
If you want to abort your capture at any time, press the shutter button again or press MENU. A still image will be  saved and shooting ends.
The five presets:
Twilight Reflection
Shooting neon lights at night reflected on a water surface; PlayMemories Smooth Reflection will smooth out the water  for a cityscape surface reflection effect.
Water Flow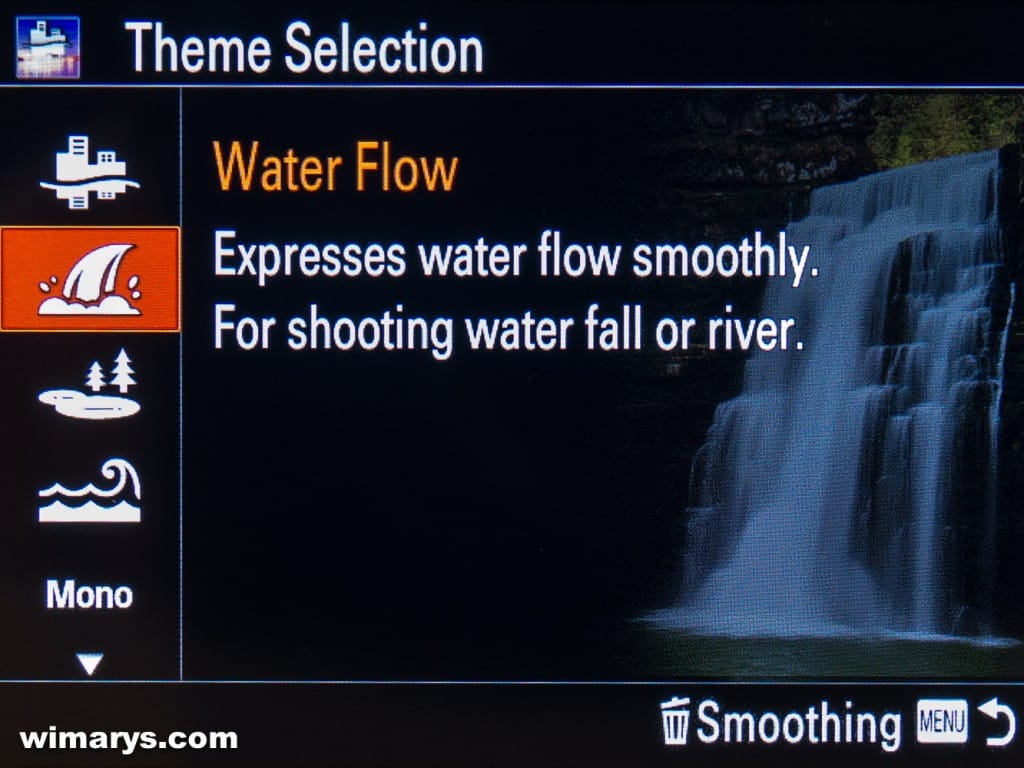 For smooth water effects, the camera averages out the water splashing.
Silent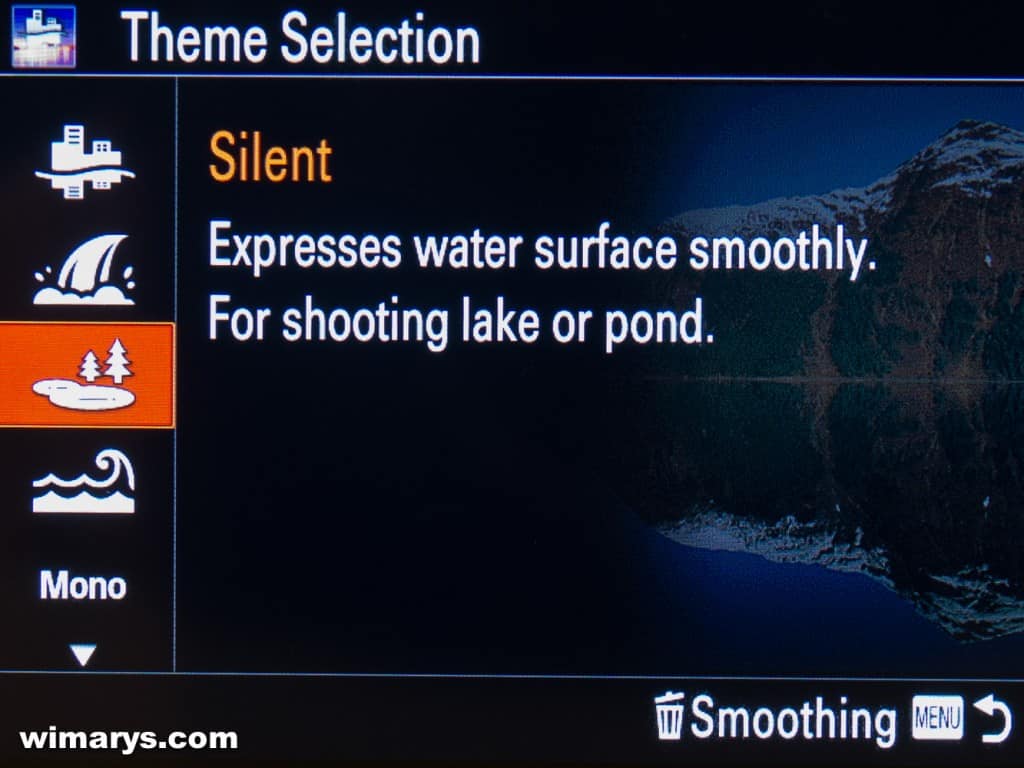 For shooting still waters the camera averages the ripples and swells for a calm, smooth water surface effect.
Smoke Haze

Mainly for seashores, the camera averages the portion of waves and sea spray to reproduce a soft water surface effect.
Monotone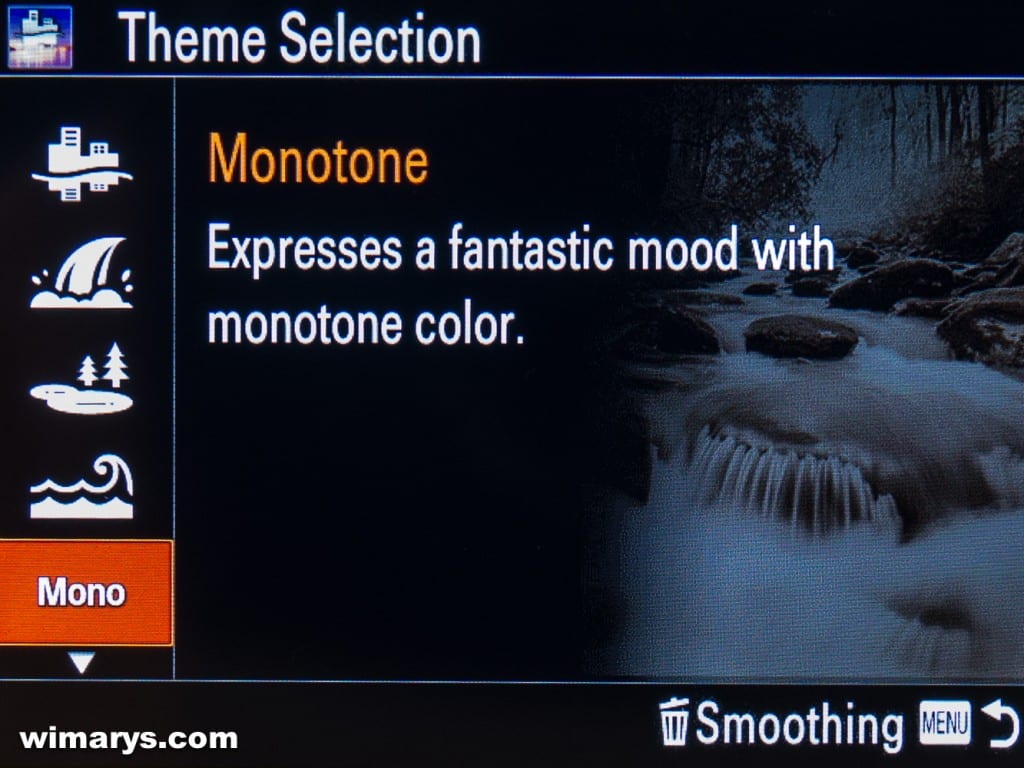 The camera shoots an image in monotone to reproduce a smooth, fantastic atmosphere. You can select B/W, Sepia, Warm, or Green as the monotone colour.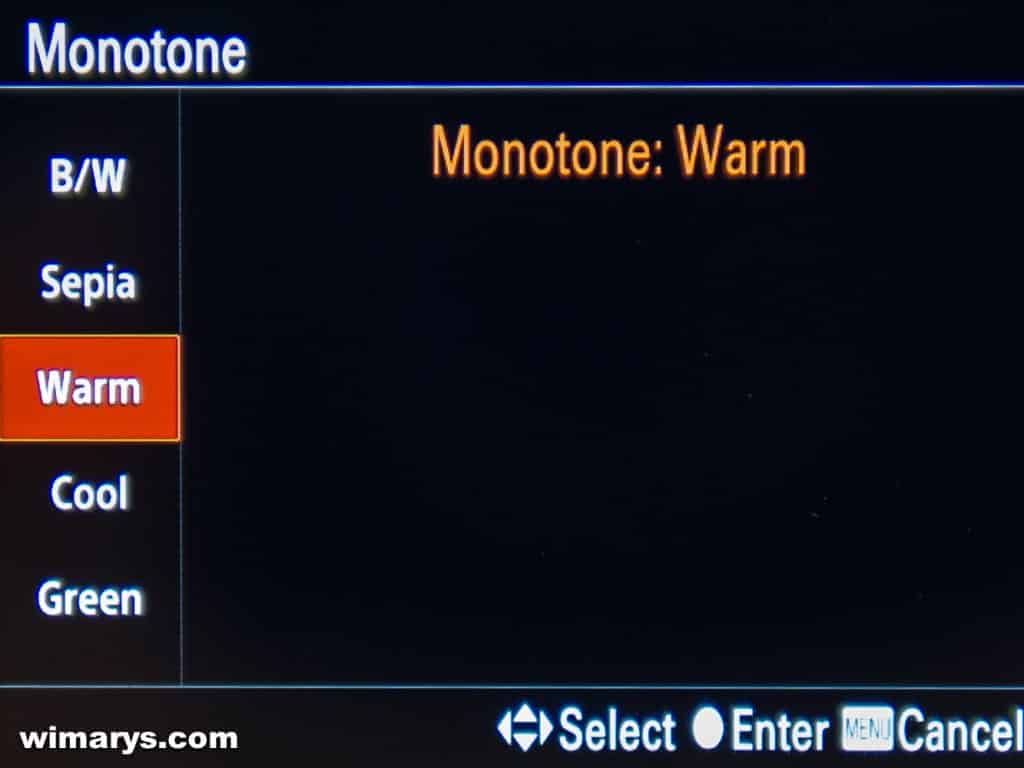 Custom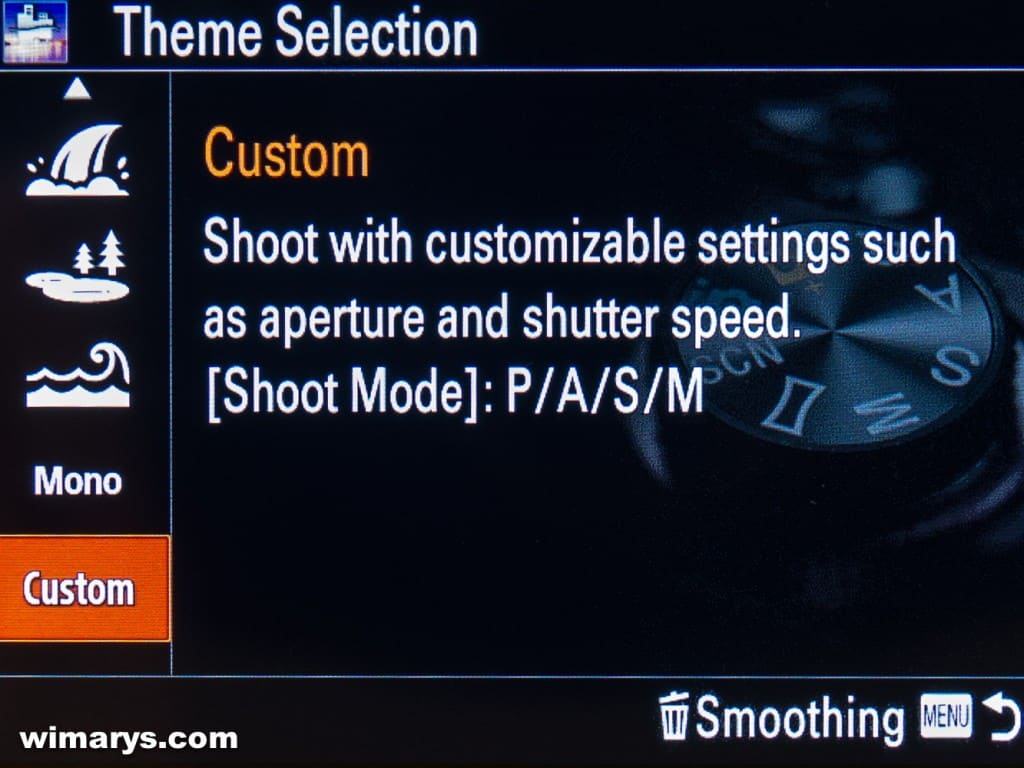 Custom is similar to manual mode on your camera, allowing you to take full control over settings for aperture and shutter time per image captured.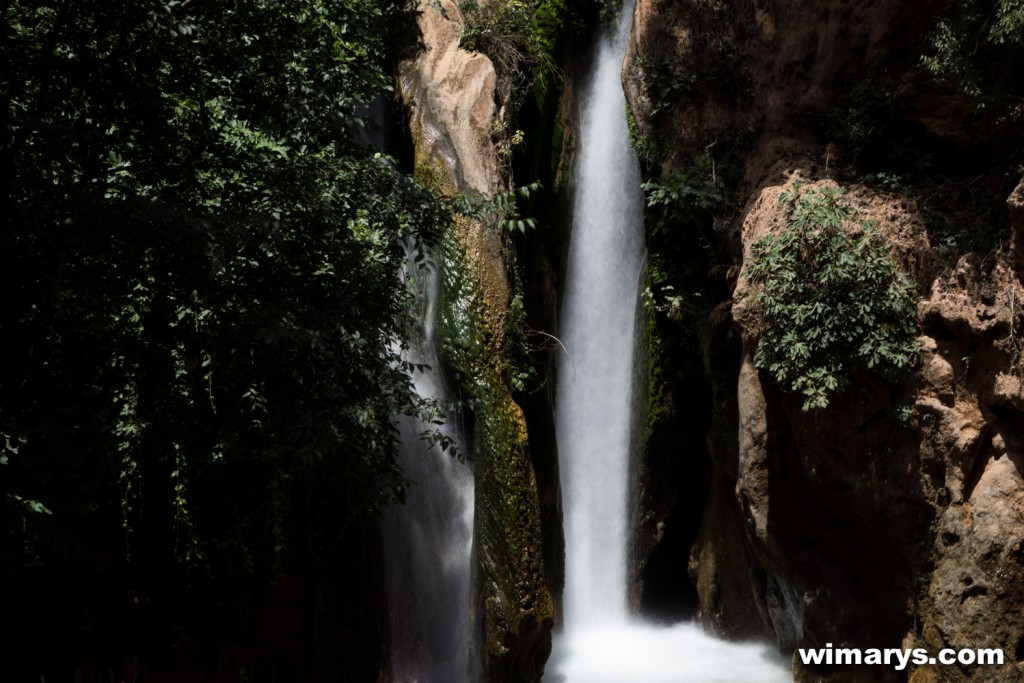 Is it any good?
I've been playing around with the PlayMemories Smooth Reflection for about a month now on the A7r, A7s and A6000. Although it's fun to use, it doesn't replace a traditional ND filter. I'd say you get an effect like what you'd get with a proper long exposure setup, but the flowing motion looks more like a cut-out than the real thing. The quality of the images (even in RAW) aren't comparable to what you'd get with an ND filter. The Bionz X processor probably has to apply lots of aggressive noise reduction in order to keep noise under control and although the result looks quite clean, it reduces clarity and micro-contrast to a degree that the images don't do the camera justice.
But it's still a fun app to use, perhaps for anyone wanting to get into long exposures but doesn't wish to spend the extra cash on a proper ND filter, the 5 dollar spent here might help you figure out if it is a technique that you'd like to learn more about.