Venus Optics 60mm macro lens available
Venus Optics 60mm macro lens available
Introduction
New Chinese lens manufacturer Venus just announced their Venus Optics 60mm f/2.8 macro lens. This is the first 2:1 magnification lens in the world with infinity focus. Many photographers have questions about this new player in the optics game, so I asked around, and they seem to be quite legit with a genuine passion for macro photography.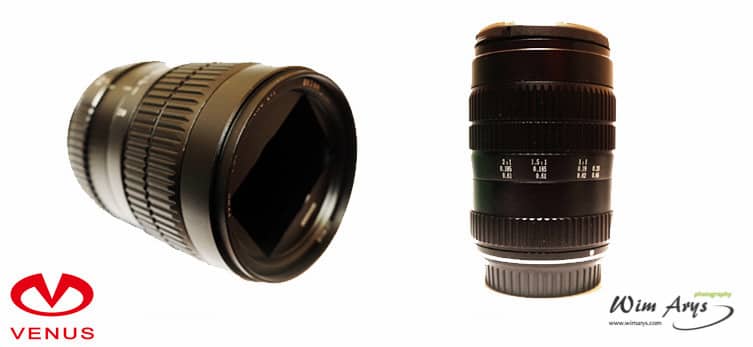 About Venus Optics
Venus Optics is a new lens manufacturer specialising in Macro lenses . The company was started in Anhui, China by a group of photography and optics enthusiasts in May 2014.
They base their macro lens designs around  three criteria:
From infinity focus to 1X magnification: the optical quality has to be as good as the macro lenses currently in the market.
From 1X to 1.5X: no need to use any extender or add-on macro lens.
From 1.5X – 2X: no need to use a teleconverter.
The realisation of the Venus 60mm f/2.8 Ultra-Macro Lens
As a company started by macro photographers, Venus Optics know that this photography niche is vibrant and rapidly changing.
They found it cumbersome to install/uninstall a teleconverter in order to capture insects with different sizes, and that the Macro lenses currently on the market are mostly 1:1 magnification. Even for those with magnification ratio more than 1:1,  it is not possible to focus to infinity. Venus Optics decided to develop something which could resolve all these issues.
The new Venus 60mm f/2.8 Macro lens features a magnification range from 0.1x to 2x. Users can easily alter the magnification ratio without installing any extension tube or teleconverter, making it ideally suited for rapidly changing macro photography scenarios.
This wide magnification range also makes it extremely useful for shooting macro objects (like insects) with different sizes. This 60mm macro is also designed for normal shooting purposes with a 60mm focal length, which provides an all-in-one solution for normal portrait shooting as well as ultra-macro photography.
The Venus Optics 60mm houses 9 elements in 7 groups, a patented optical structure to provide excellent image clarity and beautiful colour rendering. The optical system consists of 2 major moving lens groups in order to minimise barrel distortion. 14 pieces of aperture blades form a close to circular aperture, capable of creating creamy shallow depth of view.
The enclosure of the lens is made of metal to strengthen its durability.
A complimentary lens pouch and filter are included in the package.
Canon EF, Nikon F, Sony Alpha and Pentax K mount are available.
Sample photos and videos can be found on the Venus Optics website.
Pricing and Availability
The Venus Optics 60mm f/2.8 2X Ultra-Macro Lens is currently available at authorized resellers and through their website. The recommended retail price is $379. Free shipping will be provided during the promotion period. There is a promo code with a 10% discount 'VENUS' until February 5th.