Ethiopia Omo Valley photography tour
Ethiopia Omo Valley photography tour
Loading…
Introduction
The Omo Valley is an area in the South of Ethiopia known for its unique and very photogenic people. The Lower Omo Valley is a UNESCO World Heritage Site, home to over 200.000 people, many of them still living traditionally as they've done for hundreds of years.
Some more known tribes are the Dorze, Hamar, Karo, Ari, Benna, Tsembay, Konse, Karo, Suri, Mursi and Hamar people. Many of the tribes can also be photographed at the weekly Jinka Market. More on all these tribes later.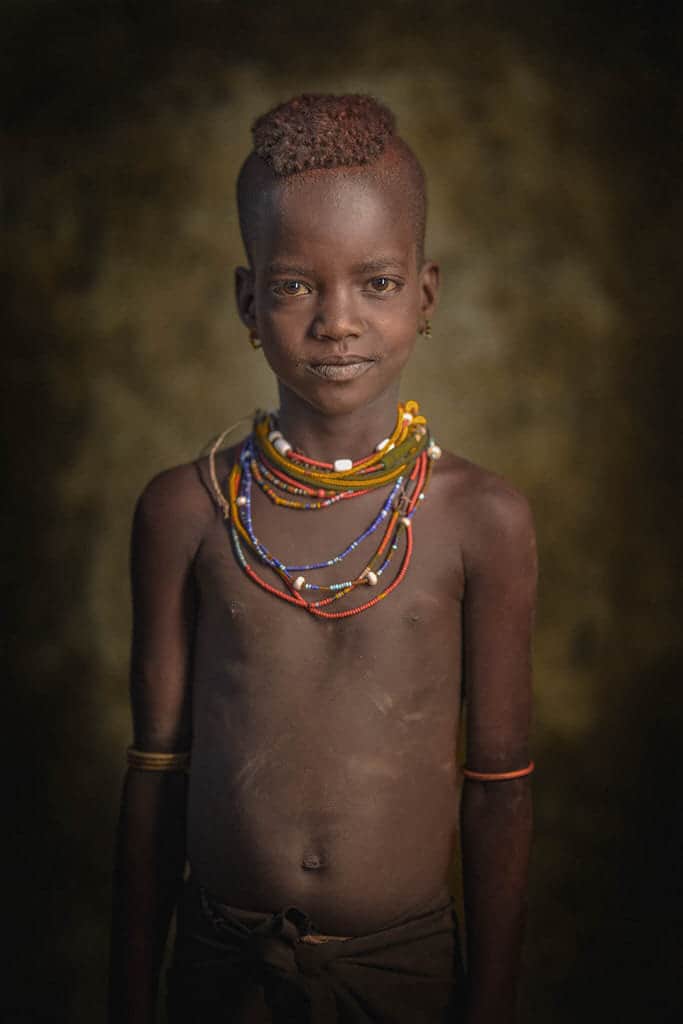 How to get to the Ethiopian Omo Valley for a photography tour?
The Omo Valley is situated in the far south of Ethiopia, bordering South Sudan and Kenia. Even though this area is quite safe, due to the sheer size of Ethiopia, you'll have to spend some time either flying or driving to the Omo National Park.
All international flights land in the capital Addis Abeba and you have the choice of starting your Omo Valley photography tour either from there or flying to Arba Minch and Jinka.
Omo photo tour driving from Addis Abeba
The first option, driving from Addis Abeba will set you back 2-3 days in total and is not necessarily the cheapest option, as you'll need to hire a car with driver. There is, of course, plenty to see and photograph in a country like Ethiopia alone the way.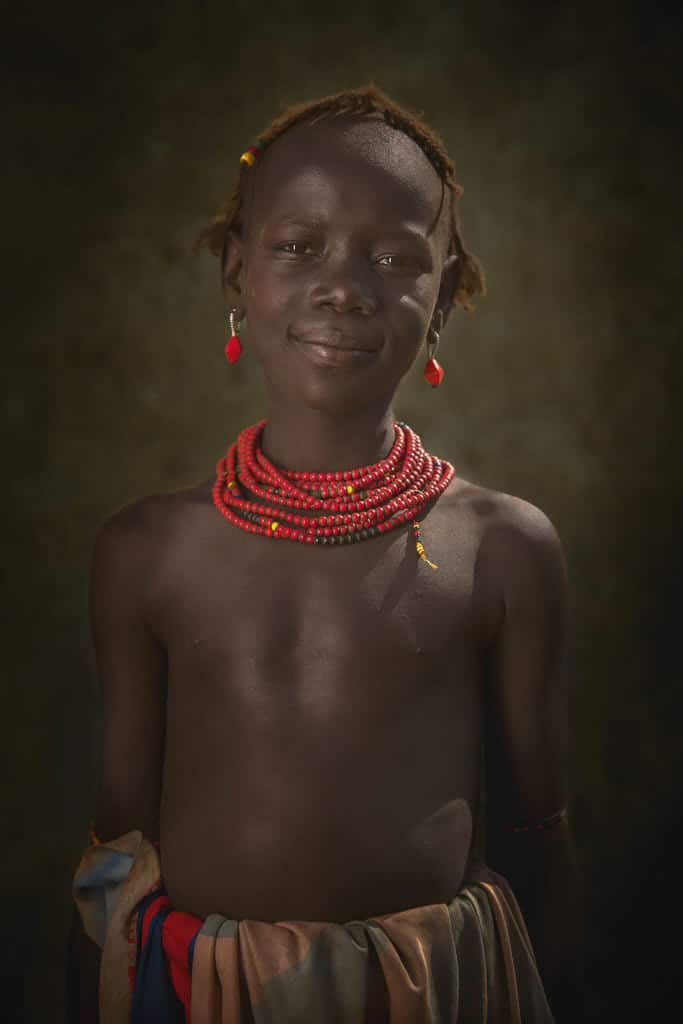 You'll need to take around 10 days for a photography trip to the Omo Valley from Addis Abeba, even more, if you want to have a deeper understanding of the different tribes and set up a few portraits shoots with the local people.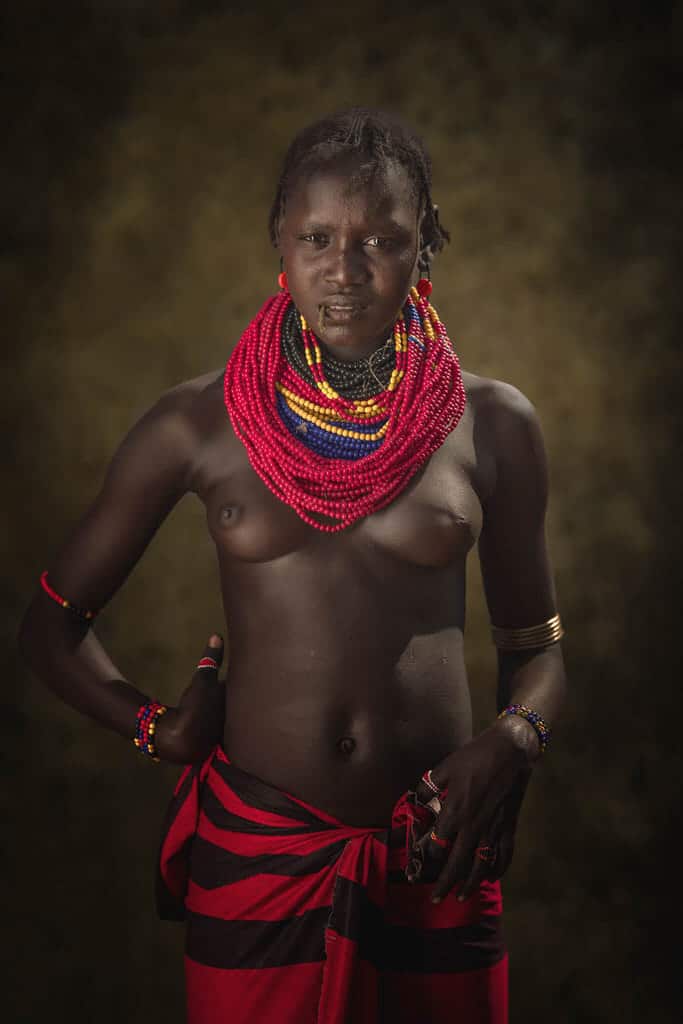 A typical 10-day photography program to Omo would look like this:
Day 1
Your driver and guide will pick you up from your hotel or the airport after your arrival in Addis Abeba. They will wait for you after you collect your luggage in the arrivals hall at Bole airport. They'll have a sign with your name to avoid any confusion. After having some rest or a coffee break depending on your arrival time, you'll drive directly to Arba Minch. This is around a 7-hour drive so we'll stock up on water before we leave.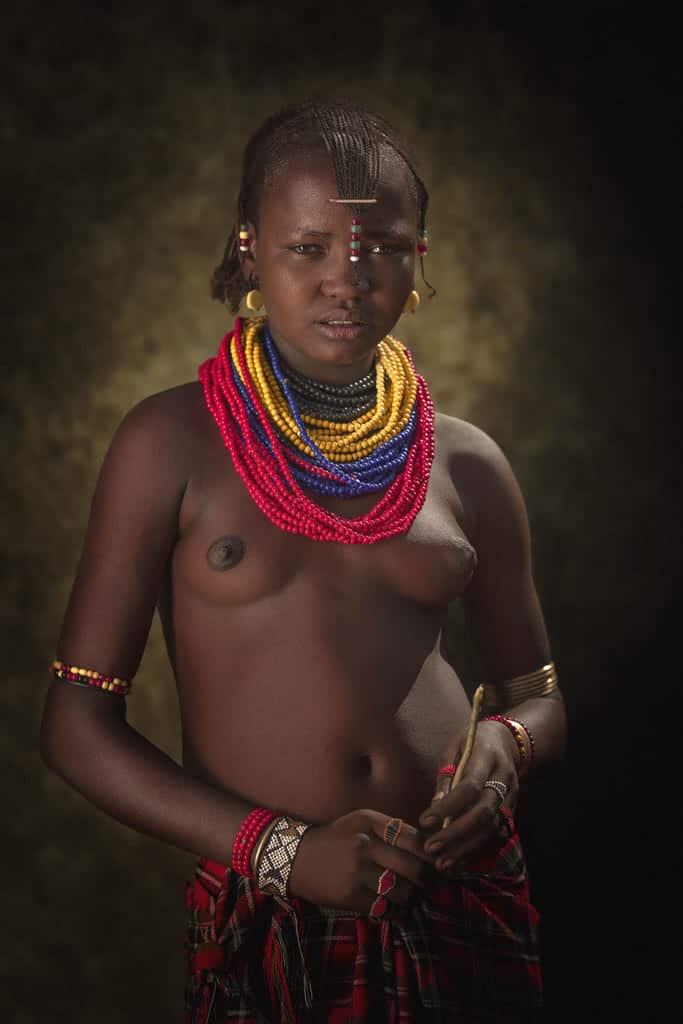 Your driver will make a right turn right before the city of Arba Minch and head to the Dorze tribe of Chencha. It will be late afternoon but this is an ideal time to see the village life. These people are famous for traditional cloth-making with cotton is woven using locally made instruments. We can walk around the town and if you'd like to take any portraits, your guide/translator will be happy to set this up for you.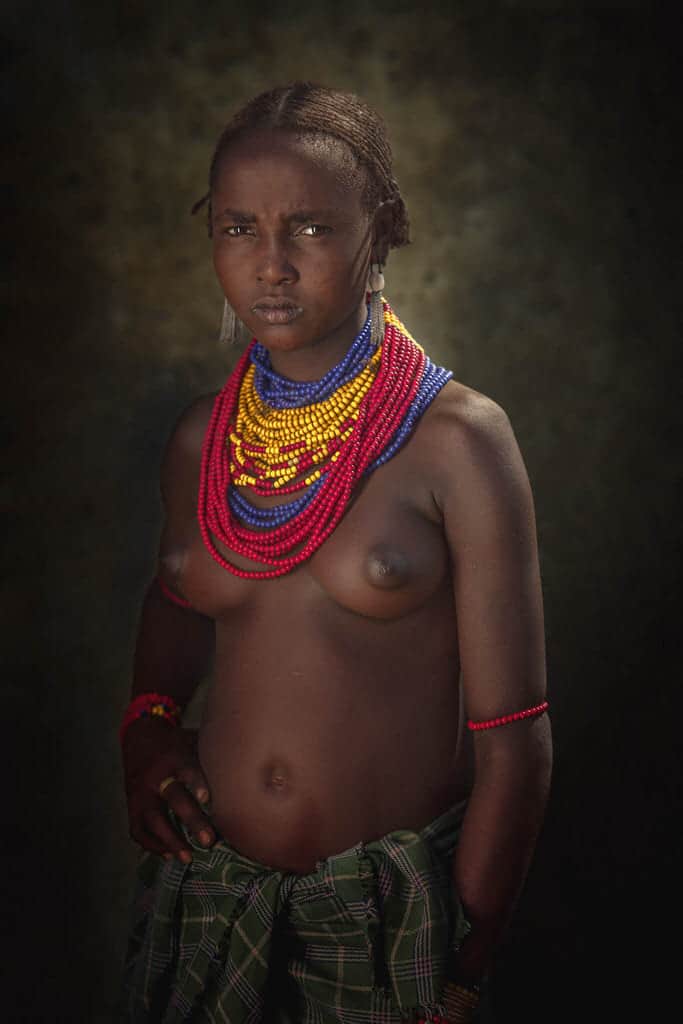 You'll sleep in the wonderful in Dorze lodge that has a beautiful and panoramic view of Nature's wonder.
Day 2
In the morning, you'll drive directly to the city of Jinka. This is the gateway town to the Omo valley national park and the last piece of modern civilization you'll see before entering the park. We will first make a stop in Konso and visit the village life of these hard-working people.
The Konso are well known for their terracing culture that dates back to some 500 years. They cultivate crops especially Maize and Sorghum in a challenging topography which has been recognized by UNESCO as a heritage site. Your guide and translator can help communicate with the local people and ask if you want to do some portrait or landscape photography here.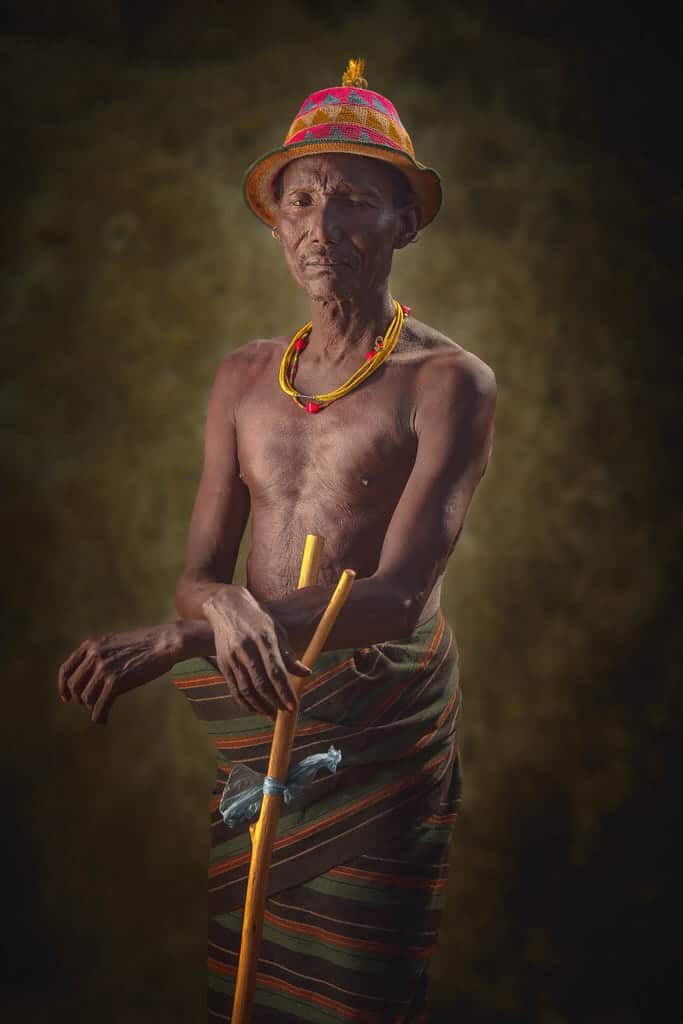 After visiting this village we'll head to Jinka. There we will visit the village life of the Ari tribe who live on the plateau lands surrounding Jinka town.
You can decide if you want to stay in one of the basic guest-houses here (perhaps to charge your batteries) or in a modern and comfortable tent.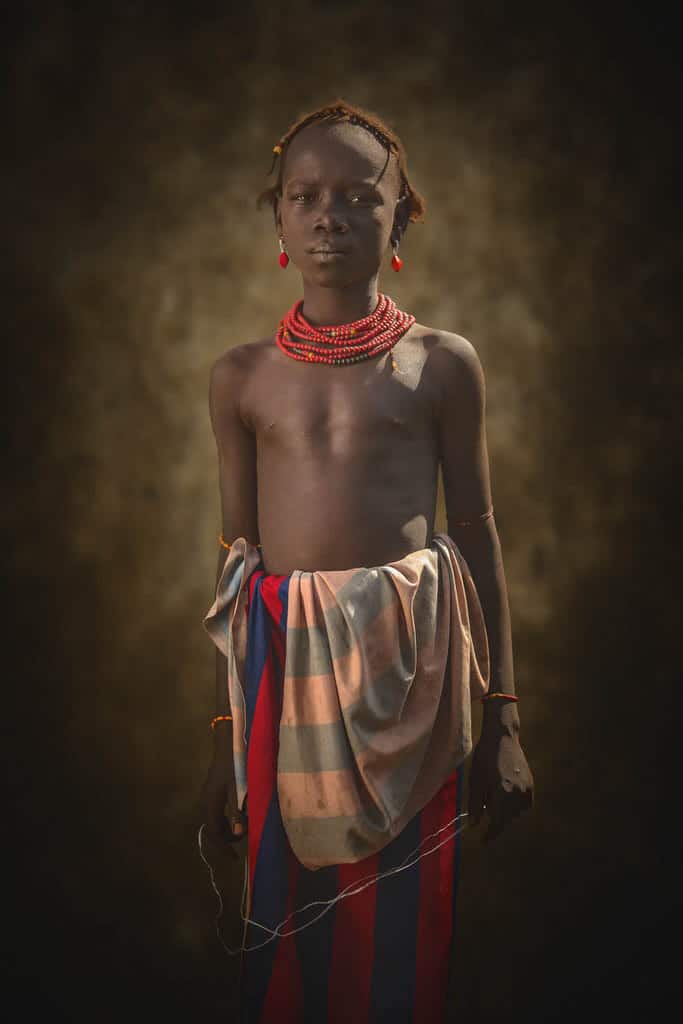 Day 3
In the morning we head to the well-known Mursi tribe. We'll cross through Mago National Park in order to reach their village where we'll be able to see some wildlife. get your tele lenses out!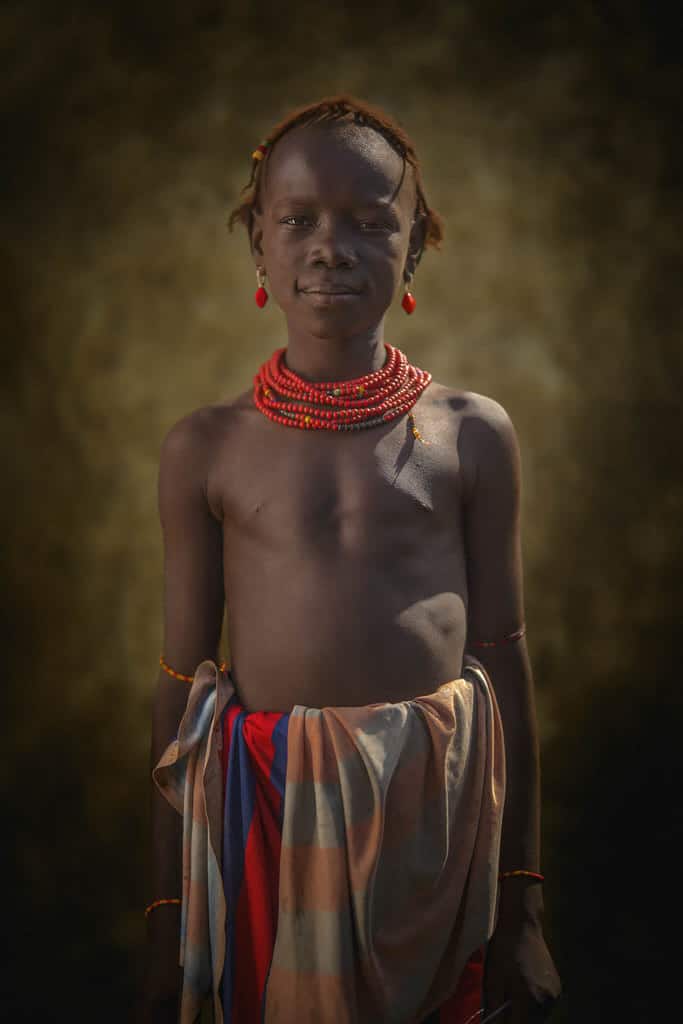 The Mursi women are famous for having a circular lip and ear plates made from clay. These symbolize beauty and pride. You'll be able to photograph their authentic daily life activities the entire afternoon. You'll be able to interaction with these beautiful people, a once in a lifetime time experience. It's, of course, possible to make portrait photos here and our guide will try to facilitate this.
There are no hotels or guesthouses once you go into the Omo valley, so overnight in a fully equipped modern tent from here on. We'll set up camp near the tribes every night, and we also have an excellent cook with us who will five you a taste of authentic Ethiopian food.
Day 4
In the morning after breakfast, we'll drive back to Jinka. It's possible to have a shower here if you need to freshen up. Afterward, we'll continue driving directly to Turmi. We have several small villages stops on our way down to meet the tribes we come across.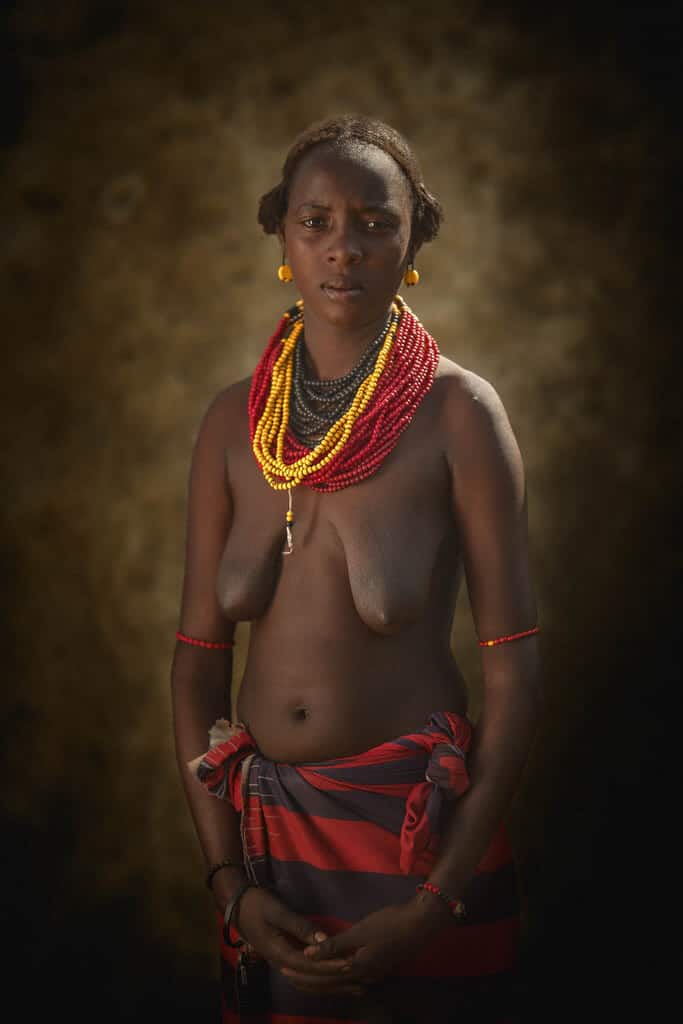 You'll be able to visit and photograph the Banna and Hammer tribes today and it's also possible to participate in their daily village life.
We'll also visit the colorful tribal markets we come across which happen once in a week in each village.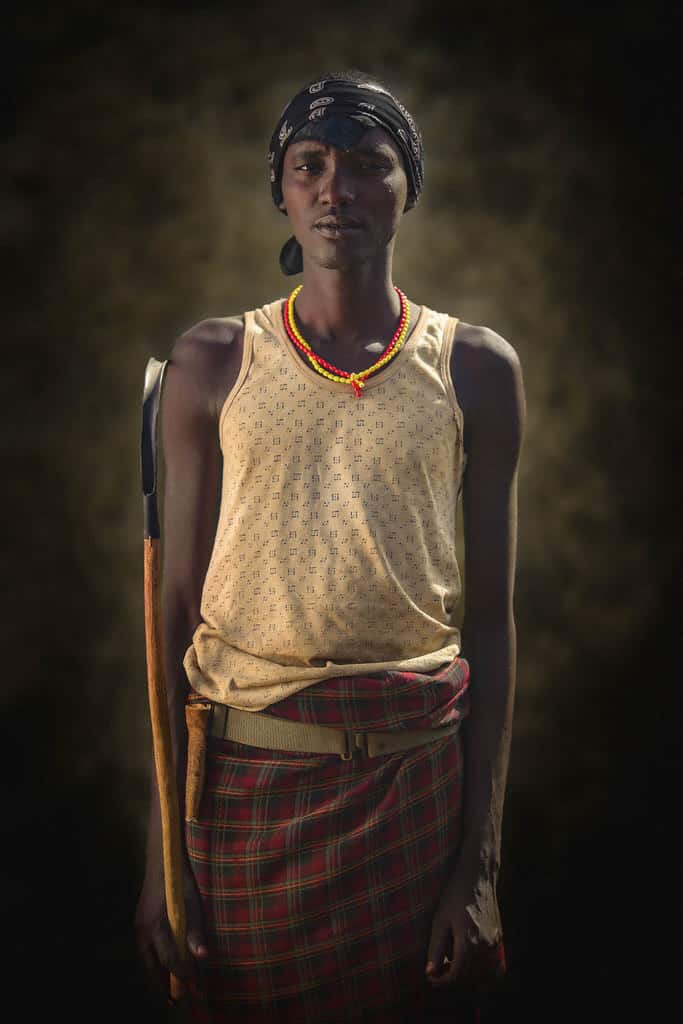 Tonight we set up camp in the Turmi area where we can talk about what we've seen that day and compare pictures.
Day 5
In the morning we drive further down to Omorate, a border town with Northwest Kenya. We'll visit the Dasenech tribe here in their remote villages and not the commonly visited ones by going down as far as the Northern tip of Lake Turkana. You'll have many photo opportunities today that you'll cherish for the rest of your life.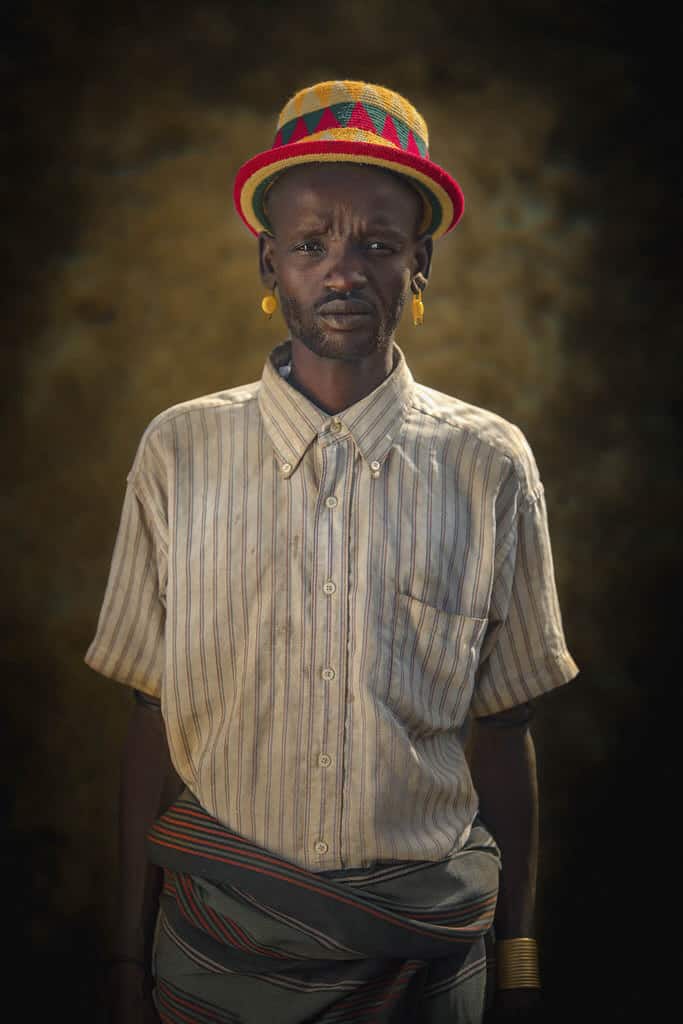 Later on, we drive back to Turmi and camp overnight. This is a special treat as we'll be guests of the Hammer people tonight and sleep in our tents within their communal village compound with an excellent interaction time.
Day 6 :
In the morning after breakfast, we drive to Karo Tribe's village of Korcho. This village is located near the famous panoramic omo rivers view. We'll arrange a photo session with a Karo here. We'll need to drive around 60Kms from Turmi to visit these amazing tribes. They are considered to be the least numbered in terms of population size among all the Omo Valley tribes.
After visiting their village we'll head to Kangaten, a small town located on the other side of the Omo River. After crossing over the bridge we'll visit the Nyangatom tribe.
Overnight in a small hotel or camping.
Day 7
In the morning we visit the village life of a tribe that is believed to be originally from Uganda. They settled here in the last two decades of the 19th Century.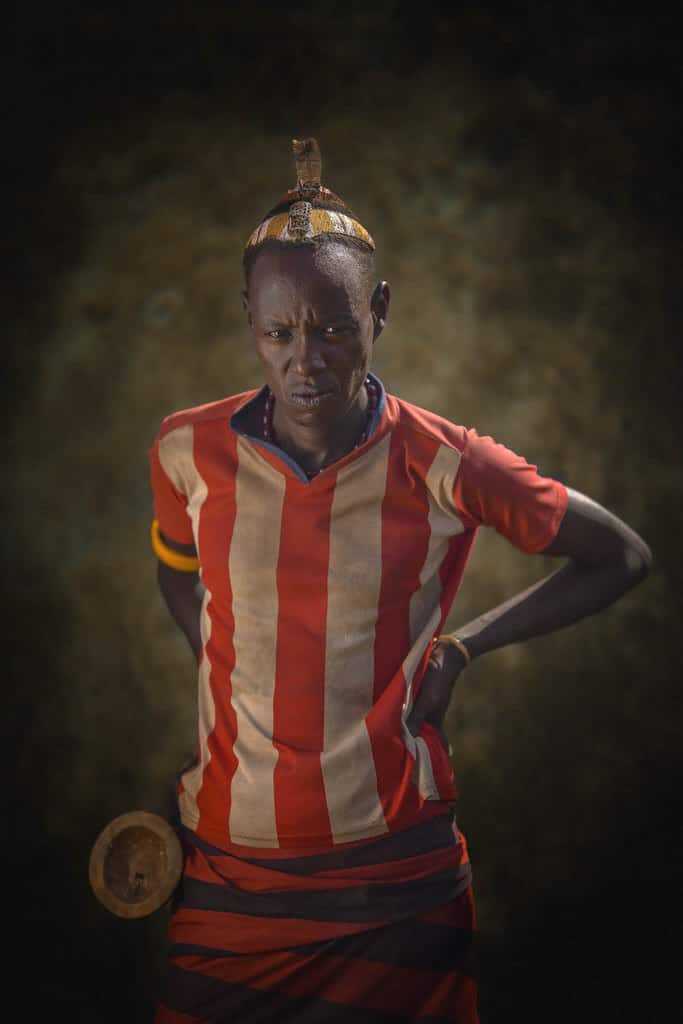 Afterward, we drive to Kibish through Omo National Park to visit the leas most remote Surma tribes deep into their villages.
We set up camp around the town of Kibish.
Day 8
In the morning, we'll drive to Mizan, crossing through a number of untouched Surma villages. We'll stop to know the tribe's morning life activities without any interruption to their normal life but witnessing wonderful and genuine activities up to their doorsteps. Then we continue driving to Mizan Teferi and overnight in a hotel.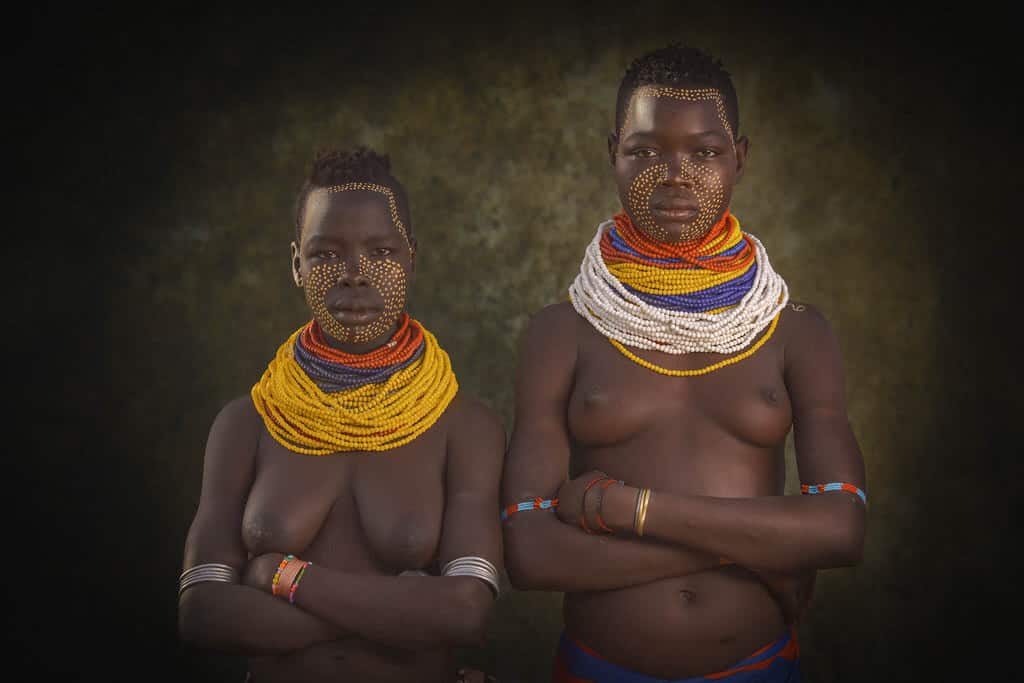 Day 9
In the morning, we continue our journey to Jimma through Bebeka. We'll drive through a huge coffee plantation as well as dense forest. We'll make several stops on our way up to photograph the natural beauty of this area. Jimma is recognized by UNESCO as one of the 31 places in the world that should be protected. It has a rich variety of Botanical life with more than 2000 endemic plant species documented so far.
Late in the afternoon, we arrive in Jimma and overnight in an excellent Hotel.
Day 10
On the last day, we drive to the cities of Wolkite and then to the Woliso crossing through the Gibe River basin. This is a major source of the Omo River on the upstream phase. You'll enjoy the beautiful nature and amazing topographical scenery that will give you a good idea of the lifestyle of the people.
In the afternoon, we'll drive back to Addis Abeba where you'll be dropped off at your hotel or the airport.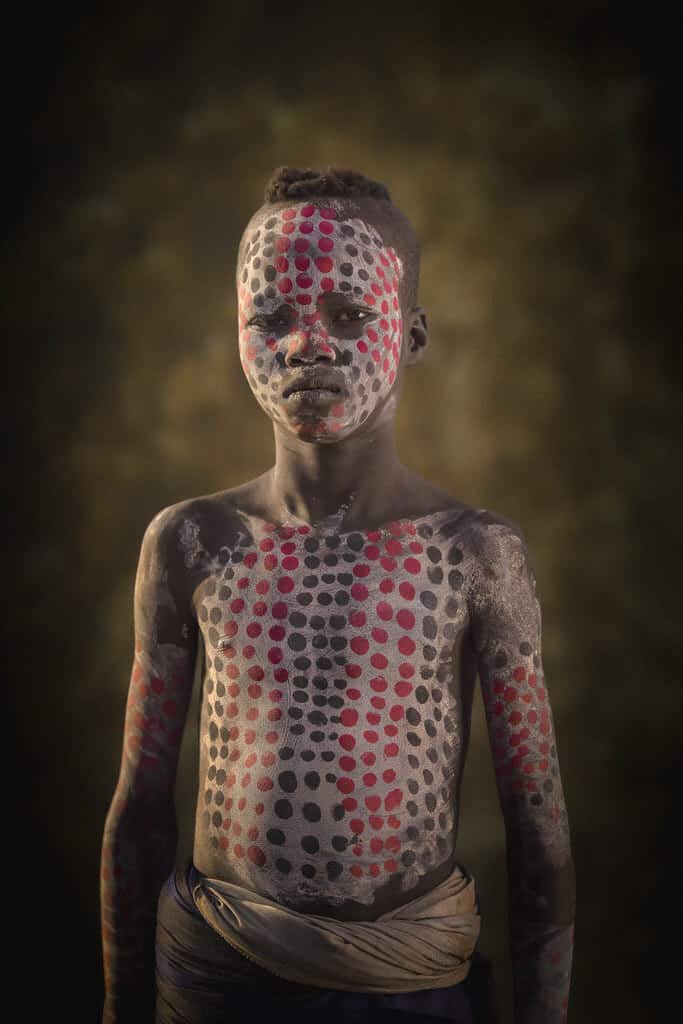 Omo photo tour flying to Jinka
Jinka is a 130-minute flight from Addis Ababa. This airport has only opened about a year ago and involves a 30 minute stop at Arba Mintch airport. Flights to Jinka airport leave in Addis Ababa at 11:35, every day except on Saturday. Jinka is the gateway and administrative center for all the Omo area and the closest airport to the Omo Valley.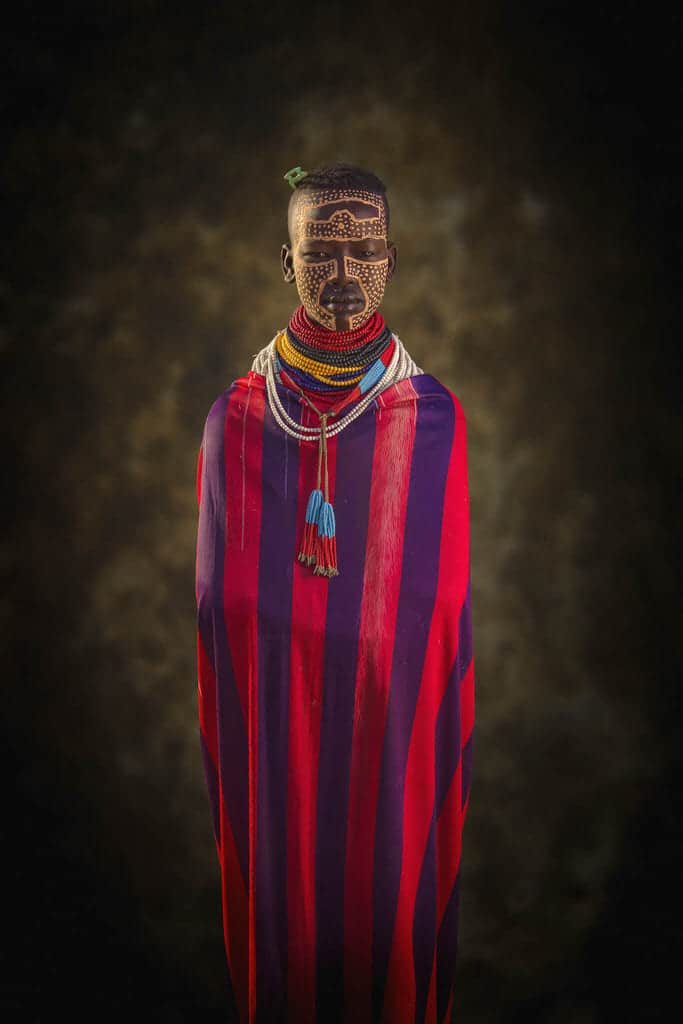 This tour starts in Jinka and then heads towards to Mago National Park to visit the Mursi Tribe. Then to Turmi center, a place to get familiar with the different tribes. Thanks to the outdoor camping, you'll have time to experience the lifestyle of more than 5 tribes in only 6 days.
Day 1
You will be picked up by your guide at Jinka Airport and immediately drive to the village of the Mursi tribe. The Mursi women are famous for putting a clay made circular dish in their lip as well as ear plates. These accessories symbolize beauty and honor for them. We'll cross through Mago National Park in order to reach their village/ You can take photos of their normal daily life activities the entire afternoon. And thanks to your guide and translator, you'll be able to communicate with and learn more about their daily life.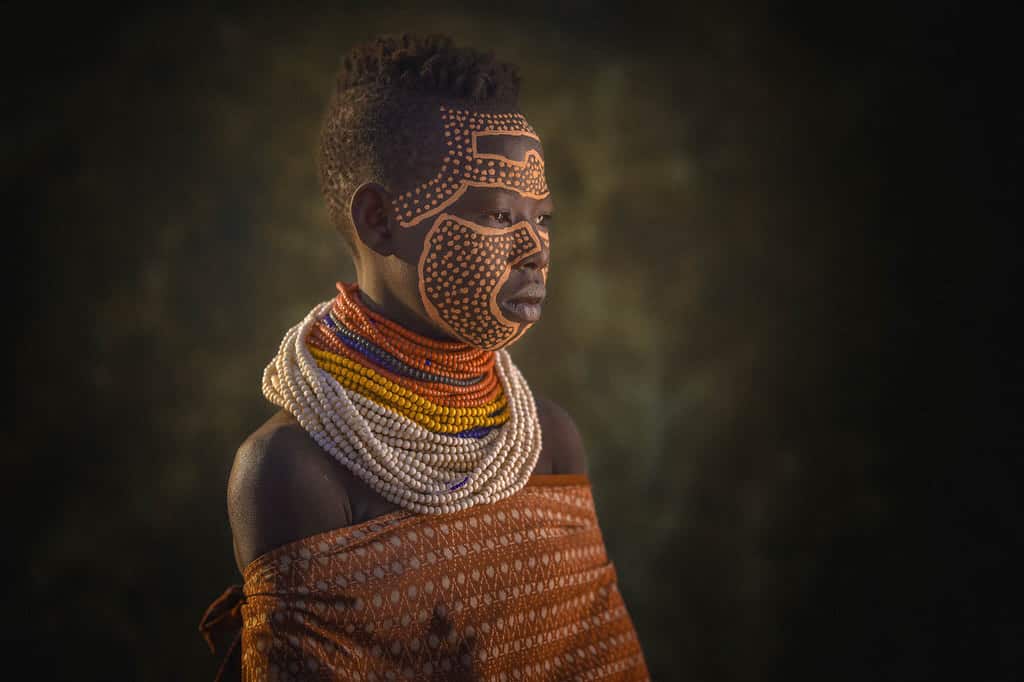 We'll set up camp close to the village. We have an excellent cook with us who will prepare you for an authentic Ethiopian meal. All tents are modern with all the necessary equipment.
Day 2
After breakfast, we'll start driving back to Jinka for a shower and lunch. Afterward, we'll drive around 40 km to Keyafe. This is a Bana tribe village and also the home of our guide. If you're lucky, it will be a market day and you'll be able to see many local villagers buying and selling their goods.
We'll set up camp here again for a beautiful evening beneath the stars.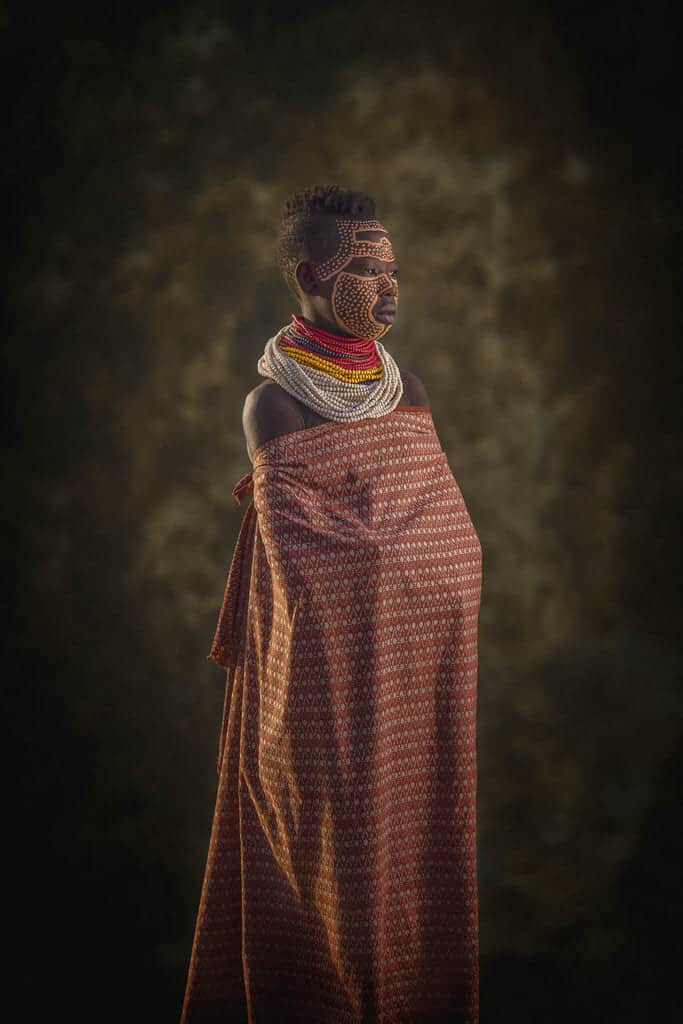 Day 3
We will leave the Banna tribe village drive to Turmi. This is 85 km of rough road. We'll campo next to a Hamar tribe village. If there is a bull running ceremony, you'll be able to attend.
Day 4
Another drive today from Turmi To Kara Tribe. Dus village is a less visited village and we will set up camp next to the kara tribe. This is located near the panoramic Omo river view. At night, the sky is full of stars thanks to zero light pollution. This amazing tribe is considered to be the least numbered in terms of population size among the Omo Valley tribes and are most known for their face and body painting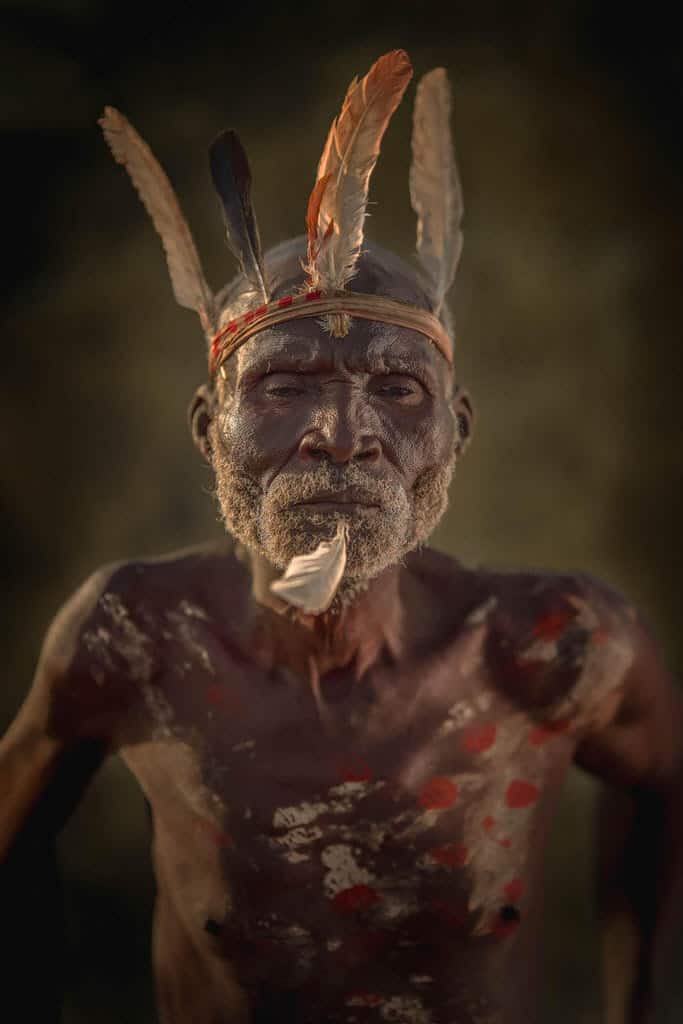 Day 5
On day five, we'll drive from Dus to the village of the Negnagatom Tribe. We'll sleep in a hotel in Turmi tonight.
Day 6
In the morning we drive further down to Omorate which is a border town with Northwest Kenya. We'll visit theDasenech tribe there, in one of their most remote villages. We'll go down as far as the Northern tip of Lake Turkana. Later on, we drive back to Turmi night same hotel

Day 7
We Drive back To Jinka so then you will fly Addis Ababa end of your trip. Your flight leaves Jinka at 3:20 PM
The tribes of the Omo Valley
The Omo Valley is home to ten major tribes, each with their own customs and appearance. Let's have a closer look at all of them.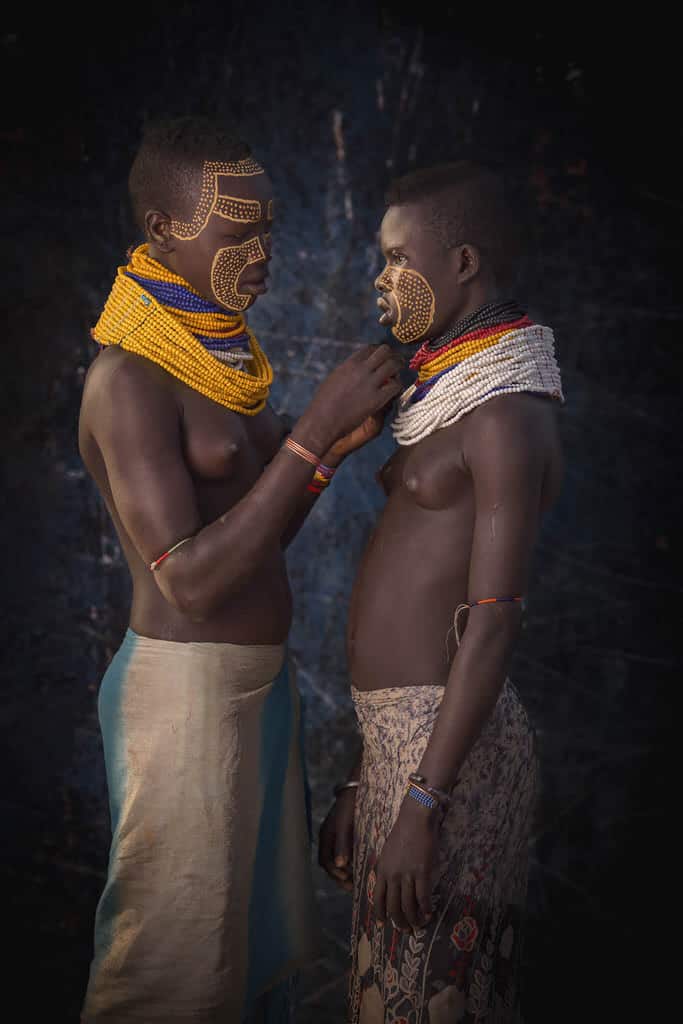 Mursi Tribe
The Mursi are a nomadic cattle herder ethnic group located in the Debub Omo Zone of the Southern Nations, Nationalities, and People's Region in Ethiopia, close to the Sudanese border. According to the 2007 national census, their number is estimated at 7,500. The Mursi people are the most popular in Ethiopia's Omo Valley. They are well known for their unique lip plates. They are settled around the Omo River and in the Mago National Park. Due to the climate, they move twice a year between the winter and summer months. They herd cattle and grow crops along the banks of the Omo River.
The Mursi women paint their bodies and face in white. They also are the ones who wear lip plates. Women of the Mursi tribe may have their lips cut at the age of 15 or 16. A small clay plate is then inserted into the lip. Through the years, larger plates are inserted into the lip causing it to stretch. The larger the clay plate, the more the woman is worth before she gets married. It is said that the clay plates were originally used to prevent capture by slave traders. Although very unique and part of their tradition, the Mursi women only wear the plates for a short time because they are so heavy and uncomfortable.
Men of the Mursi also use white paint for their bodies and faces. Just like any other ethnic tribe in the lower valley, the men must pass a test before they can get married. A Mursi man is given a stick called a Donga and must face one opponent. The men then battle it out, beating each other with the sticks. The first fighter to submit loses and the winner is taken by a group of women to determine who he will marry. Men of the tribe also practice scarification. Like other tribes, this is the marking of an enemy killed by him.
Although they are known to be aggressive and combative, the Mursi are more than happy to allow you to take pictures of them. However, they keep count of every picture taken and will charge you for each one.
Konso Tribe
Konso, named after the Konso people, is known for its religious traditions, waga sculptures, and nearby fossil beds (the latter an archaeological site of early hominids). The site was added to the UNESCO World Heritage List on September 30, 1997, due to its purported universal cultural significance of terracing agricultural practice. The Konso lives in an isolated region of the basalt hills. The area is made up of hard rocky slopes. A Konso village may be fortified by a stone wall used as a defensive measure, their village is located on hilltops and is split up into communities, with each community having a main hut. In order to enter a Konso village, you must pass through a gate and a series of alleys. These paths are part of its security system, keeping the village difficult to access.
They are mixed agriculturists using their dry and infertile lands to grow crops. Animal dung is used to fertilize the grounds and their most important crop is the sorghum. Sorghum is used as flour and to make local beer. Grains, beans, cotton, corn, and coffee are also grown by the Konso people. The erection of stones and poles is part of the Konso tradition. A generation pole is raised every 18 years, marking the start of a new generation. The age of a village can be determined by how many poles are standing. Carved wooden statues are also used to mark the grave of a famous Konso tribal member. The marker, called a Waga is placed above the grave and smaller statues are then placed around the larger one representing his wives and conquered enemies. Although the Konso people have many customs dating back hundreds of years, it is not uncommon for them to be seen wearing western clothing. As newer generations grow, their traditional attire has gradually changed to modern societies. The Konso is a very interesting tribe to visit on your trip to the Lower Omo Valley.
Dorze Tribe
The Dorze are a small ethnic group in Ethiopia who speak a language in the Omotic family. Numbering approximately 28,000, they live primarily in the southern region of the country, though some have migrated to Addis Ababa and other regions. Many Dorze live in villages near the cities of Chencha and Arbaminch, which are located in the Semien Omo Zone of the Southern Nations, Nationalities, and Peoples Region (formerly in the Gamu-Gofa province). Weaving is a primary profession for many Dorze. Well, known cotton weavers, the Dorze tribe were once warriors. They are famous for their cotton woven cloths and beehive huts. The Dorze people live in large communities north of Addis Ababa. They cultivate their own food and prevent erosion by terracing along the mountainside. In their farmlands, the Dorze will grow highland cereals. They also grow spices, vegetables, fruits and tobacco within their compound.
Women of the Dorze tribe have most of the responsibility in the family. They must take care of any children and all of the house choirs. The women are also responsible for cooking, spinning cotton and collecting firewood. Male tribal members spend most of their time on the farm or building huts. Sometimes you will find them weaving material to use for different things. The Dorze people wear colorful toga robes called shammas. They are very popular throughout Ethiopia.
A Dorze hut is made up of hardwood poles, woven bamboo, Enset, and other natural materials. It can stand two stories tall and last up to 80 years. Inside the main hut, you will find a fireplace, a seating area, and bedrooms. Smaller huts can include guest houses, a workshop, a kitchen, and even cattle shed. When termites attack the hut, the Dorze can just remove it from its foundation and relocate it. This allows the home to last much longer, but every move shortens the height of the hut.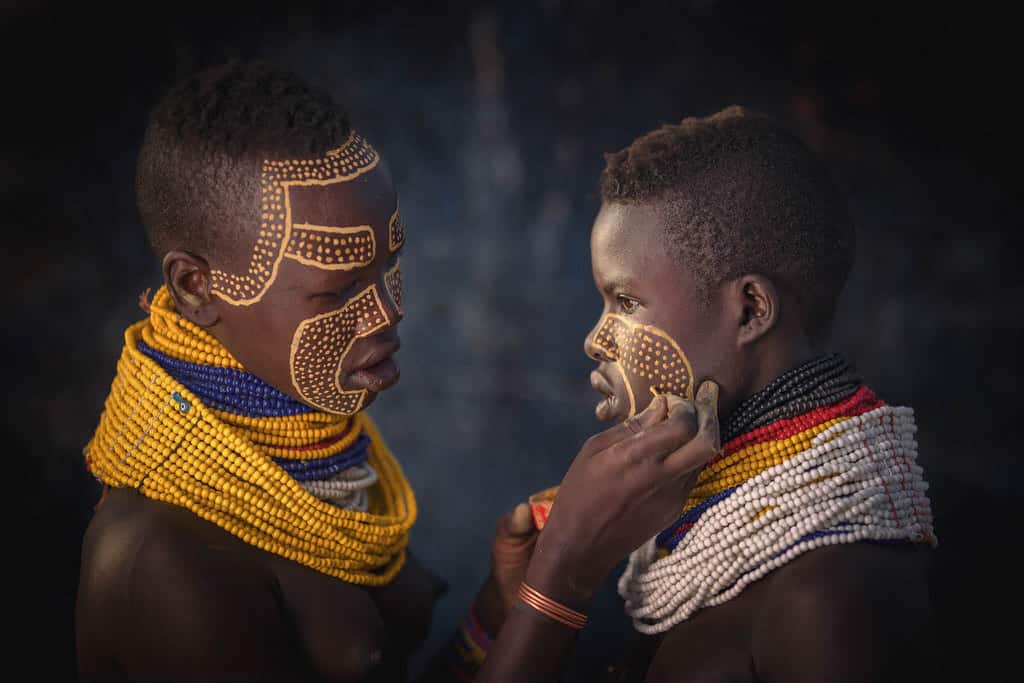 Arbore Tribe
The Arbore tribe is a small tribe that lives in the southwest region of the Omo Valley. They have ancestral and cultural associations with Borenna and Konso peoples and perform many ritual dances while singing. The Tsemay people are their neighboring tribe.
Arbore people are pastoralists (livestock farmers). They believe that their singing and dancing eliminate negative energy and with the negative energy gone, the tribe will prosper. The women of the tribe cover their heads with a black cloth and are known to wear very colorful necklaces and earrings. Young children will wear a shell type hat that protects their heads from the sun. Body painting is done by the Arbore using natural colors made from soil and stone. Traditional dancing is practiced by the tribe and wealth is measured by the number of cattle a tribesman owns.
Ari Tribe
The Ari people inhabit the northern part of the Mago National Park in Ethiopia and have the largest territory of all the tribes in the area. They have fertile lands allowing them to have several types of plantations. An Ari's crop can consist of grains, coffee, fruits, and honey. It's also common for them to have large herds of livestock.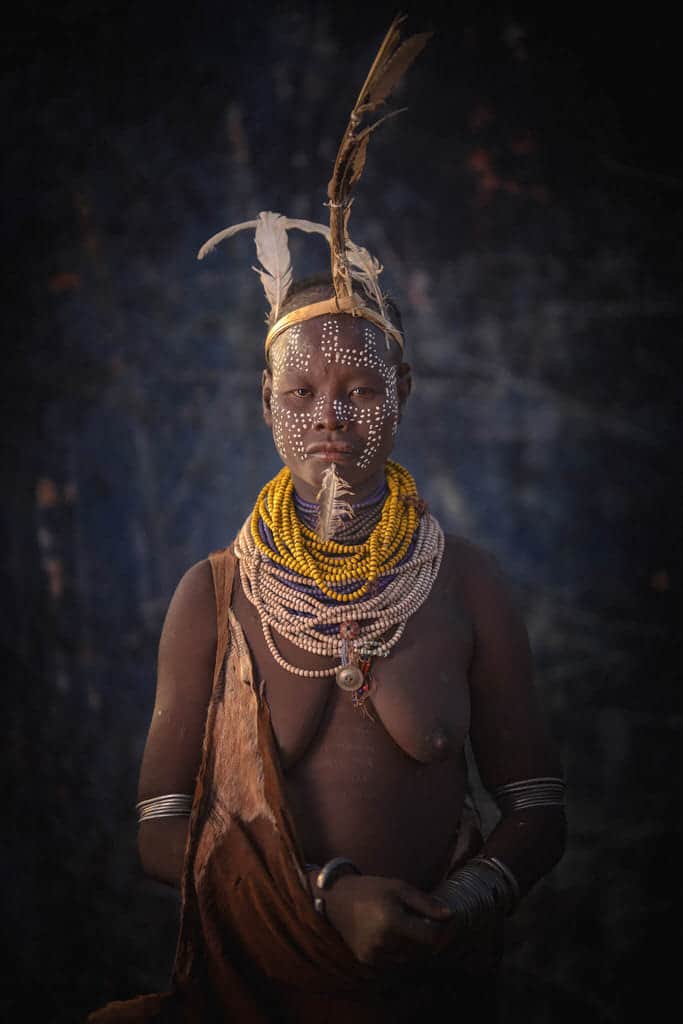 Their women are known for selling pottery and wearing skirts made from banana trees called Enset. Tribe members wear a lot of jewelers and have many piercings in their ears. They wrap beads and bracelets around their arms and waist for decoration. The Ari is known to paint and scar their bodies as part of their culture. You can find some of the Ari people visiting the market in Key Afer.
Bena Tribe
Bena and Benna are other spellings for the Bena people. They are neighbors with the Hamer tribe and it is believed that the Bena actually originated from them centuries ago. The markets in Key Afer and Jinka are often visited by them. Just like most of the indigenous tribes in the Lower Omo Valley, the Bena practice ritual dancing and singing. The men often have their hair dressed up with a colorful clay cap that is decorated with feathers. Both the men and women wear long garments and paint their bodies with white chalk. Women of the tribe wear beads in their hair that is held together with butter.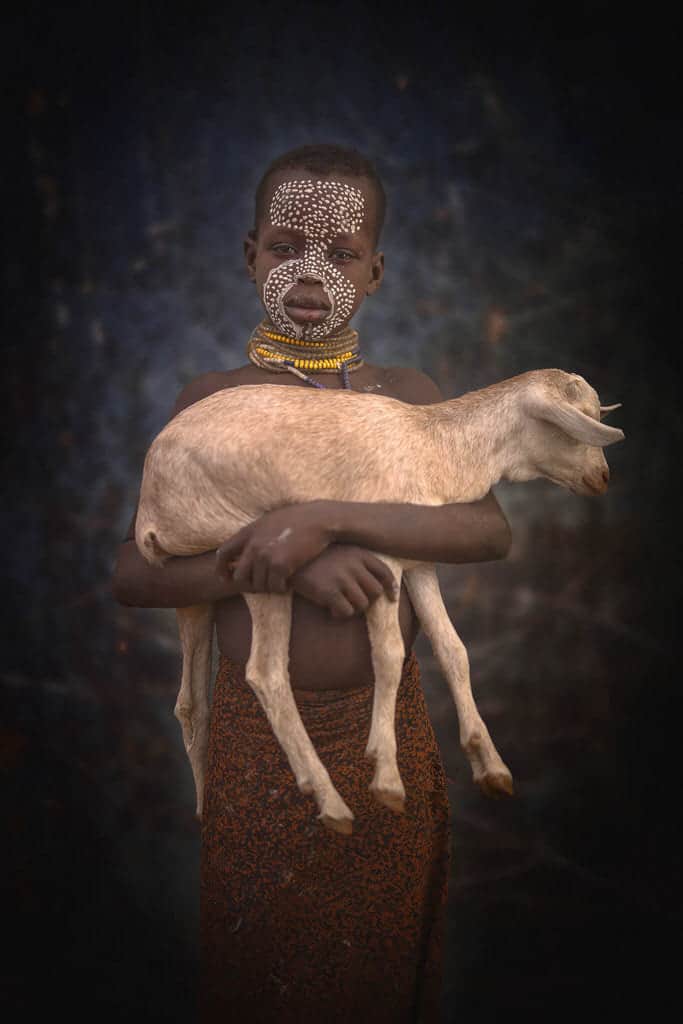 The Bena look very similar to the Hamer and are often called the Hamer-Bena. Common rituals and traditions of other tribes are shared by the Bena. The boys in the tribe participate in bull jumping. When it is time for the boy to become a man, he must jump over a number of bulls naked without falling. If he is able to complete this task, he will become a man and be able to marry a woman.
Bodi Tribe
The Bodi, ethnic groups are live close to the Omo River in southern Ethiopia. South of the Bodi is the Mursi tribe they are pastoralists (livestock farmers) and agriculturalists. Along the banks of the river, they will grow sorghum, maize, and coffee. They live with their cattle herds and livestock plays a large role in the tribe.
Men of the Bodi are typically overweight because they consume large amounts of honey. The men wear a strip of cotton around their waist or walk around naked. In June, the Bodi celebrate Ka'el. This is a tradition that measures the body fat of a contestant. Each family or clan is allowed to enter an unmarried contestant. The winner of this contest is awarded great fame by the tribe. Men also wear a headband with a feather attached to it during rituals. The women in the tribe wear goatskin skirts and have a plug inserted into their chin.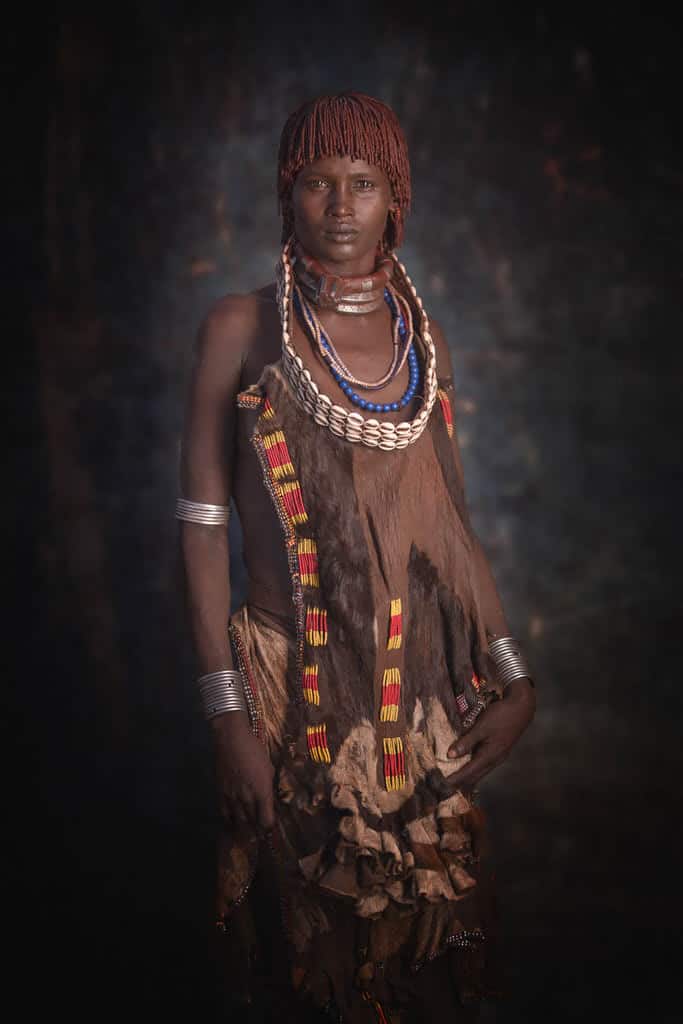 Bumi Tribe
The Bumi or Bume people are also known as the Nyangatom. They live south of the Omo National Park but occasionally move to the lower regions if food or water is scarce. Known to be fierce fighters, they are often at war with Hamer and Karo tribes. Different from other tribes, the Bumi tribesmen hunt crocodiles using harpoons and a canoe. Scarification is practiced by both men and women in the tribe. The women do it to beautify themselves and the men to signify a kill. Both sexes wear a lot of multi-colored necklaces and May also has a lower lip plug. The tribe practices both agriculture and cattle herding. Floodwaters must recede along the river's banks before they will plant their crops. Beehives are smoked out by the Bumi and they gorge themselves with the honey.
Dassanech Tribe
Also known as the Galeb or Geleb, this tribe lives just north of Kenya's Lake Turkana. Their neighboring tribe is the Turkana people. The Daasanech are pastoralists (cattle herders), but due to the harsh territory, they have moved south to grow crops and fish. Cattle are used by the tribesman for meat, milk, and clothing. Often their cattle die from disease and drought. For the reason that they inhabit the inhospitable environment, the Daasanech are the poorest tribes in the Omo Valley. Because the Daasanech people come from multiple ethnic groups, both men and women must agree to be circumcised. There are eight clans that make up the Daasanech tribe, each having its own name they are the Elele, Inkabelo, Inkoria, Koro, Naritch, Oro, Randal and the Ri'ele. Each clan is defined by its territory with the Inkabelo being the wealthiest.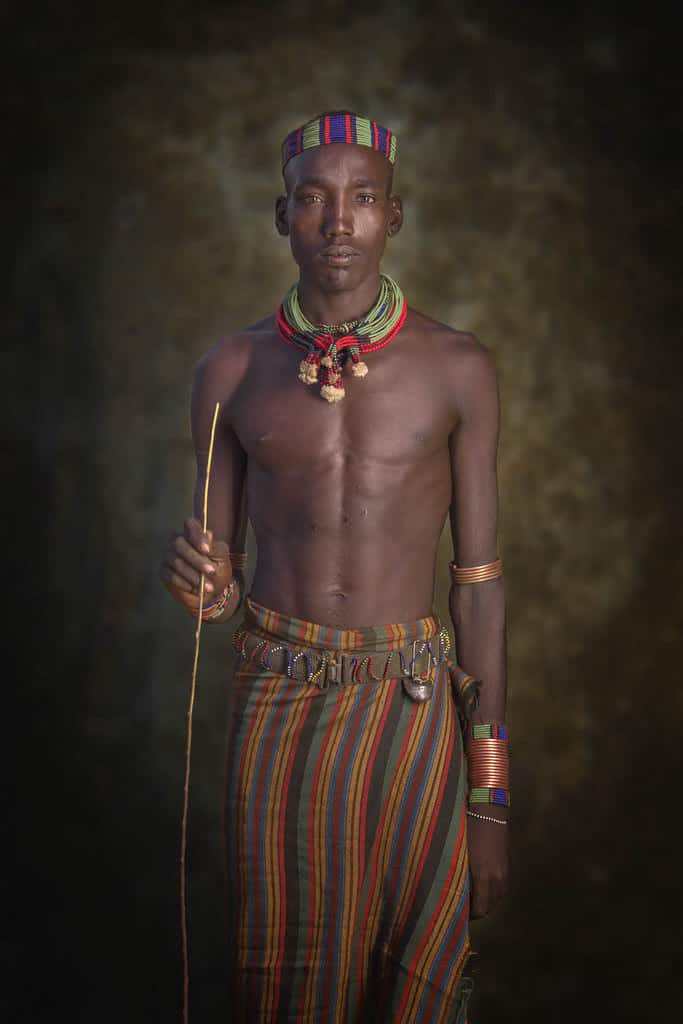 During a ceremony, the Dassanech men dance with large sticks and the women hold wooden batons. A Daasanech man blesses his daughter's fertility and future marriage by celebrating the Dimi. During the Dimi 10 to 30 cattle are slaughtered. Both men and women wear fur capes while they feast and dance. A Dimi ceremony will most likely take place in the dry season.
Karo Tribe
The Karo or Kara is a small, endangered Omotic tribe with an estimated population between 1,000 and 3,000. They live along the east banks of the Omo River in southern Ethiopia and practice flood retreat cultivation. The crops that are grown by them are sorghum, maize, and beans. Only small cattle are kept because of the tsetse flies. These flies are large and consume the blood of vertebrate animals.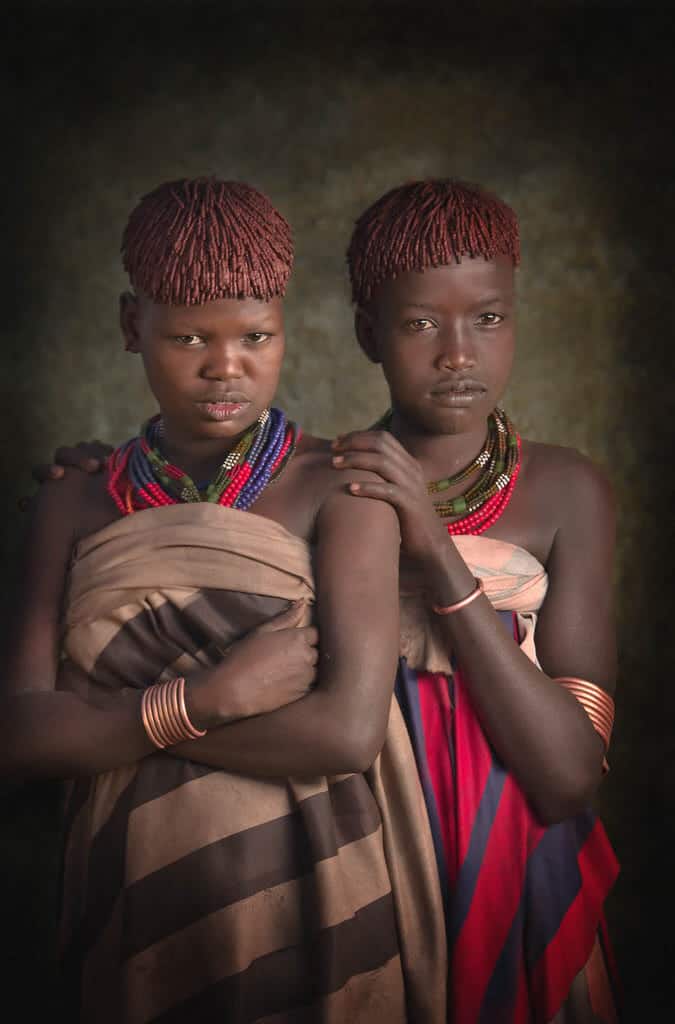 Like many of the tribes in the Omo, they paint their bodies and faces with white chalk to prepare for a ceremony. The chalk is mixed with yellow rock, red iron ore, and charcoal to make its color. Face masks are worn at times and they have clay hair buns with feathers in them. Red clay mixed with butter is put into their hair and clothing is made from animal skin. The women scar their chest believing it makes them beautiful. The men's scars represent an enemy or dangerous animal killed. They also wear clay hair buns which symbol a kill. A man in the tribe can have as many wives as he wants but must be able to afford them. Most men will only marry two or three.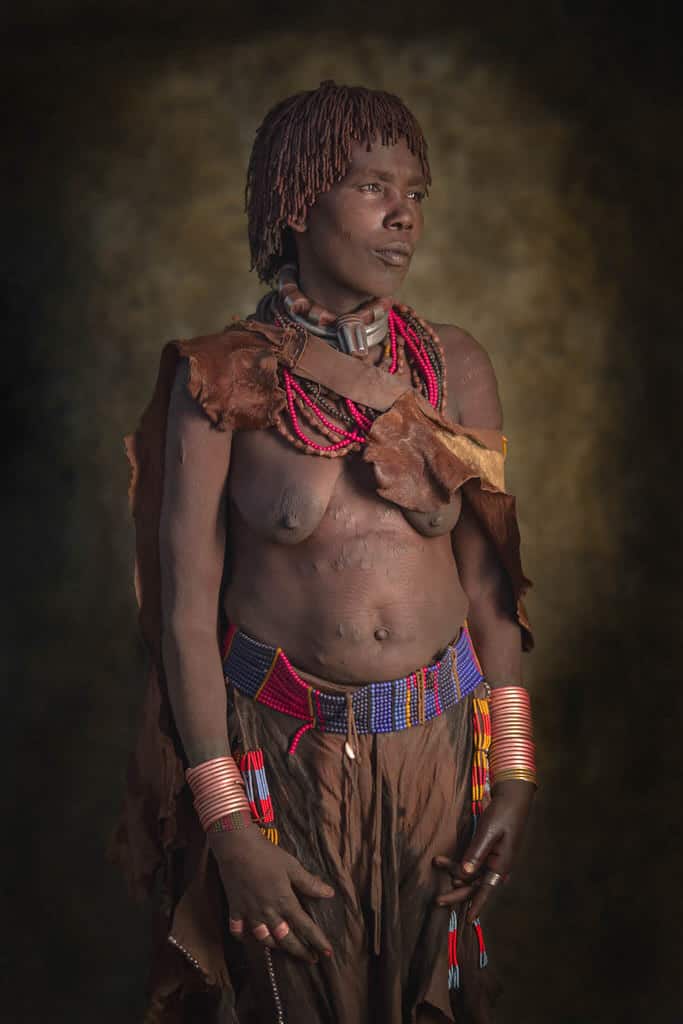 Conclusion
No matter if you're driving to the Omo Valley from Addis Ababa or flying to the closest airport Jinka for your Ethiopian Omo Valley photography tour, you'll surely have a memorable experience. The many tribes of the UNESCO world heritage Omo Valley still maintain their traditions and customs handed over from generation to generation for hundreds of years.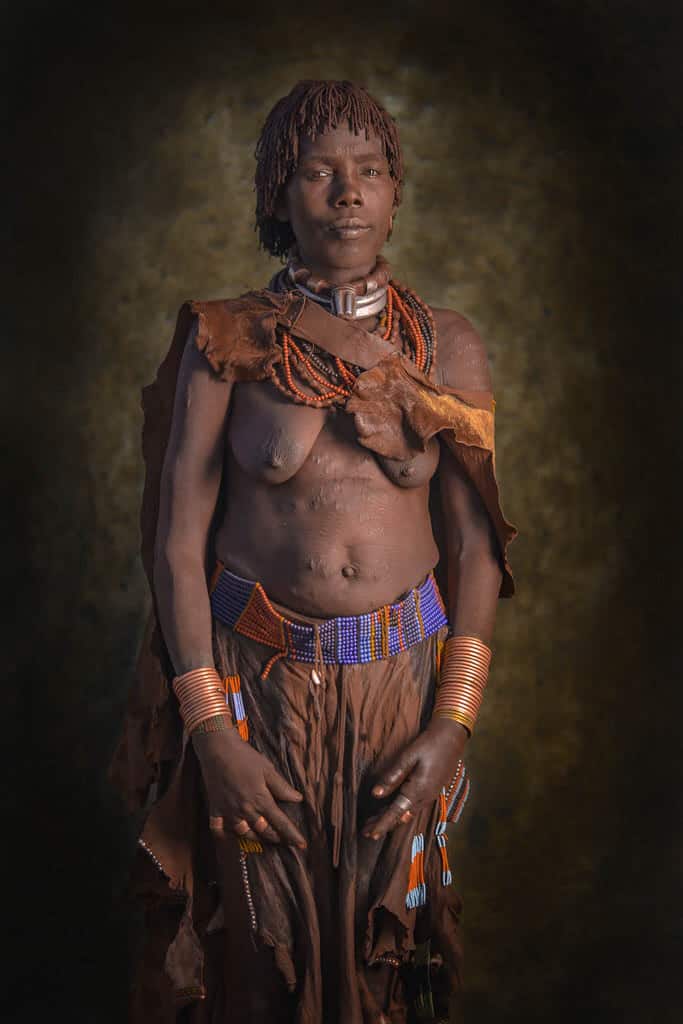 From your arrival in Jinka, you can immediately go to the Jinka market to see and experience the many different photogenic tribes, or venture more into the wild and see their villages. You'll find Dorze, Hamar, Karo, Ari, Benna, Tsembay, Konse, Karo, Suri, Mursi and Hamar people in remote villages, only accessible in a 4×4 vehicle. Get ready for an experience of a lifetime.