DVDFab Enlarger AI Review
DVDFab Enlarger AI Review
Introduction
DVDFab Enlarger AI is a video up-scaling solution based on machine learning. You can upscale old DVDs and other low-res family videos from 480p (SD) to 1080p Blu-ray standard (Full HD). Besides up-scaling resolution, DVDFab Enlarger AI also increases sharpness and overall video quality.
DVDFab Enlarger AI uses the TensorFlow framework, an end-to-end open source machine learning platform. Using this method, Enlarger Ai has trained itself with millions of videos, movies, and TV Shows of all genres. This method of training software uses what we call neural networks, a series of algorithms that recognise underlying relationships in these video files through a process that mimics the way the human brain operates. This Ai will continue to learn continuously, improving the processing quality for better video.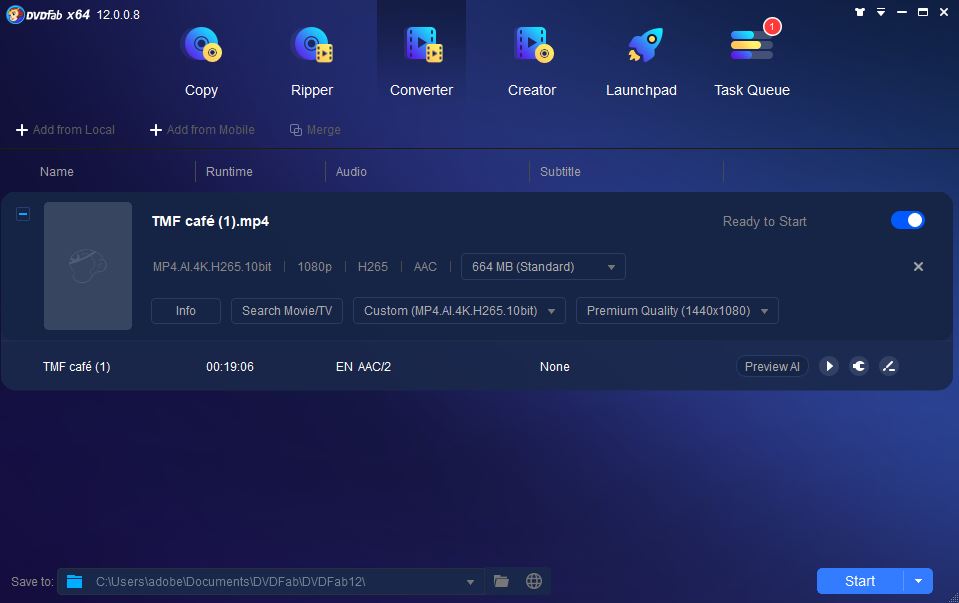 As a highly compute-intensive work, video up-scaling requires strong horsepower from a computer. Worry not! While keeping high output quality at bay, Enlarger AI can use the latest CUDA and cuDNN GPU acceleration technologies from compatible NVIDIA Graphics Cards, to dramatically speedup the conversion process.
The software is part of the modular DVDFab 12 suite (PC and Mac), this module is costs around $45.
What is DVDfab?
DVDFab originally emerged from the DVDToolbox project. A simple program to copy DVD's to your PC. It has now evolved into a modular collection of copy, enhancement and conversion tools for DVD, Blu-ray and video files. The software is now marketed and developed by the Chinese software company, Fengtao Software. The modular system allows you to purchase programs individually according to your needs. Both Mac and PC versions are available.
What can DVDFab Enlarger Ai do?
The term video enhancement is improving the quality of a video recording. The techniques and methods to do so have improved in the last few years. With affordable machine learning, these algorithms have also steadily gotten better at detecting noise, and where to apply sharpening.
Video enhancer Ai does a couple of things well:
up-scaling 480P to 1080P.
up-scaling 1080P full HD videos to 4K.
better lighting.
noise removal.
sharpening.
What can DVDFab Enlarger AI GPU requirements?
Up-scaling and enhancing video is GPU consuming and requires a Nvidia GPU with at least 3GB free memory. And the compute capability must be higher than 3.5.(The compute capability of a GPU determines its general specifications and features)The GeForce 10 series and above are compatible, with GPU Memory 3GB and above, and Driver version needs to be 410.48 or above.
Supported file formats
MP4 and MKV as the output.
The available video codecs are H.264 and H.265.
It's not possible to change the resolution.
You can only upscale 480P videos up to 1080P and 1080P videos up to 4K.
The frame rate has to be the same as the source.
You can copy the audio or convert it to AAC, AC3, EAC3, MP3, or DTS.
How do I use DVDFab enlarger Ai?
Merely changing the demotions to match HD or 4K footage means you are enlarging all the single pixels. This results in a mosaic-like enlargement of the image, also known as blockiness. An enlargement like this really has no meaning.  DVDFab Enlarger AI increases resolution by adding pixels in by comparing neighbouring pixels and copying/merging them for the smoothest result. Techniques like this can also repair problem areas and enhance sharpness at pixel level. This allows enlargements up to 300%, clear and undistorted from the original image.
Enlarger Ai is a function module that works together with either the BluRay/DVD ripper or Video Converter module.
When you start the application, you'll see all the modules you own.
Press 'Launch DVDFab' to launch the main application.
Either use the Ripper, Converter, or Copy function to add a DVD.
For single files, it's easiest to drag and drop your file onto the app.
Once imported, you'll notice a tab preview of your video. It's here that you need to select 'Change the ripper scene and profile.' It's the third box next to 'Search Movie/TV'.
Go to 'Choose another profile' and you'll see 'Enlarger Ai' as one of the selectable tabs. Remember, you can only choose mp4 or mkv, H264-H265 and upscale 480p to HD and 1080i to 4K.
Press 'start' to start the up-scaling.
DVDFab Enlarger AI quality
As I mentioned in the machine learning explanation, Enlarger Ai is a product still learning every day. The number of updates however have been very frequent, bringing us to version 12 at the time of writing (November 2020).
We should firstly also talk about the competition. Topaz labs have been developing their own Artificial Intelligence video enhancer called Video Enhance Ai. This product is pretty much still in beta, but does show a lot of potential for the future. It's however plagued by bugs and crashes. Enlarger Ai is a much more streamlined product that is a lot faster and uses your PC resources more effectively. The only drawback is that the enhancement is quite subtle compared to Topaz Video Enhance Ai. There are also some slight technical issues like a slow preview mode and rare occasions where the system freezes.
Another advantage is that Enlarger Ai has specifically trained Ai models for ripping, up-scaling and enhancing DVD and Blu-ray disks. Dealing at coded level with issues like MPEG compression artifacts. You'll find that in no other product.
Conclusion
II've been using DVDFab Enlarger AI for about 3 months alongside other Ai video enhancers. I've seen the Ai improve over several iterations, and I'm impressed with the dedication and progress that the team has made. It's also the most streamlined solution I've found to enhance and upscale larger DVD libraries.
A 20 minute, 140 Mb HD video does however still take around 3 hours to upscale to 4K on a i9 9900K / 3.6 GHz with 64 GB DDR4 SDRAM and NVIDIA Quadro P4000 8.0 GB graphics card. An advantage is that up-scaling does however also work on older PC's as long as you have a compatible graphics card.
In short, DVDFab Enlarger AI is a superb choice for someone who wants an easy and affordable way to upscale their old video library without the hassle of tweaking and tinkering with dozens of settings. This all at a price of $44.99.