Apple iPhone 11 wide angle lens review
Apple iPhone 11 wide angle lens review
Introduction
Apple recently released three new iPhones: the iPhone 6, iPhone 6 Pro and the iPhone 6 Pro Max. All three share a new 1,54mm ultra wide angle lens with a 120° field of view. This equates to a 13mm lens on a full frame camera which is, without exaggeration, quite unusual.
Despite the slower f/2.4 aperture, I would definitely advise going for a wide angle lens like this instead of the older Apple iPhone XS or XS Max tele lens (which equates to roughly a 58mm lens on a full frame camera).  A smartphone camera is at the moment definitely no competition for a DSLR or mirrorless camera, but for the occasional hobbyist, things just got a lot more interesting. And despite the 'Pro' moniker in the more expensive Apple iPhone 11 Pro and 11 pro Max, I believe the best value and functionality resides in the cheaper 11, at least for the fledging amateur photographer. I'll explain why.
Iphone 11 vs iPhone 11 Pro vs Iphone 11 Pro Max for photography
There are of course plenty of good reasons to go for the more expensive Pro models like a noticeably better (larger) screen, better antenna wiring and of course the tele camera. I've however used the iPhone XS Max extensively and extremely rarely felt the need to use the second telephoto camera on that. It's rare to find a subject which needs to be zoomed in to 58mm for iphoneography in my opinion.
Granted, it's a well-loved focal range for portraiture in normal photography because it renders people in a more flattering and natural way than a wide angle. But because of the nature of smartphone photography, it's rare to actually photograph anyone that far away. You also don't have the benefits of a more smooth bokeh because of the way aperture works with these small smartphone sensors.
But back to the iPhone 11 comparison… The main difference for photography is exactly this third lens, since Apple decided to also include the extreme wide angle 11,54mm  f2/4 lens in the 'basic' Iphone 11! Yes all other specs that matter for photography are identical, like sensor size, 12 megapixel sensor and A13 processor. A disadvantages however that the image sensor for the extreme wide angle is of lower quality across the range. But still quite useable, don't worry.
Let's have a look at some examples of what a 13mm lens can do compared to the standard 26mm lens
Iphone 11 wide versus ultra wide lens
The iPhone 11 13mm lens has a slower f/2.4 aperture than the 26mm f/1.8. This means that you can get slightly noisier images when there is not much light.
Advantage of a 13mm lens is that you can get so much more of what's happening in the frame.
A disadvantage of a 13mm wide angle lens over a 26mm is the fact that straight lines tend to get bowed inwards or outwards. The Iphone 11 extreme wide-angle lens gives average results in this regard. So you'll have to be careful to point your camera upright.
Despite the slight warping of a 13mm lens, it's ideally suited for photographing landscapes and cityscapes.
Even for impromptu Realestate images, the iPhone 11 offers a nice tool.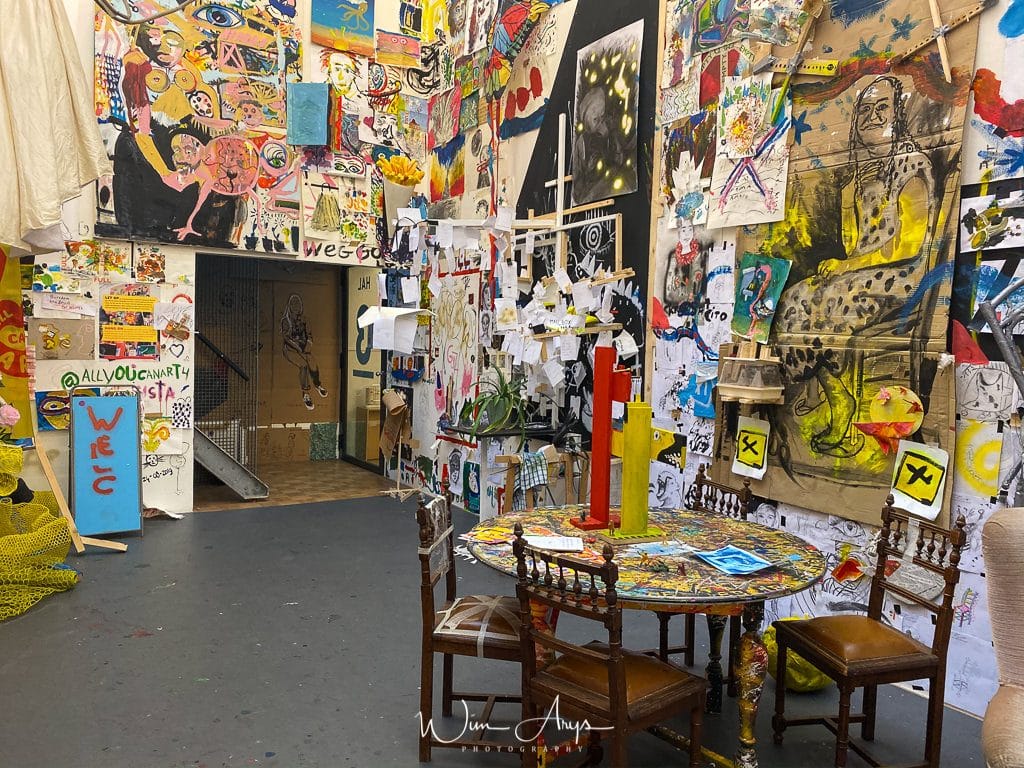 Conclusion
Although the new Apple iPhone 11 is in no way competition for professional or semi professional cameras, it's an excellent tool for amateur or starting photographers. Those of you who are looking for a convenient way to take landscape, cityscape, interior and architecture shots, the new 13mm equivalent (1,54mm lens) extreme wide angle option on the iPhone 11, iPhone 11 Pro and Max will allow you to photograph the world from a new and unique perspective for smartphone photography. Despite the 'Pro' badge on the latter two, all three iPhone 11 models offer the same 13mm wide angle lens, hence if you're strapped for cash, I would highly advise you to go with the basic model.